Riding the Andes Mountains, the Amazon, the Pacific Coast, and Patagonia is a bucket list trip for just about any rider. But is it safe to motorcycle through South America?
The short answer is yes, as long as you use common sense.
The longer answer? Yes, absolutely… but as anywhere else in the world, you've got to take some precautions.
Generally, South American countries like Colombia, Ecuador, Peru, Bolivia, Argentina, and Chile are very safe to travel to. Venezuela, at the moment, isn't the best destination due to prolonged political upheavals in the country; since we haven't ridden Brazil yet, we'll only talk about the Big Six here – and how to stay safe in South America during your travels.
What It's Like to Ride South America
If you haven't ridden a motorcycle outside of Europe or North America before, you may think of South America as this far-flung, exotic place where different rules apply.
In some ways, that's true – traffic flow is a little different, some places can be remote, the culture is very diverse…But South America isn't a different planet – it's just a different continent.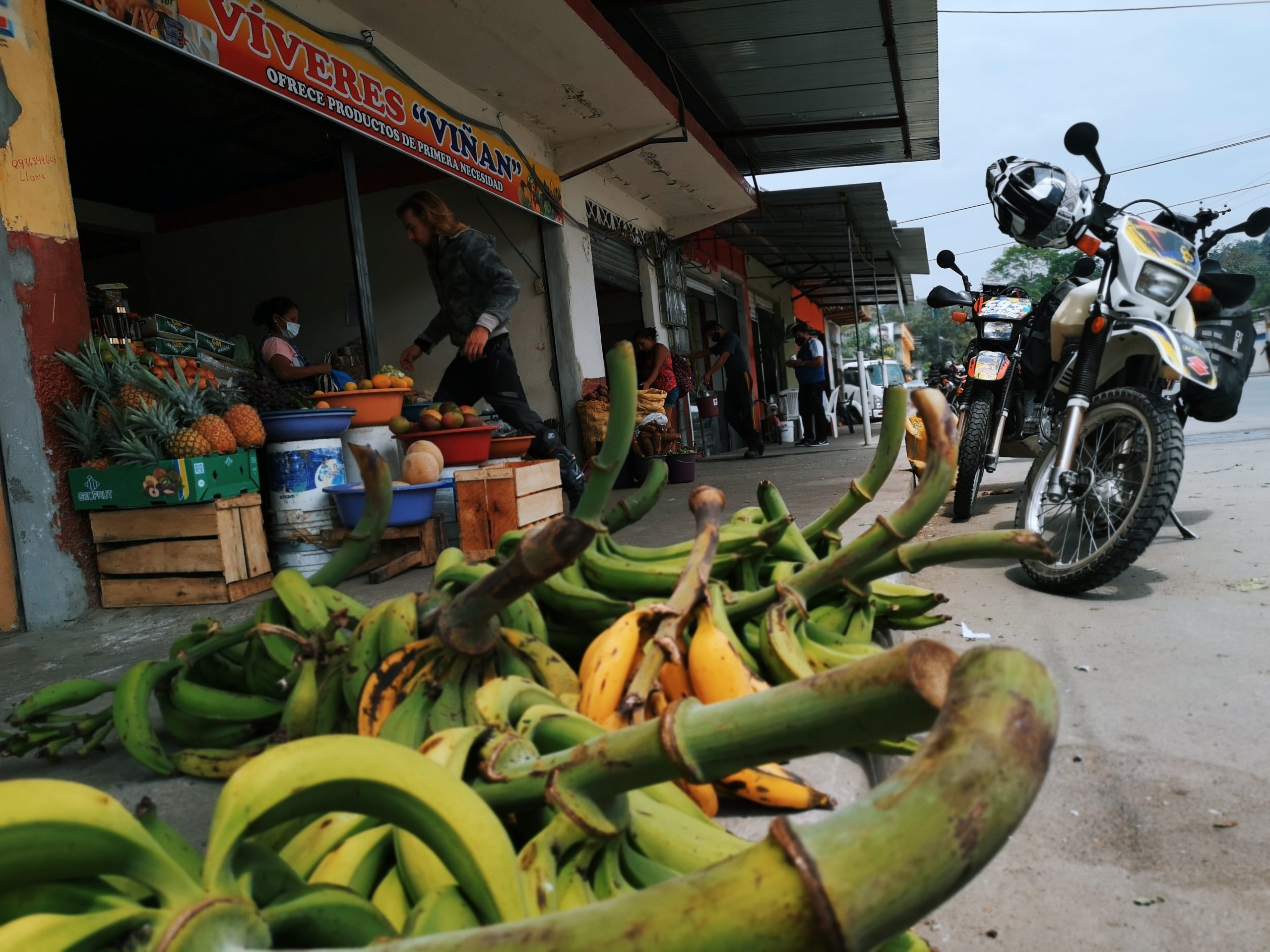 In other words, the traffic, the local ways of life, and the riding itself isn't going to be completely alien. You'll still have major highways and good roads with modern gas stations, you'll have cities and towns boasting everything from Starbucks and shopping malls to BMW dealerships, and you'll find plenty of good accommodation options. The Pan American highway in Ecuador could be mistaken for an Italian road, Lima is a lot like LA, and Bogota's La Candelaria neighborhood feels much like the Old Town in Barcelona.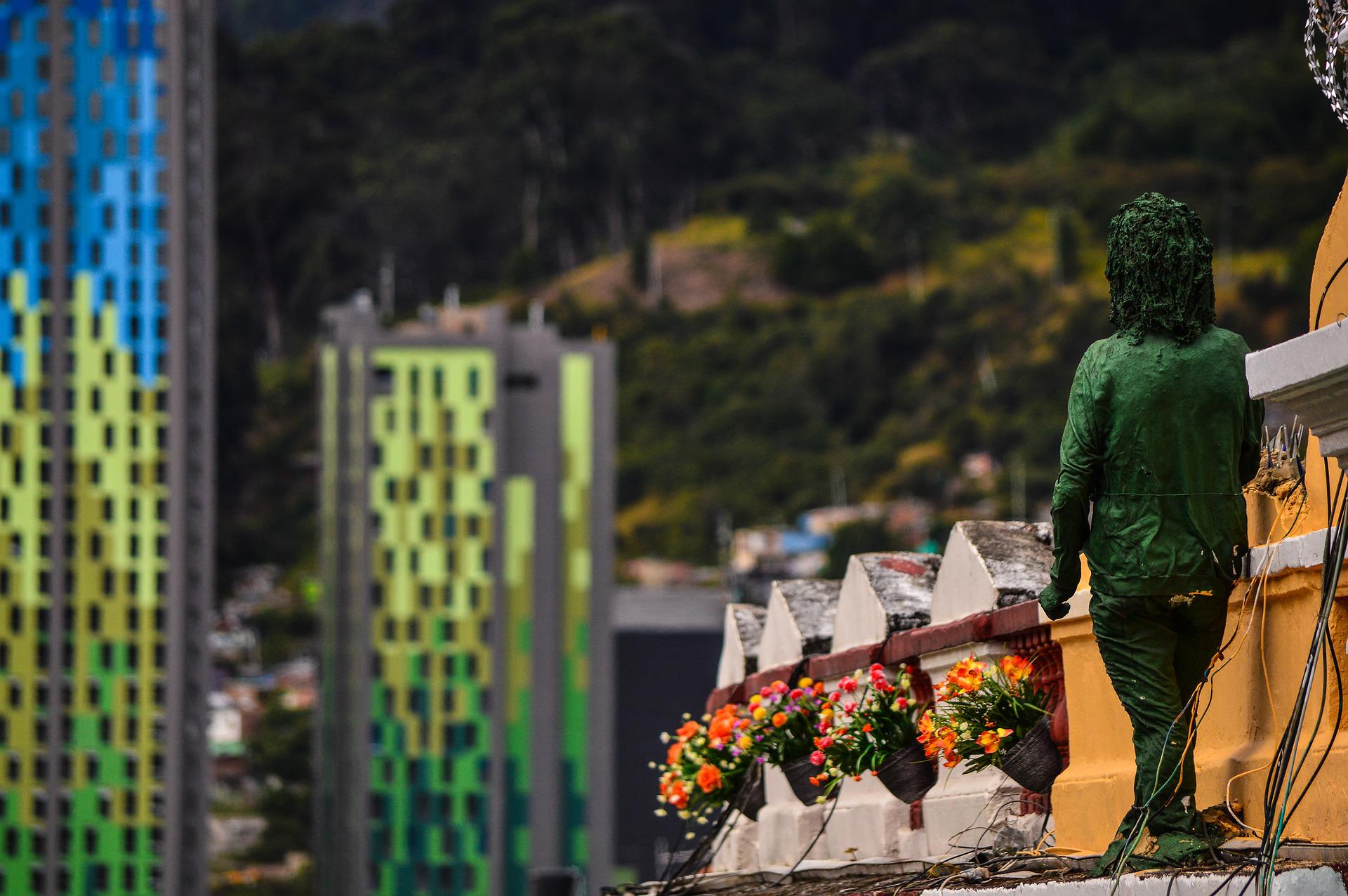 Where the contrast is sharper is in the more remote regions of South America. Lima's Miraflores district, an upscale beachfront place complete with bicycle paths, vegan cafes, well-maintained parks and a fantastic view of the Pacific Ocean, may feel like Santa Monica – but the Huaraz National Park in the Andes Mountains is no Malibu Hills. Equally, Buenos Aires has all the charm and all the comforts of any major city in the Western world, but riding Patagonia is nothing like riding Germany's Black Forest or France's Alpine routes.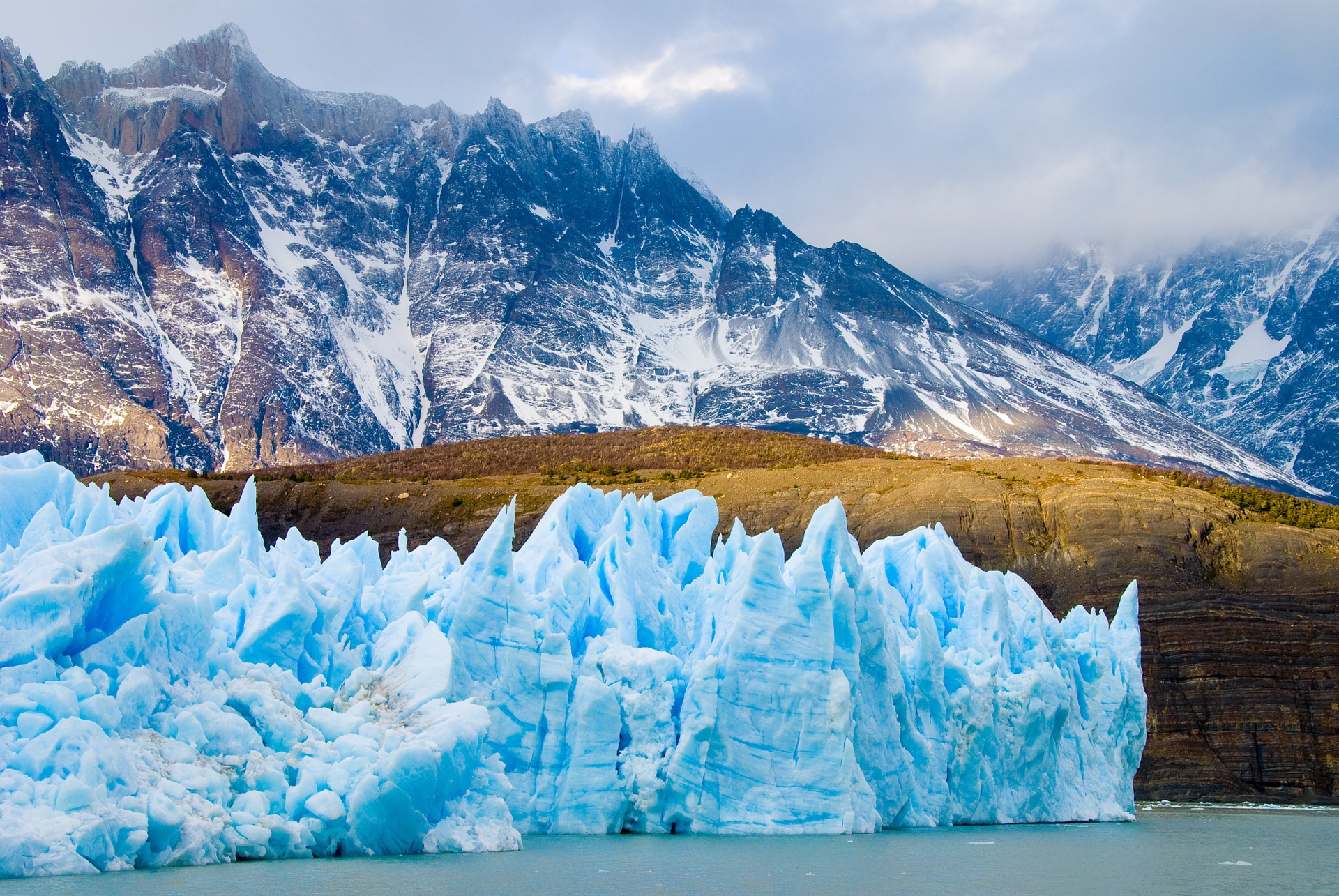 And that, to us, is the most beautiful thing about South America: you can explore places off the beaten path and get to some seriously wild corners of the planet, but at the same time, you're never too far away from a KTM dealership, an airport, an ATM, or anything else you might need along the way.
Is the Traffic in South America Dangerous?
Now for the question Western riders are most anxious about: traffic. For many people, words "South American traffic" conjure up images of unbearably noisy chaos, car wrecks around every corner, crazy drivers, and corrupt police officers.
That's not the case at all.
Sure, South American drivers are a little more spirited than their European or North American counterparts. Traffic rules are the same, but they're a little more loosely interpreted in Peru than in Switzerland. Entering roundabouts in Bolivia is more of an adventure than it is in Canada, true – but at the same time, drivers in South America are a lot more alert and aware of their own vehicles and those around them.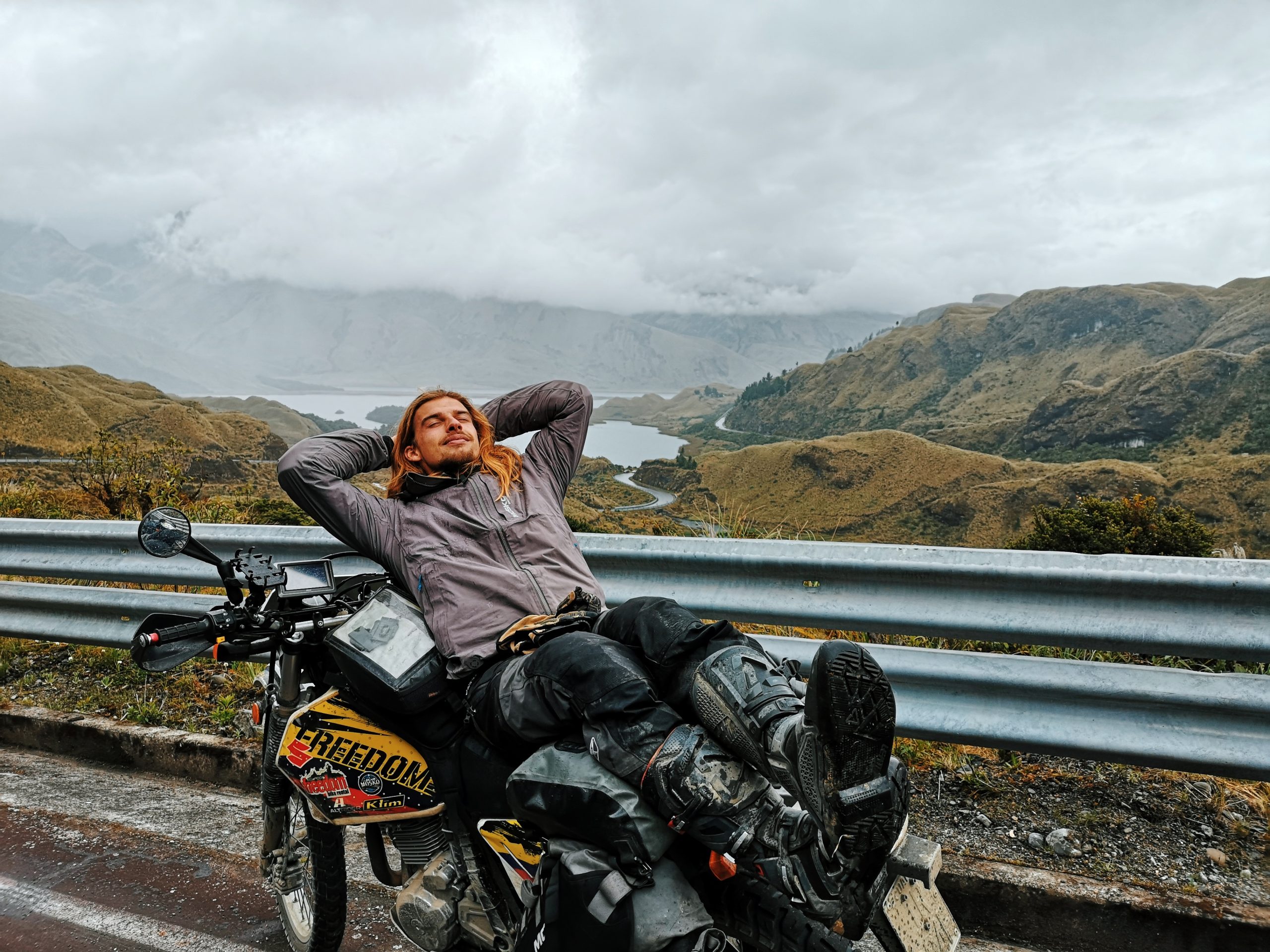 They're also often more courteous: if you have a GPS malfunction and end up going the opposite direction on a one-way street, locals won't yell at you or call the police – they'll just help you turn around and figure out where you're going. If you find yourself stuck behind a slow-moving truck, the truck will probably move over and let you pass. In fact, road rage as such doesn't exist in South America – everyone's pretty chill, even if you've managed to drop your bike in a busy intersection and are holding the cars up.
The trick to figuring out local traffic in South America is simply staying alert, watching your surroundings, and going along with the flow. Do as the locals do, and you'll get the hang of it in a matter of days.
What About Crime?
The second biggest concern for most people is crime. South America is swarming with drug lords, kidnappers, AK47-wielding guerrilleros, corrupt police and border officials, and thieves just looking to nick your $2,000 Klim jacket… Right?
Wrong.
Colombia does have a painful history of drug trafficking and civil wars, Bolivia has its own problems, and the port authorities in Buenos Aires are somewhat notorious for corruption. That much is true, but it doesn't mean that riding motorcycles in South America is unsafe.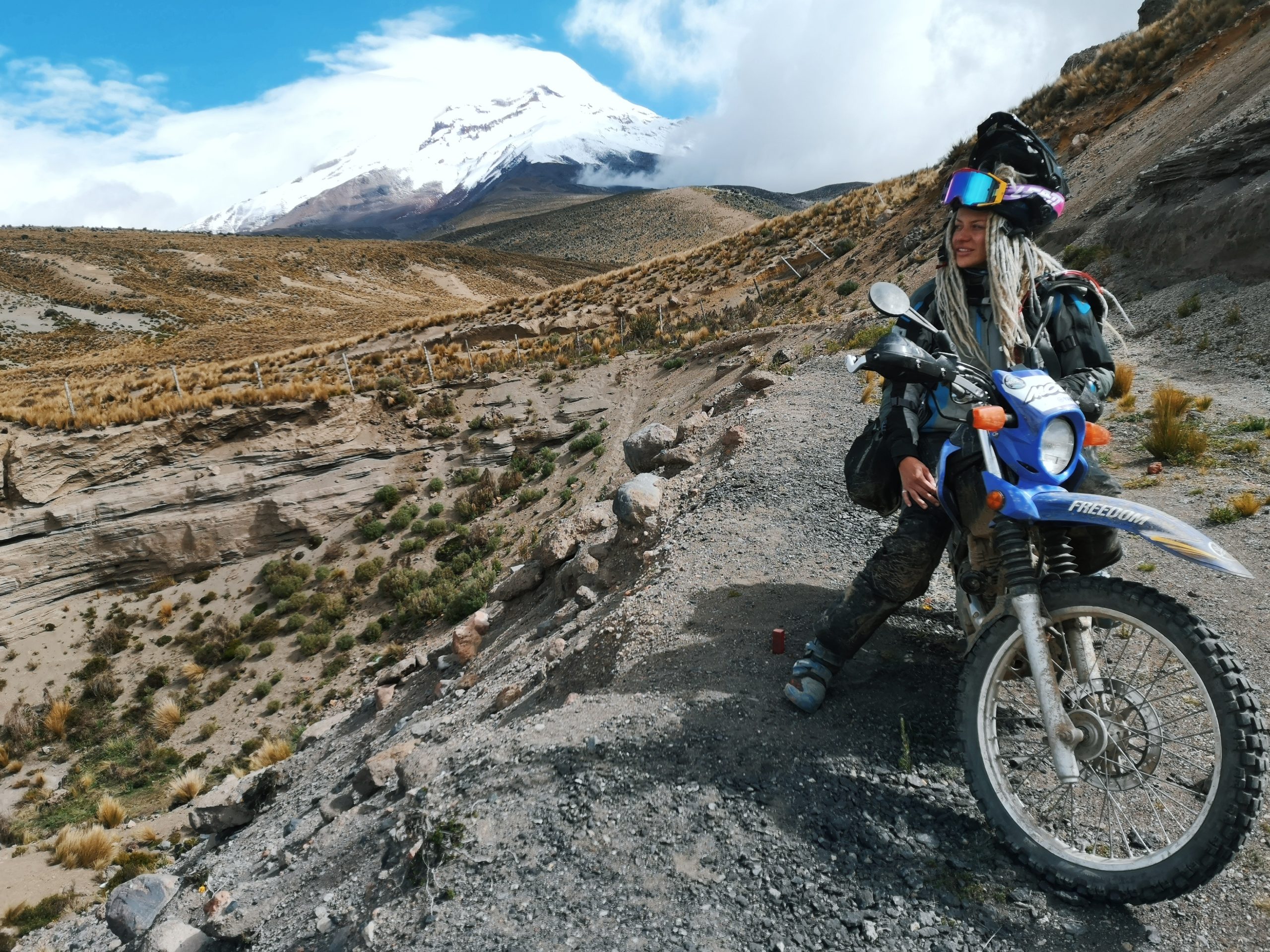 Colombia has changed significantly over the last decade and traveling here is now much safer than it was in the nineties. Corruption in Bolivia and Peru is still rife, true – but when it comes to traveling, this has almost no effect. In the four years we have been traveling and leading tours in Colombia, Ecuador, Peru, Chile, and Argentina, we haven't experienced any serious issues or faced dangerous situations despite exploring some pretty wild places.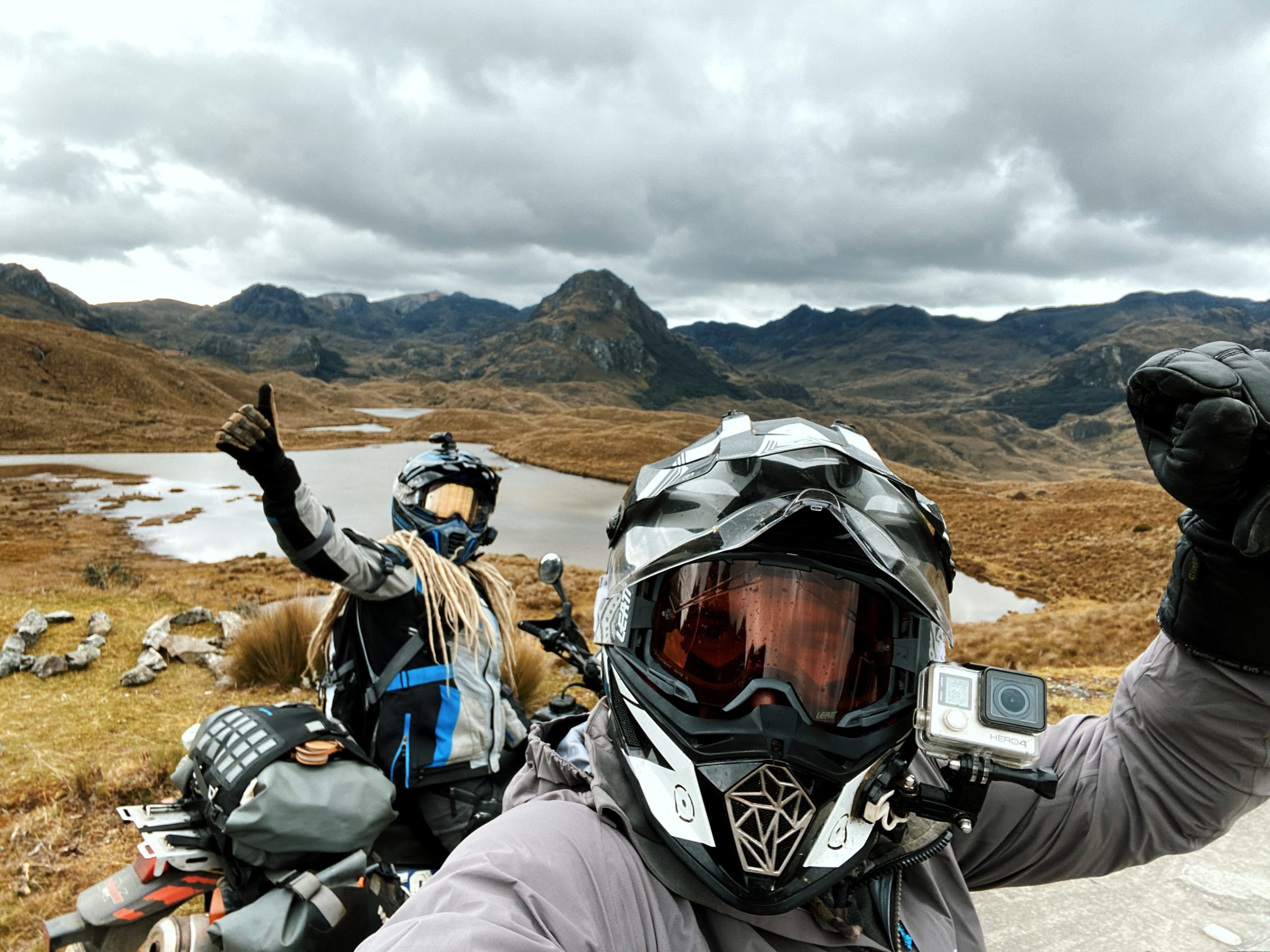 Take any major city in the world, and you'll find pickpockets. Take any remote, rural place in the world, and you'll probably find at least one dishonest police officer. South America is no different – I've had my backpack stolen in downtown Quito, but then, I've been robbed in Barcelona, too. If I left my camera on the seat of my bike, it would probably disappear regardless of whether the bike was parked on a street in London or Valparaiso.
As long as you use common sense – don't leave your valuables out, stay away from sketchier parts of cities, don't wander about town at 4am drunk and stoned, park your motorcycle safely, and don't ride in the dark – you'll be as safe in South America as you are in Colorado or Spain.
Is It Safe to Motorcycle Through South America Solo?
Finally, let's talk about road tripping alone. Is it safe to motorcycle through South America solo?
Having done just that as a female rider, my answer is yes, it is. In fact, you're more likely to be befriended and looked after by the locals when you're traveling alone. You're more approachable and more vulnerable, and people in South America are incredibly friendly, kind, and welcoming to solo travelers on bikes.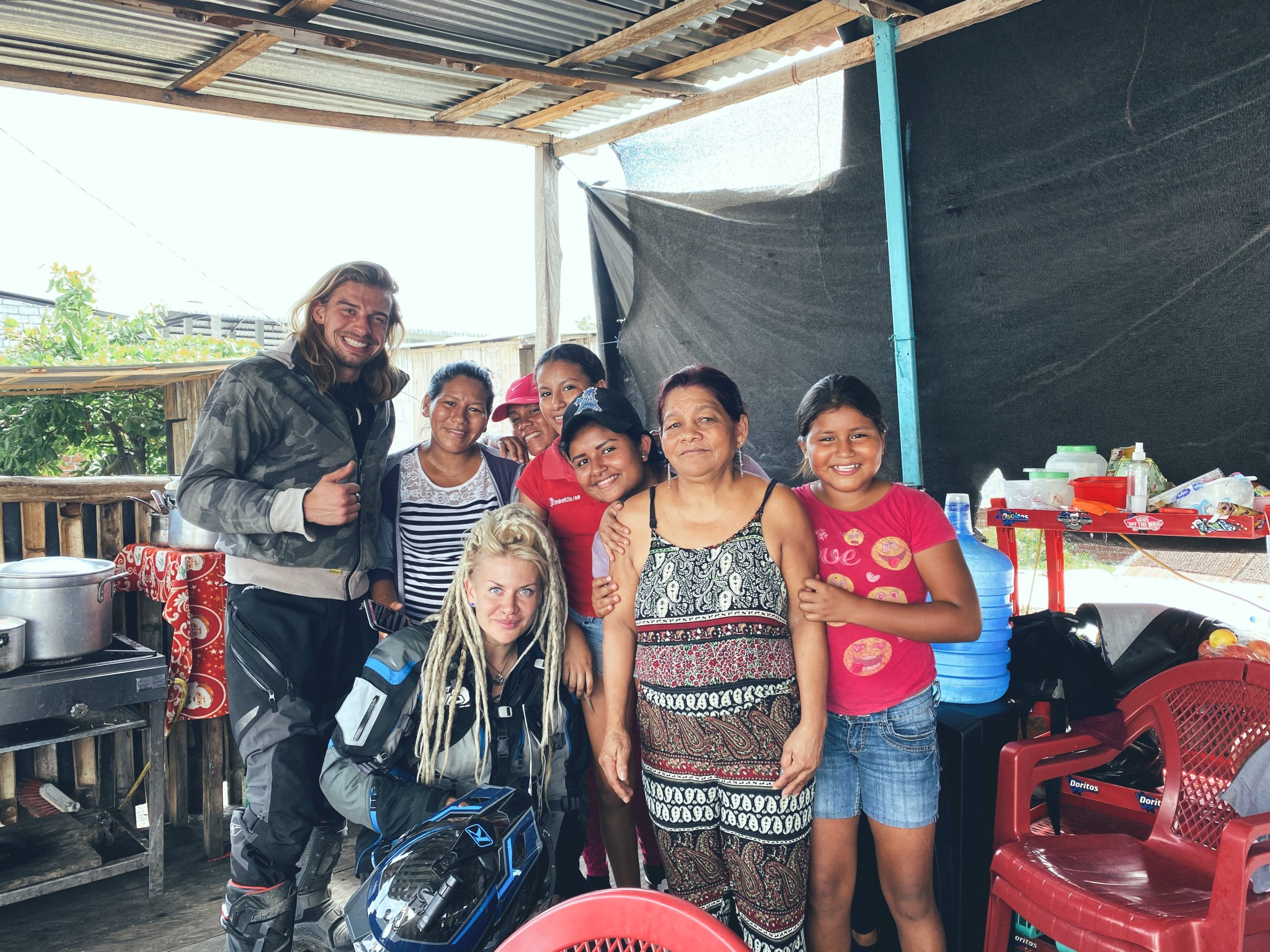 However, there are some places in South America where it's better to buddy up or take extra precautions.
A few famous routes like the Lagunas Route in the high desert of the Bolivian Andes or the long and lonely roads in Patagonia are quite remote and quite isolated, much like a lot of dirt roads in the Peruvian Andes. If you prefer riding dirt and want to get way off the beaten path, see that you have enough fuel, carry water and snacks, and make sure your bike is in a good shape.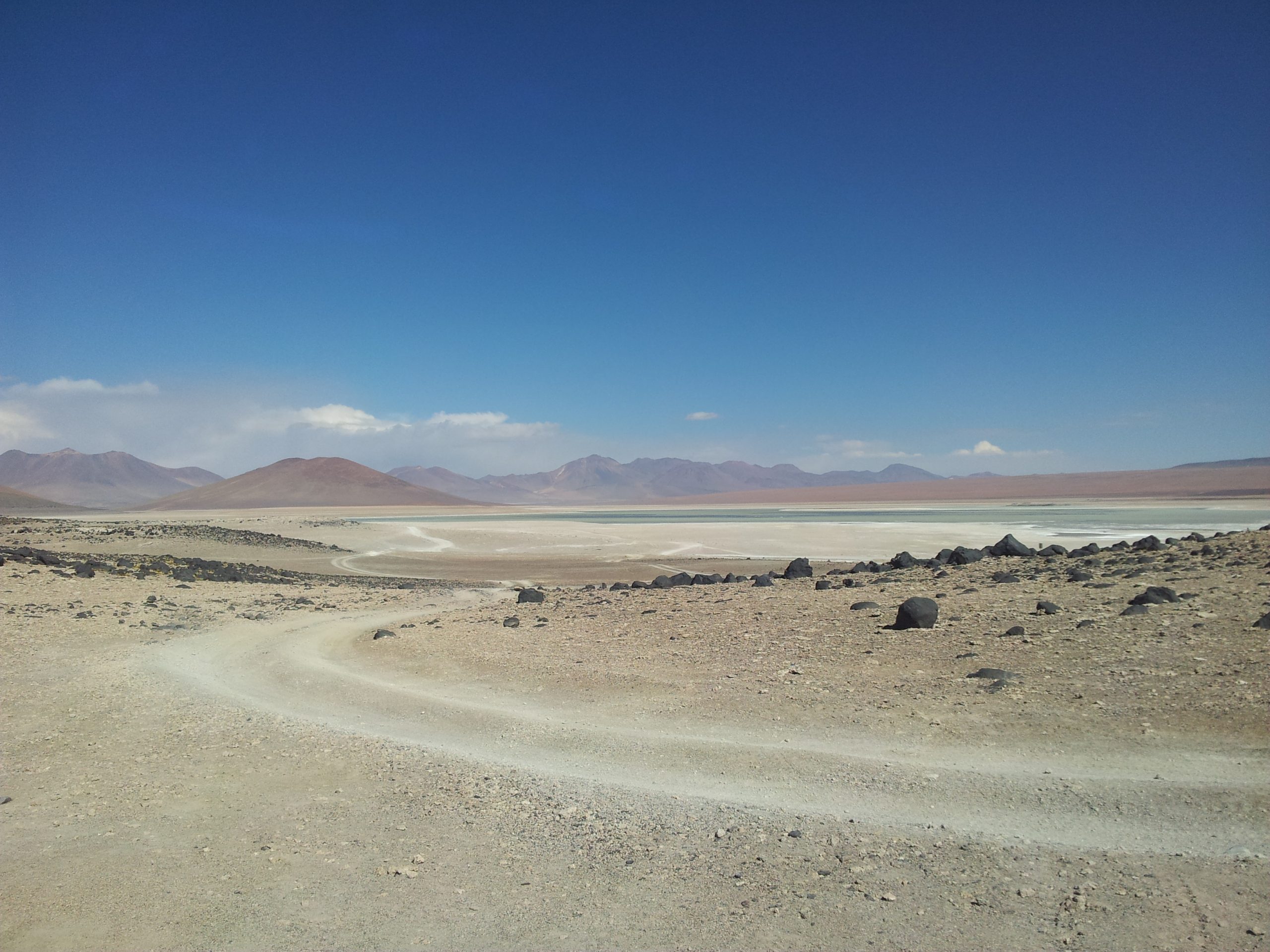 If you run out of fuel on the Lagunas Route or if you breakdown somewhere on the Carreterra Austral, help will come – these places aren't completely empty – but you may need to wait a while since those regions are sparsely populated and there aren't many people traveling along these routes.
Finally, don't ignore the advice of the locals. If they tell you a certain mountain pass is snowed in or there have been recent landslides, don't go it alone. If local police or military officials tell you to avoid a certain region, listen to them. In other words, don't go looking for trouble, and the trouble won't find you.
Motorcycle Safety Tips in South America
In our experience, motorcycling through South America is quite safe, and we never felt in danger in Colombia, Ecuador, Peru, Bolivia, Argentina, or Chile. That being said, it's always healthy to think of your safety, so here's a list of pointers for South America to help you out and ease your mind:
Be respectful. There isn't a sadder sight than an angry Westerner shouting at police or border officials in South America expecting local processes to be exactly the same as in, say, Germany. They are not. Police, military, and border officials in South America operate within a different system, often working on meager salaries and in hard conditions. If your bike import paper processing is taking longer, don't lose your sh*t and start demanding better service – be patient, be humble, and be kind. That will get you much further than frustration.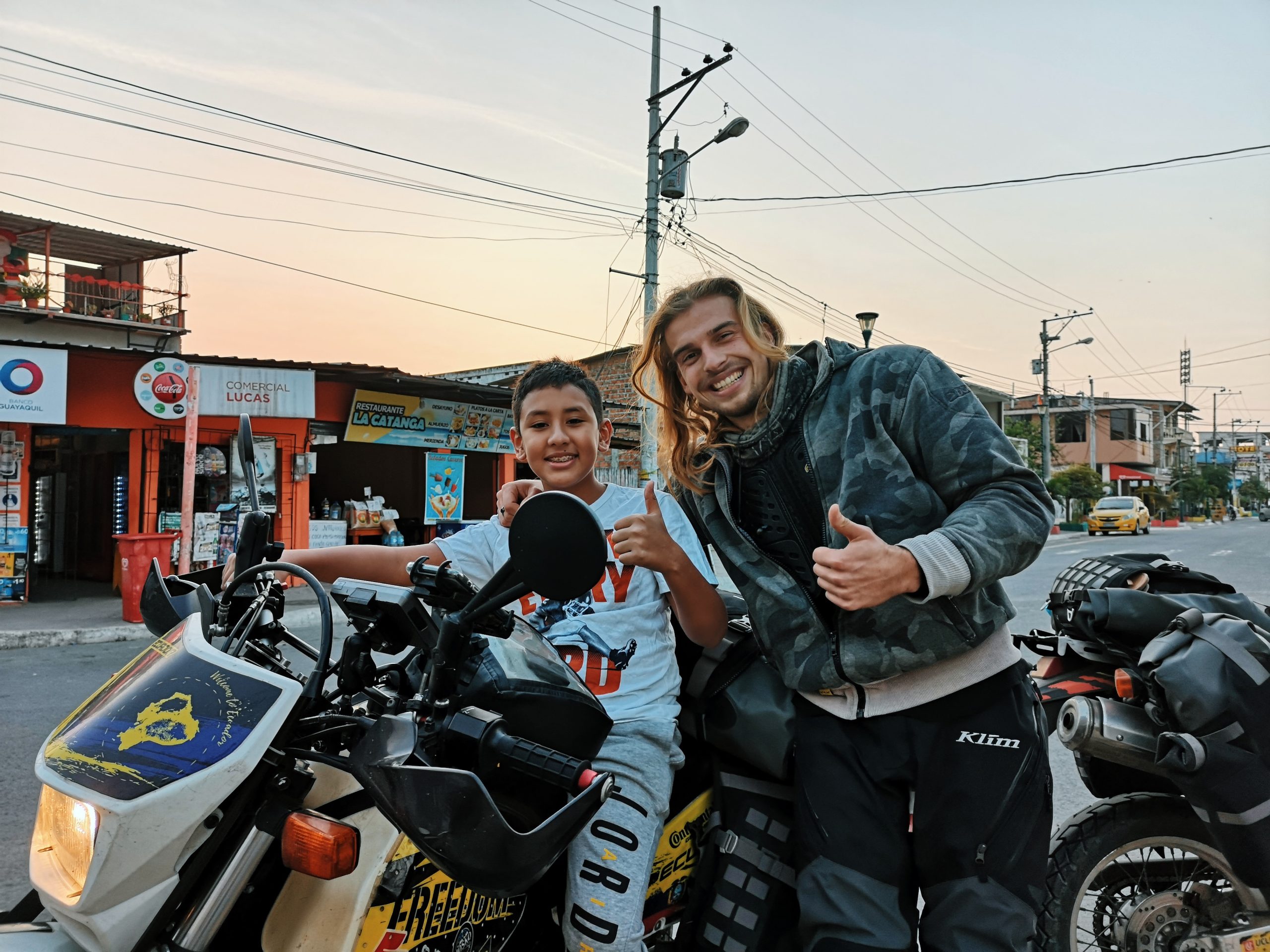 Be alert. As we mentioned, traffic flow is different in places like Bolivia or Peru, so keep your eyes peeled and ride defensively.
Check your fuel range. If you're riding somewhere remote, gas stations may be few and far between, so carry extra fuel just in case.
Don't use fixers at borders. It's not that they'll scam you, but you simply don't need them – crossing borders with a motorcycle in South America is a fairly straightforward process, so you don't need to pay an overly eager local to help you.
Learn a few phrases in Spanish. The locals appreciate the effort.
Carry $50-$100 worth of local currency in cash with you. In more remote places, card payments aren't always an option.
Don't ride in the dark. There may be potholes, livestock, kids, dogs, horses, or massive speed bumps on the road. In the dark, those things are harder to spot in time, so err on the side of caution and stop riding when you're losing daylight.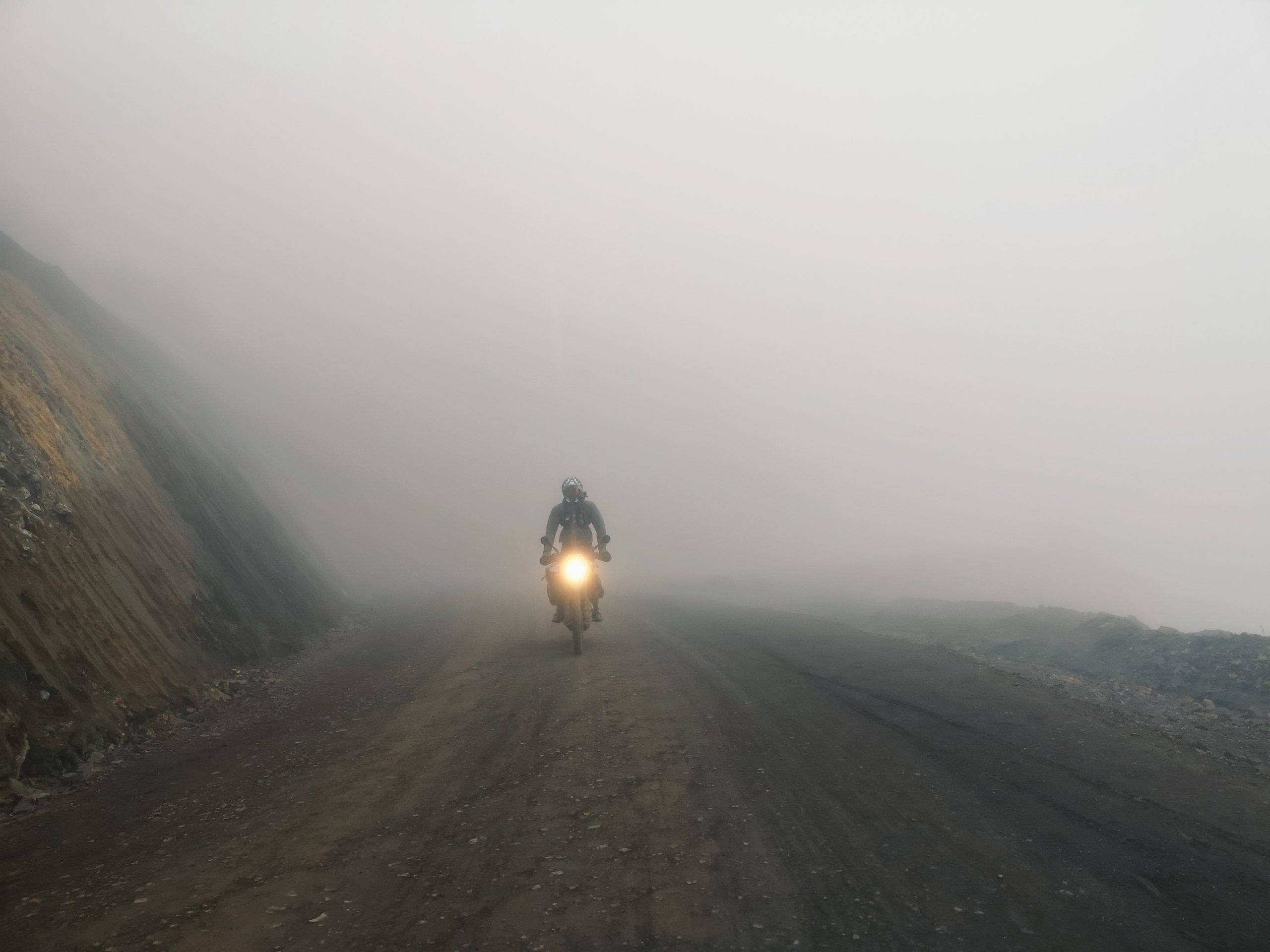 Always look for safe motorcycle parking.
Respect the boundaries of National Parks and indigenous communities and don't camp on private lands.
Get cash out of ATM's rather than exchanging at borders.
Never offer bribes, and if you're asked for one, demand to see the supervisor/commanding officer/higher-ranking officer/be taken to the police station. Offering bribes adds to the corruption, and it increases the chances that some other traveler after you might get ripped off.
Don't overstay your visa or your bike import permit.
Listen to the warnings of local people or law enforcement.
Carry several bank cards just in case you lose one, it gets eaten by an ATM, or expires.
Carry a small first aid kit with Band-Aids, disinfectant spray, painkillers, and stomach pills. You're unlikely to catch some exotic disease, but food poisoning and altitude sickness can happen.
Carry print copies of your passport, driver's license, and your bike documents.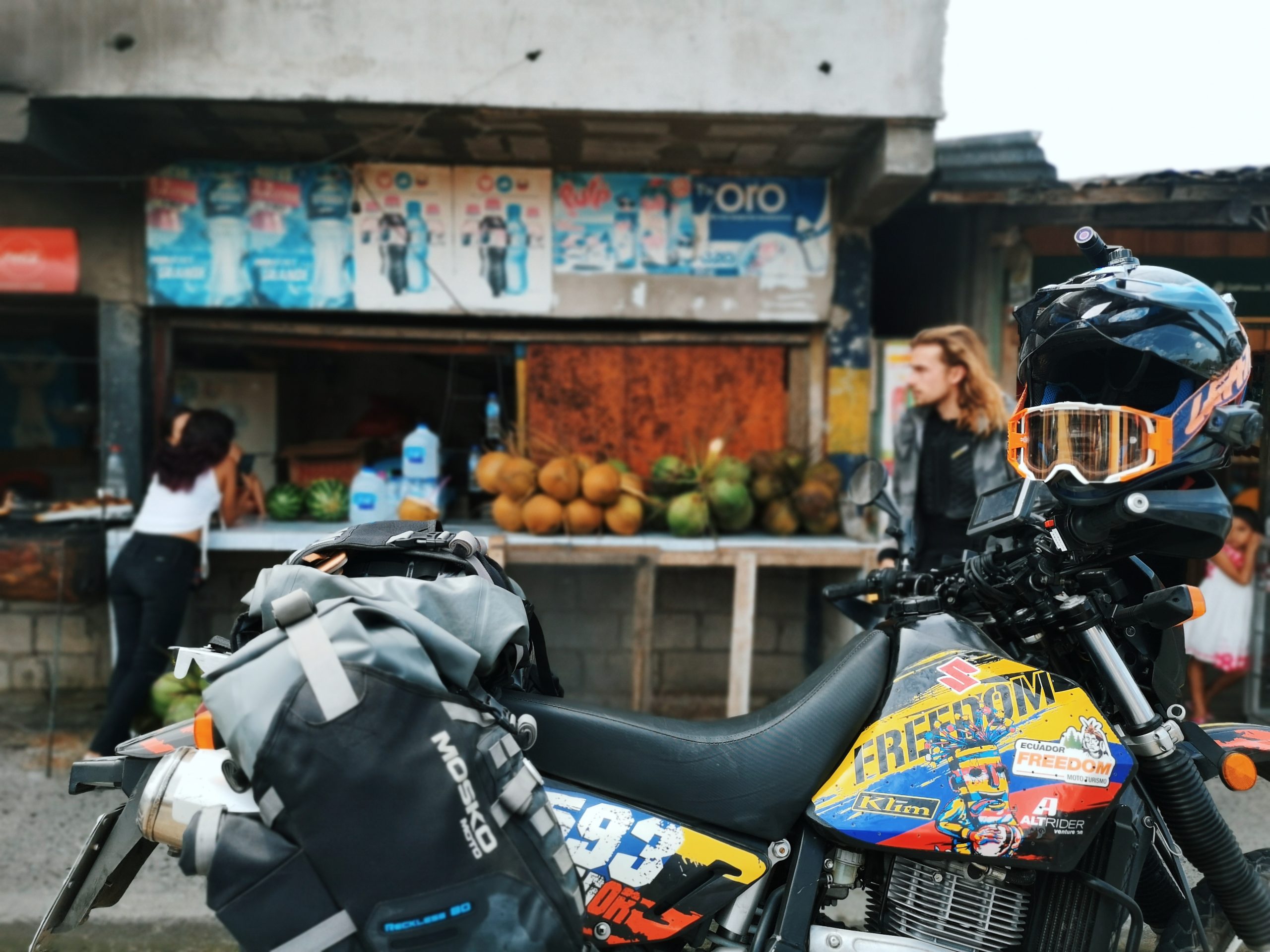 South America Motorcycle Adventures
So what's the bottom line: is it safe to motorcycle through South America? We hope this post has helped you figure it out, and if you have any specific questions or concerns, shoot us a message – we love talking about South America!
If you're still on the fence about riding your own bike there, another option is to go on a motorcycle tour first and see what it's like. You can fly in, ride, get a bit of a taste, and then return to explore the entire continent on your own motorcycle later. South America motorcycle tours can be a great intro to a bigger trip, and we just so happen to be leading a motorcycle tour in Colombia this fall:
ADVENTURE MOTORCYCLE TOUR: COLOMBIA
We still have a few spots available, and we'd be stoked share the Colombia experience with you!
Prefer to travel on your own? You might find these resources useful:
Do you think it's safe to motorcycle through South America? Have we left anything out? Share your thoughts in the comments below!