Motorcycle camping is one of our favorite topics for two reasons: it's all about freedom – and nature. We don't camp nearly as often as we'd like to these days since we're always on the go scouting new destinations. Whenever we get the chance, though, we pitch the tent somewhere secluded and beautiful… and just hide from the world a little bit.
Motorcycle camping is the ultimate experience of being a two-wheeled nomad. You ride, you find a spot somewhere in nature, you put up your tent, and voila: you're home. Every time, the view is different – you might be camping against a backdrop of snow-capped mountains, the sea, a riverbank, or the woods – and every time, it's yours to enjoy for a while, then leave again without a trace.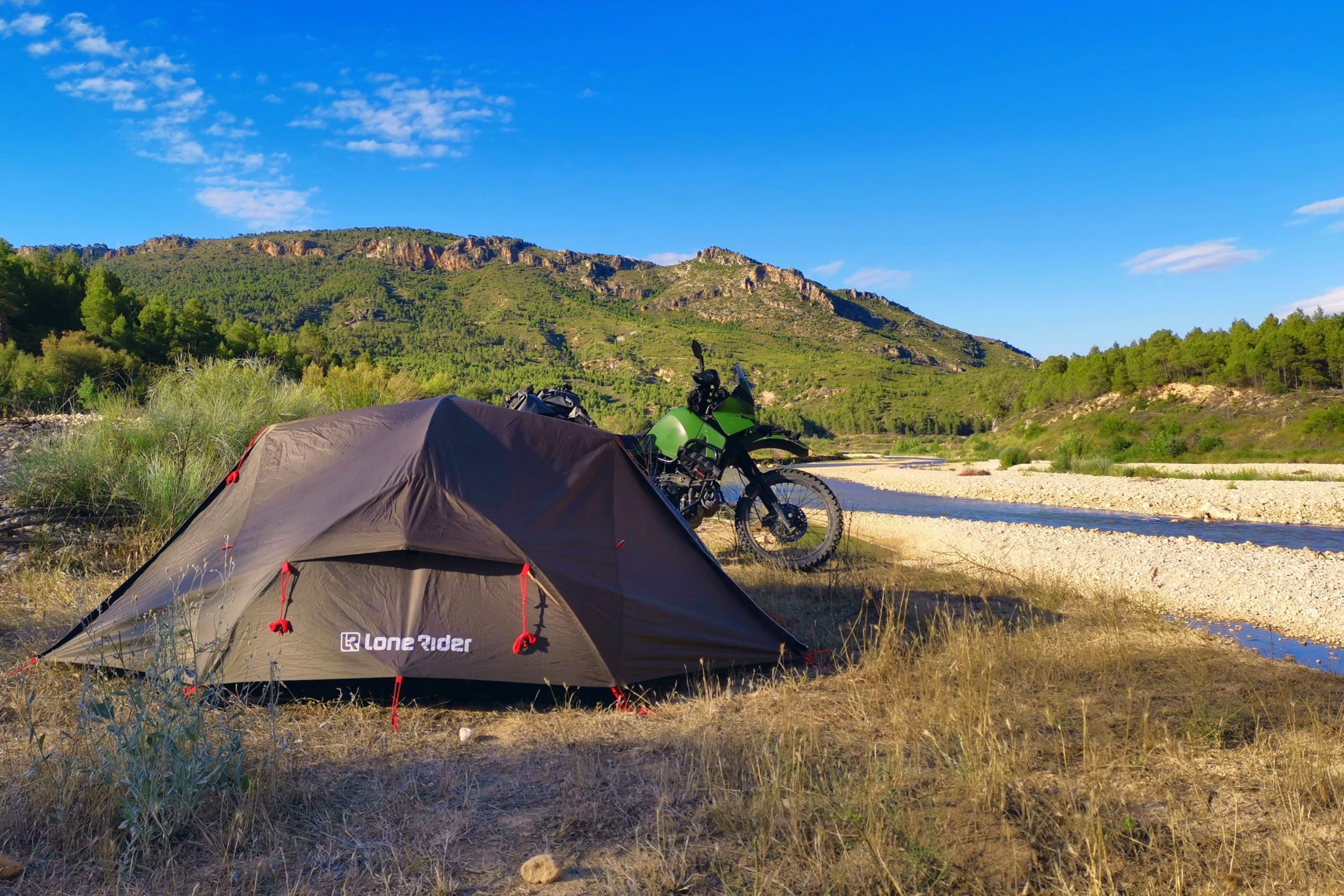 So what do you really need for motorcycle camping, how do you find the best spots, and what gear works well? Here's our take.
Finding Motorcycle Camping Spots
Whether you're riding the TET in Europe or going on a round-the-world motorcycle trip, you'll need to be on the lookout for good camping spots along the way. You have two options: organized camping (campsites, camping parks, and the like) or wild camping.
We rarely stay in organized campsites since we prefer to be away from people and in nature. That being said, organized campsites can be great every once in a while to do your laundry, shower, and enjoy a few other amenities like a kitchen or electricity. I've stayed in several organized campsites in Chile and Argentina precisely for that reason – in Patagonia, distances are long, and after a few days of wild camping, it's good to stay at a campsite to recharge your electronics, have a wash, and repack your stuff.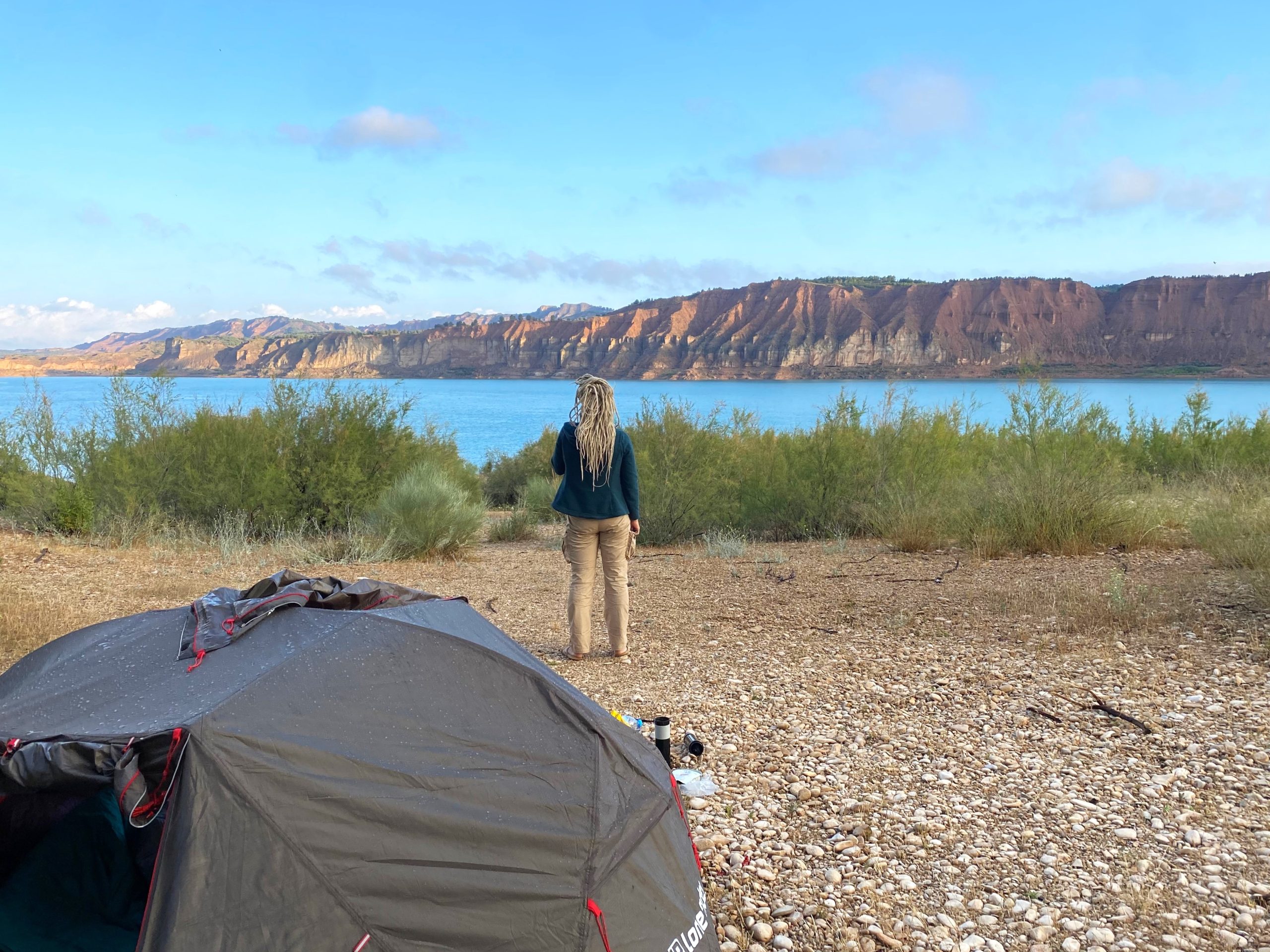 iOverlander is one of our favorite apps to find campsites – both organized and wild – and it's a good tool for general overlanding information. It's an open-source app that travelers update frequently, so if you're thinking of staying at campsites, this is a good place to start. In addition to organized campsites, you'll find designated camping areas – places where there are no amenities but where you'll likely find a scenic spot, a place for a fire, and sometimes, some wooden benches or a hut. These places are usually free, and they're great for camping, but be sure to avoid staying there on weekends if you want to avoid camper crowds.
Wild Camping
What if you're planning to wild camp? It's different in each continent: in South America, for example, wild camping is easy; in Europe, it might be a little trickier (or even illegal) in some countries.
Still, there's a simple method of finding good wild camping spots: zoom in on Google Earth. When we're planning to camp, we tend to look for three things: a body of water (lake, river, creek, stream, pond), an access road to it (ideally, a small gravel road or singletrack so we know there won't be cars around), and if the area is forested, a small clearing. That's it. Most of the time, we find some pretty cool spots this way ranging from beautiful riverbanks to small lakeside beaches or little pockets in the woods, and we're almost never disturbed by others as we choose off-road tracks to get to these places.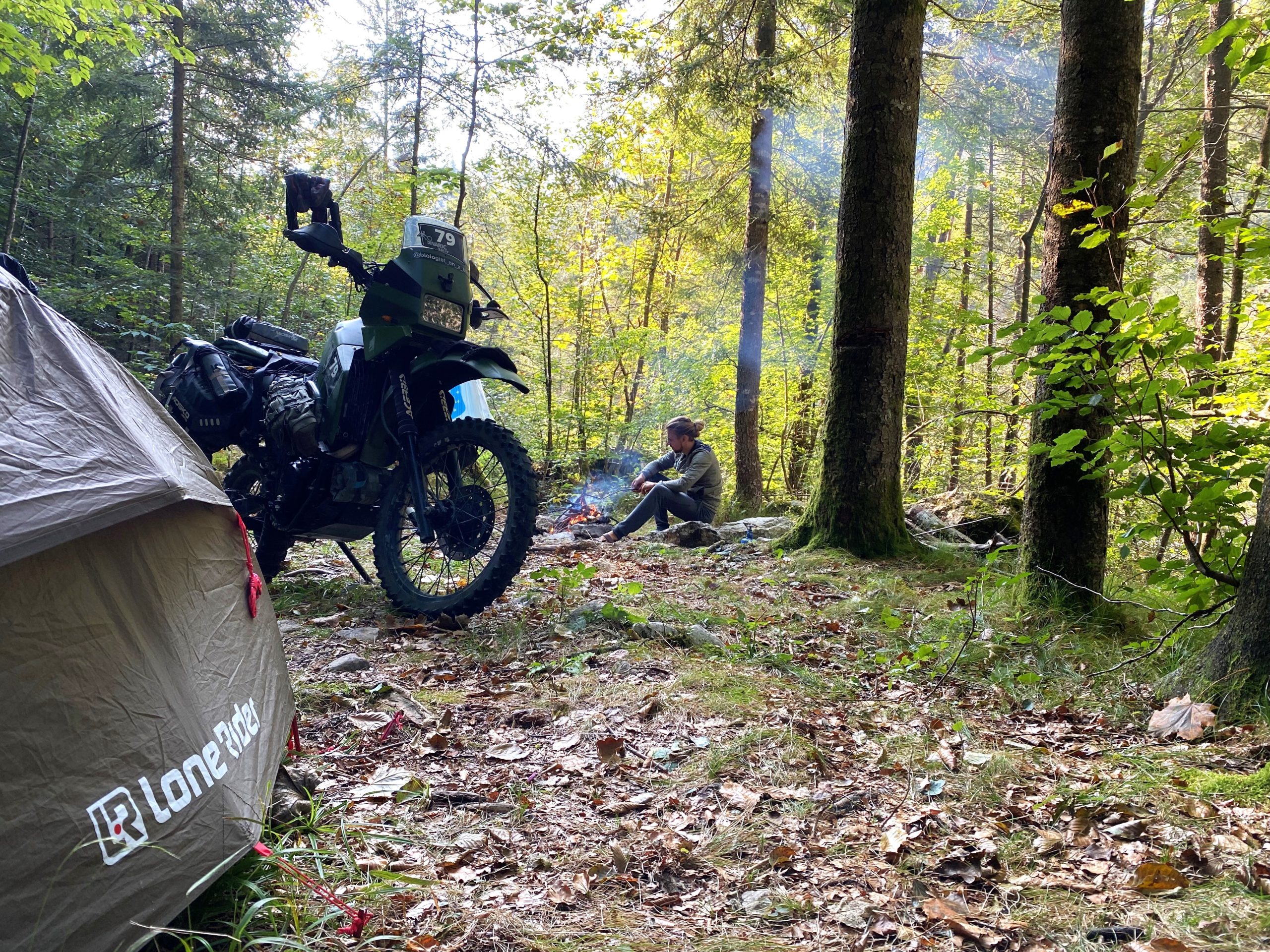 The general rule of thumb when it comes to wild camping is finding a place where nobody knows you're there at all. For us, it's not just about safety, it's about enjoying nature without any other people around us.
iOverlander can be useful in finding wild camping spots, too, but bear in mind that often, it's aimed at 4×4 and campervan travelers rather than motorcyclists. What works for four-wheeled overlanders may not always work for riders: for example, the spot might be a concrete lot or simply a more remote parking space. It'll work for a motorhome, but not so much for motorcycle camping.
Finally, it's important to know where not to wild camp, like natural reserves, private lands, and some national parks. Always check with the locals and remember to leave no trace after you've camped somewhere. Pick up your trash, clean up after your stay, and leave nothing but footprints.
Motorcycle Camping Gear: What You'll Need
Motorcycle camping gear is debated just as much as tire choices and luggage options, but for us, the key is…simplicity. For a good night's sleep, you'll need a tent, a comfortable air mattress, a sleeping bag, and an inflatable pillow. That's about it, and there's no need to overcomplicate your setup: the faster you can pitch and pack your camping gear, the better. As long as your tent has a mosquito net and is waterproof, your air mattress comfy, your sleeping bag warm enough, and your pillow pillowy enough, you're just about good to go.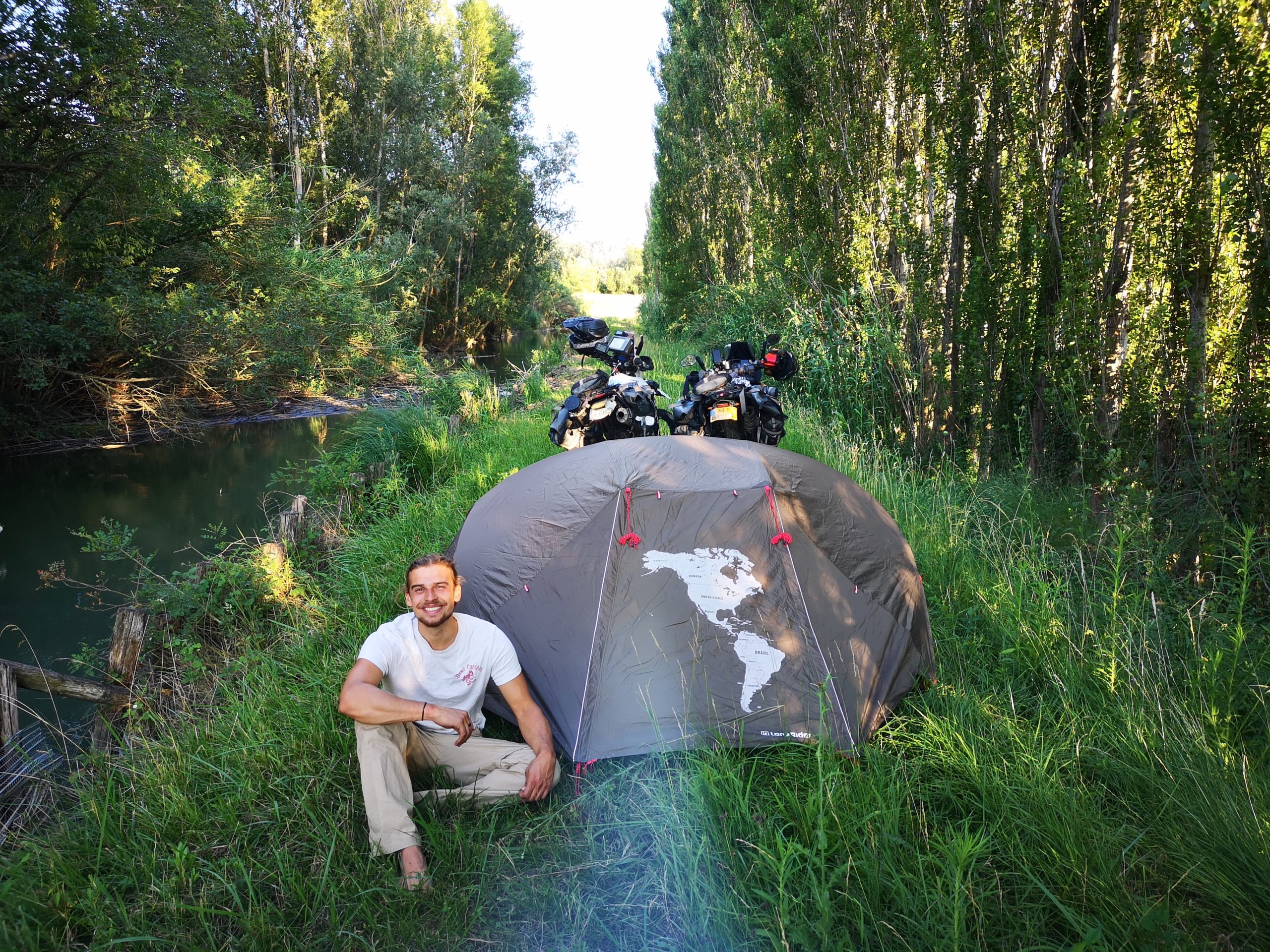 What specs are the best, though? That's as individual as your choice of bike or route.
We like motorcycle camping gear that packs as small and light as possible, but we do lug a ridiculously heavy air mattress around. The thing is huge, heavy, and to many riders, it seems pretty absurd. It may be, but for us, it's important to sleep well, and the thin, single-person air mattresses just don't do the trick. We also tend to wild camp for days in a row, so having a comfy setup means we can chill, work, and rest well.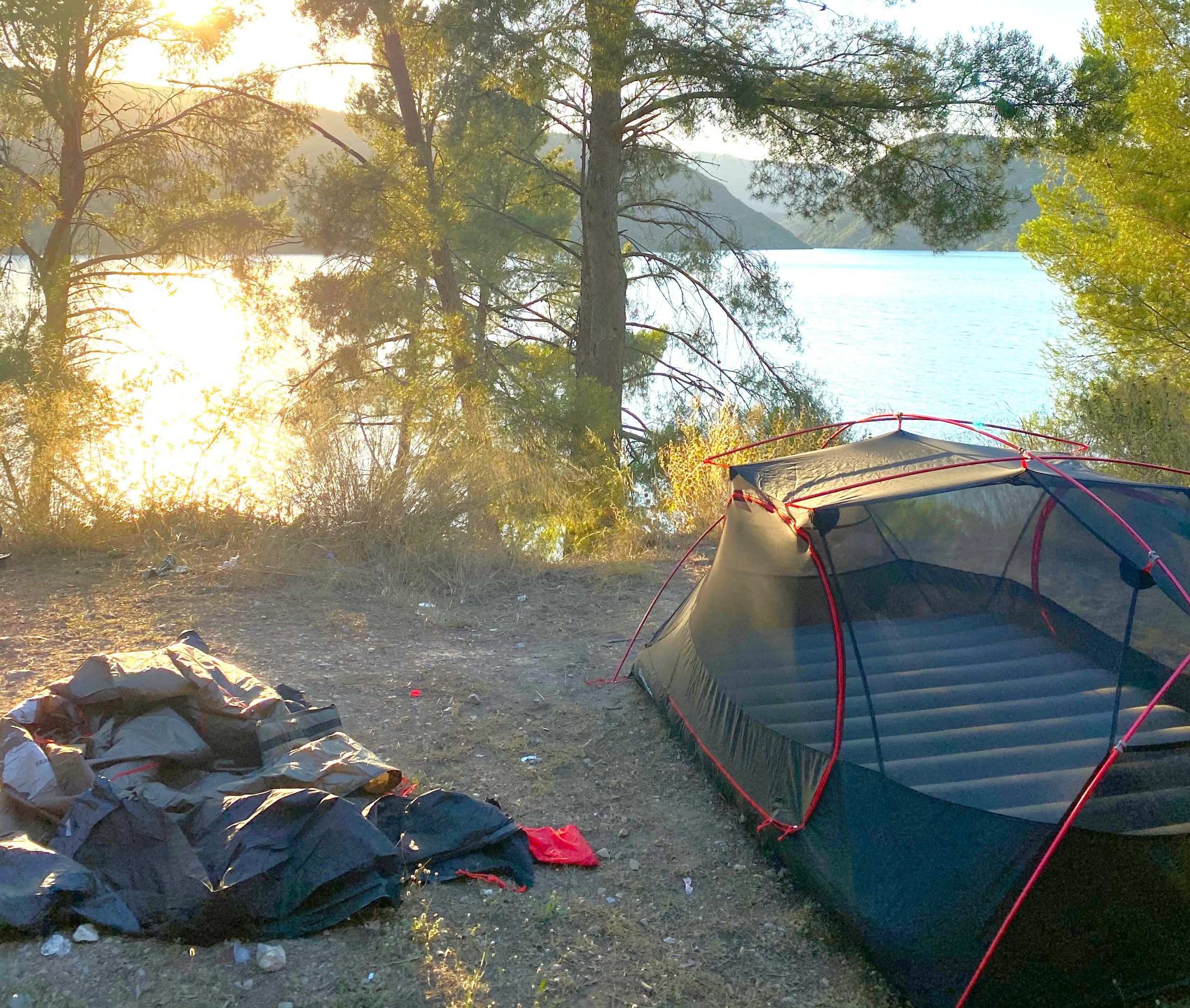 When it comes to sleeping bags, we have generic Decathlon stuff that isn't exceptional in any way – it just does the job. Sure, it would be nice to have more sophisticated gear that packs smaller and lighter, but is it absolutely necessary? Not for us, but then, your mileage may vary.
The same goes for inflatable pillows – for years, I used to sleep using a rolled-up riding jacket as a pillow, so an inflatable one is a huge step up. Brands don't matter as much – just pick up whatever seems reasonable, test it out, and sleep well.
Motorcycle Camping Tent
Now for your most important piece of real estate on the road: a motorcycle camping tent. Should you go for a basic, cheap tent, a high-end, high-tech, ultra-light mountaineering tent, or something in the middle? Having tried both the really cheap ones ($20 from an Argentinean supermarket) and the ultralight, ultra-tech ones ($549 Big Agnes), we settled with a mid-range, mid-budget option.
The cheap and basic stuff works if you're out for a ten-day ride or a month-long journey. You don't really need to worry about durability much, and the basic tent will do its basic job; hell, it may even last longer and be water-resistant. But if you're on the road long-term, you might want something a little sturdier and longer-lasting.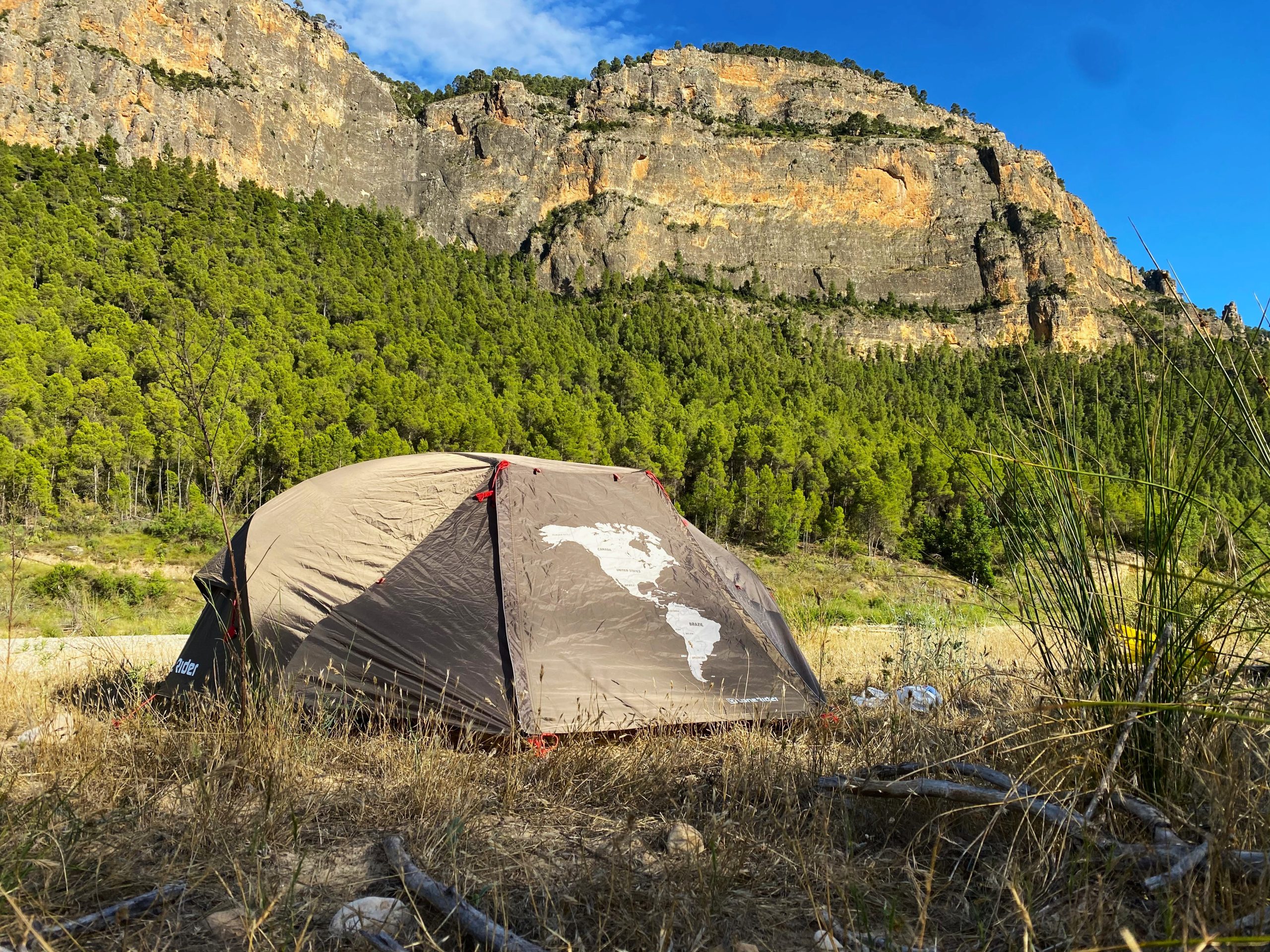 The professional tents aimed at serious mountaineers are fantastic. They work incredibly well, they pack so small and light it's crazy, and they last. The trouble with them is, these things are silly expensive. If your budget allows it, by all means, go with Big Agnes or Hilleberg. If it doesn't, there are plenty of good options somewhere in between.
Lone Rider Motorcycle Tent
Our home and shelter for over two years now have been the Lone Rider ADV tent. It's shaped like a turtle shell which gives us a little extra space, it's waterproof (and hail-proof, as we learned on one stormy evening in Spain), it's dead-easy to set up, and for what it is, the weight and size ratio is pretty good.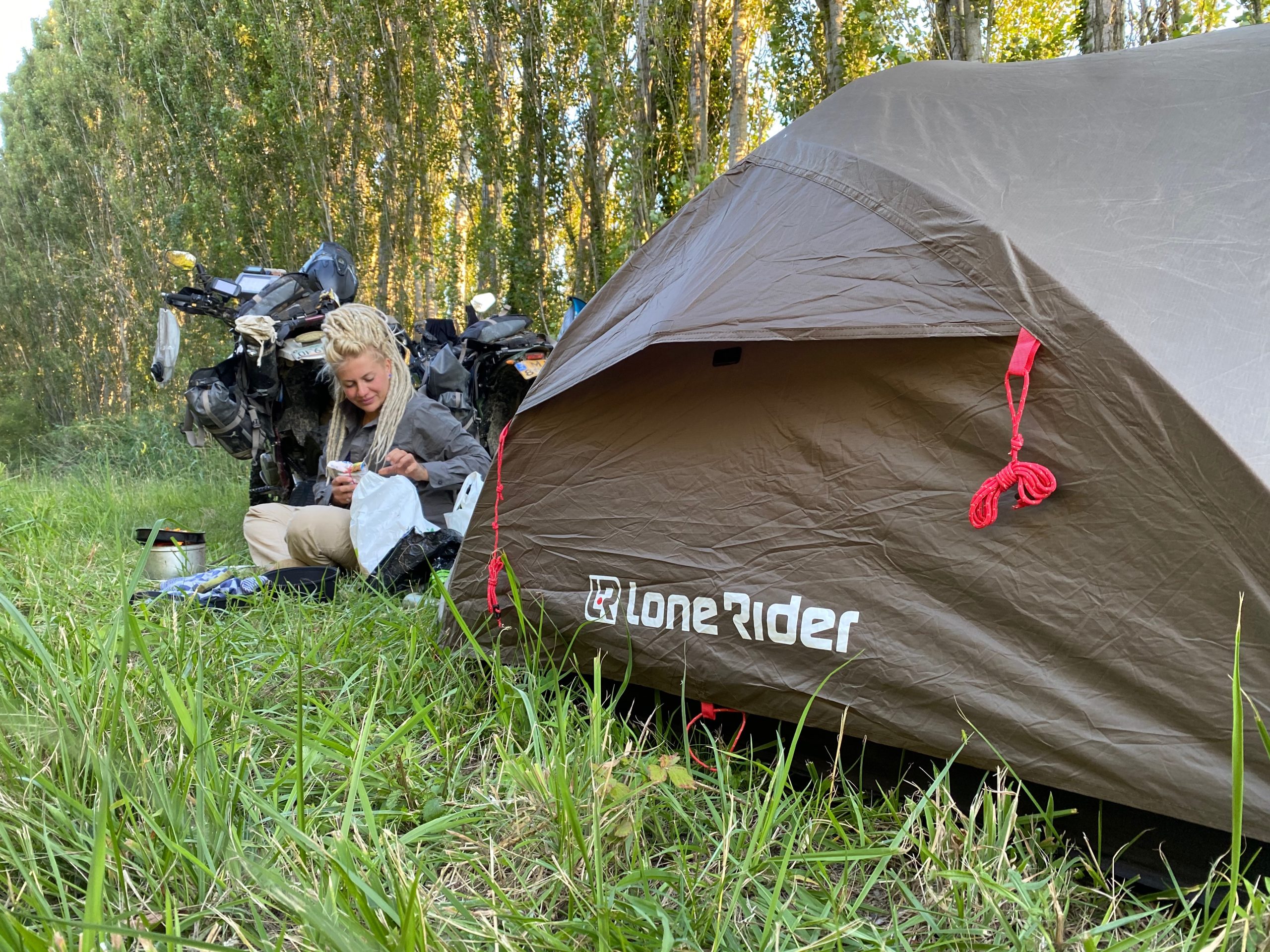 The Lone Rider ADV tent is durable – we've been using it in all sorts of weather, and we've not always been as careful with it as we should have, but here it is, still intact and still comfortable and protective. At $379, it's not exactly the cheapest option, but we're getting three solid years of camping out of it and it still works well, so we're happy campers: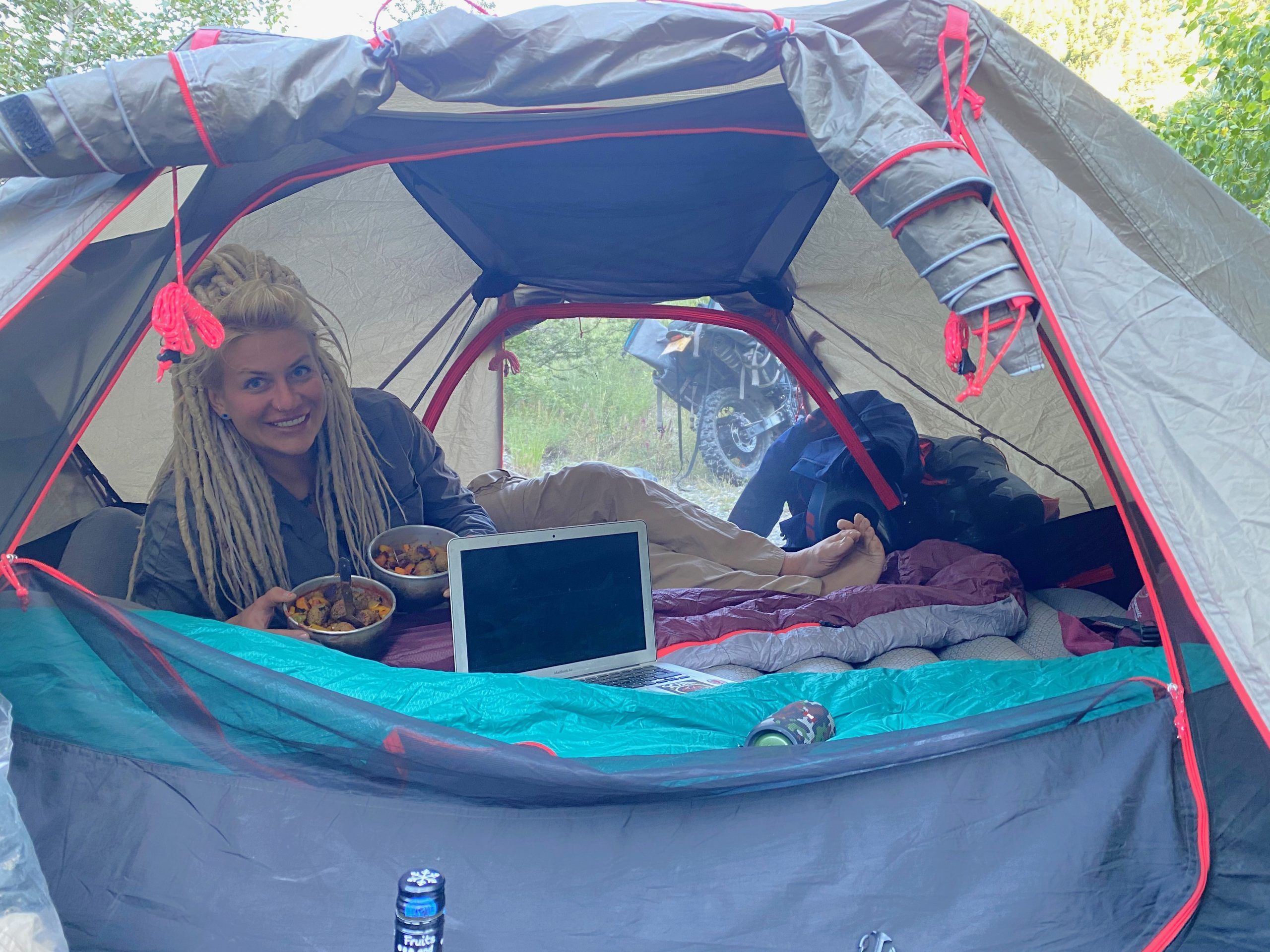 Now, some folks like their tents real comfortable – and they like their bikes safe, too. If you're leaning toward sharing your tent with your bike, there's the Lone Rider motorcycle tent option where both you and your trusty steed stay together: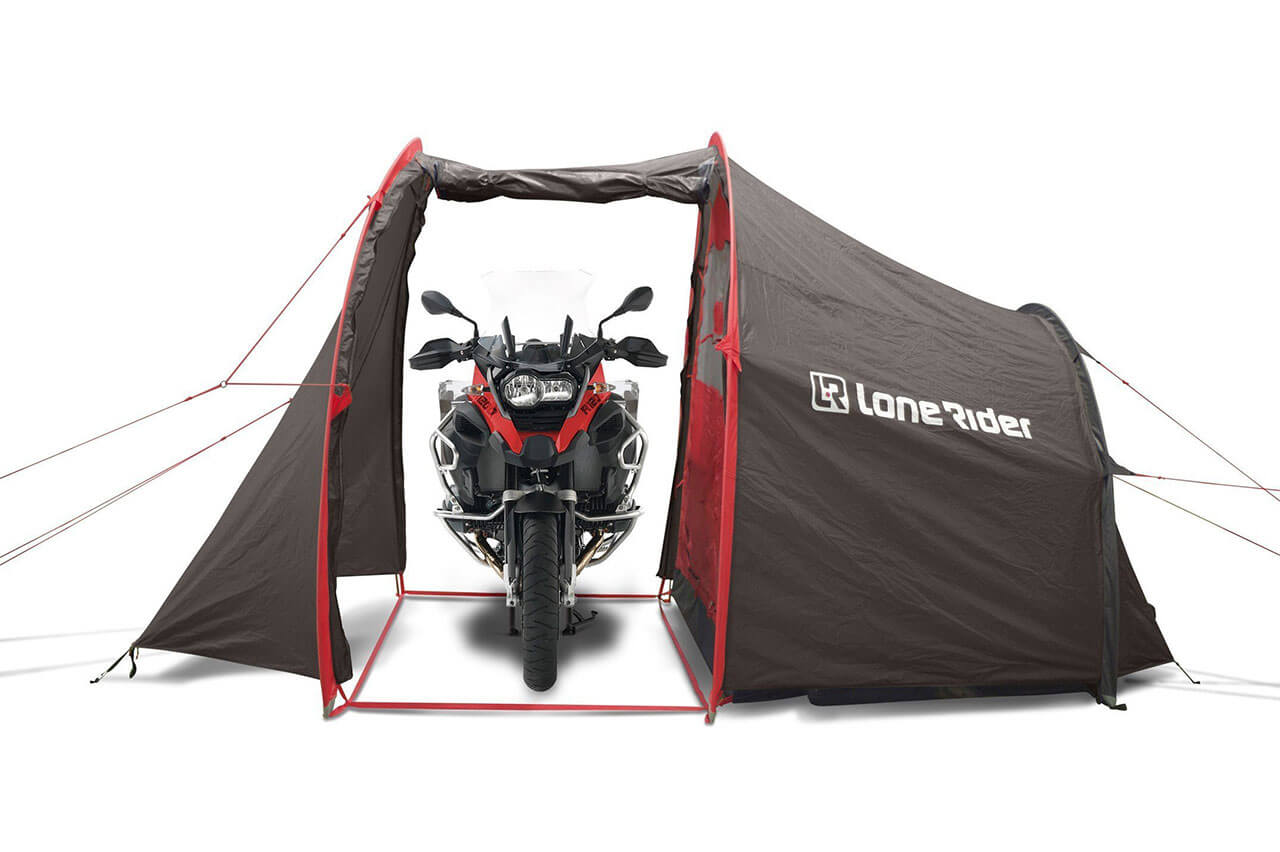 It seems a tad much for us, but then, we're not camping all of the time. If you're going to, the Lone Rider motorcycle tent could be a pretty cool thing to have – you can use the porch as extra space for the rainy days, you can fix your bike there protected from the rain, and if there are two of you traveling, then you've got a whole house and garage with you.
Motorcycle Camping Add-Ons
Remember that silly big mattress we're carrying around? We've also got a tarp with us. Yes, our tent is spacious and waterproof, but since we like to set up camp for longer periods of time, it's cool to have a dry space in case it rains. We set the tarp up above the tent, and this way, we have more space to cook, chill, and hang out, and our bikes can have shelter, too. If you opt for that Lone Rider tent-garage, the tarp isn't necessary; it's also not exactly necessary if you've got a small tent, either, it's just something we like to have for a little bit of extra comfort.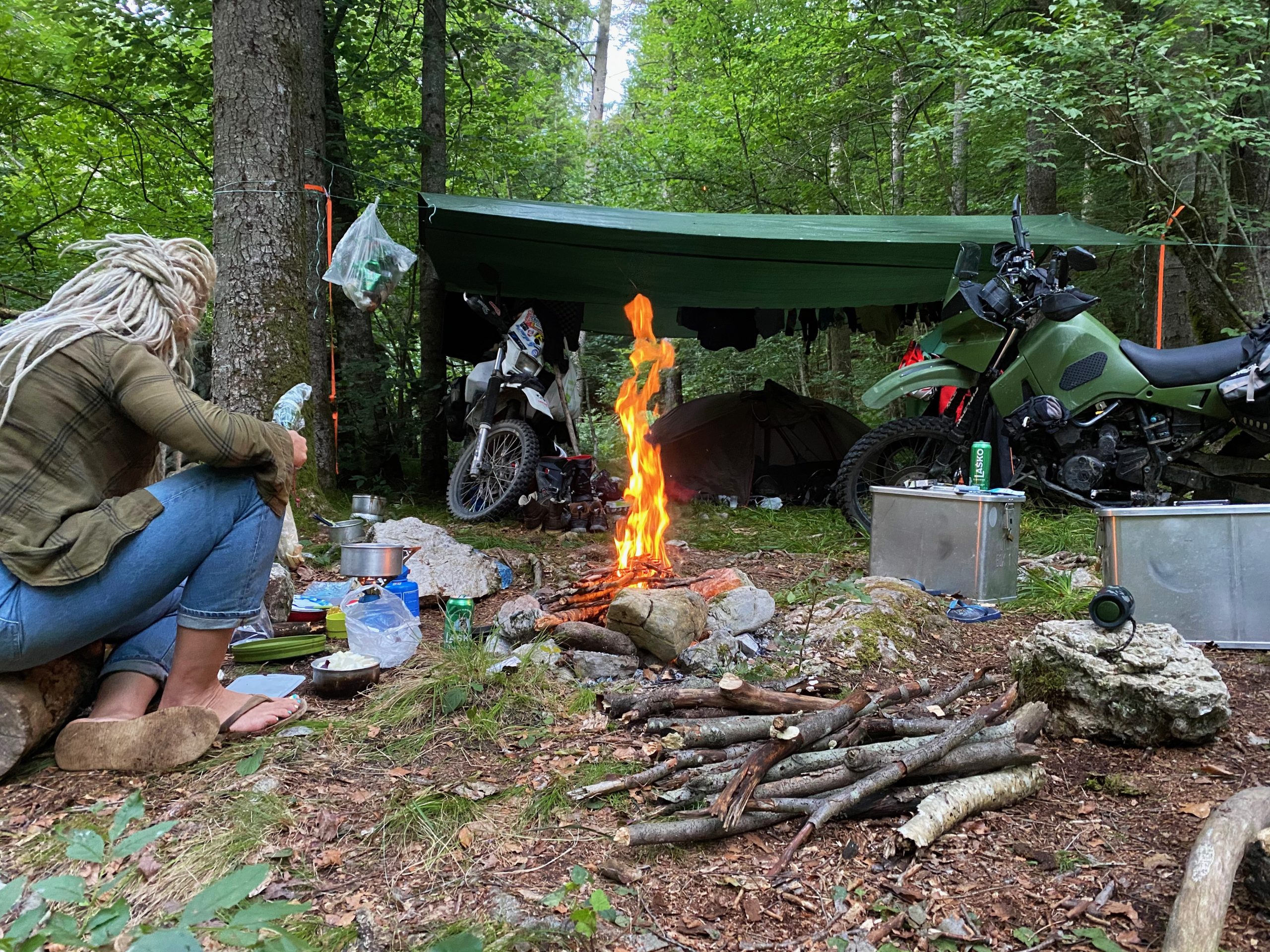 Speaking of which, hammocks are cool. We don't carry one, but we've slept in hammocks when traveling Mexico, and it's a fun experience. If you have the space – or if you don't like sleeping in a tent – a hammock can be a pretty neat option.
Then, there's the military-style camping bivvy things for the hardcore and the minimalist. One-person, ultra-light, waterproof sock-like tent that packs small, costs fifty bucks, and will house your seasoned adventure self for the night?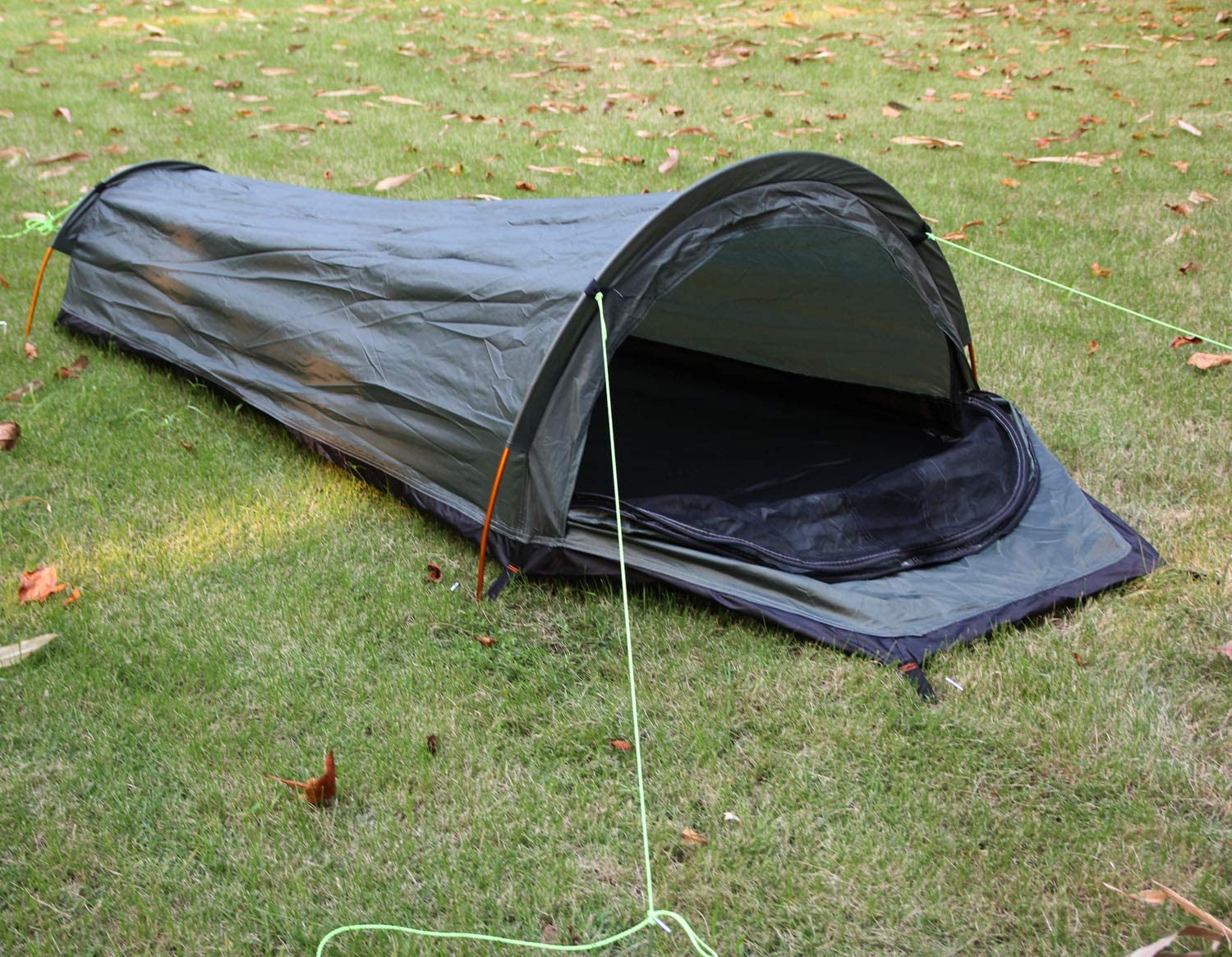 Why not: motorcycle camping is all about freedom, so if the traditional tent setup doesn't appeal to you, sleep in moto-palaces, hammocks, bivvies, or just your sleeping bag – whatever works for you is a great choice.
And remember, the setup you leave with isn't necessarily the one you'll come back with. You'll figure out what works and what doesn't along the way, and you can always change, replace, or get new stuff once you know what you prefer. That's totally normal – our setup is constantly changing and evolving, too!
Other Motorcycle Camping Gear 
In addition to your camping gear, you'll also need a few other things if you're going to cook your own meals. This can be ultra-minimalist – a simple gas stove and a coffee mug – or it can be a full-on portable kitchen, a water filtration system, a solar energy source, and a collection of power banks.
Once again, we're somewhere in the middle: we have a gas cooking stove that's pretty basic, but basic doesn't necessarily mean low quality, it just means the thing is simple to use. Something like this works really well: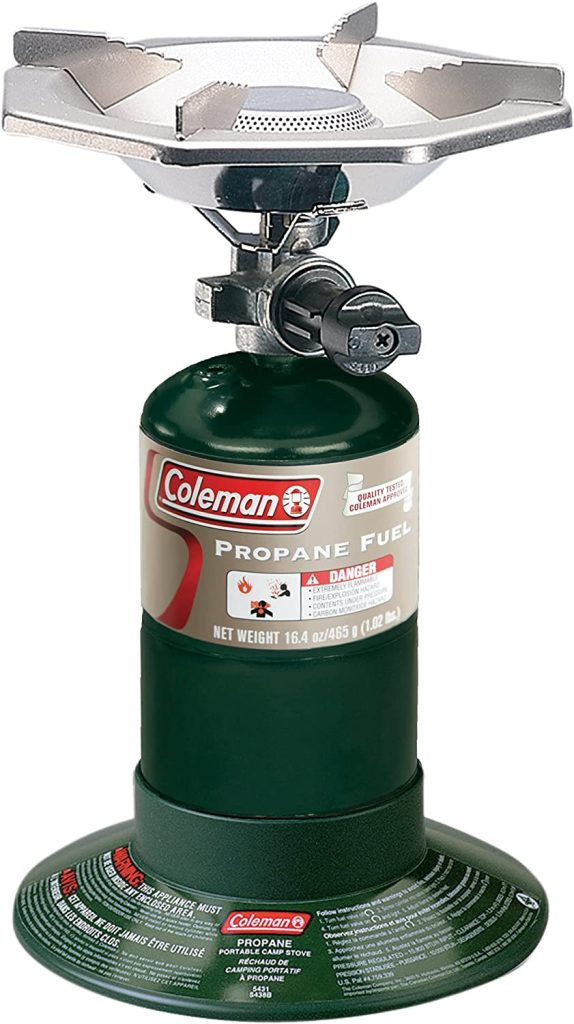 The only downside is, you've got to stock up on gas bottles if you're headed somewhere remote, but other than that, it gets the job done, it packs small, and it lasts. Some people prefer fuel stoves (to be completely honest, so does Lennart, but seeing as I am the designated chef in this traveling circus, I opt for the gas stove as it's less messy and there's no chance of accidentally setting the whole thing on fire).
We also carry a pot, two collapsible bowls, sporks, and two collapsible cups. Again, there are different variations of these things, but for us, stuff like this works best: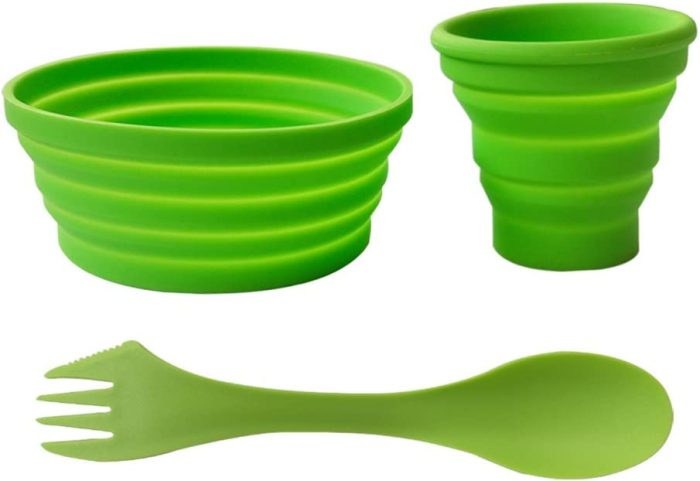 Silicone means our bowls and cups are light and pack small, and you can have different sets of them – one-person, two-person, or an entire travel kitchen cabinet depending on your preferences.
There's one more thing I refuse to travel without, and that's a coffee mug that has an in-built French filter. I love coffee. I love coffee so, so much. And I need my coffee in the morning, so this French filter mug thing is one of my favorite items: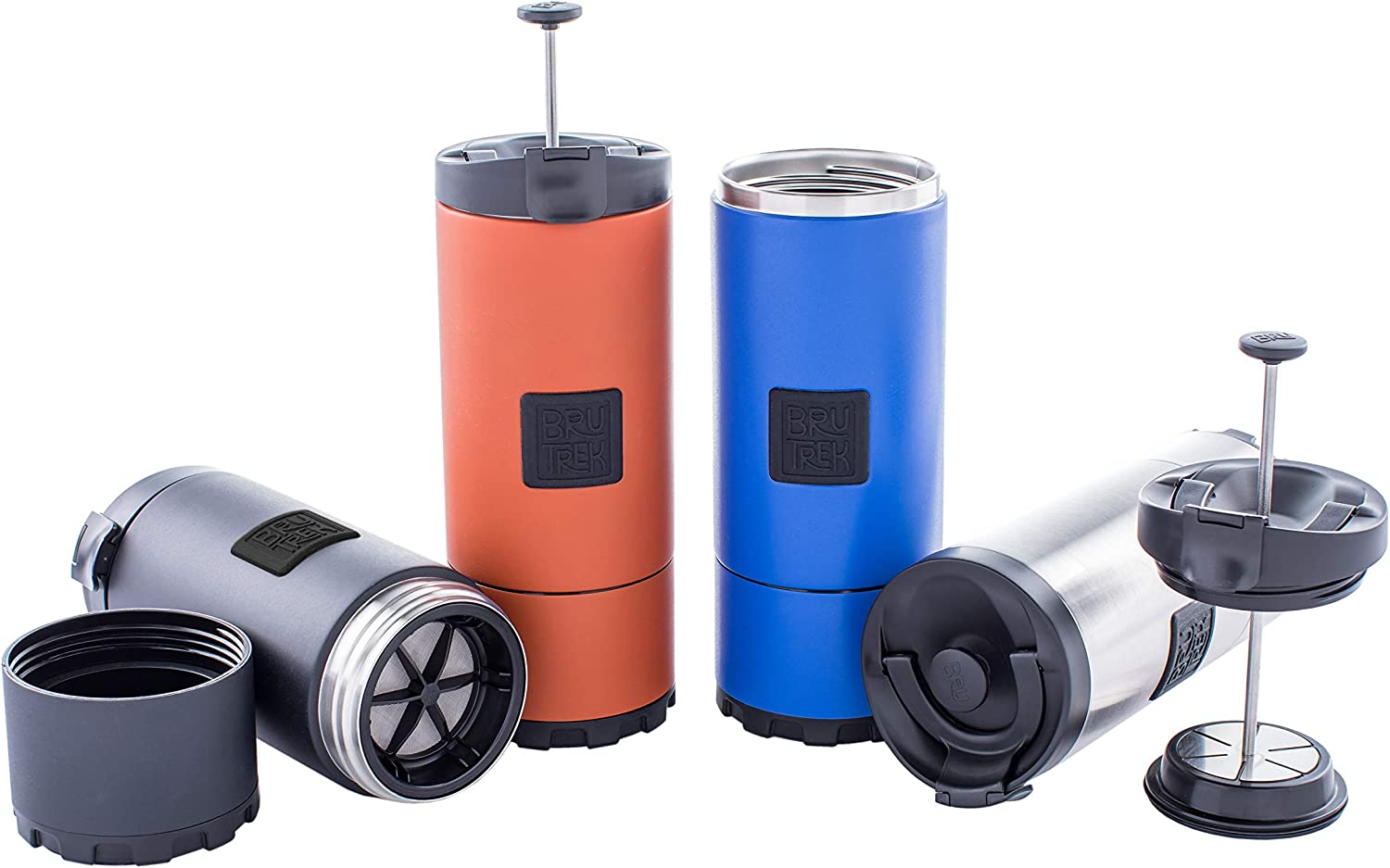 If you're truly obsessed with good coffee, there's also the Wacaco Nanopresso mini coffee machine. I've tried it. It's awesome… if all you need is one shot of great espresso; I like my coffee milder and in bucket-sized mugs, so for me, the Wacaco machine was too much hassle for too little reward. If you love espresso, though, it's the way to go – it's tiny, it works well with coffee pods and grounds, and it makes amazing coffee.
Gadgety Items 
Now for some other stuff that may or may not come in handy, depending on how you travel and where you camp. As mentioned before, we prefer wild camping, and wild camping means you'll need water to cook, wash, and drink. What's a motorcycle camper to do? Filter your water.
Instead of carrying large bottles of water, we carry this small, easily packable Platypus water filter: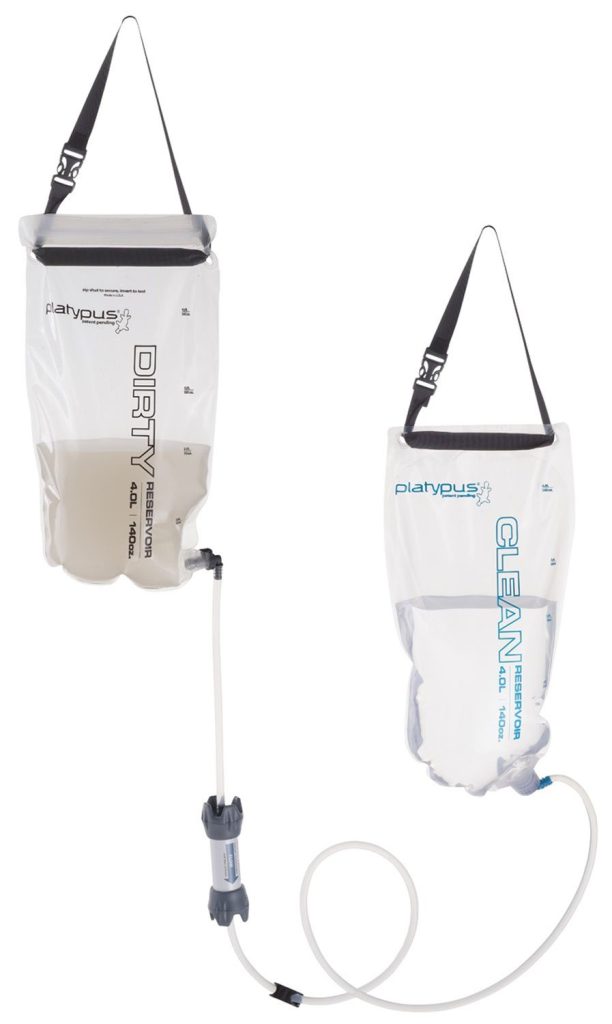 So far, it's been pretty amazing – we've used this extensively in Slovenia wild-camping near a creek, and we could drink the filtered water, cook with it, and wash dishes with it. It's dead easy to set up and use, the system is beautifully simple, and it works. Mind you, that was in Slovenia near a spring water stream; in other parts of the world, you may need something a little more serious than that, but for the most part, this water filter is pretty great.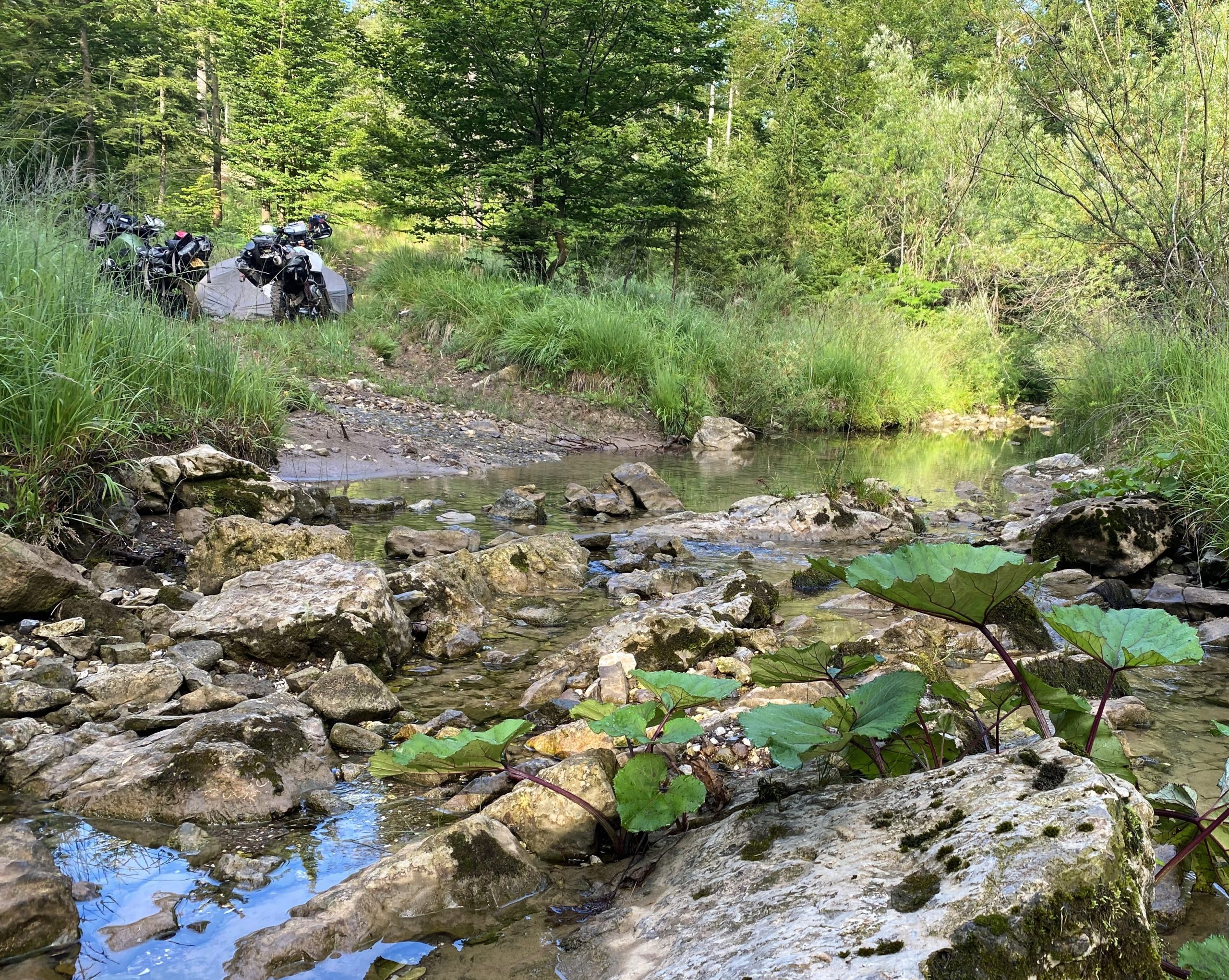 Since we work on the road, we need to keep our electronics charged. Sure, you can charge a lot of stuff off your motorcycle, but as I've learned the hard way, your bike's battery is fairly easily drained. We carry several powerbanks; they're not ideal, but they will keep the phones charged.
Another good thing to have is earplugs – if nature sounds wake you up, stick the earplugs in and you'll get plenty of zzz's.
Finally, we've got a small collection of spices, a small bottle of biodegradable dishwasher and body wash (if you're going to wash in creeks or lakes, don't use soaps or dishwashers that can harm the ecosystem), a collapsible lantern, and a couple of small candles. The candles have no use whatsoever except for creating a cozy atmosphere – and we love that.
How to Pack Motorcycle Camping Gear
If this sounds like an obvious one – you just, ahem, pack – it's best to have a bit of a packing system for all your camping gear. There's nothing more annoying than having to dig out different items from your panniers and bags just because you've scattered them about.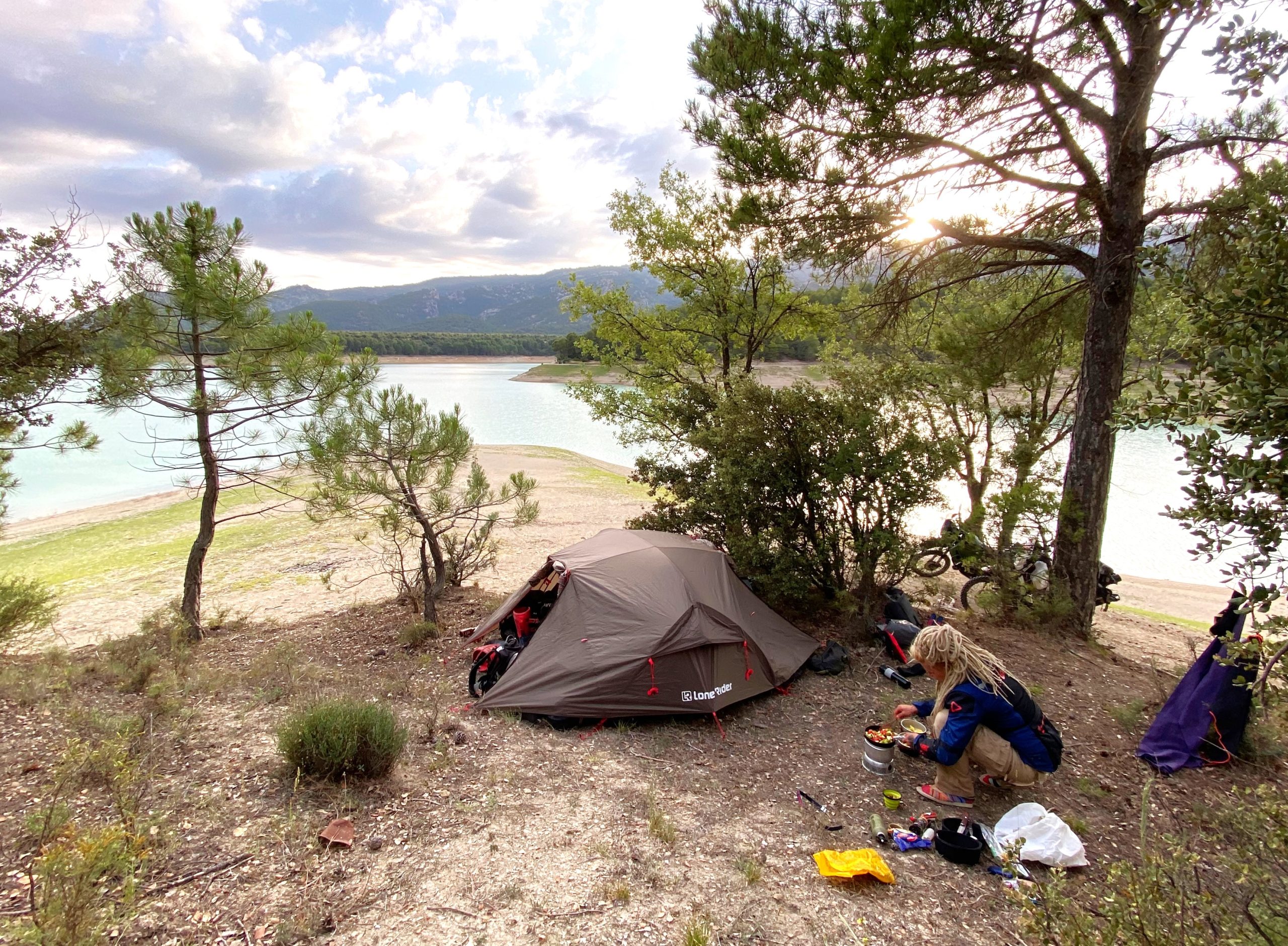 Instead, dedicate one whole duffel bag or pannier to camping and cooking gear only – that way, you'll have everything in one place and save yourself the hassle. In addition, should a can of soup or olive oil suffer an impact during a crash and spill its contents all over, you'll only have to deal with messy cooking gear as opposed to soup-drenched clothes or a laptop swimming in cooking oil (yes, we're speaking from experience. Yes, we're embarrassed to admit it).
If you're trying to pack as minimally as possible, there are ways to minimize luggage space use. For example, tent poles can be strapped across your handlebars, the tarp can live under your duffel bag, and the tent can be strapped on top or behind the duffel. If you've got anything that can be squeezed into smaller bundles, get a few compression bags – you'll be surprised how much space you can save.
Finally, do make sure all the camping and cooking gear is packed up properly. I once burned a hole in my sleeping bag just because I had the bright idea to pack it onto the top of my pannier and didn't notice it was slightly touching the exhaust. Yikes, I know.
Motorcycle Camping Safety Tips
Last but not least, there's the topic of safety when camping, and we don't just mean unfriendly humans (not that we've encountered any). Most motorcycle travelers will agree it's best to either camp somewhere where everyone knows of your presence, or somewhere where nobody will notice you.
In addition to that, there may be things like rising tides, curious bears, upset landowners, and flash floods, so here's a quick list of things to avoid while camping:
Pitching your tent on a slope. You're tired, it's getting dark, and you think to yourself, hey, this slope isn't that steep… You're wrong. Pitching a tent on a slope means an awkward sleeping position which means little or no sleep at all.
Pitching your tent on a beach if you haven't checked whether there are tides.
Not packing away your food if there's wildlife around.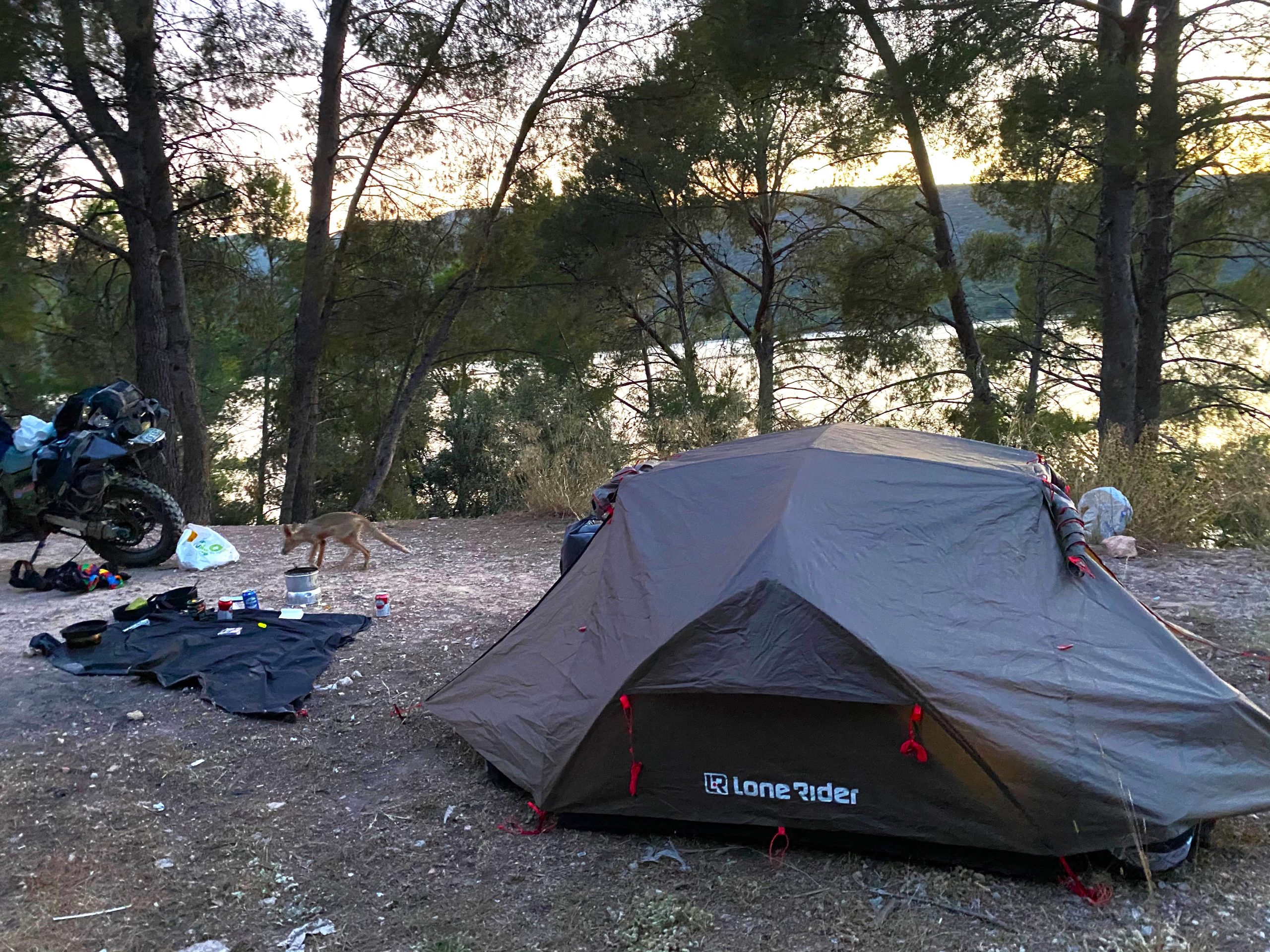 Camping on someone's private land.
Camping at the bottom of a canyon if it's an area known for flash floods.
Making a fire in areas that are high-risk for wildfires
Other than that, just use your common sense, and if you're not sure where to camp, ask the locals or connect with other riders online.
More: Where to Sleep Riding a Motorcycle Cross Country
Camp the Way You Want to Camp
Most of all, don't overthink motorcycle camping. Start with the basics: get your camping and cooking gear setup, hit the road, and test everything out. As you go along, you'll figure out what feels best, what you need more of, and what stuff you can get rid of completely – for example, we've ditched sleeping bag liners since we never really used them, and added a tarp to the gear collection as we felt it would add a little comfort. You might find out you'd rather sleep in a hammock than a tent, or you may swap your sleeping mat for an air mattress – whatever it is, you'll find what works best for you.
For more travel resources, check out these posts:
How to Fund a Motorcycle Trip from Zero
Disclaimer: we confess to adding some affiliate links in this post, and what that means is this: if you happen to buy anything following those links, we'll get a small commission. It's not going to cost you anything extra, but it'll add to our fuel money so we can keep on posting and sharing stuff with you!