What comes to mind when you think "Belize"? Coral reefs? Yachts? Caribbean beaches? Yeah, we thought the same… until we got to experience our very own Belize motorcycle adventure. This tiny Central American country is best known for its Caribbean resorts, true – but we learned there's a lot more to it than that. And we mean a lot.
This spring, we got to ride Belize on small dual-sport motorcycles scouting, leading, and filming a tour there. And if you think we were mostly just frolicking on the beach and riding bikes in our swimwear… well, you're not far off – but in addition to the white sand, palm trees, and turquoise-blue sea, we got to see Belize up close and personal. And frankly, we're still reeling from the experience: Belize was not what we expected at all.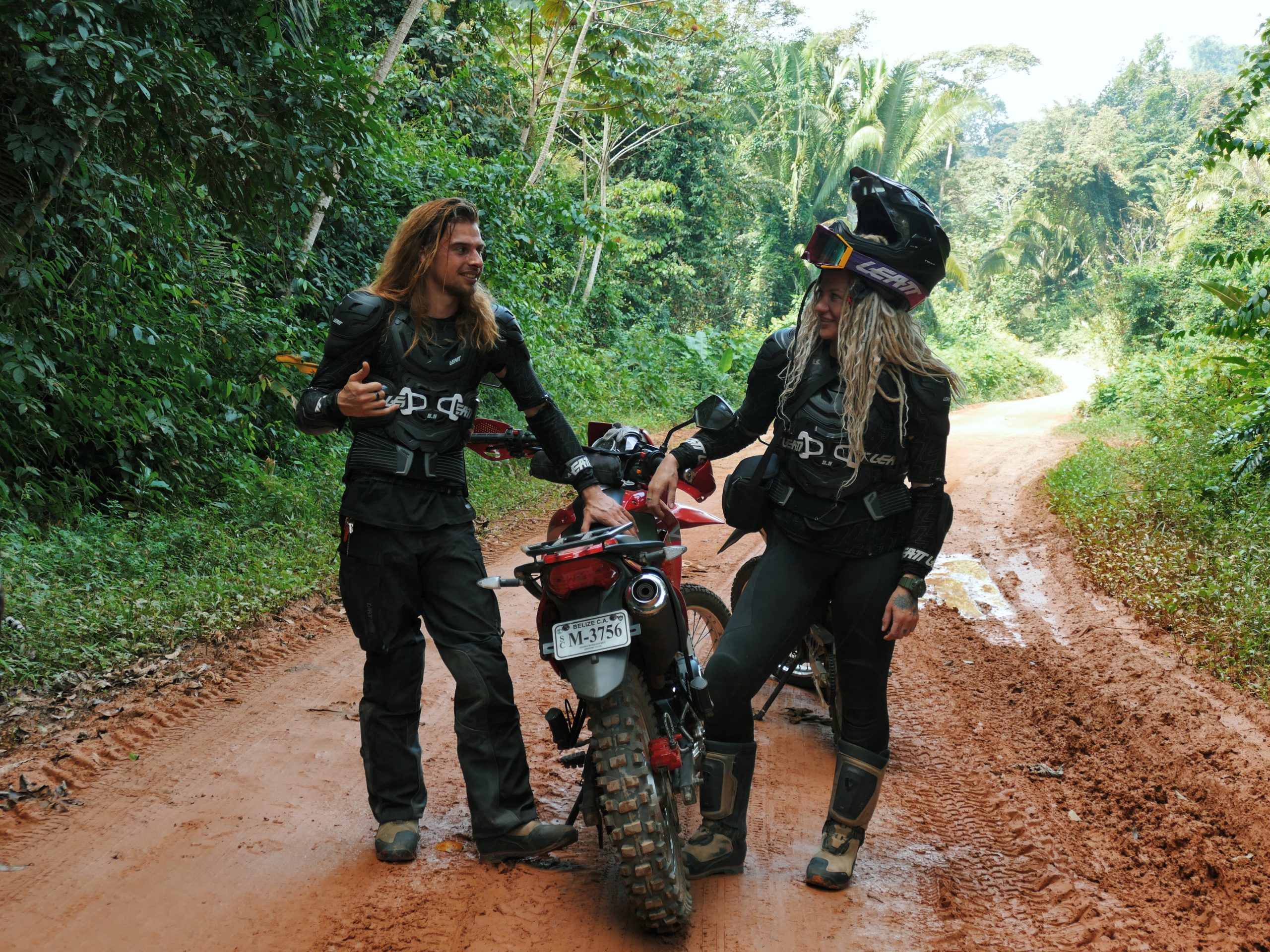 Belize by Motorcycle: Getting There
Arriving in Belize after a series of flights connecting Amsterdam, Panama City, Guatemala City, and Belize City (that's a neat way to name your capital – just add "City" after the country's name, and voila!), we were just about done with flying… Except we weren't. To get to our basecamp in a small beach town of Hopkins, we had a choice: four hours by a string of chicken buses, two hours by a pricey cab, or fifteen minutes by a six-seater bush plane.
You can probably guess which option we chose – since Egle's long-standing dream is to become a bush plane pilot one day, we just couldn't pass up the opportunity.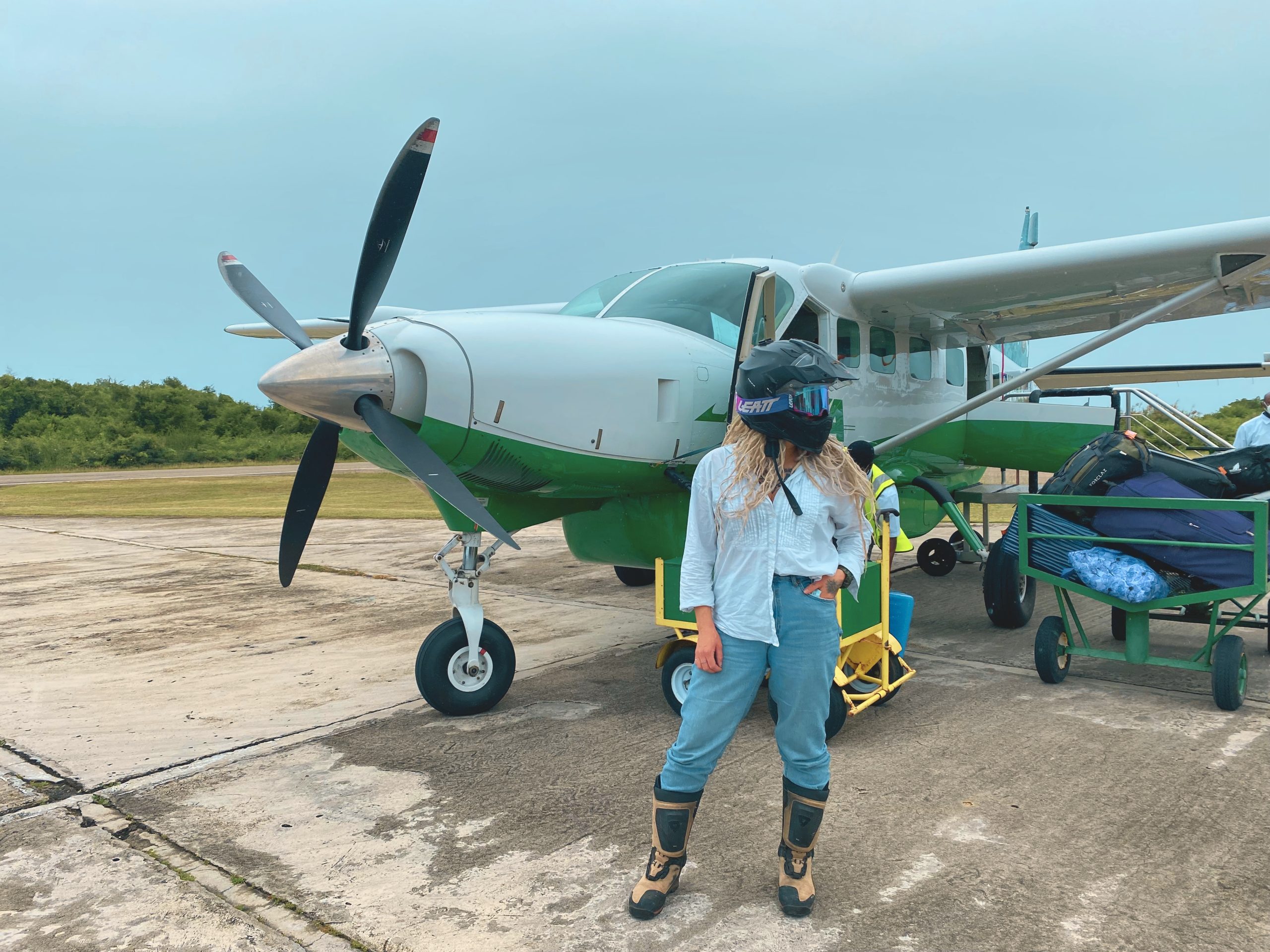 Taking off from Belize City in the tiny plane, we were soon slack-jawed at the blue and green paradise unveiling itself below us. The bright blue of the Caribbean merged with the emerald green of the jungle carved up by rivers and lagoons, but the one thing we couldn't see from above was… highways. Or roads. Or trails.
Or, really, a landing strip for our crop duster – we admit, there was a very uncomfortable minute or two where we genuinely thought the pilot was going to land us in the trees.
He didn't: we landed, safe and sound, at the Dangriga strip. Dangriga is a vibrant little town full of hustle and bustle, but we didn't linger here – getting into a local cab driven by the ever-awesome Mr Chaplin with a penchant for Jamaican music, we were soon off to Hopkins, our basecamp and Belize motorcycle rental spot for the journey.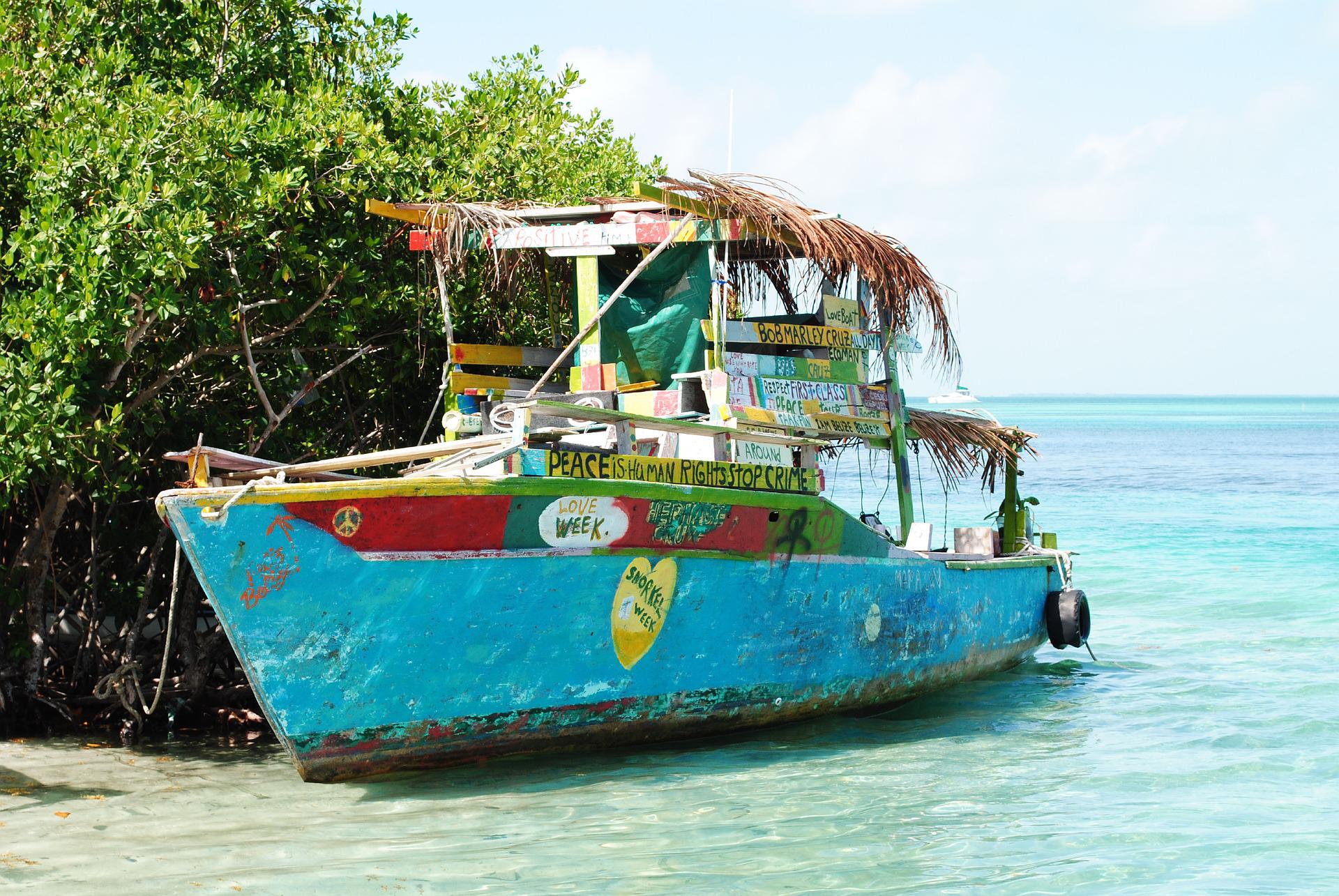 Armadillo Stew and Drumming Parties
Having been to Guatemala before, we sort of imagined Belize to be a lot like it: mostly Spanish-speaking, mostly populated by the indigenous Maya, mostly, you know, Central American.
Belize took us by surprise. The official language here is English interspersed with Garifuna (descendants of West Africa) dialects, and the culture, the people, and the vibe are a lot more Jamaican – Caribbean than Central American.
Hopkins is a town of contrasts: you can shell out thousands of dollars per night in a luxurious Caribbean resort or stay in a hostel for fifty bucks; there's world-class diving, island hopping, and sailing tours – and then there are small Garifuna eateries by the roadside, improvised drumming and dancing parties on the beach, and small fishing boats offering freshly caught lobster and conk.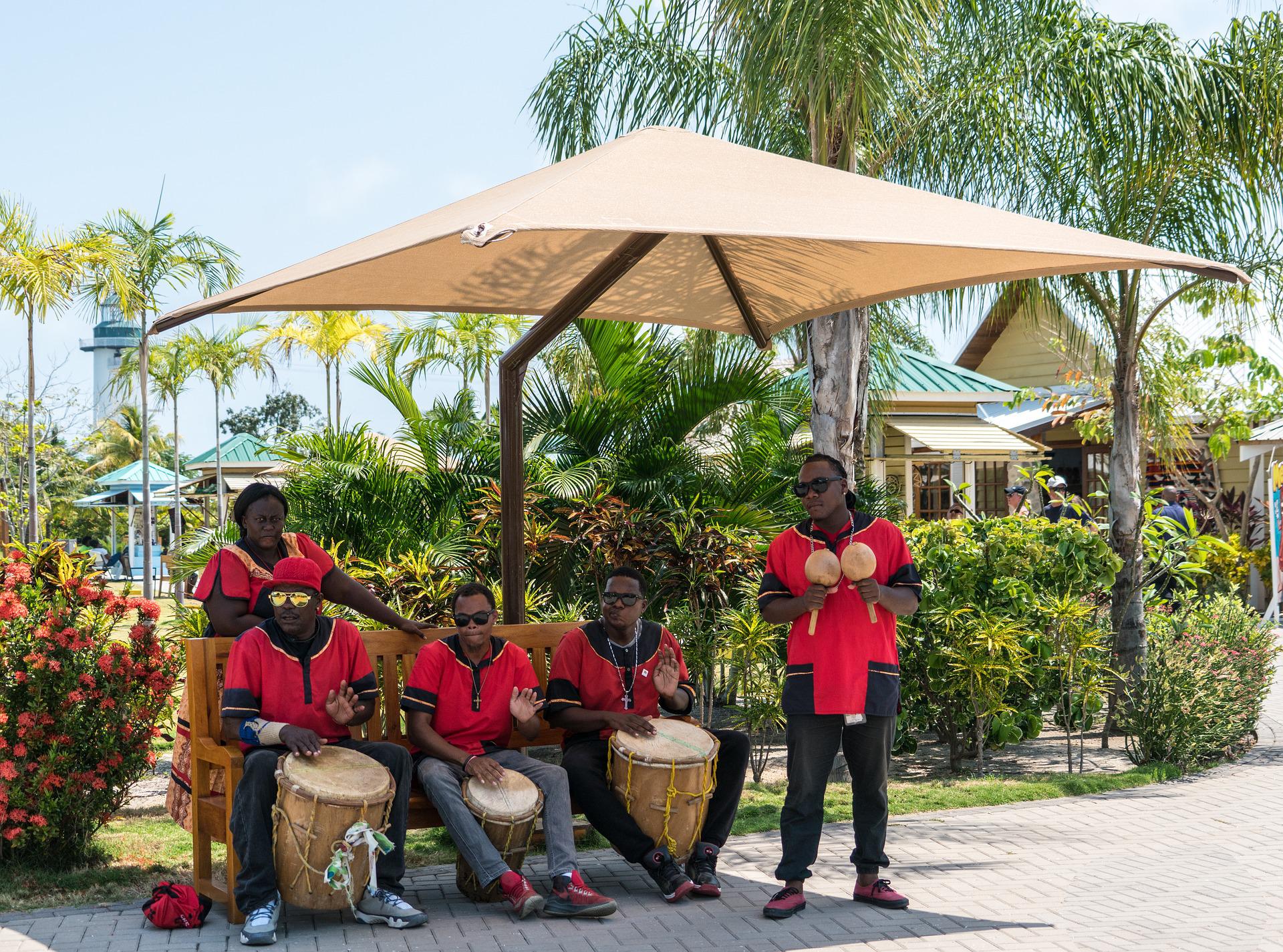 Add to it Chinese-owned supermarkets, tiny beach restaurants offering armadillo stew and rum cocktails, tall palm trees swaying in the breeze, and horses grazing in people's backyards, and you've got weird and wonderful in equal measure.
And that was just the first few days staying in town, getting to know our surroundings, and learning to deal with heat and humidity (more on that later).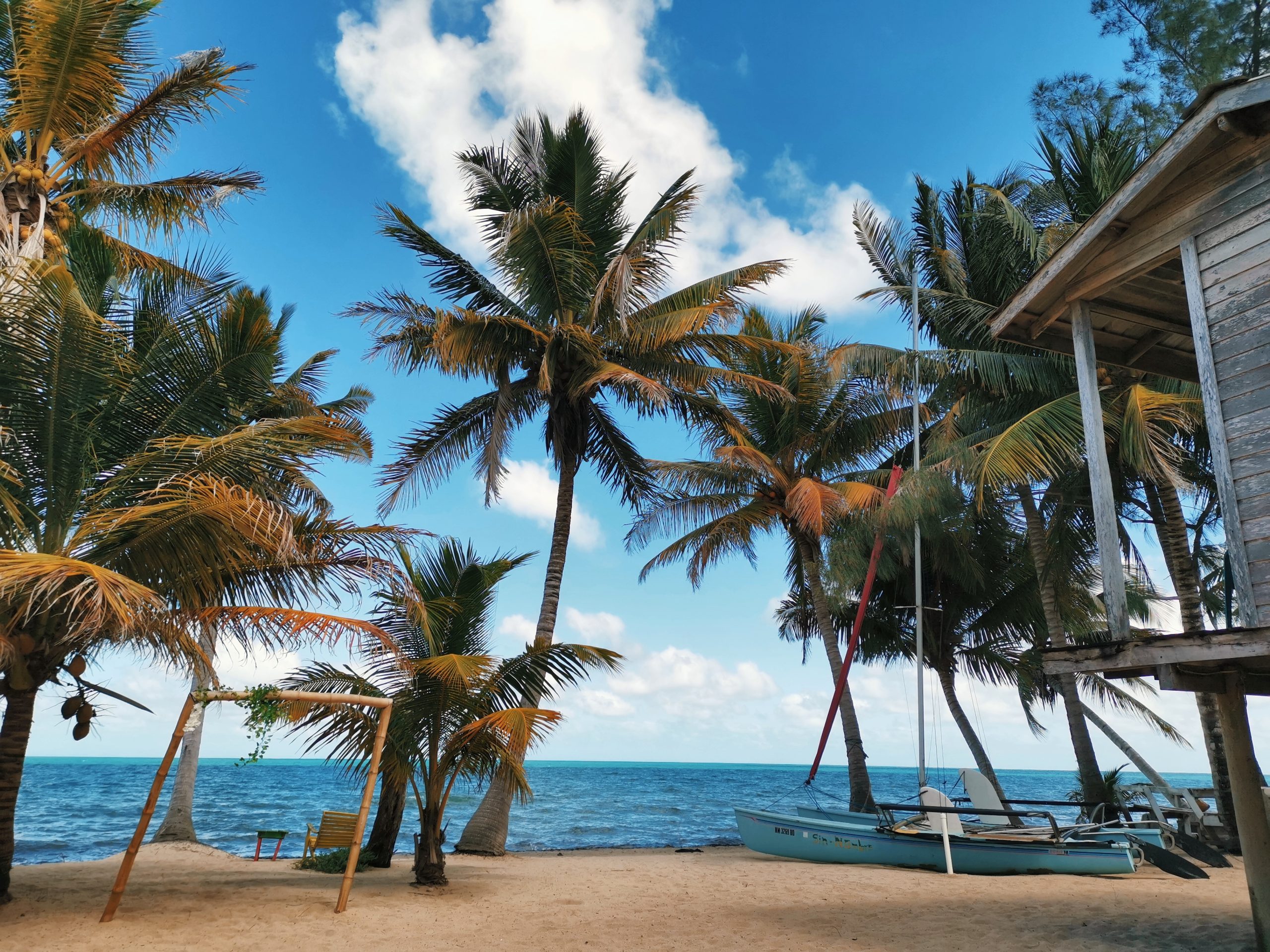 Once we've dipped our toes in the sea, listened to a Garifuna drumming concert, sampled local ceviche, and made friends with our neighbors, it was high time to jump on the bikes and go exploring.
Belize Motorcycle Rental
Hopkins is the only place in Belize that offers motorcycle rentals, and we soon realized we'd be riding Lifan 250's.
What's a Lifan? It's like a Honda CRF 250, but not at all: it looks good, it's solid enough, and it will carry you across mud, sand, or potholed tarmac with equal gusto, but it's not exactly a powerful or elegant beast. Then again, we weren't here to ride BMW's – we were here to discover Belize on two wheels, and any wheels would do.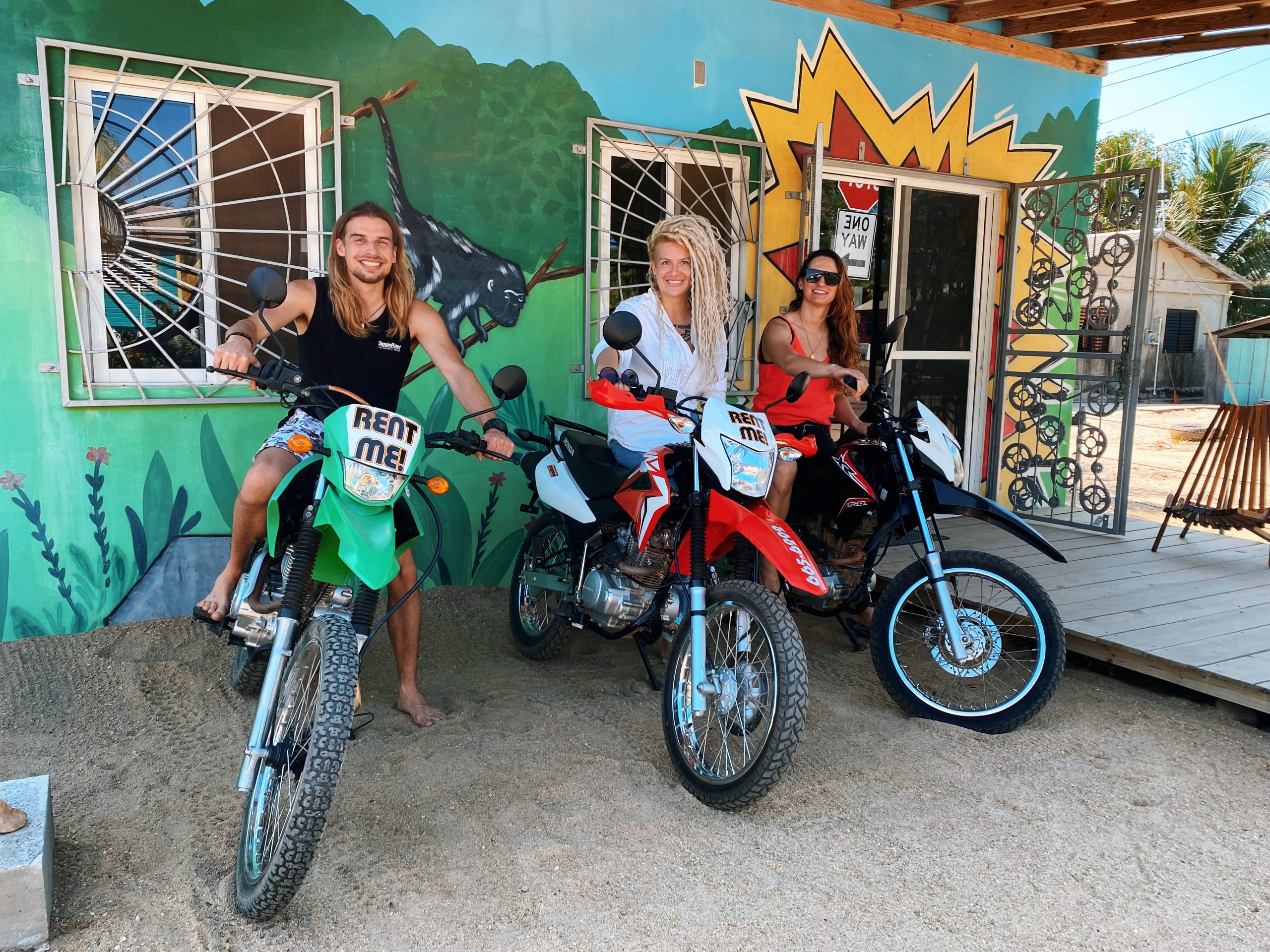 In Hopkins, you don't need to ride far to find yourself off the road. Leaving town, there's a beautiful dirt road winding along the Sittee River; it's tempting to stop there and go for a swim – did we mention Belize was hot and humid? – but, according to the locals, it's not the best idea since the river is frequented by crocodiles. Whoops.
Braaping on, we rode across the Cockscomb Jaguar Sanctuary in search of better swimming holes and waterfalls. You heard it right – in Belize, you can ride across a jaguar sanctuary and, although we didn't spot any of the big cats, it was a cool feeling knowing that they're out there somewhere. Maybe somewhere close by.
We should have brought cat food with us.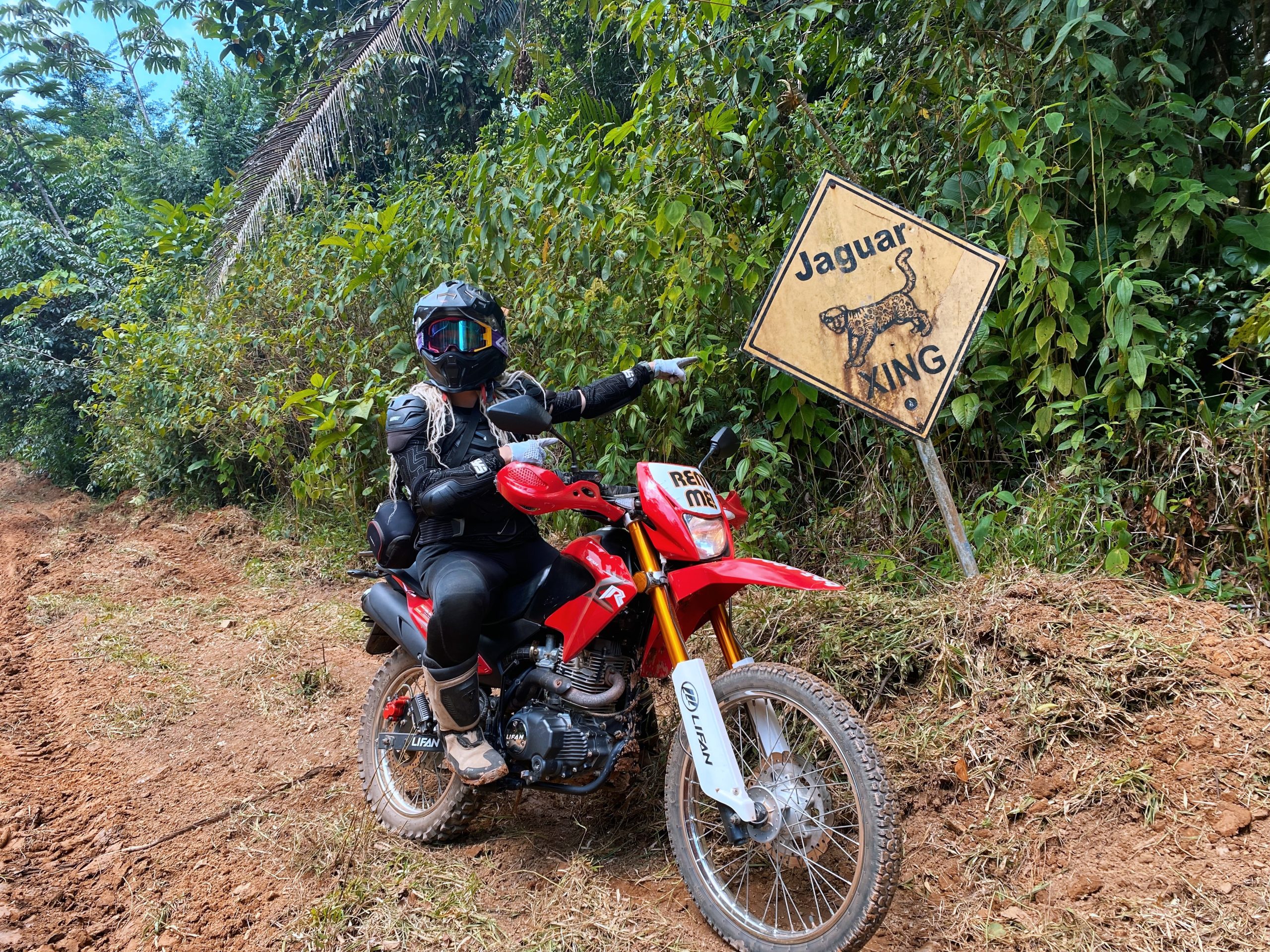 What we did spot, however, was an old plane wreck belonging to Dr.Alan Rabinowitz, an American zoologist responsible for the creation of the Cockscomb Wildlife Sanctuary. Called "The Indiana Jones of Wildlife Protection", Rabinowitz, his pilot, and his photographer were tracking jaguars when the plane clipped a tree branch and crashed into the jungle. Miraculously, all three men walked away – but the wreck remains in the rainforest being slowly reclaimed by the greenery.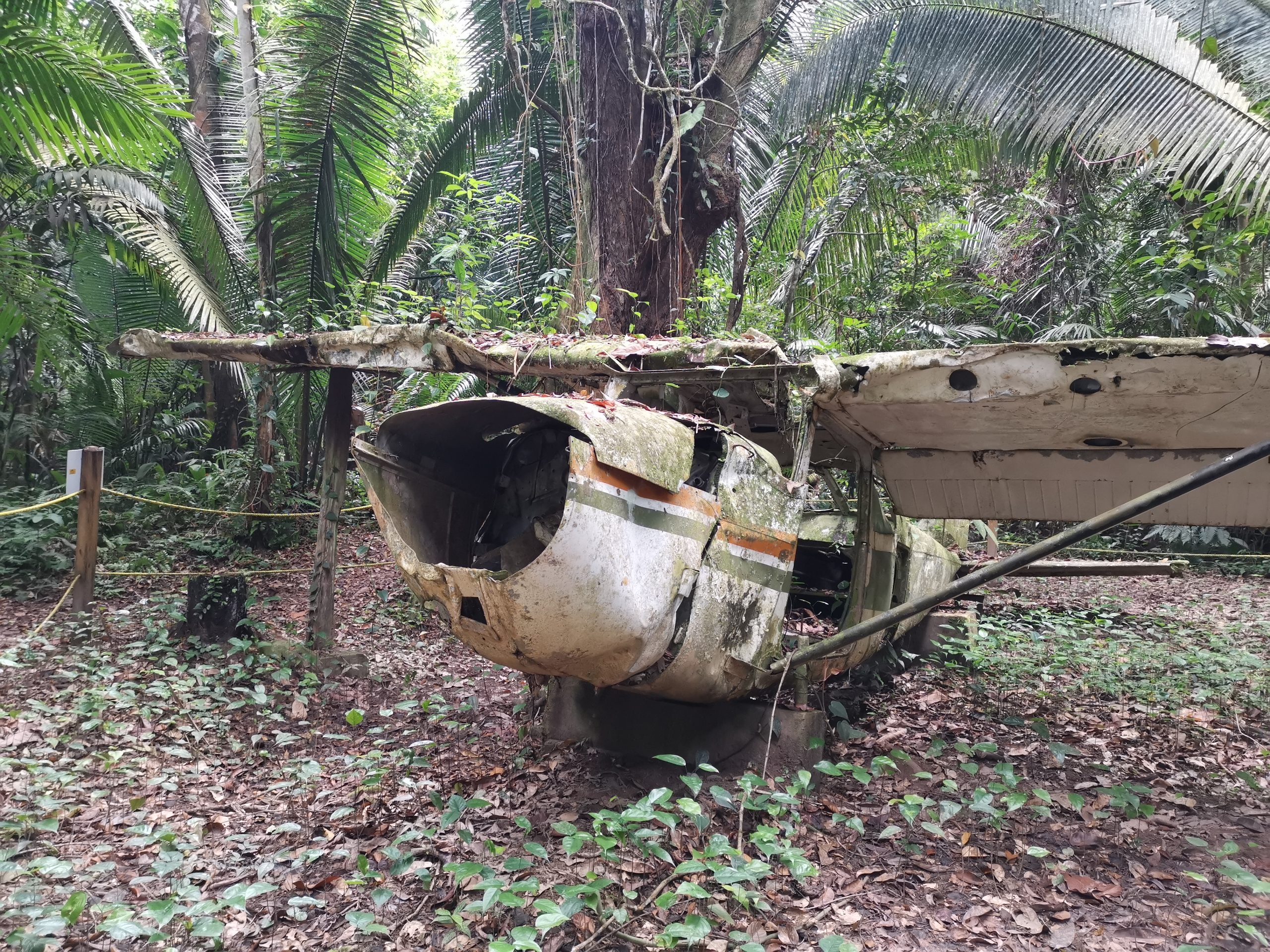 Jungle Trails
At the end of the Cockscomb trail, we left our trusty steeds and swapped them for… giant tubes. Belize's tropical climate means you need to get off the bike and jump into the water on a regular basis, and we didn't need much convincing – tubing down a river felt like a welcome break from sweating our butts off in all the protective gear.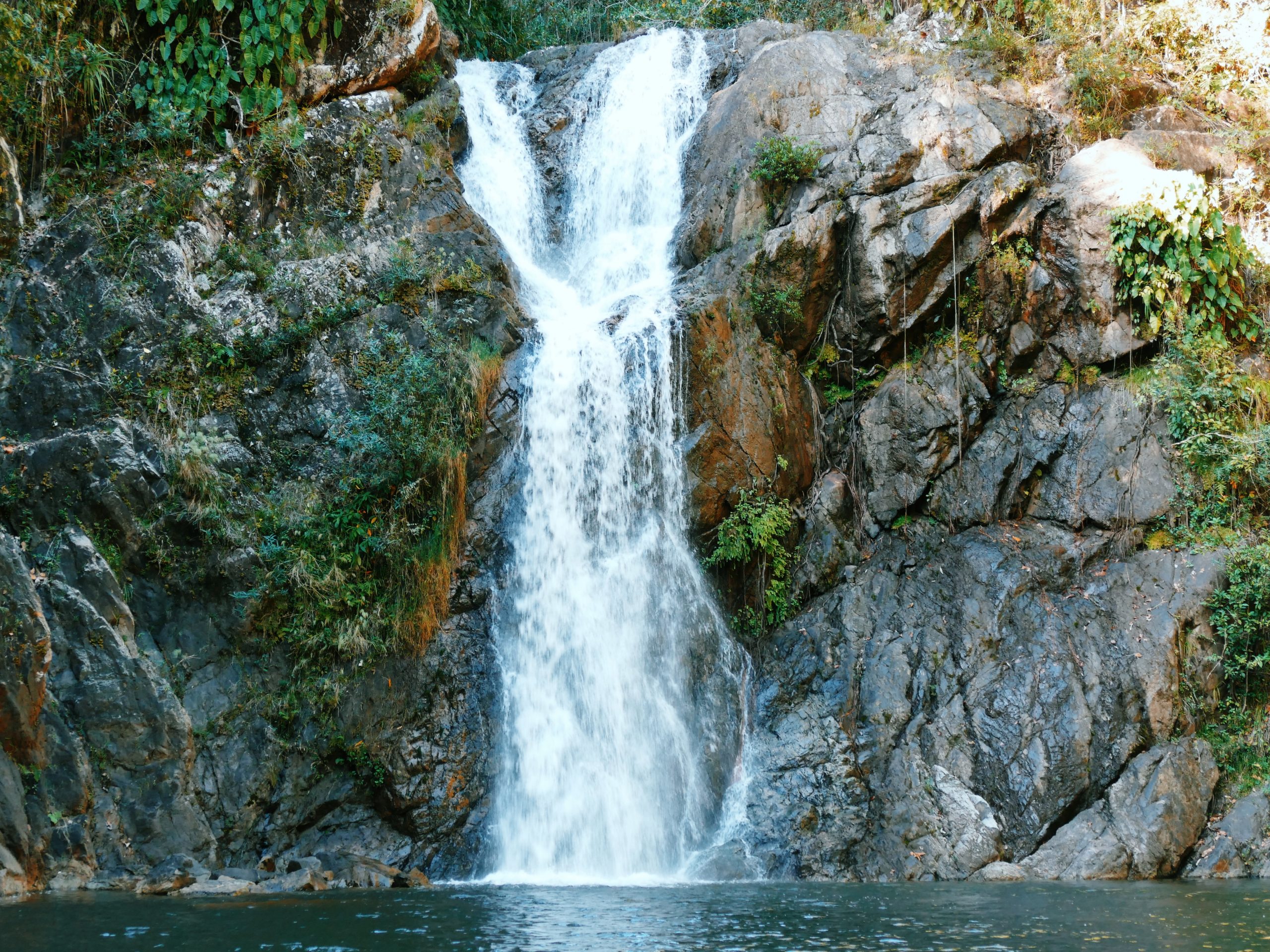 Next up, we headed for some more dirt tracks crisscrossing the jungle. I don't think I've ever seen this much green in this many hues and shades: contrasting against the red earth of the trails, Belizean greenery seems to shimmer in jade, emerald, parakeet green, and bright sage all at once, vines and leaves creeping up trees and bushes, tendrils of sprouting shoots hugging roots and giant ferns – riding here, the jungle feels like an explosion of life.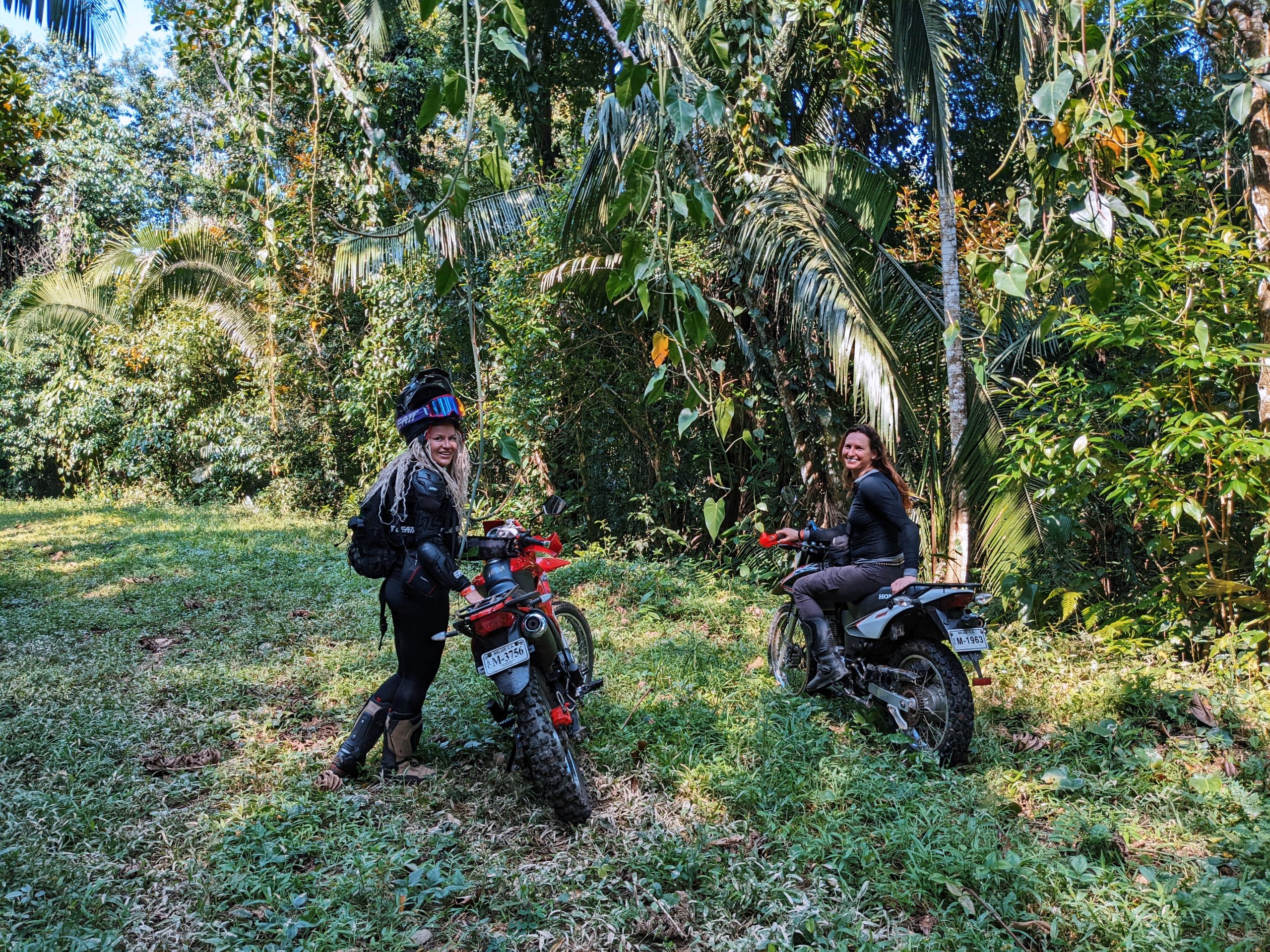 Seeing a large python sunning itself in the middle of the trail or coming across a curious tarantula is an everyday occurrence, and if you don't shake your boots out before putting them on, you risk squishing an unsuspecting critter that may have paid a visit.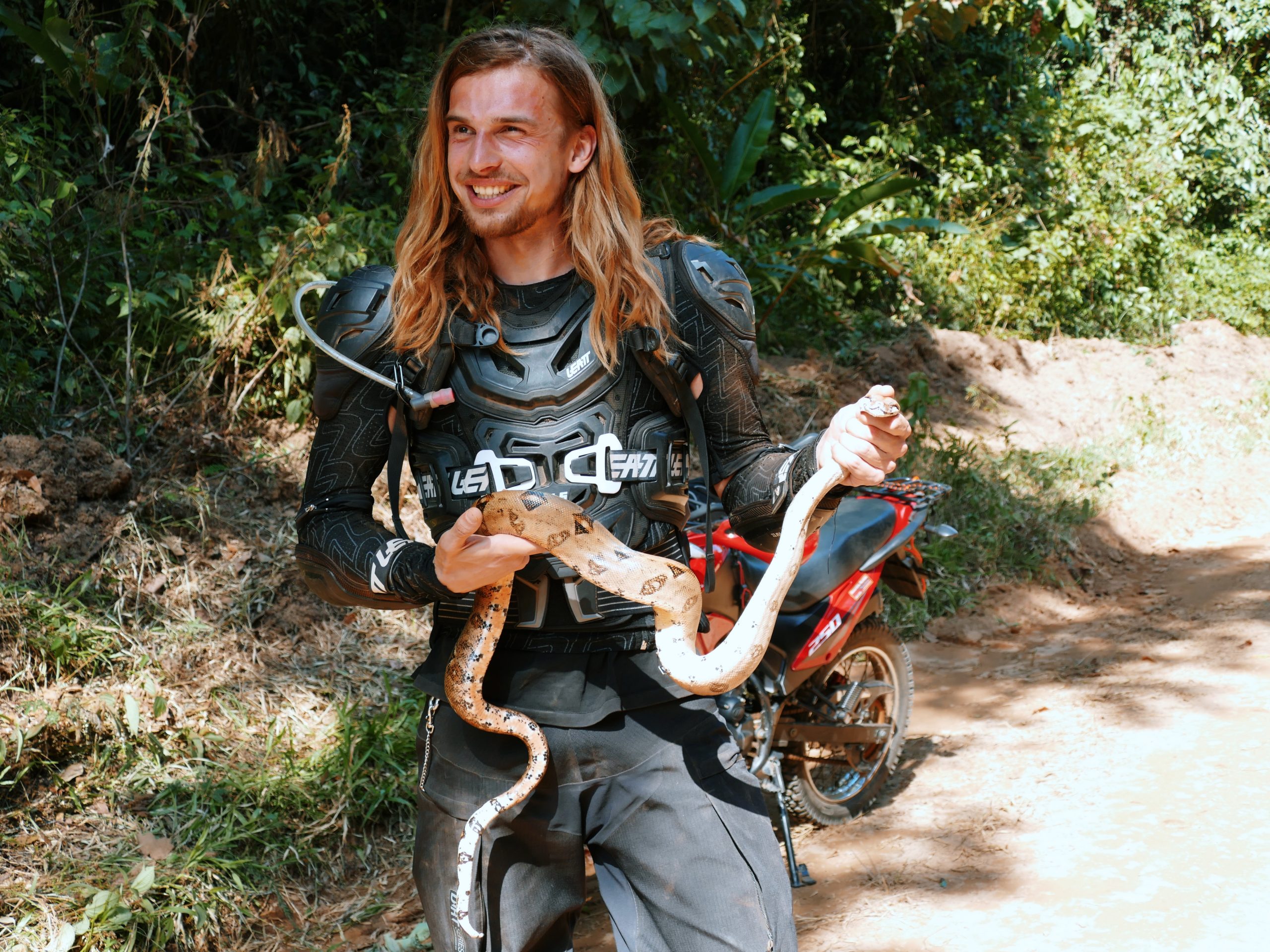 There's no shortage of dirt trails just around Hopkins alone, and you can opt for jungle trails, beach rides, or singletrack crossing the savannah – and all this on just Day One.
Needless to say, we were gobsmacked. And we couldn't wait to explore some more.
Belize Motorcycle Adventure Crew
Having checked out the trails around Hopkins and planned out our entire route, we were ready for our first Belize motorcycle tour. Egle and her partner in crime Jurga had founded Big Little Rides, an all-female motorcycle adventure planning project, a couple of years back and would lead women-only tours around the world. This time, the destination was Belize; Egle was to lead the tour with Jurga, and Lennart would follow the expedition armed with cameras and drones to document the adventure.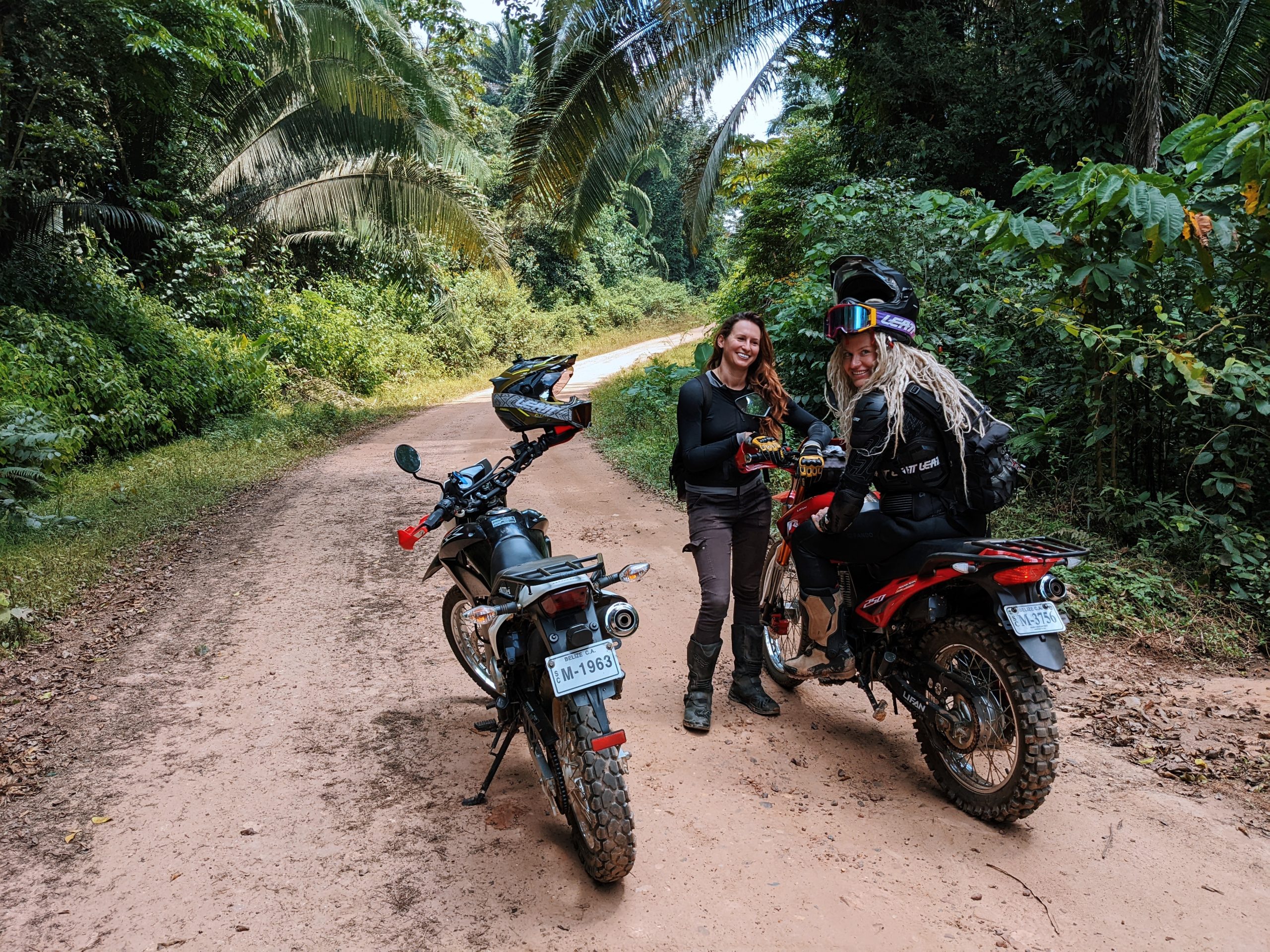 A crew of women on motorcycles let loose in the Belizean wilderness – what could possibly go wrong?
Having welcomed our guests – Vanessa, aka The Girl On a Bike, Mariska, Alana, Golnoosh, and Suzanne, our fearless adventuresses from the UK, South Africa, Canada, and the US, we were ready to hit the trails again. The Lifans saddled and packed, the riders geared up and ready, we spent two days exploring the Cockscomb and the surrounding areas before heading West on the Hummingbird Highway – but first, we wanted to connect with the locals.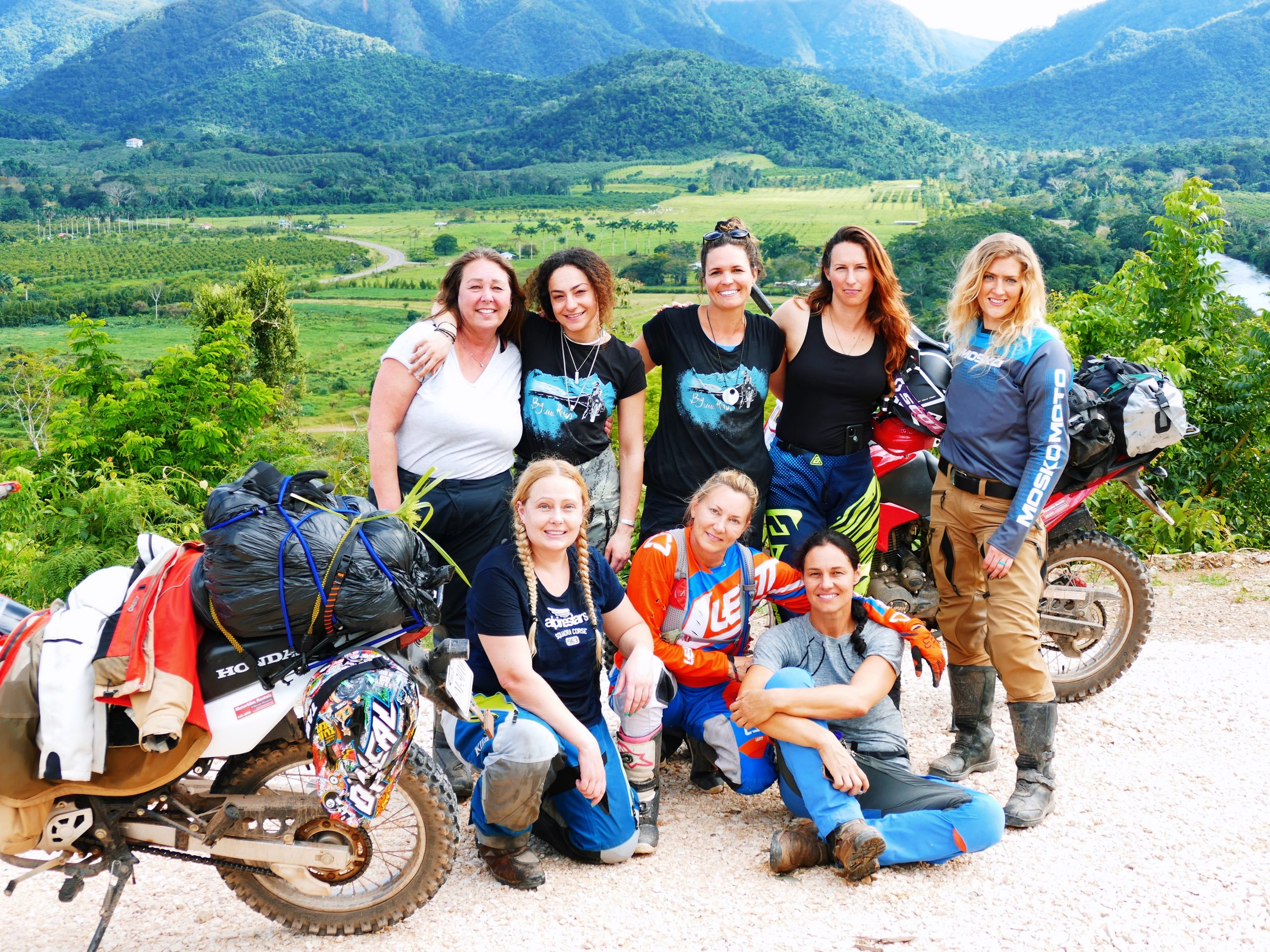 Melting Pot of Cultures
Belize is incredibly diverse when it comes to culture. There's the Garifuna population, the Spanish-speaking creoles, a large community of Mennonites (sort of like the Amish, but of Dutch origin), and finally, the indigenous Maya who still speak Mayan and Spanish and to an extent, stick to their traditional ways of life.
As luck would have it, we had a chance to visit Federica, a local Maya woman happy to welcome us and show us how to make traditional Mayan tortillas by way of crushing the corn with a stone grinder and baking them over the fire.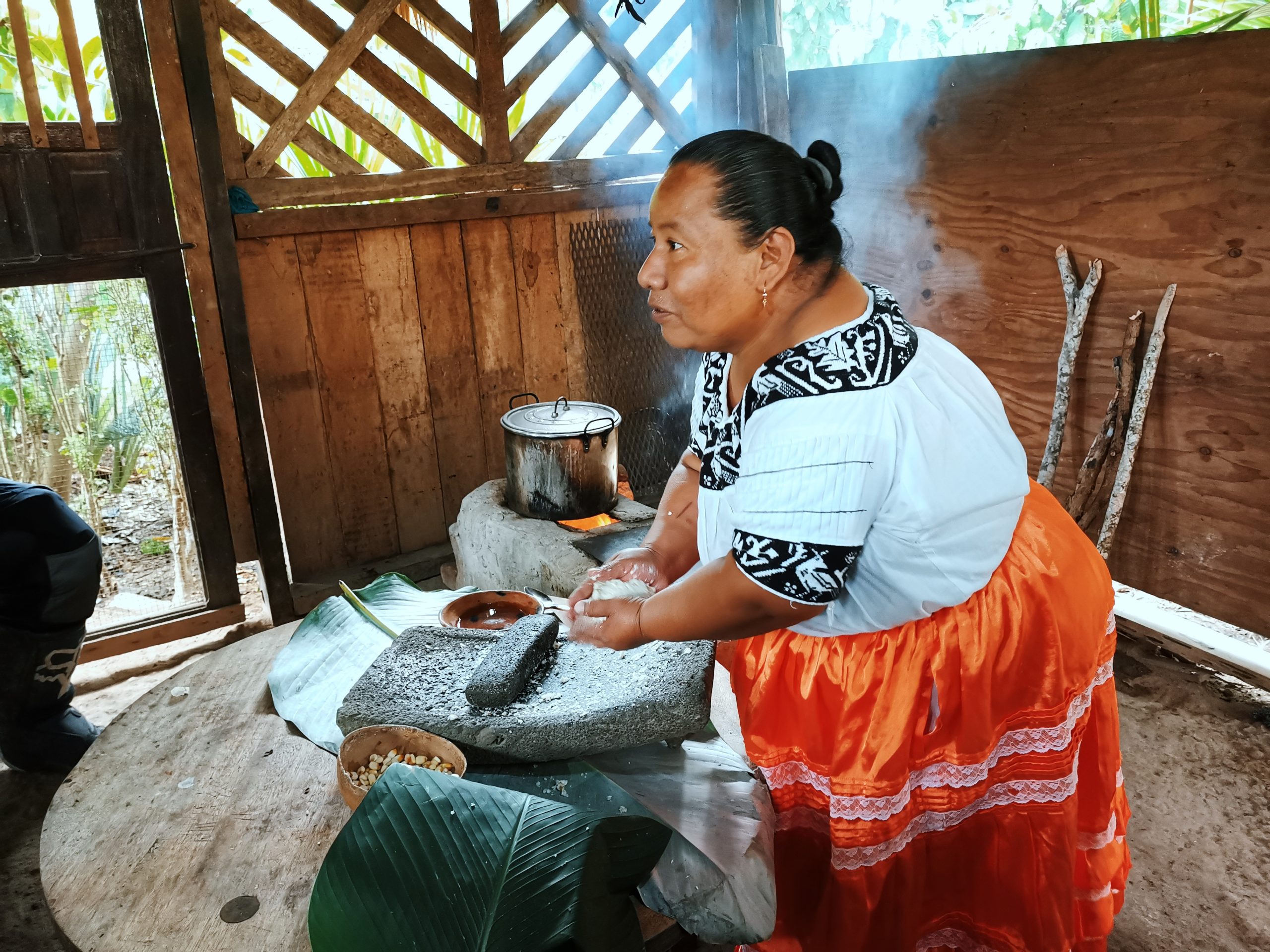 Federica and her husband are trying to preserve the traditional way of living, growing everything they need in their garden and living much like their parents and grandparents did. It's an intriguing experience to be transported back in time and listen to Federica's stories of the changing times sharing tortilla recipes and tasting a homemade stew so delicious it felt almost medicinal.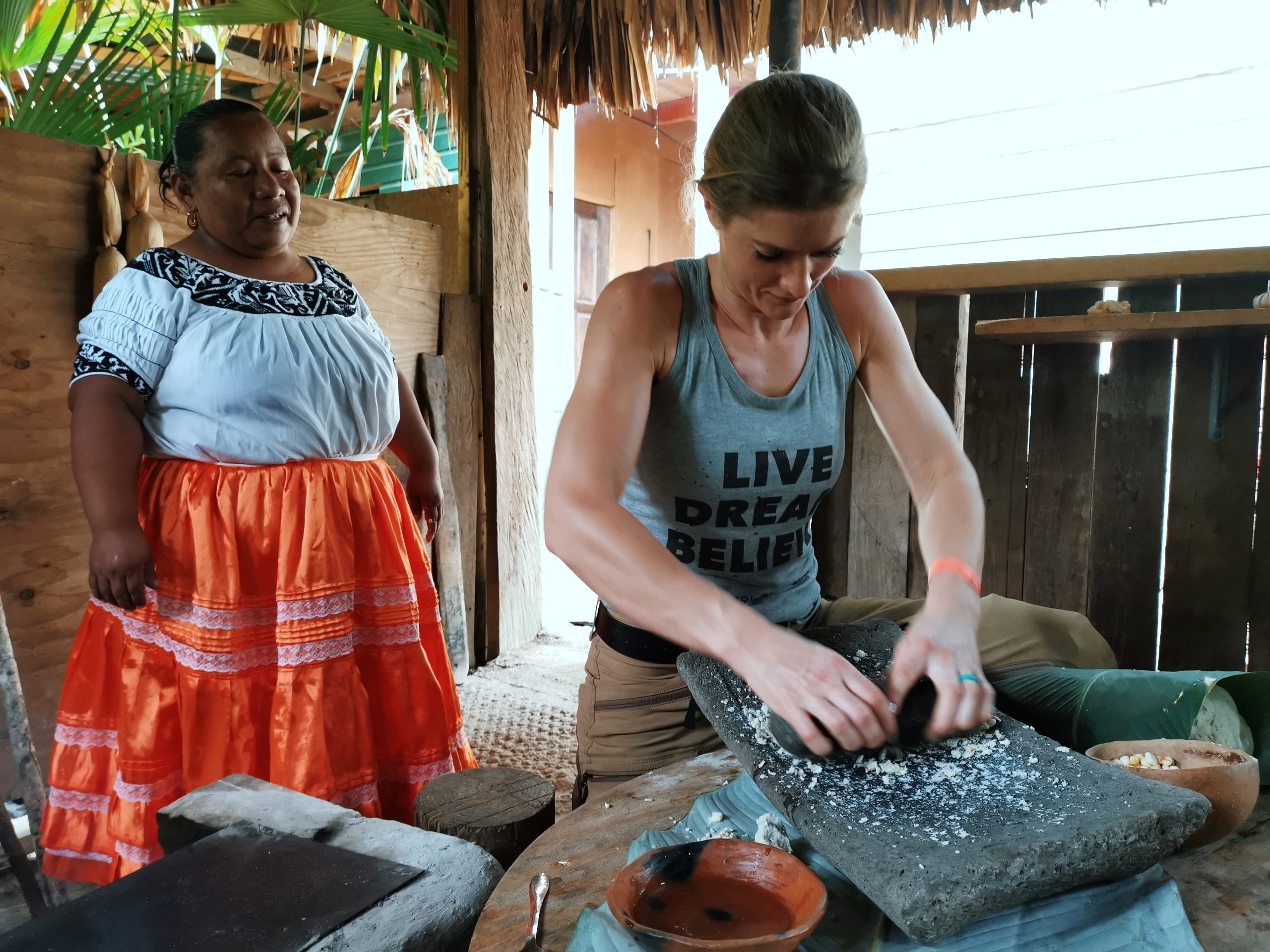 Go West
Saying goodbye to our Hopkins basecamp, we headed westward following the Hummingbird Highway, a mellow tarmac road meandering across a green country dotted with rolling hills. Along the way, we tasted the best ice cream in Belize made by Mennonite dairy farmers, visited countless waterfalls, and jumped off pavement again exploring narrow jungle trails, picnicking in massive caves, and riding the life out of those Lifans.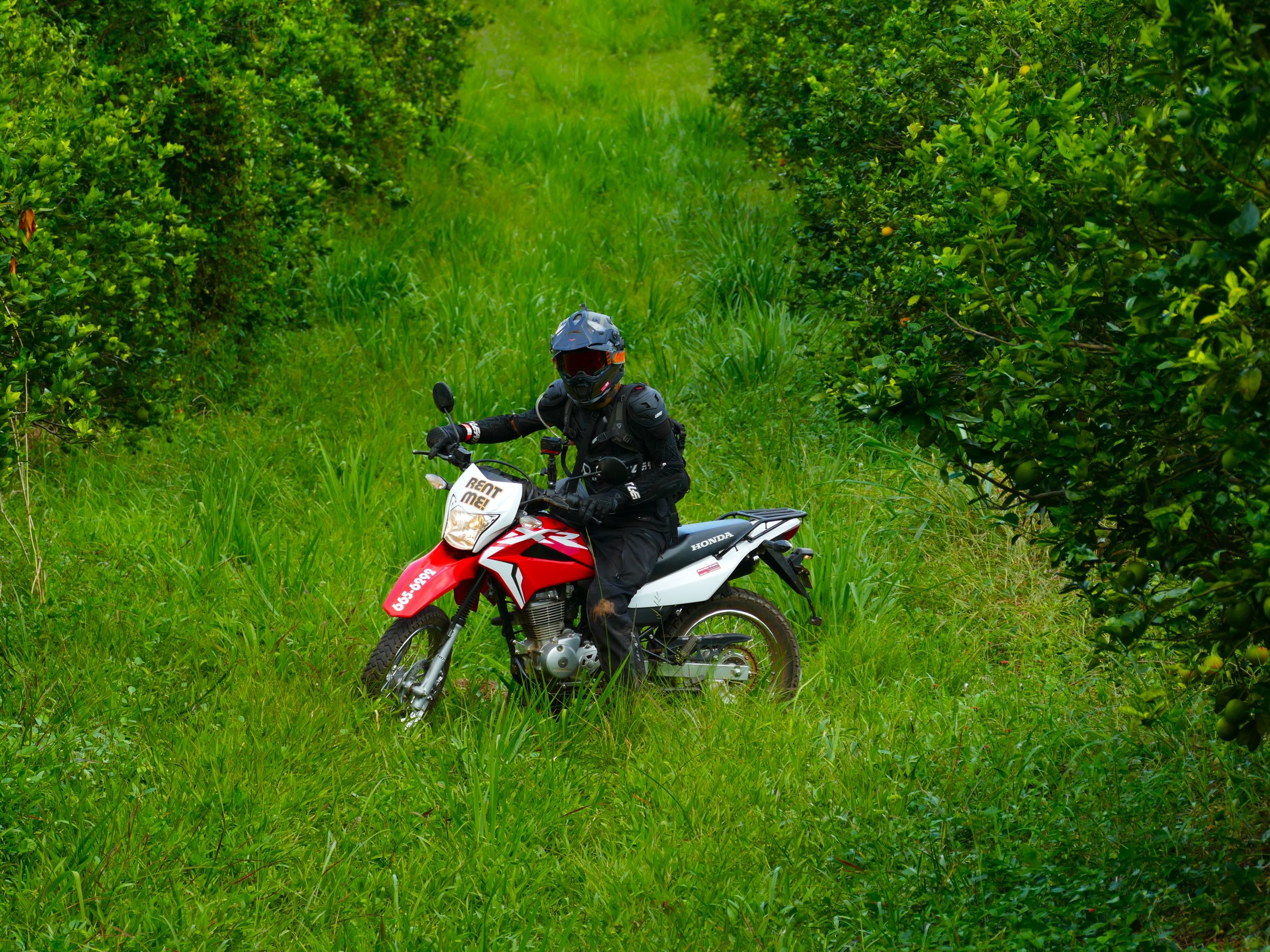 Reaching Unitedville, we covered some rocky miles as the full moon rose over the jungle and we arrived at Martz Farm, our rustic jungle stay where we'd spend our rest day enjoying a river cruise in a pontoon boat.
At dawn, we managed to sneak in a horse riding expedition swapping the bikes for horses and exploring the mist-covered valley of the river below.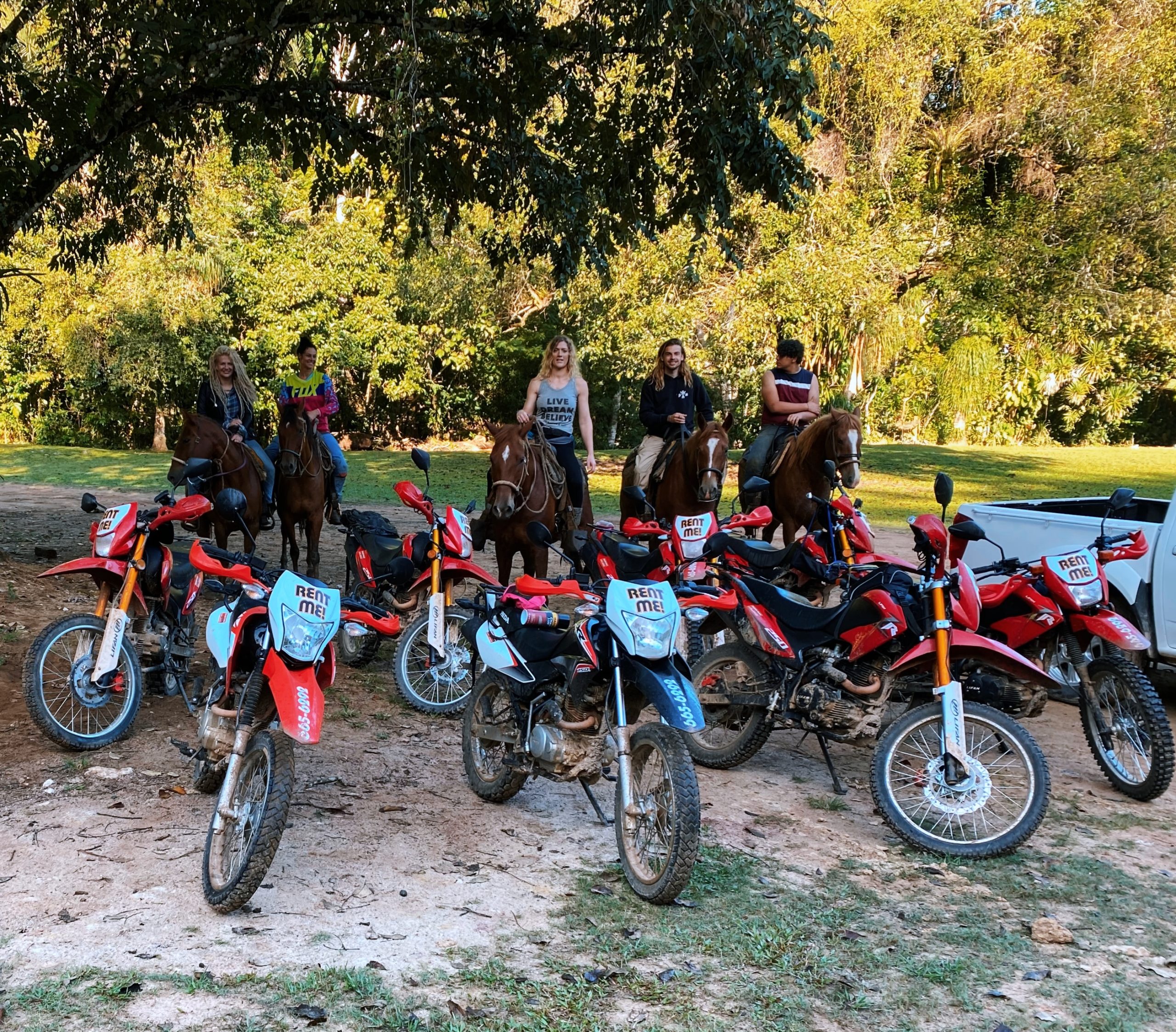 Back at the farm, we jumped in a 4×4 and left for our Macal River cruise armed with fresh fruit and coolers. Chilling on the slow-moving boat and listening to our captain Joe's improvised poetry on the water, we lazed around in the sun, spotted crocodiles and iguanas, and spent the afternoon eating grilled lunch on the beach and swimming under waterfalls.
Bliss.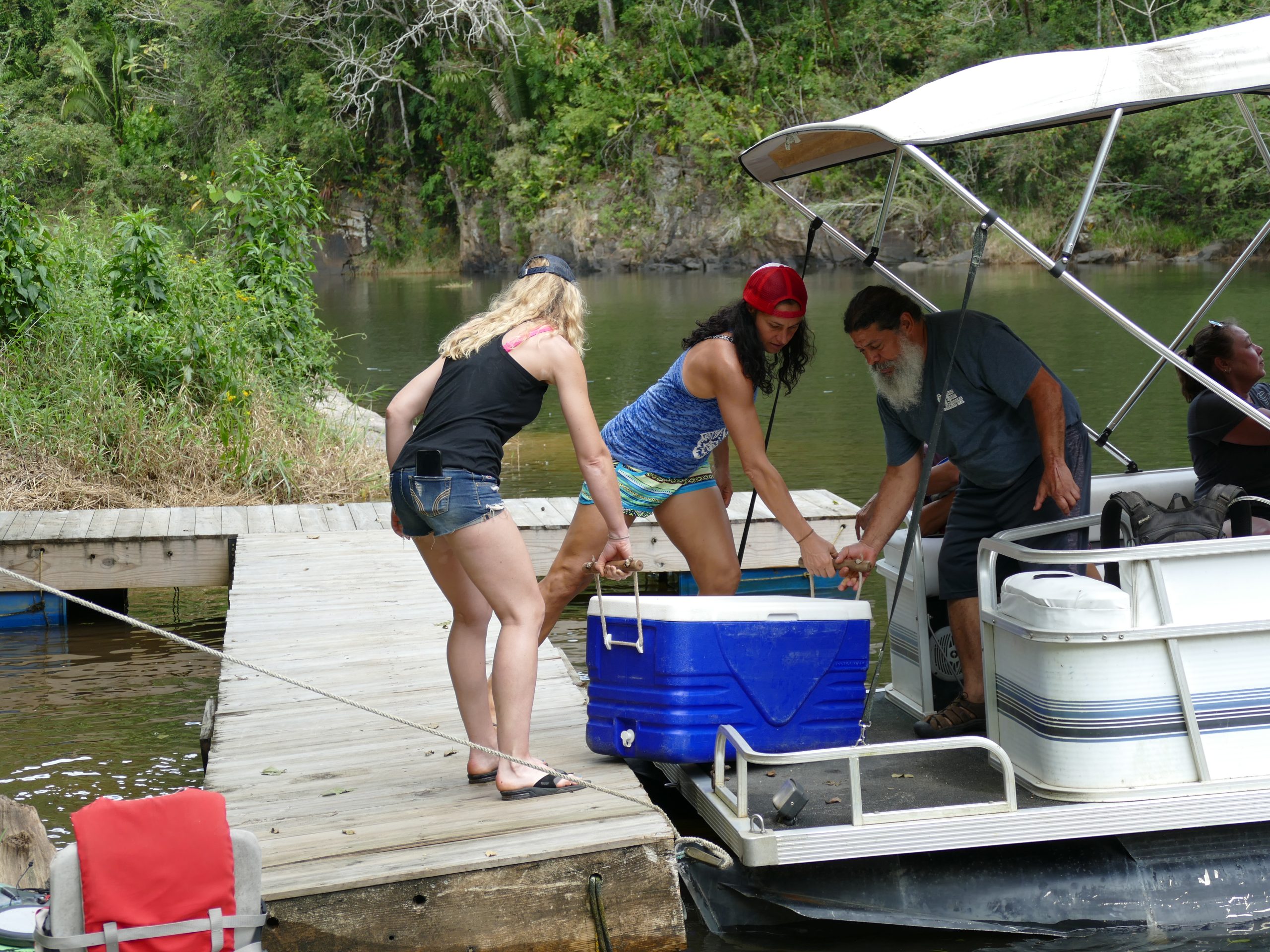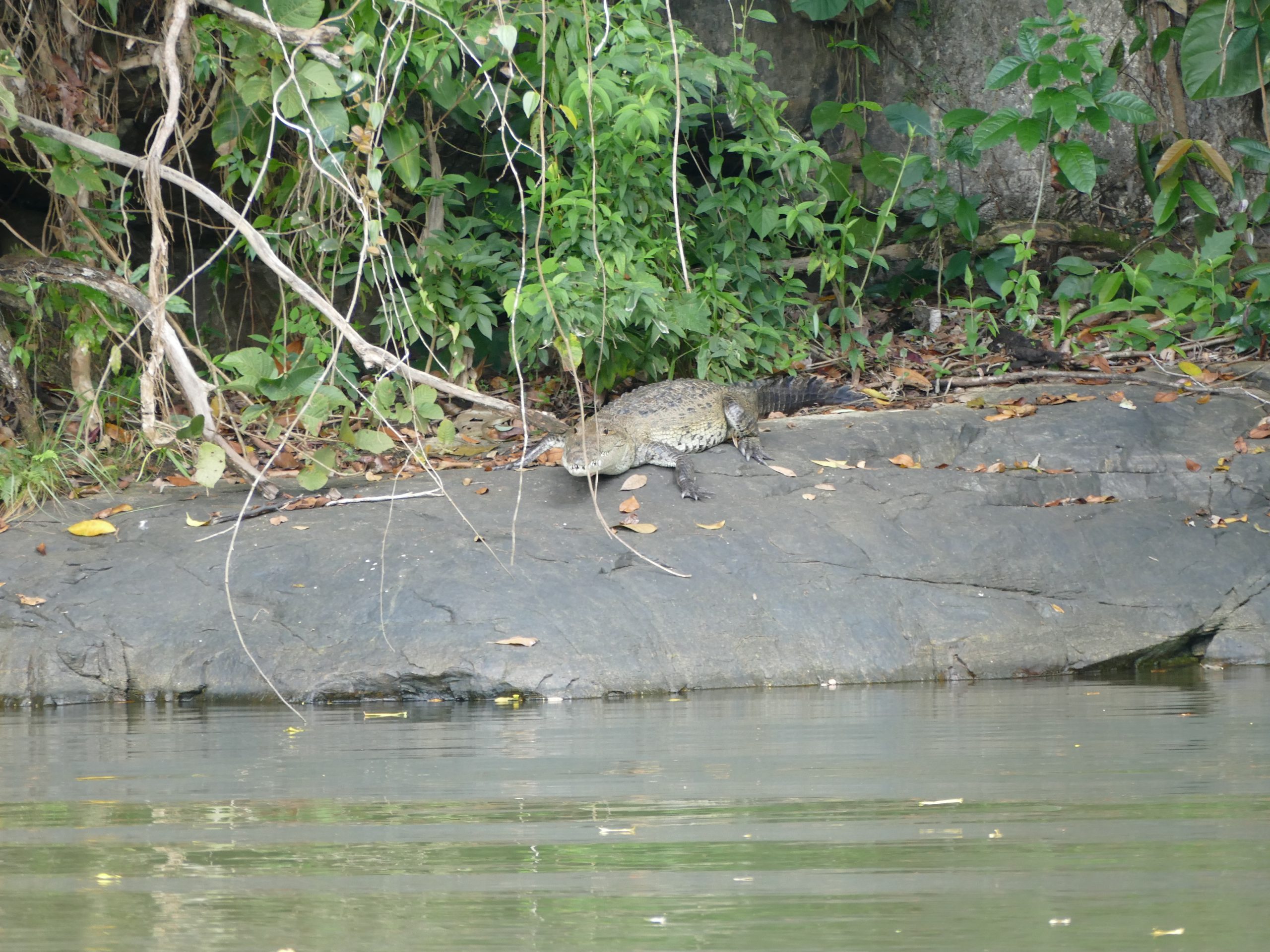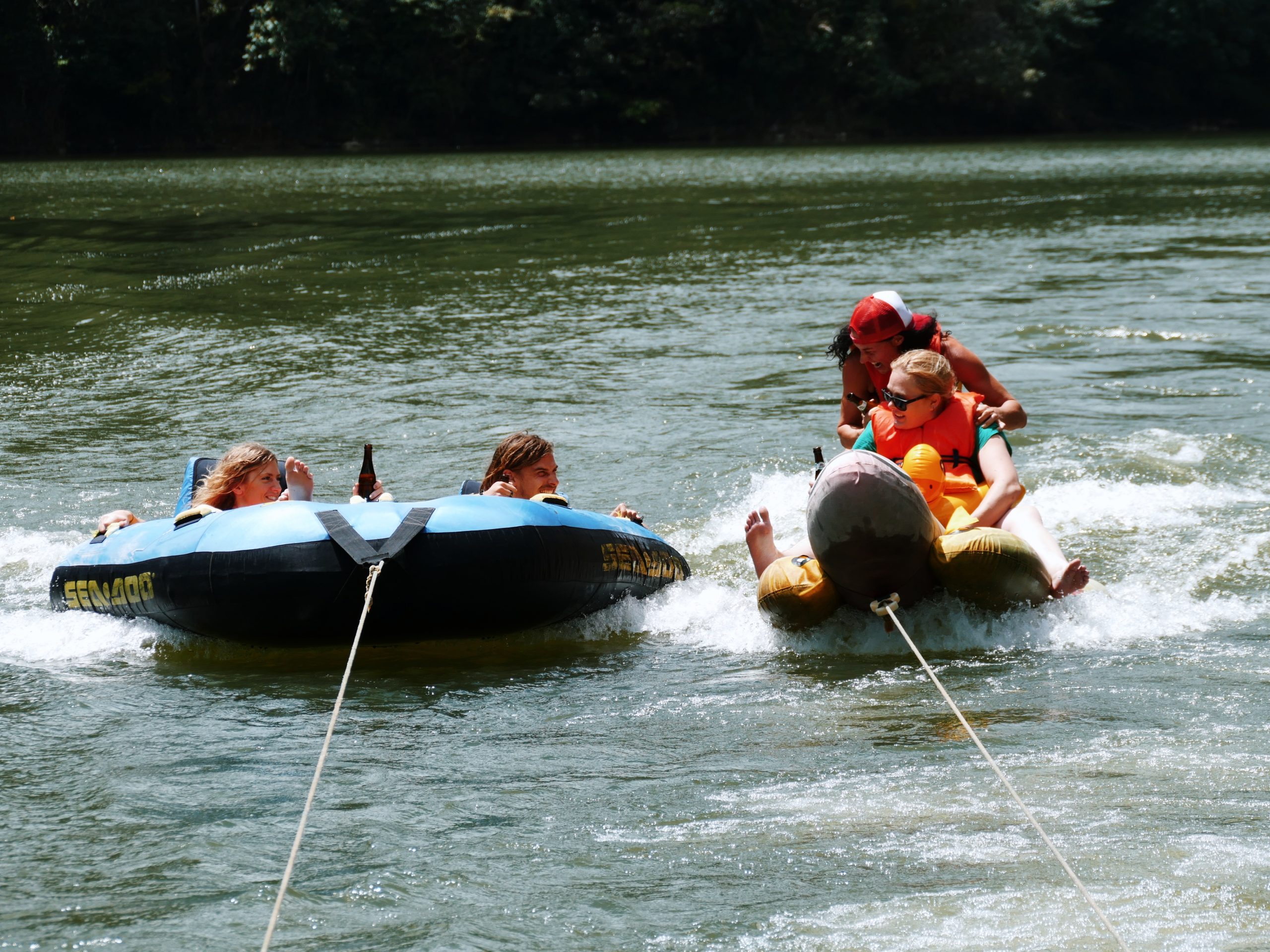 Rested and recharged, we rode back to Hopkins tackling more dirt, more mud, and more cave expeditions. Belize may be a small country, but the diversity here is nothing short of awe-inspiring: in just a few days, you can see the Caribbean Sea, the Mayan ruins hidden away in the rainforest, the Mennonite country, jungle trails, and waterfalls, watch scarlet macaws taking flight early in the morning, hang out with the locals, and attend a beach party that's just sprung up.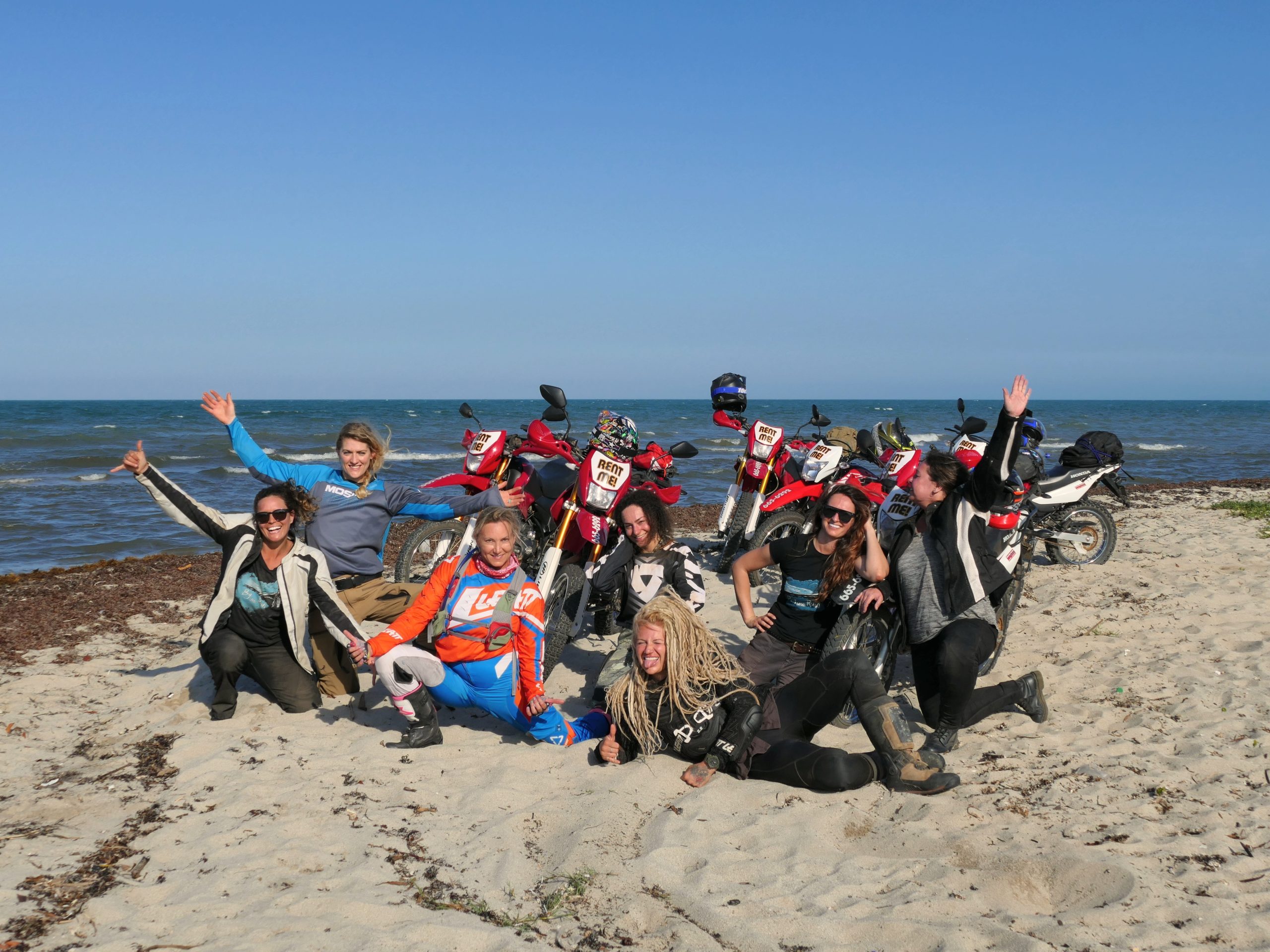 Coral Reefs and Mayan Villages
Back in Hopkins, we've decided to switch things up and ride down to Punta Gorda, another beach town boasting a spectacular promenade lined with palm trees and the lapping waves of the Caribbean. From here, we visited a spice farm, rode deeper and deeper into the jungle, and got to explore a huge underground cave system accessible only by foot – and only if you've got a local guide wielding a machete to clear the way.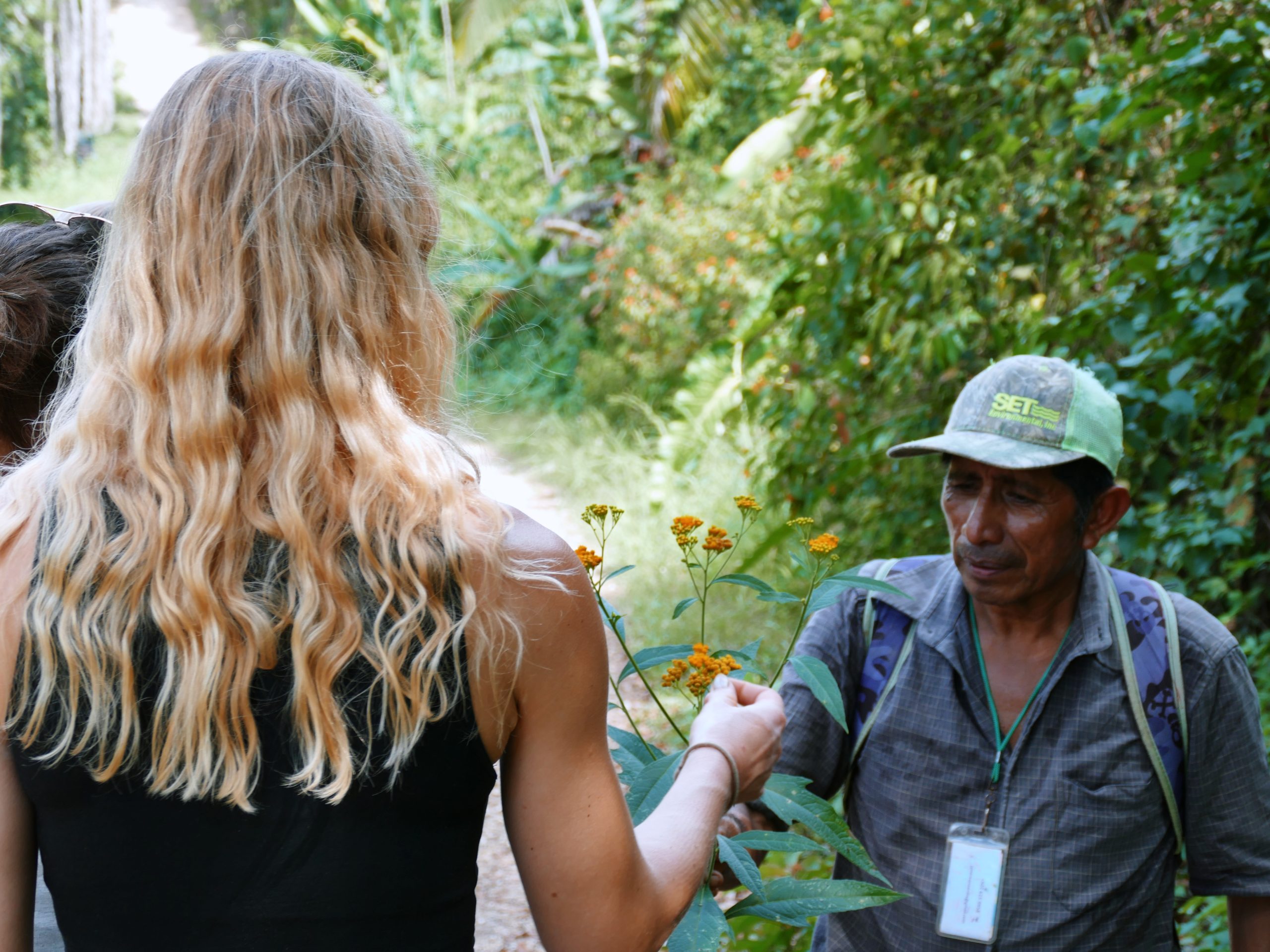 Going into those caves is not for the faint of heart as the darkness can be eerie, and the glittering stalactite formations feel otherworldly – but the experience feels almost like some ancient meditation in rhythm with nature so old and untouched by humans it's hard to describe.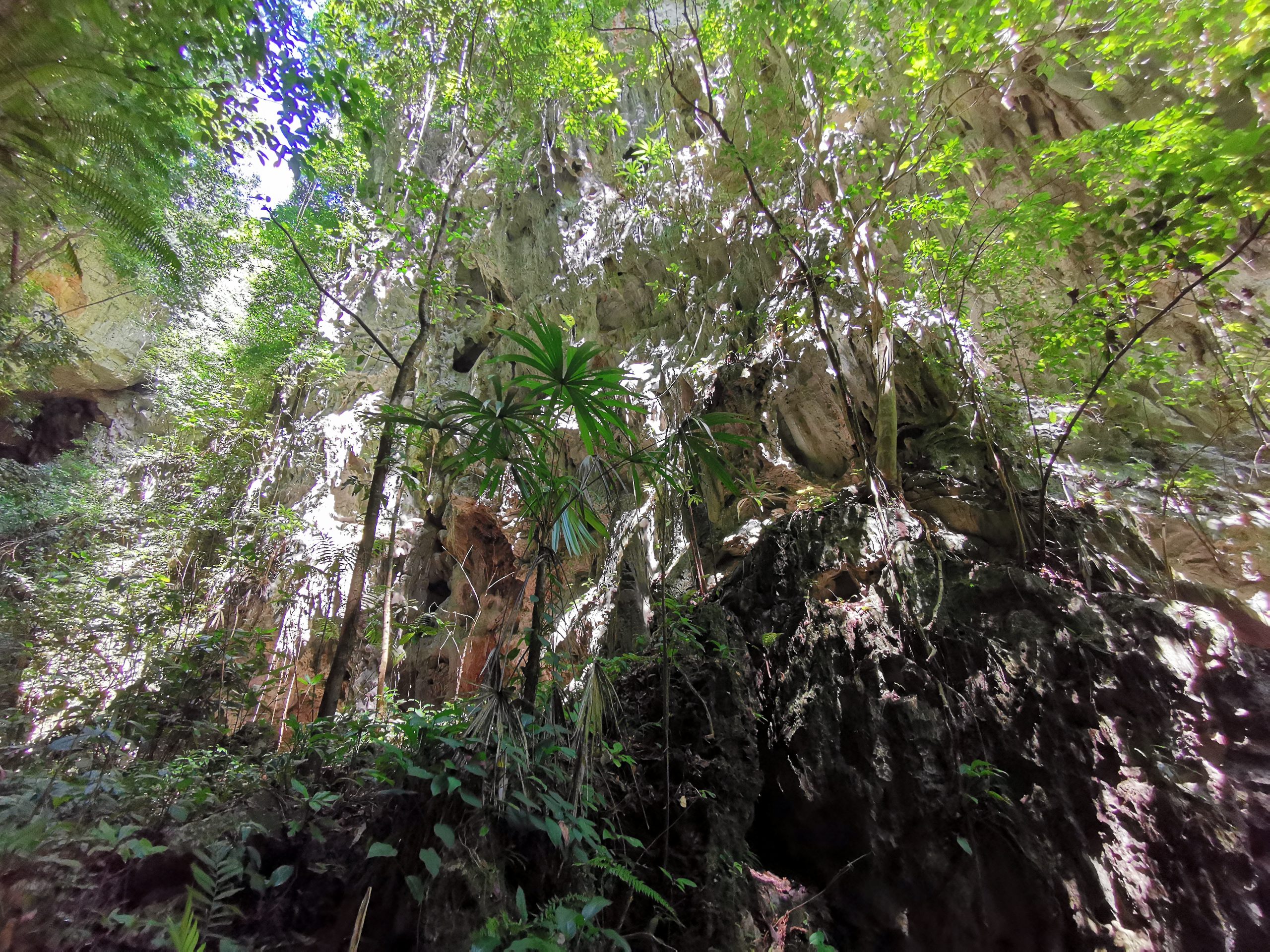 Cooling off in bright blue jungle lagoons and visiting remote Mayan villages near the Guatemala border, we got to see yet another face of Belize – poorer, more remote, and more indigenous. We hope a cavalcade of riders on dirt bikes didn't scare the locals away, but we did elicit a few smiles from the school kids passing by as we stopped to buy some fruit juice at the village store.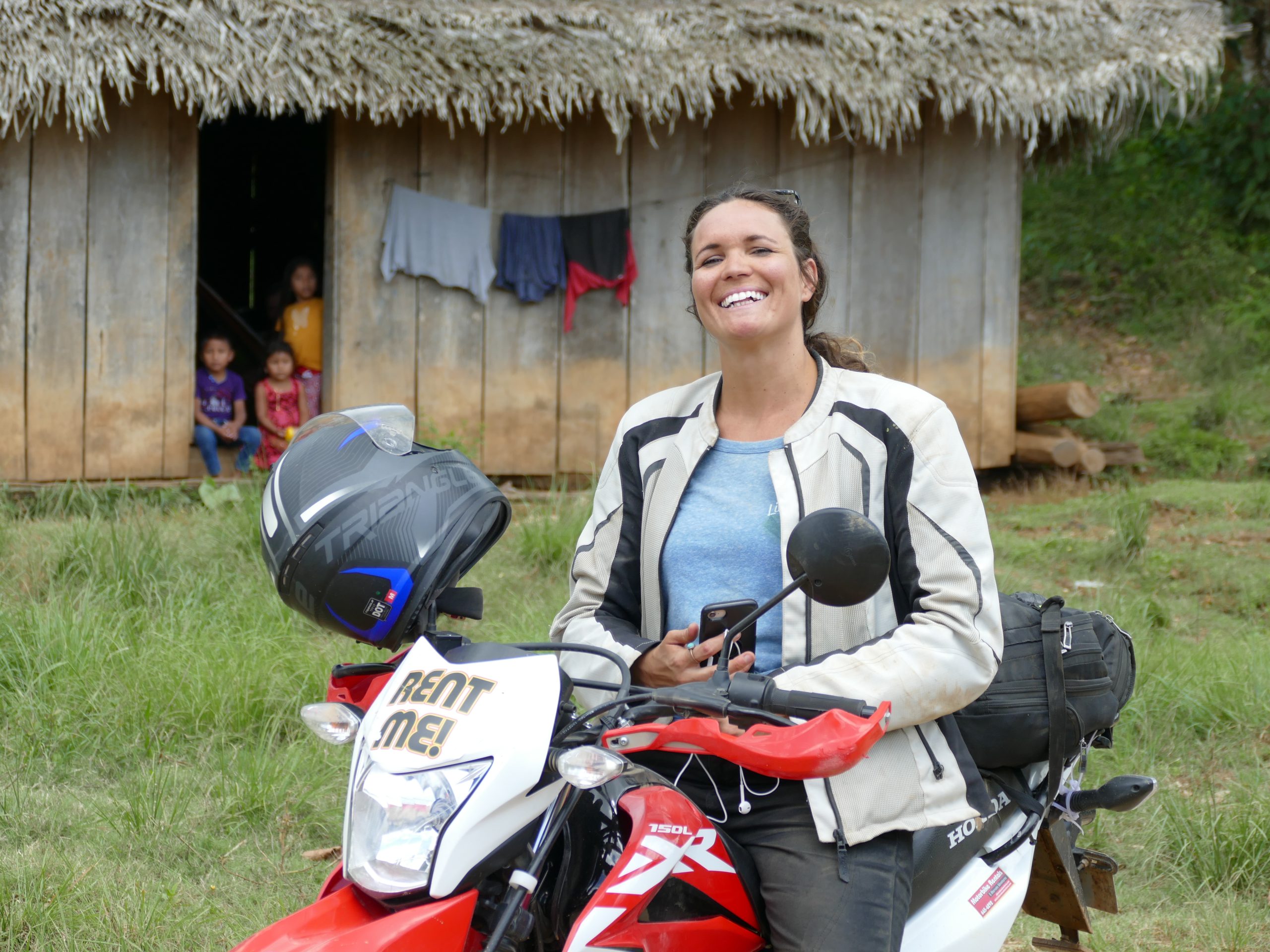 For the final leg of the journey, we headed back to Hopkins again to enjoy a day of pure Caribbean vibes. Vanessa and Suzanne opted for a diving session while the rest of us went for a snorkeling tour right over the second biggest coral reef in the world.
The explosion of life and color underwater in Belize is a must-see: green, purple, and blue corals are home to swarms of rainbow-colored fish, stingrays, and sharks (the friendly kind – don't worry!), and relaxing on tiny white-sand islands under palm trees with a rum cocktail in hand is just about perfect after a week of riding the famed Lifans cross-country.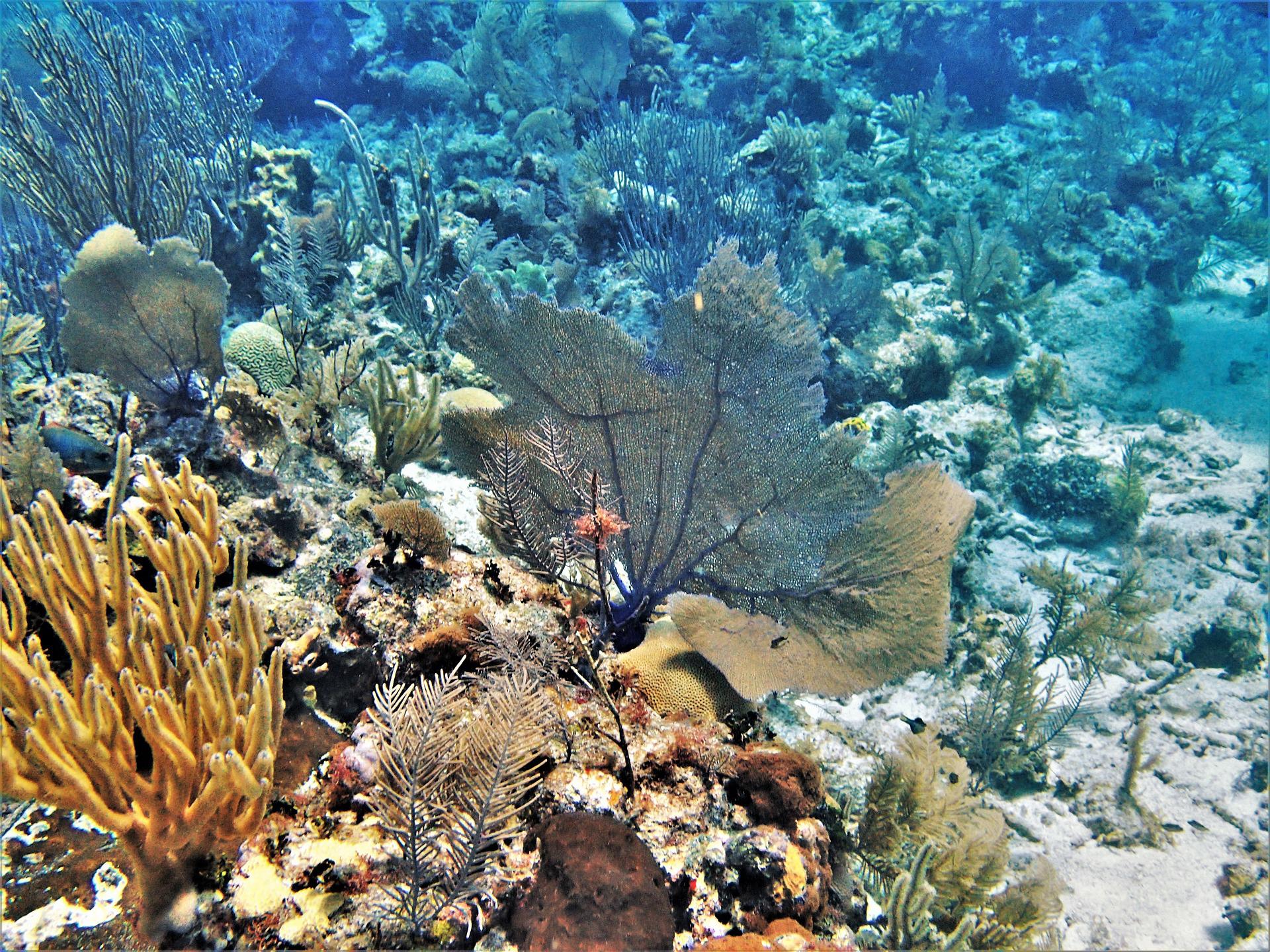 The Avatar Experience
Our last night in Hopkins, we chose a bioluminescence tour at night when the water shimmers with glowing algae and, diving into the water, you're suddenly luminescent yourself feeling like an Avatar character exploring some distant, mysterious planet filled with glowing life force.
Following up by a rooftop terrace party, we said farewell to Vanessa and our intrepid adventurers, but Lennart and I weren't ready to leave Belize just yet.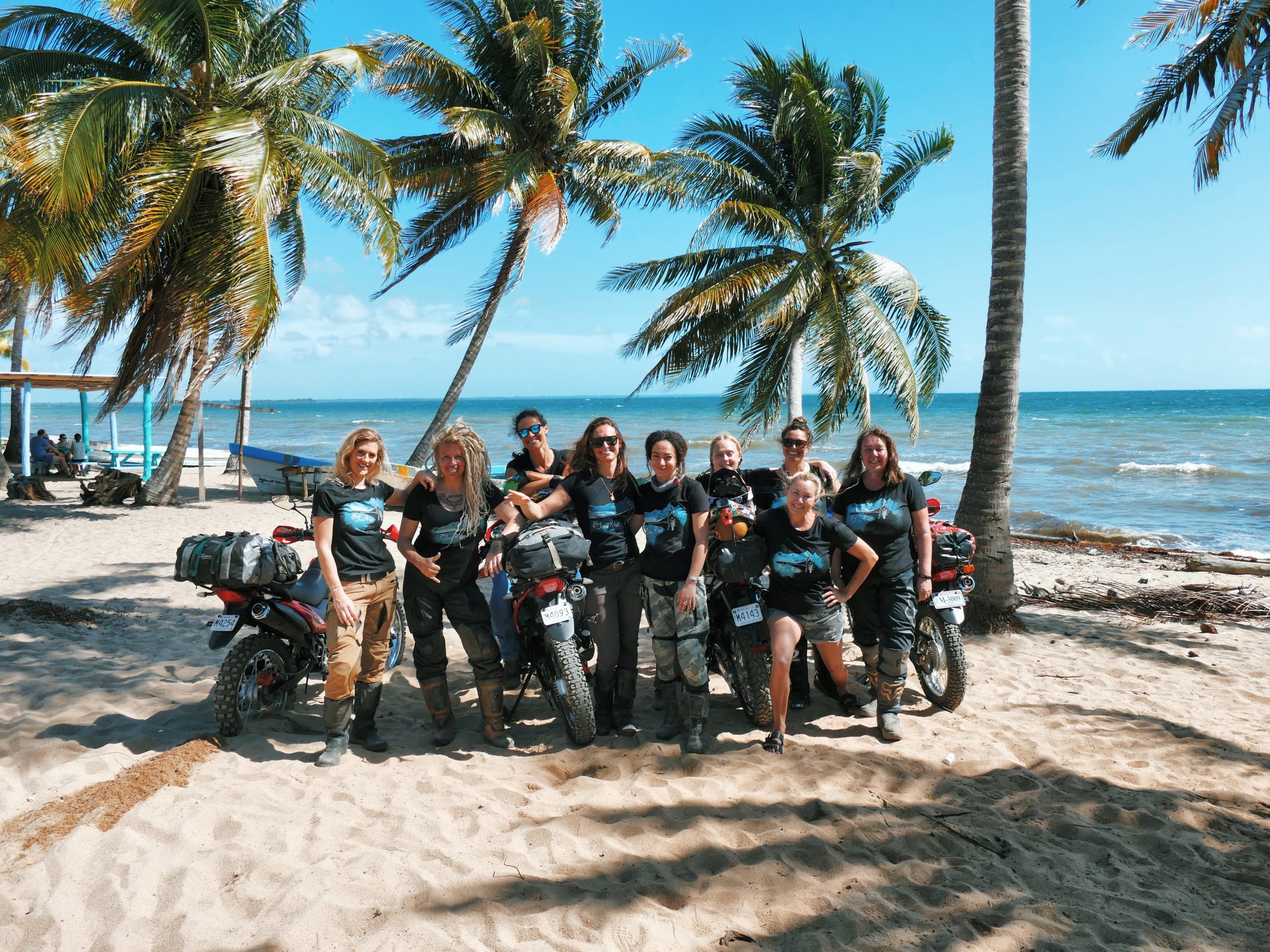 Having ridden the entire country, dug bikes out of mud, cheered and supported our riders along the way, and experienced Belize on motorcycles, we felt like a proper island getaway was in order. Choosing an island miles away from the mainland, we spent a week living in a cabin over the water, cracking coconuts open, snorkeling, and fishing, and we didn't miss electricity or phone signal one tiny bit.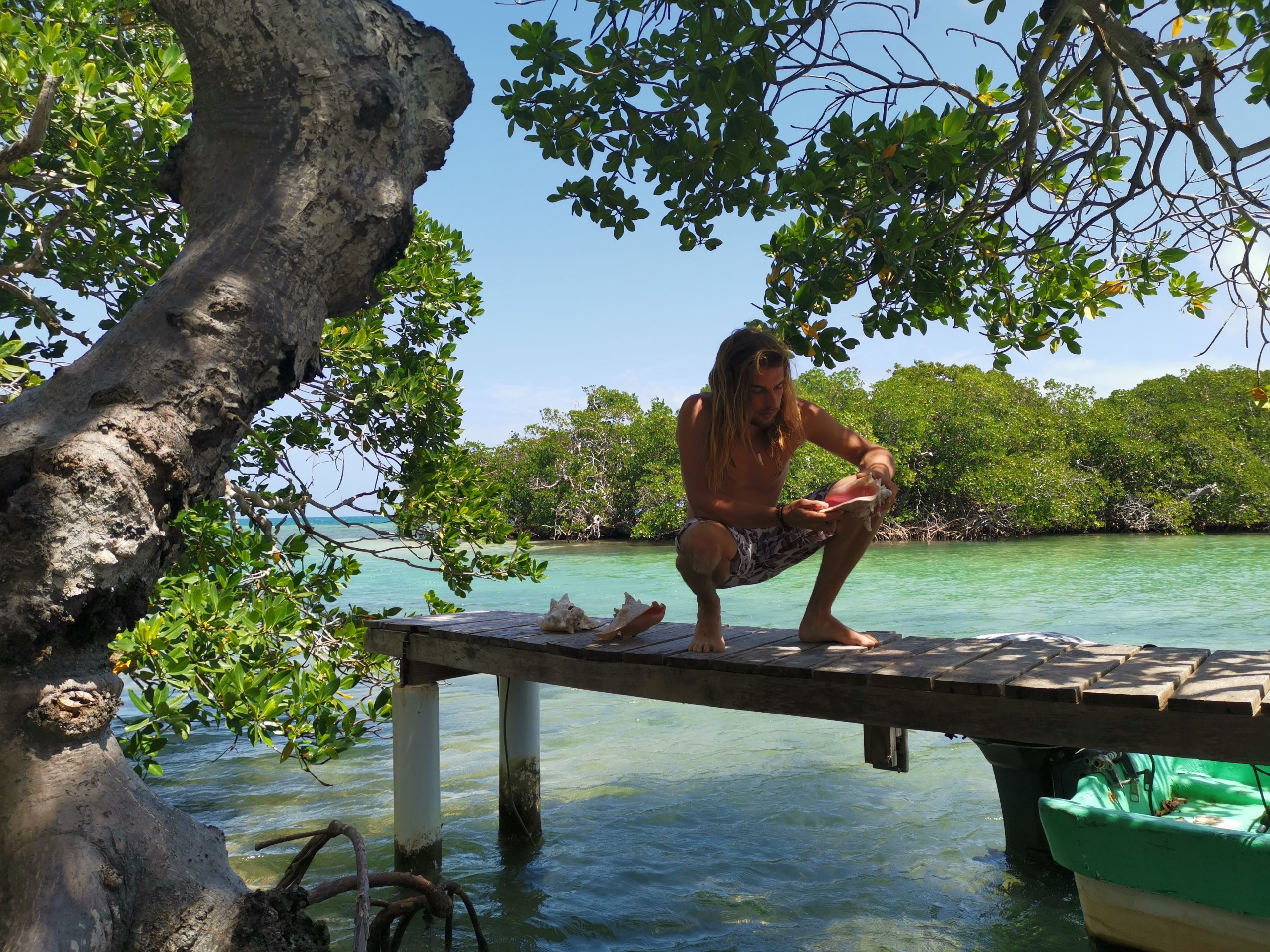 And once back on the mainland, we realized there's just no way we're leaving Belize for good.
Belize Motorcycle Adventure Do's and Don't's
If you're thinking of riding Belize on your own, have in mind that this is a country so friendly, so unique, and so extraordinary you'll likely need more than a week to truly experience it all. The distances are short, so the 250cc bikes are more than enough, but don't think you'll get away with just riding: there's just too much going on!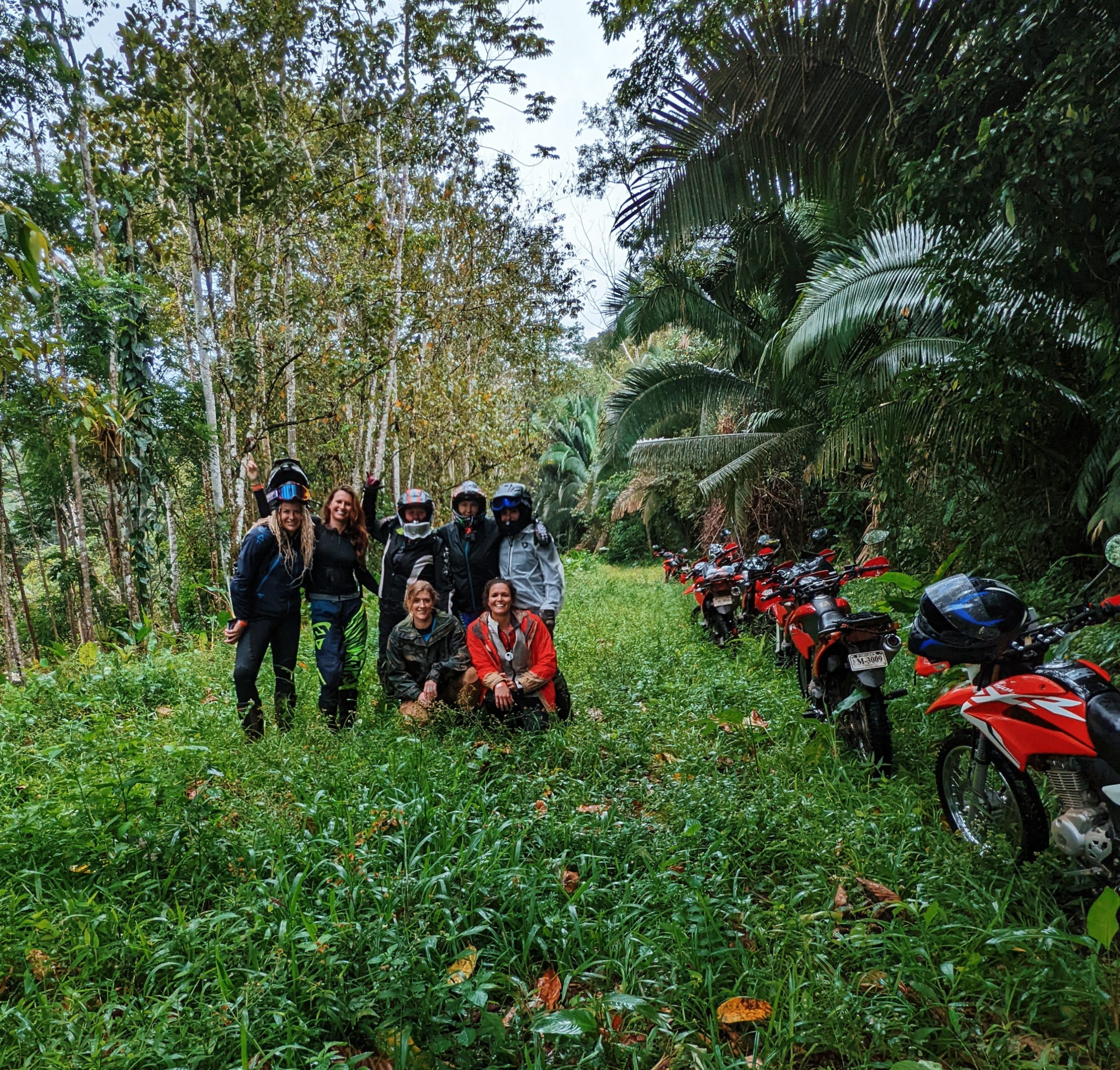 Now for the climate: it's hot. It's humid. It's really, really, really hot and humid, so forget four-season adventure suits and ride in lightweight gear. Wear your swimmers under the gear. Just trust us on that one.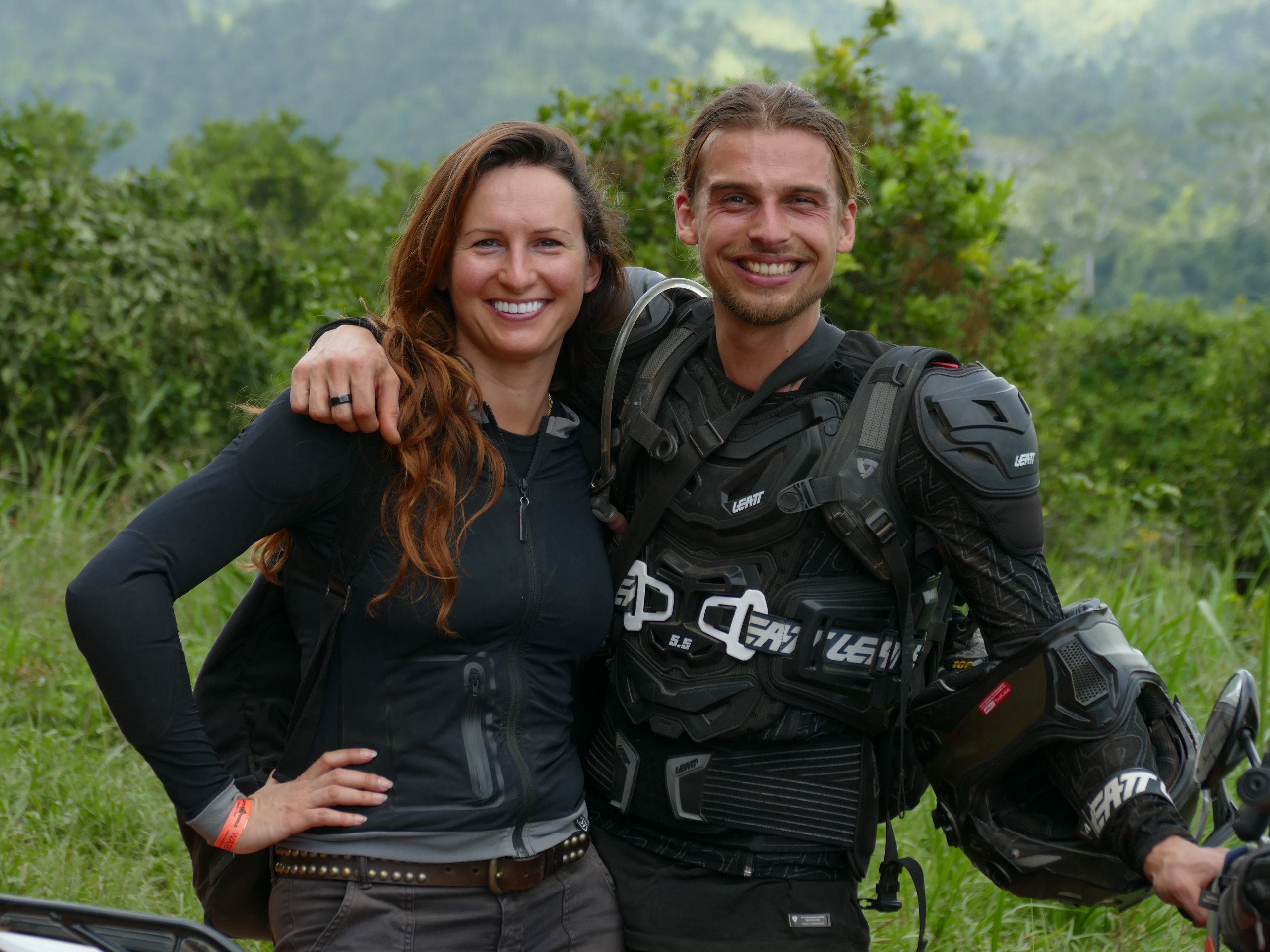 As for our trusty Lifans, those bikes can take on a beating. Yes, we did bend a couple of gear shifters and broke a handguard or too, but these bikes can tackle mud, dirt, rocks, and sand like nobody's business. They don't have much power, true, but in Belize, you really don't need a large-capacity bike. You'll see why.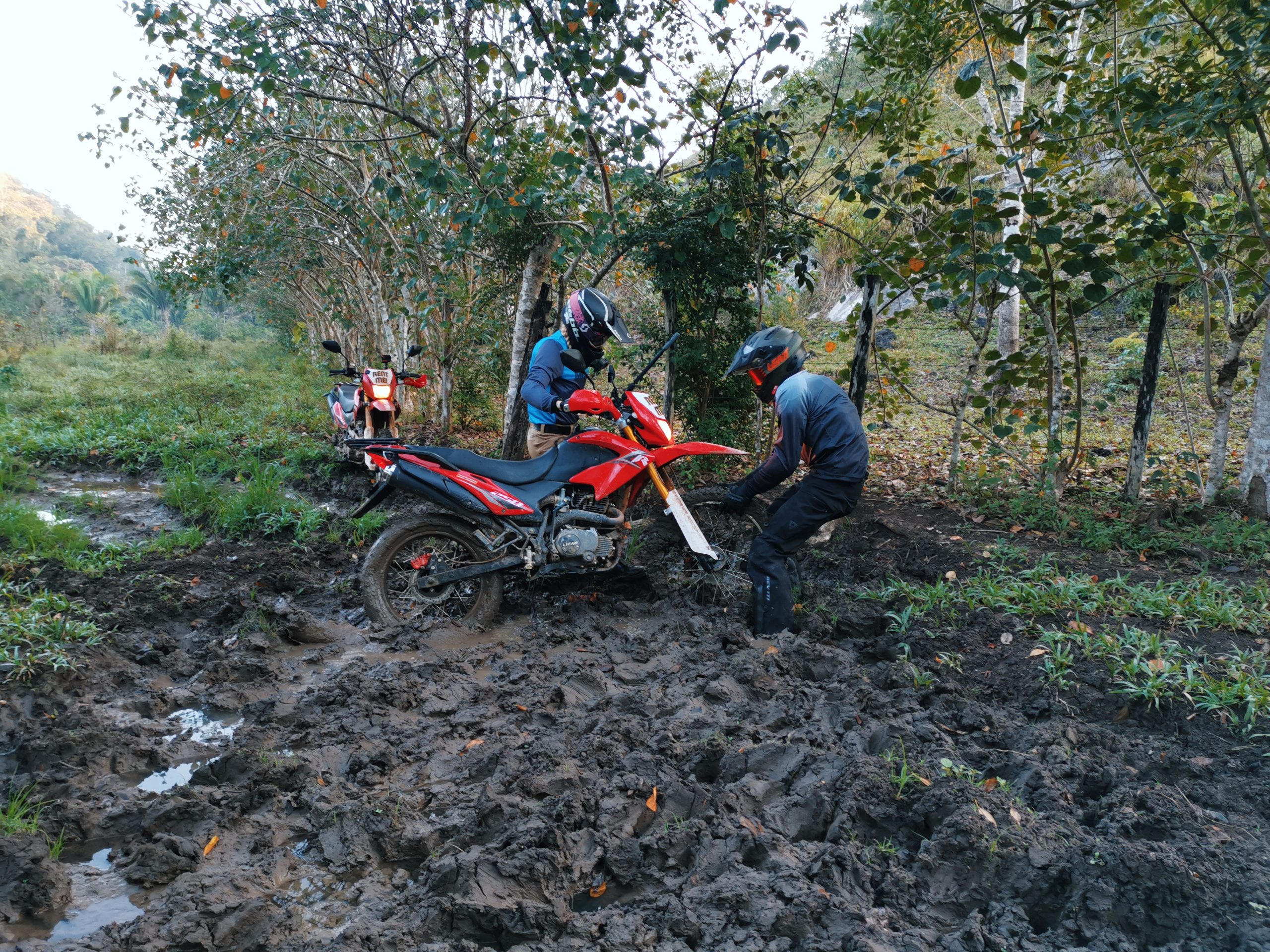 Riding Belize
Finally, Belize is a country that's still largely undiscovered by motorcyclists. And frankly, we feel that's a good thing – locals are happy to welcome travelers on bikes, and you get to see a wild, wild country still untouched by over-tourism. It's a place where culture and nature merge and melt in the craziest ways, where you can hike the rainforest with local indigenous guides, snorkel in the Caribbean Sea, fish for marlin, and explore enormous caves on your own; it's a place of music, belly laughter, jungle trails, bumpy dirt roads, and people that smile from the heart.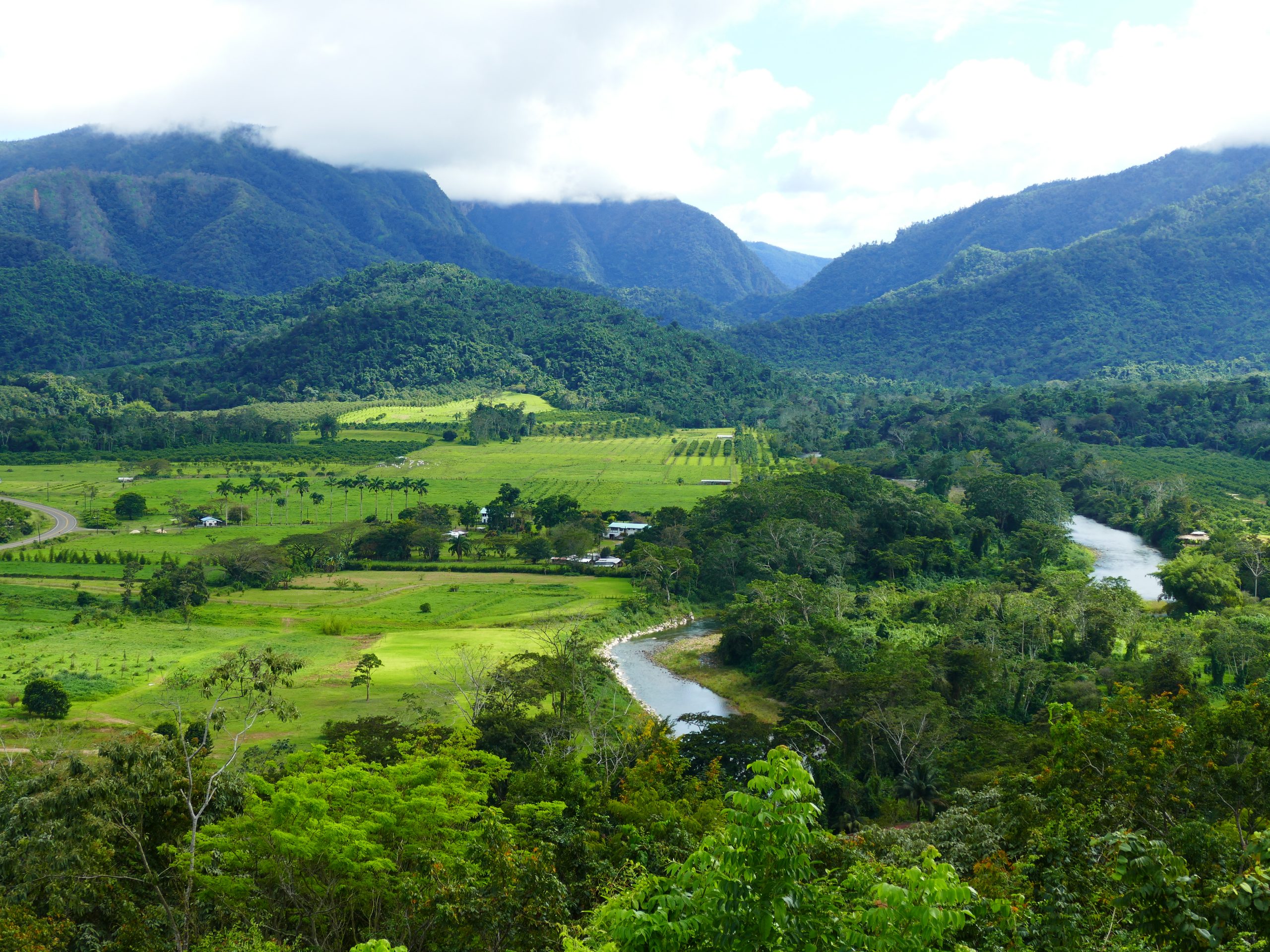 It's a culture shock in the best way imaginable, a wild ride across a beautiful country, a Caribbean holiday, and an epic adventure all in one go – and that's why we're planning to come back to Belize again this fall.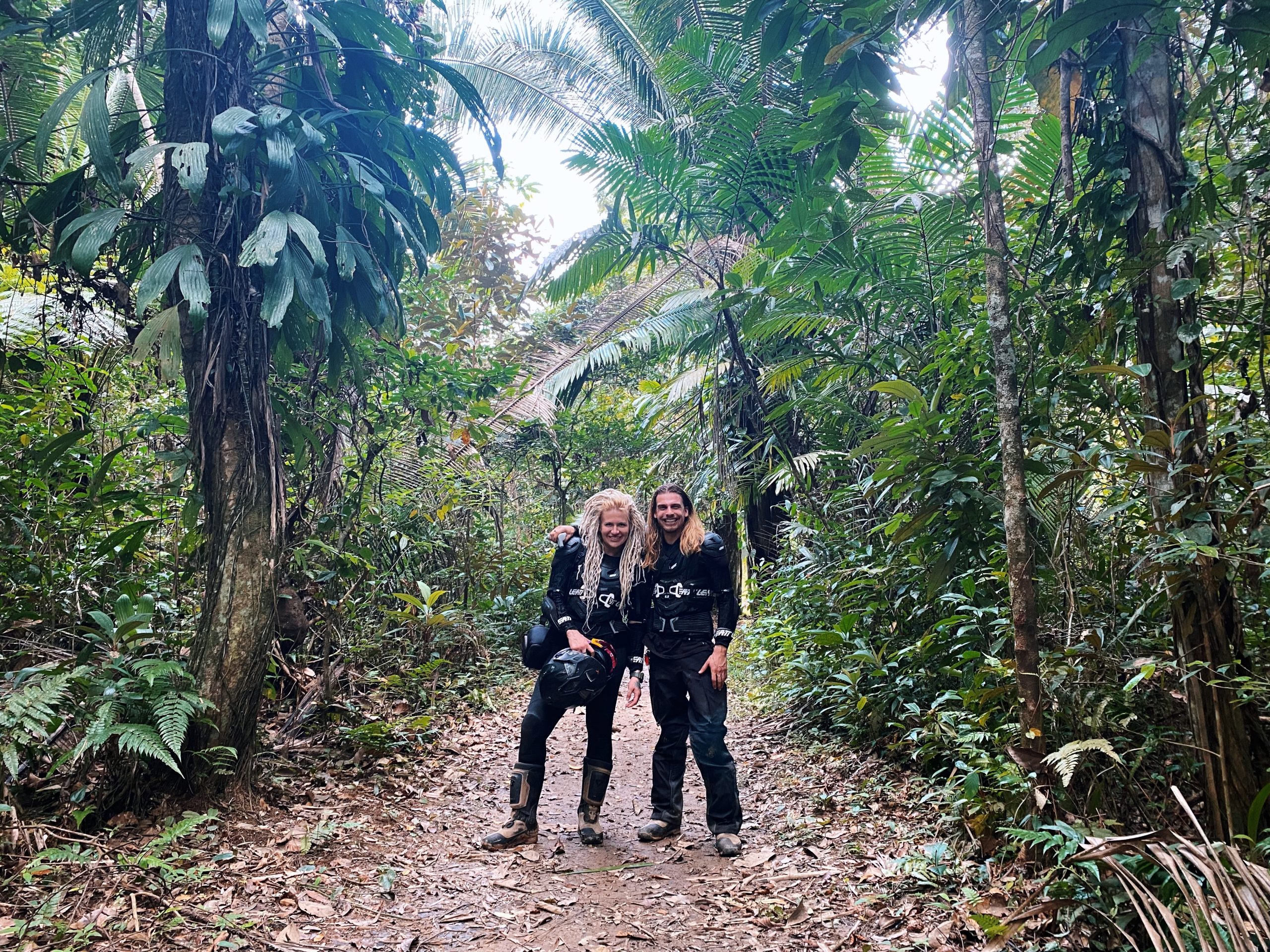 If you're thinking of riding Belize on your own and need some tips and advice, just shoot us a message – we'd be happy to help! And if you'd rather come and explore Belize together with us, join our next expedition – a ten-day Belize motorcycle adventure with Lennart taking place October 23 – November 6 this year:
Ready to braap? We are!