Wondering where to sleep when riding a motorcycle cross country?
You're not alone: "where do you stay" is one of the most asked questions we get during our travels. And it's a fun one – having slept in the strangest places imaginable from a roadside in Patagonia, a hundred-year-old schooner in the Caribbean, a mountain cabin in Norway, and an old military fort in Poland, we often choose the most entertaining answer we can.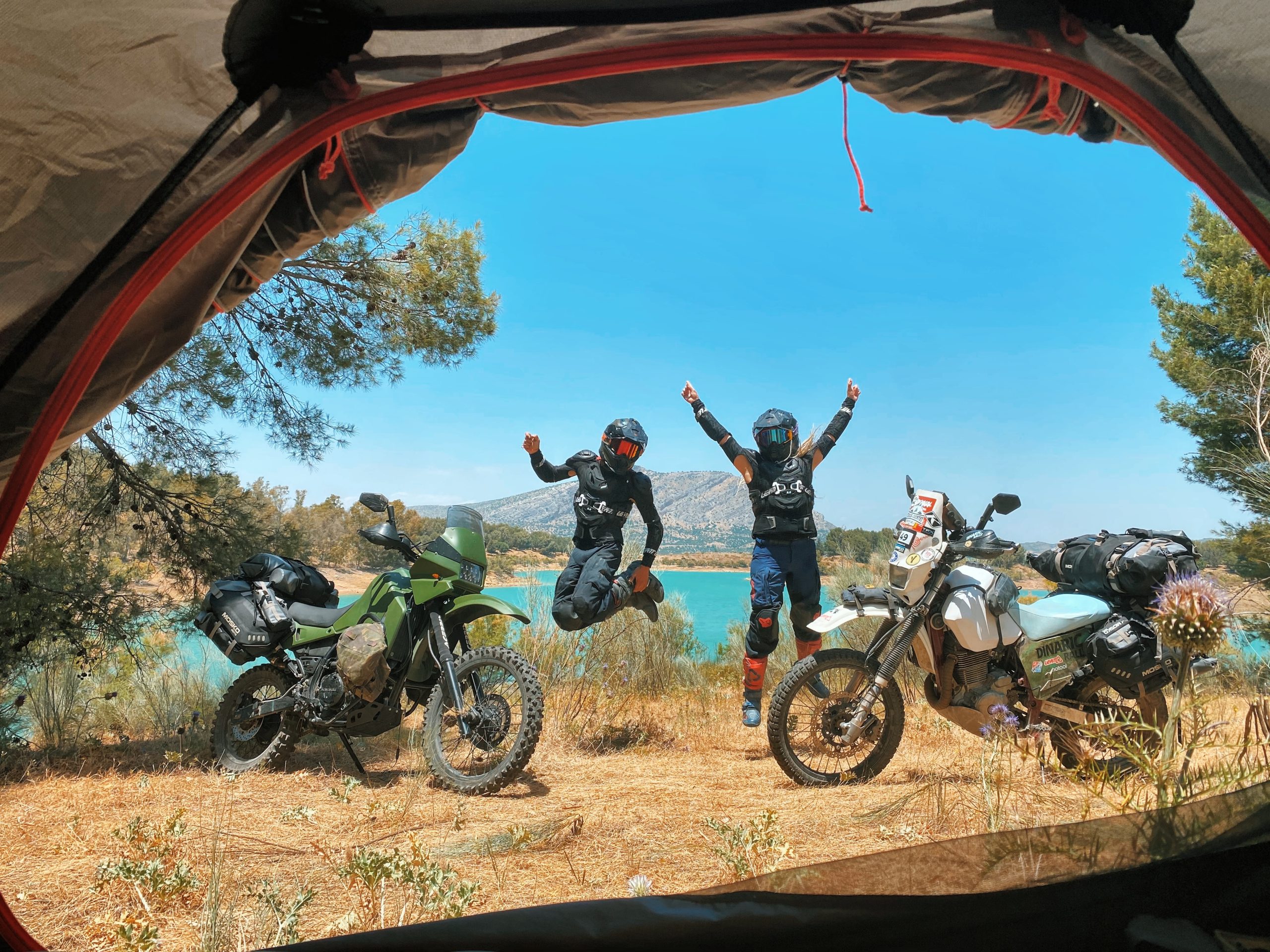 Amusement aside, though, knowing where you'll sleep when riding a motorcycle long-distance is part of the prep. Are you planning to stay in motels or hotels along the way? Are you hoping to camp? Are you going to wing it?
It all depends on the way you like to travel: some people prefer to book hotels way in advance, while we tend to improvise as we go along.
If you're just starting out, however, and you're planning your first long motorcycle trip, here are some pointers to help you out:
Where to Sleep When Riding a Motorcycle Cross Country?
Before we get into hotel vs AirBnB and tent vs friend's couch specifics, let's figure out your expectations.
For us, what matters most is bike security, a good internet connection, and… a laundry machine. That's because we live off our motorcycles, work online, and try to minimize the amount of clothes we carry (which means we've got to wash stuff often).
In addition, we prefer to stay outside of bigger cities, choose houses or cabins over hotels and apartments, and we like to have a kitchen so we can prepare our own meals. Finally, we occasionally wild-camp – either because accommodation isn't available (think remote places), or because we want to fall off the grid for a while.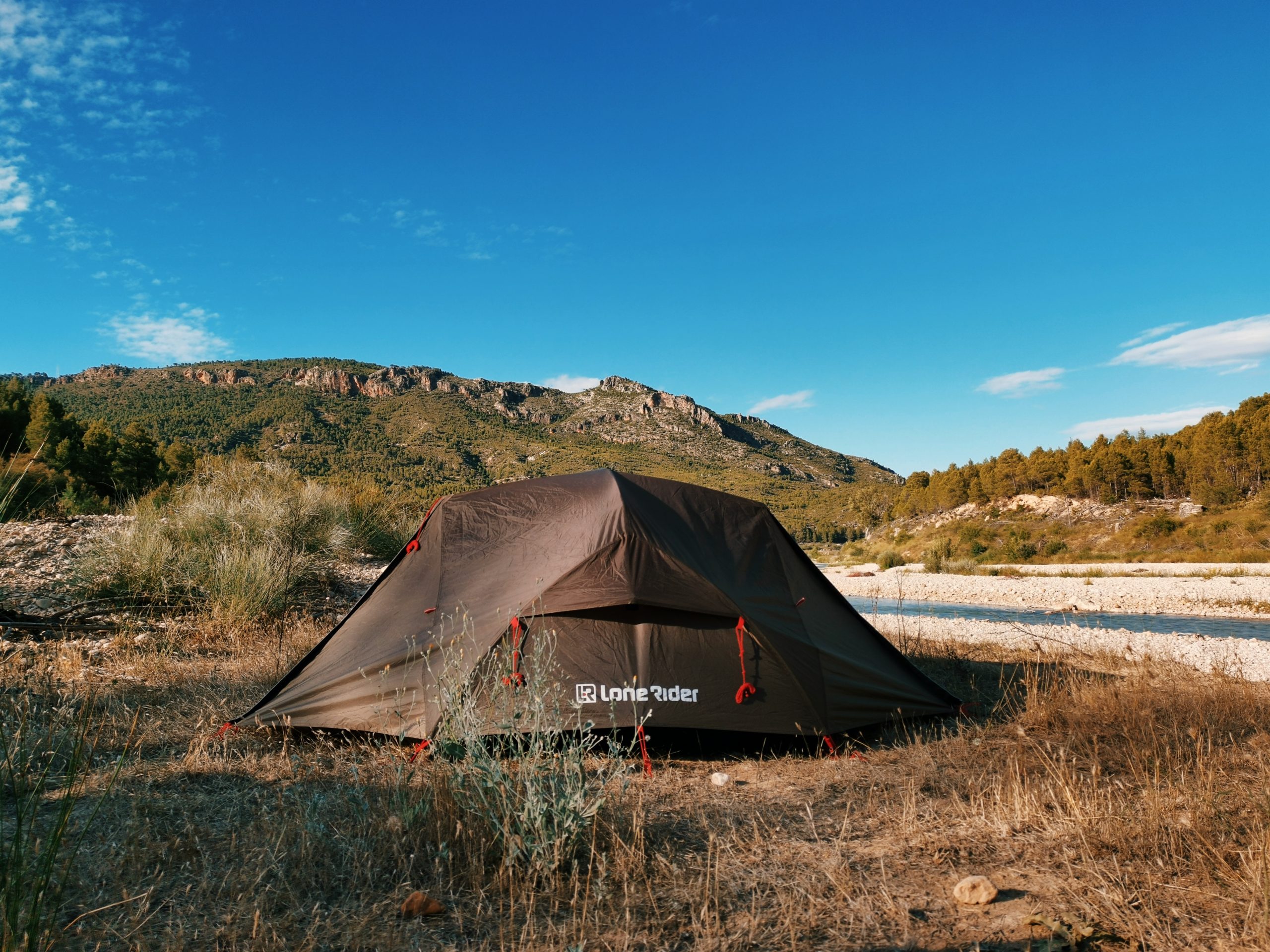 What about you?
What's the most important for you when you're on the road?
If it's comfort and security, you may want to stick to hotels and motels. If it's wilderness and flexibility, camping is your answer. If it's budget-friendly options, think AirBnB's and couch surfing. It can also be any combination of these – usually, it takes a week or so to figure out what works for you and what doesn't.
To decide where to sleep when riding a motorcycle cross-country, you'll need to think of a few factors:
-Your comfort level. Are you OK sleeping in a tent, on someone's couch, or in a hostel dorm? How much privacy and comfort do you need for a good night's sleep?
-Your motorcycle's safety: think about secure parking.
-Your flexibility. How strict are your route and your timing? Do you have room to improvise and change plans if you don't make it to your destination?
-Your budget. What sort of accommodation can you comfortably afford when you're on the road?
The intersection between comfort, safety, flexibility, and budget is that sweet spot you're looking for.
Planning Your Stays During a Bike Trip
Next up, take a look at your route. Have you planned out each day with clear destinations and mileage, or are you going to just ride and see? If you've got a tight schedule and a well-mapped route, booking hotels in advance might be the best option. On the other hand, there's no point in pre-booking everything if you're not yet entirely sure which route you're taking – or how long you're going to travel.
We only book places in advance if we know we're going to stay at a destination for a while. Usually, it's an AirBnB somewhere in the countryside where we plan to rest up, recharge, and get some work done.
If we know we only need a one-night's stay, we either book it last-minute or camp somewhere. It can backfire, as it did once in Ecuador when we didn't make it to our destination due to a huge landslide on the trails and ended up in a tiny mountain village with no hotel or B&B in sight. In the end, a kind local lady rented us her spare room and we slept on air mattresses on her floor.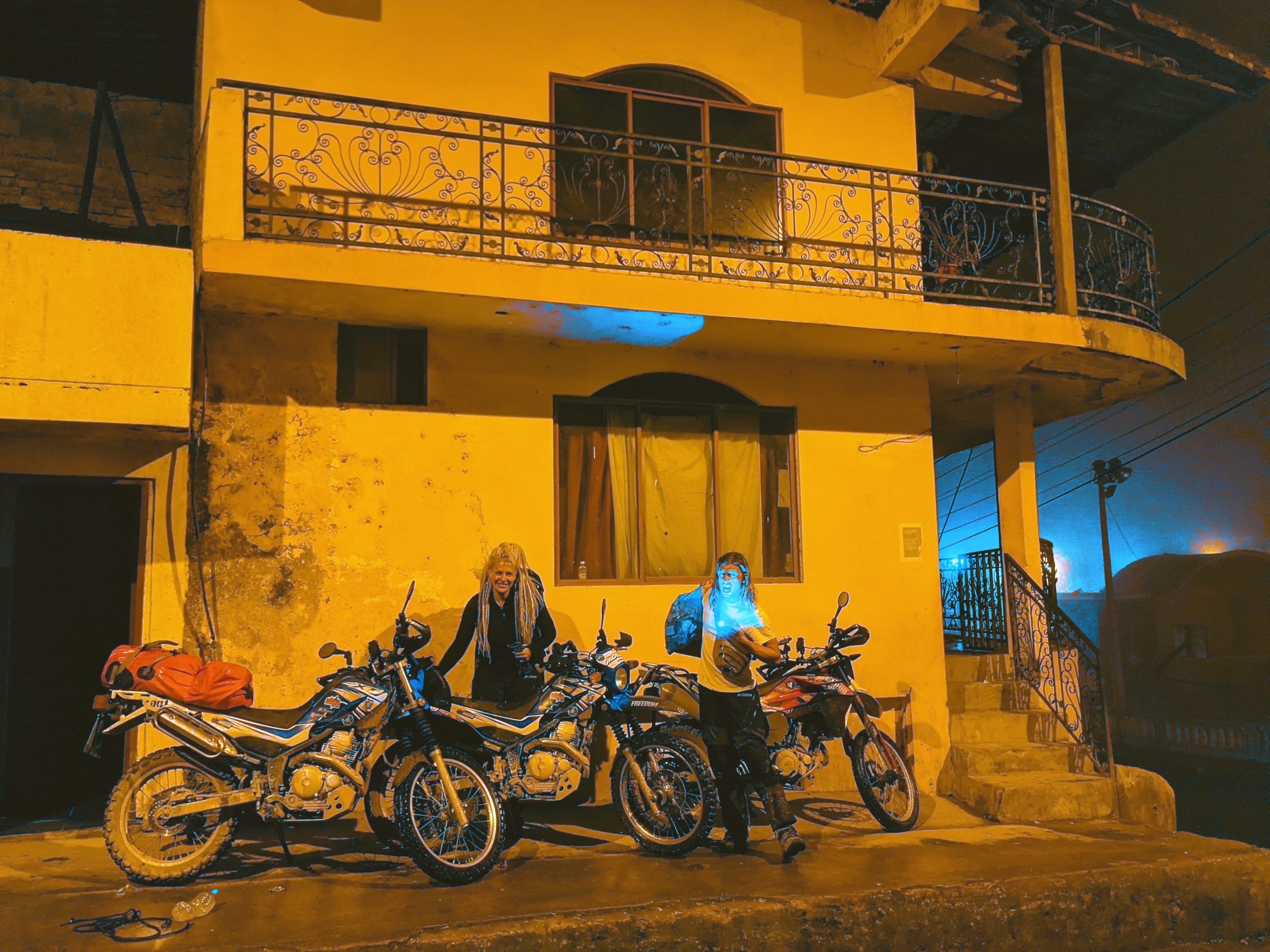 However, this is rare, especially if you're sticking to tarmac roads and well-known routes. Most of the time, we only start looking for accommodation when it's around 4 pm: there's still plenty of daylight left, we can Google nearby stays and book if we find something, or, if nothing is available, we still have time to find a camp spot.
On the other hand, if we have to be somewhere and the route is clearly planned, we'll book the accommodation in advance to avoid the hassle.
Motorcycle-friendly Hotels
Hotels are easiest when you're traveling: usually, they'll have safe parking, they're easy to book and find, and you'll have your privacy and your comfort. The downside is, hotels aren't always budget-friendly, they're sometimes located in busy city centers, and you'll need to eat out instead of preparing your own food. Once again, it's the intersection between comfort, safety, and budget, and if hotels work for you, then that's where you'll be sleeping during your motorcycle road trip.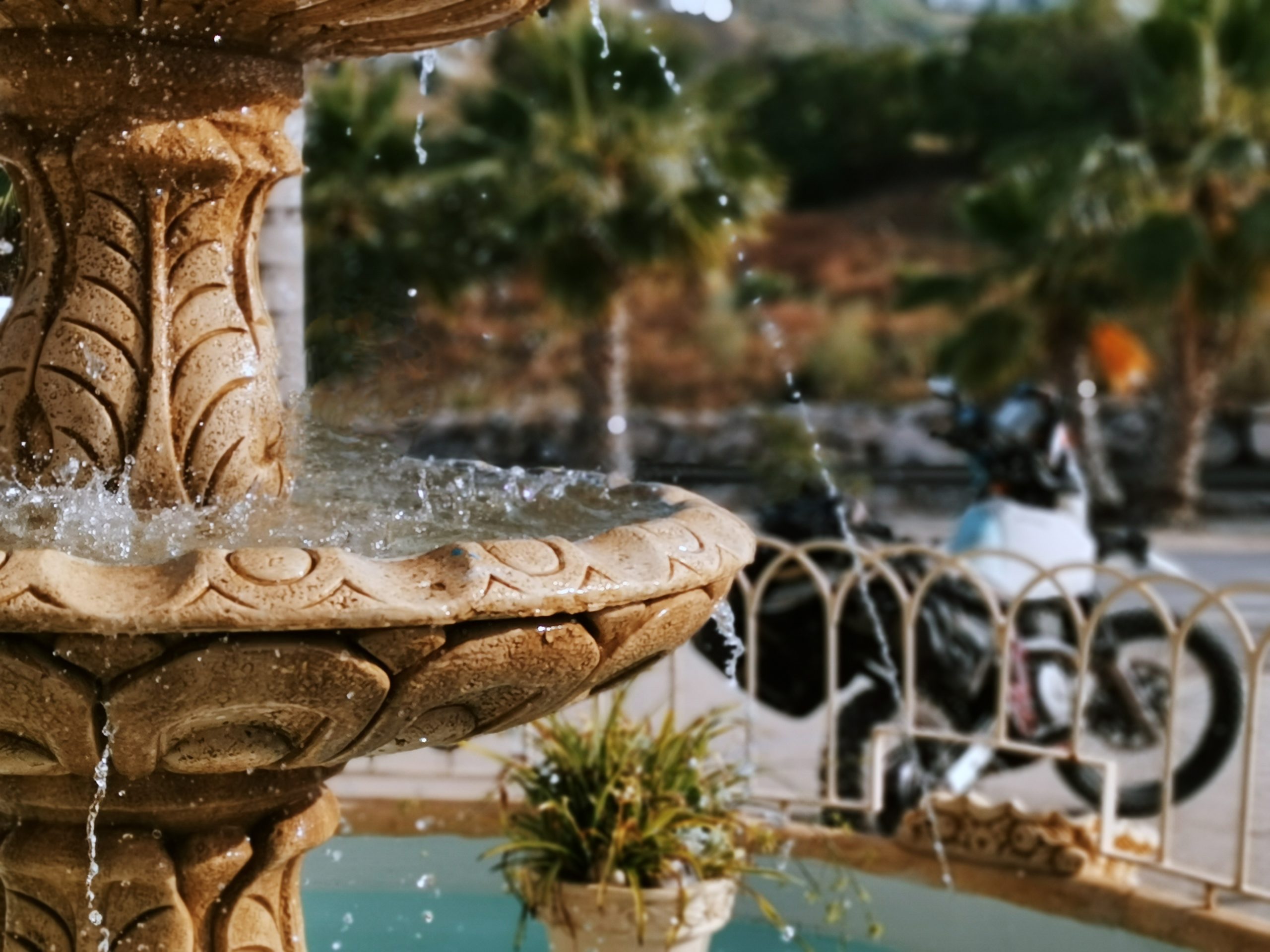 When you're looking for motorcycle-friendly hotels, always check:
-the location. Even if the hotel has a garage, you don't want to stay in a sketchy part of town.
-safe parking for your motorcycle.
-cancellation policy. If you break down along the way or are delayed, can you cancel the hotel?
-check-in and check-out times. Look for places that allow you to check in any time in case you're late and that won't expect you to leave by 9am.
Sleeping at AirBnBs
Another option is staying at AirBnBs, and it can be a great experience if you know what to look for. Often, AirBnBs are cheaper than hotels (especially factoring in the kitchen option – cooking your own meals is usually cheaper than eating out), but they're not always as easy to find, and the hosts aren't always as responsive as hotel receptionists.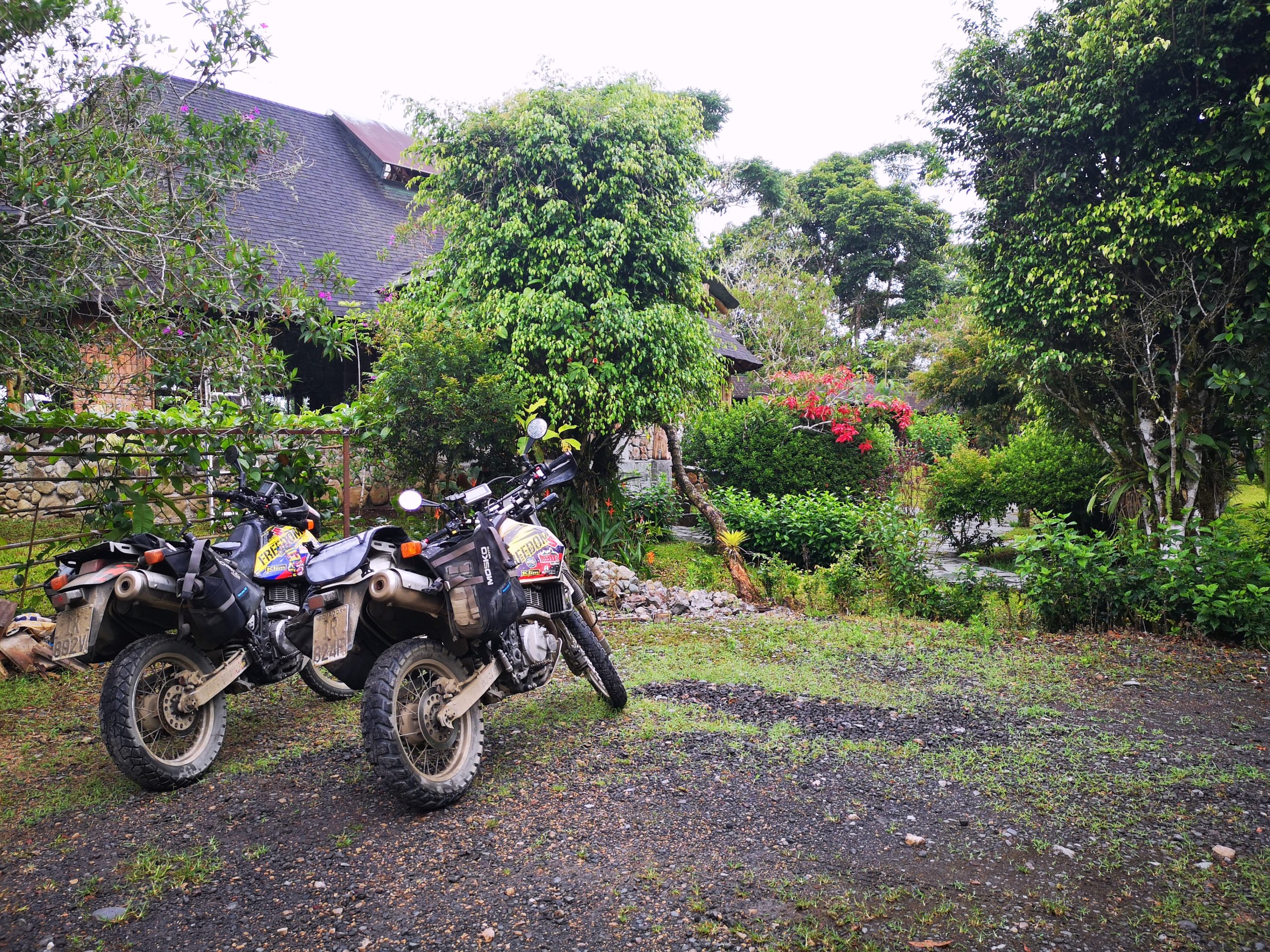 Still, AirBnBs are great for longer stays or as an alternative to hotels, so here's what to keep in mind when choosing a bike-friendly AirBnB:
-read reviews. A property may look amazing in the photos, but if the reviews include phrases like "difficult check-in process" or "unresponsive host", that might be a red flag.
-double-check parking with the host. We once had a very unpleasant conversation with our temporary neighbors in a small Italian town because the host had told us we could park the bikes in the courtyard without consulting said neighbors first. If the listing says "free parking", message the host and make sure it's really free, really available, and really secure.
-look for places with self-check in: that way, you can arrive whenever you please, get in, rest up, and leave in the morning without having to check with the host first or wait for them to arrive.
Are Hostels a Good Idea for Motorcycle Travel?
Yes and no. For one, hostels are aimed at backpackers, and backpackers tend to travel by public transport, which means secure motorcycle parking isn't always a given. Then, there's the dorm question – if a hostel doesn't offer private rooms, you may need to share a dorm with four or five strangers.
The biggest advantage of hostels is that they're usually significantly cheaper than hotels, and you can mingle with other travelers if you feel like it.
Think you'd like to give hostels a go? Here's what to keep in mind:
-you guessed it – parking. Always check if secure parking is available and whether they have space for your motorcycle.
-chances of finding a private room in a hostel are the biggest if you're traveling off-season.
-if you're staying in a dorm, be sure to leave your valuables in the safe or locker provided. Just trust us on that one.
Motorcycle Couch Surfing
You've probably heard of backpackers' couch surfing, where you stay at people's homes for free. Is there such a thing as motorcycle couch surfing? Yes, depending on your destination. Thinking of where to sleep when riding a motorcycle cross country, the ADV Rider forum is a good place to look in the US and Canada. Worldwide, Bunk a Biker is a fantastic community where you can find stays with local riders.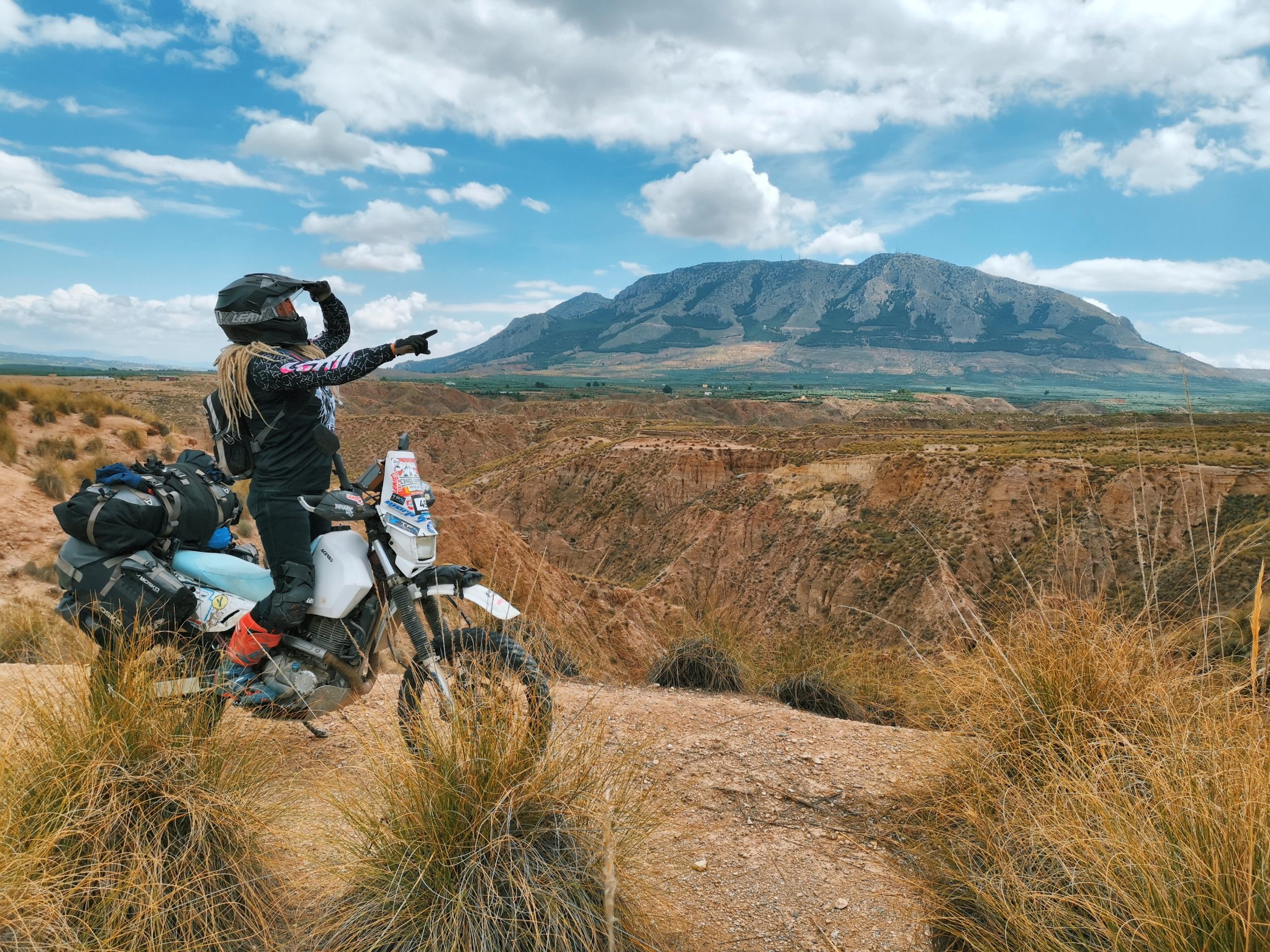 Everywhere else, you can reach out to local rider groups on Facebook and see if anyone would be willing to host you. More often than not, if you make friends with local riders, they'll likely invite you to stay over – this has happened to us multiple times, and we're extremely grateful for the hospitality.
Motorcycle couch surfing works best when you're not on a tight schedule: it takes a while to find a place, make sure your dates work for the host, and finally, plan it. However, it can be a fantastic travel experience as you'll get to know the locals, share some stories, and probably ride with them, too.
Motorcycle Camping
Finally, there's the zero-cost option: motorcycle camping. Camping works great if you love sleeping in your tent – you're free to choose where you'll stay, your home is always with you, and if need be, you can pitch your tent just about anywhere.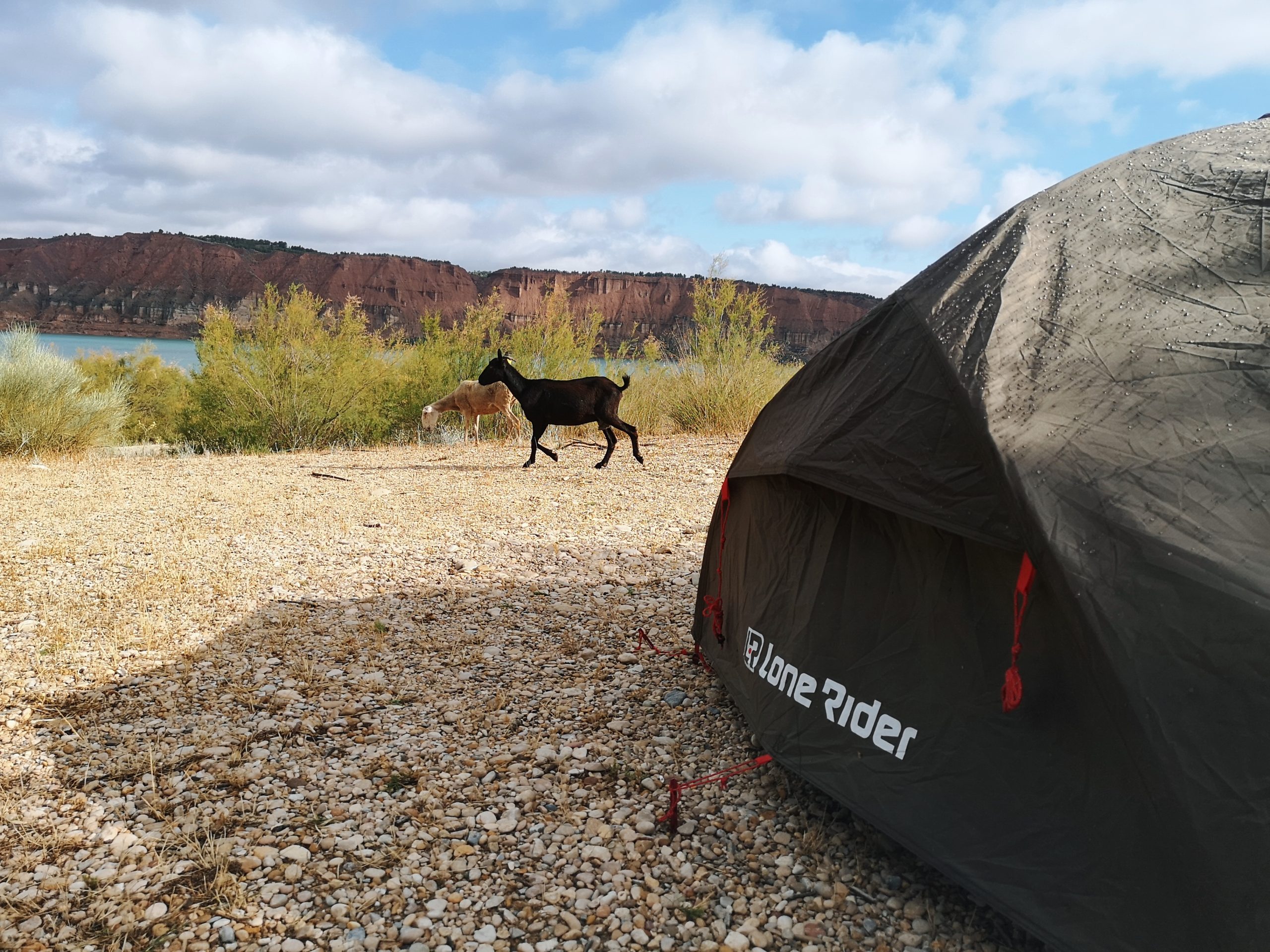 If you're thinking of motorcycle camping during your bike trip, you'll need to carry your tent, sleeping mattress, an inflatable pillow, and cooking utensils with you. That's a small price to pay for the freedom to stay wherever you like, but it's usually a good idea to find camping gear that packs small and light.
If you're thinking of camping along the way, here are a few things to consider:
-Organized vs wild camping. Both are great: organized campsites usually offer some amenities like showers, bathrooms, and kitchens, and wild camping is all about having the place to yourself and enjoying your solitude.
-If you're wild-camping, always bring food and water (but be sure to pack the food away if there's wildlife like bears or mountain lions in the area).
-If you're staying at organized campsites, check if you need to reserve them first – some places, especially near National Parks, may be booked out during the high season.
Not sure where to find wild camping spots? Apps like iOverlander might help: it's an open-source app where travelers like you leave GPS coordinates of good spots along with information about the place and tips on how to get there. Or, you can simply zoom in on Google Earth, find a place, and go explore.
Where to Sleep on a Motorcycle Trip When You're Late
All this is good and well if you plan ahead a little, but even the best-laid plans may sometimes go awry on a long-distance motorcycle trip. What then? You might miscalculate your mileage and arrive late, you might break down somewhere, or you might struggle to find a campsite before dark. What now?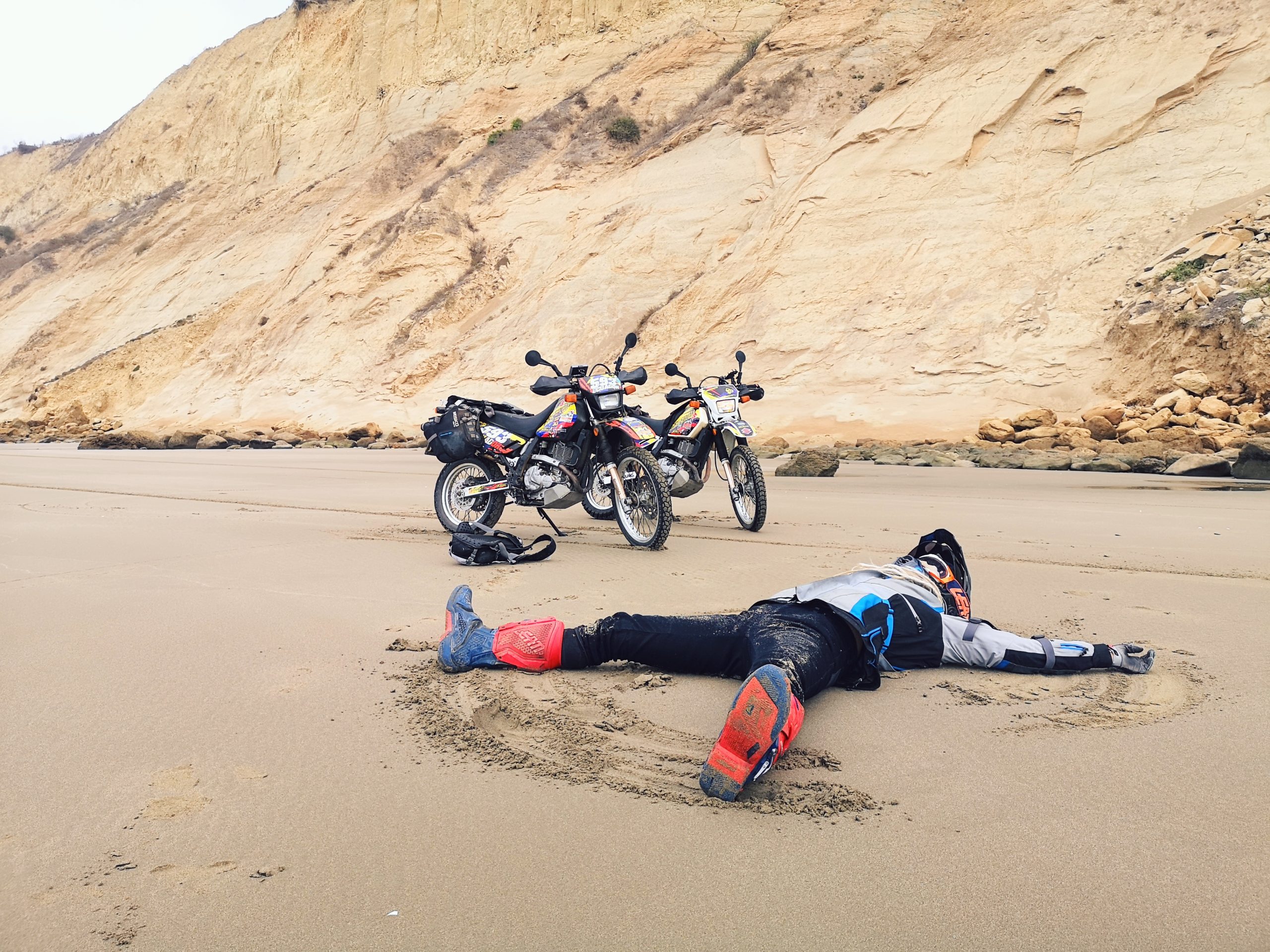 The reality of motorcycle travel is that unexpected things do happen, and they will happen to you, too. You simply can't foresee them all – but the good news is, you're more than capable of solving things as you go along. If you've never done a long trip, the 5,000 miles cross-country or the 10,000 miles cross-continent may seem daunting, but as soon as you get on that open road, you'll figure things out.
You may end up overpaying for a hotel because you've rolled into town late, hungry, and tired, and just didn't have the mental capacity to look for cheaper options. You may have to wild-camp near the side of the road if you didn't make it to your destination, or if you just couldn't find a good spot. You may have to put up with noisy hostel roommates, worry about your bike's safety, or have some AirBnB experiences that veer toward weird rather than wonderful.
But that's just a part of it – you'll learn fast, and for the major part of your trip, we bet you'll have the time of your life. Motorcycle travel isn't about predictability and guaranteed safety and comfort, it's about adventure.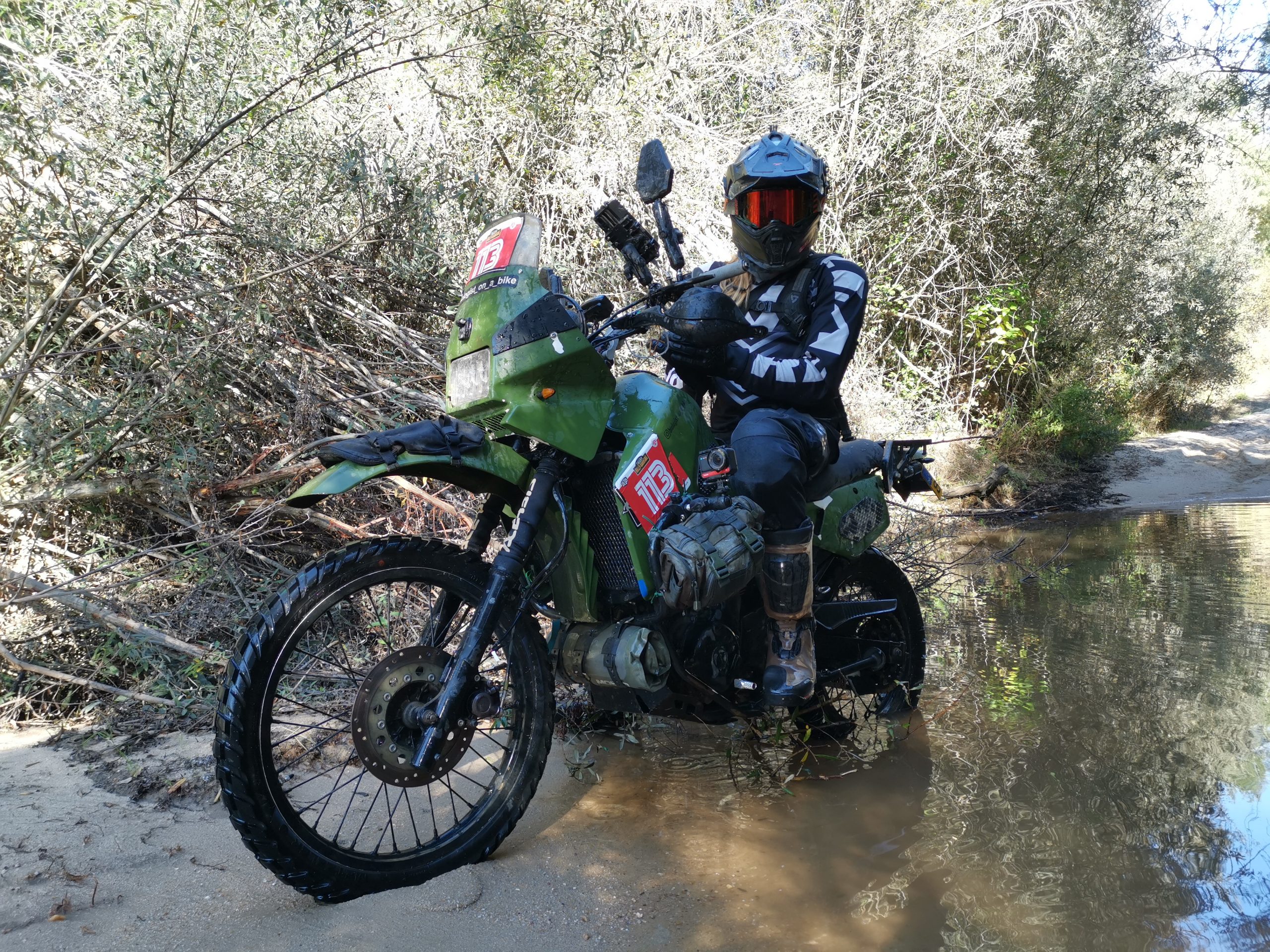 So go out there and have one. And if mishaps do happen, they'll make for some pretty cool travel stories!
Need more motorcycle travel tips and advice? Check out our blog posts on:
How to Fund a Motorcycle Trip from Zero