Can you motorcycle Ecuador? Should you? What awaits you out there on the equator, in the wilderness, on the very edge of the world?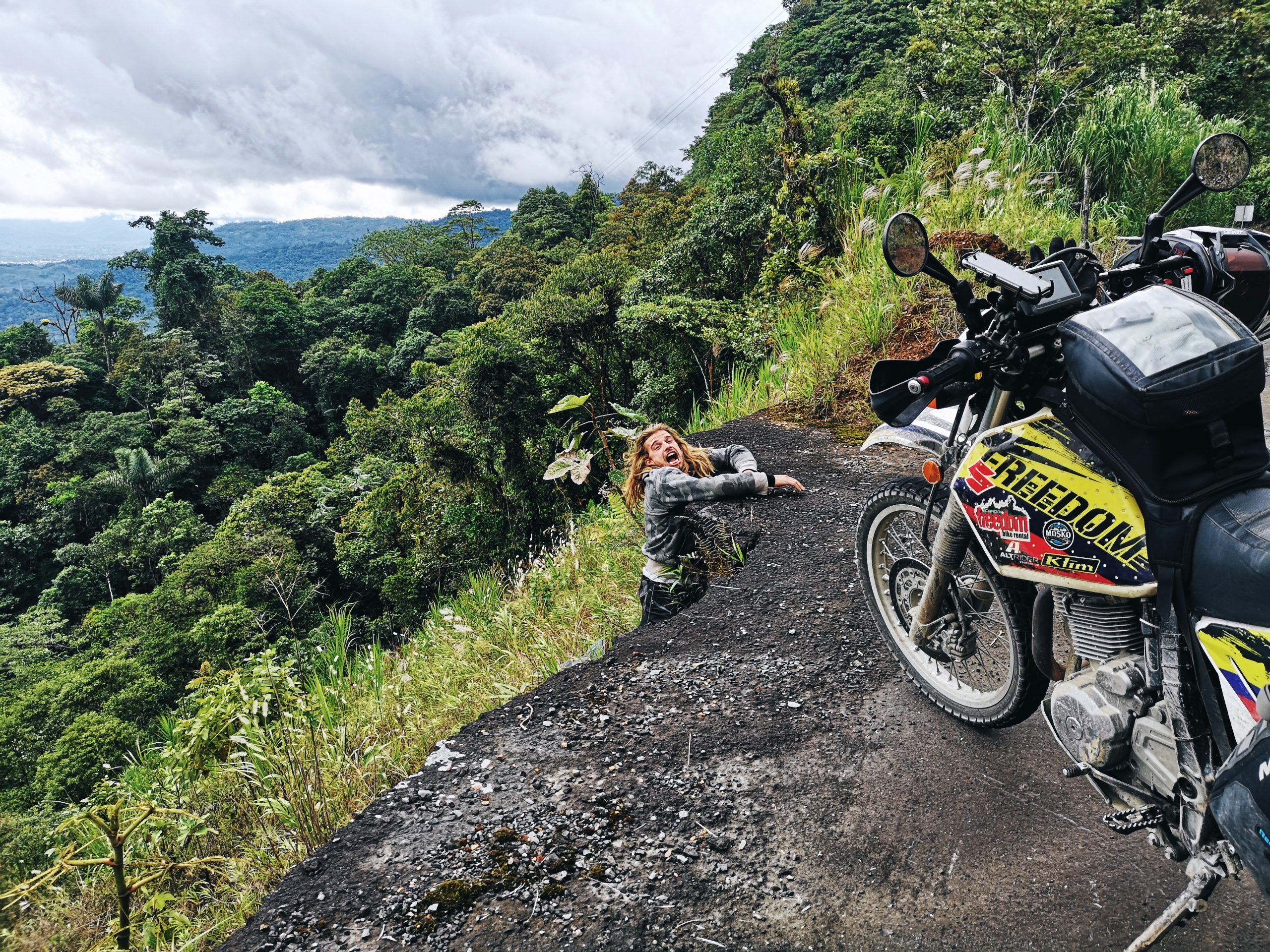 Motorcycle touring in South America is the stuff of dreams. Epic destinations aside, you've got unlimited freedom to explore, mind-blowing landscapes, incredible nature, friendly locals, and motorcycle routes to die for. Perhaps that's why we keep coming back for more – and, frankly, motorcycling South America is our favorite escape.
But then, South America is huge. You can easily spend a couple of years traveling from Colombia to the southern tip of Patagonia and back, and you'll still only see a fraction of what this continent has to offer.
What if you don't have years or months to ride your motorcycle across South America? What if you'd love to get a glimpse and a taste, but you've only got ten days or two weeks – what's an adventure rider to do?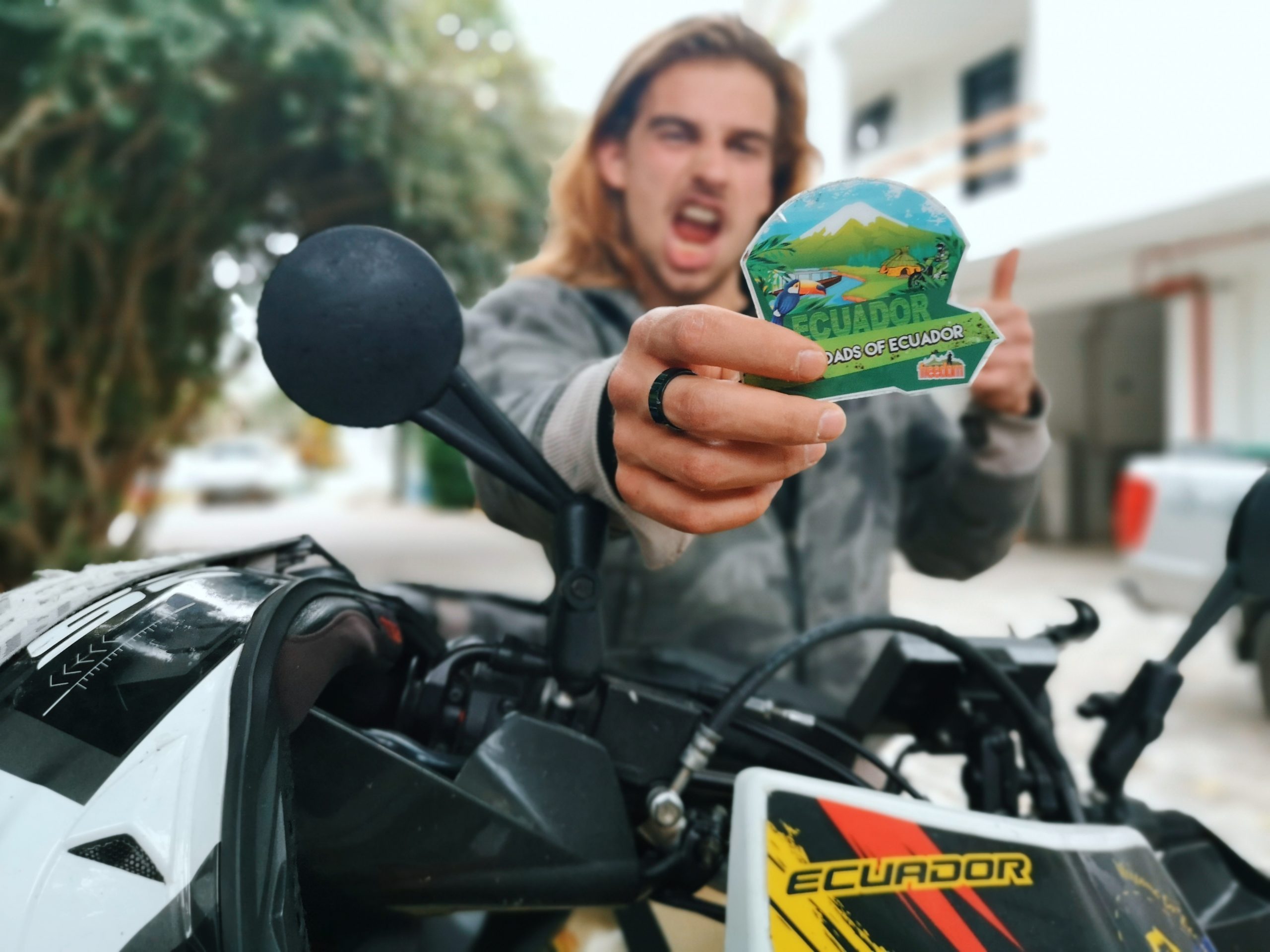 Head to Ecuador. That's exactly what we did last winter hoping to escape the European cold and put adventure back into adventure motorcycling: we each packed a duffel bag, bought tickets to Quito, scared the living daylights out of airport security by wearing our motorcycle boots and jackets on the plane, and took off to the country of eternal spring.
Here's what happened next – and why Ecuador should make it to your bucket list of places to ride.
How to Motorcycle Ecuador: Enter Freedom
Having landed in Quito somewhat dazed and confused – Quito is one of the highest capital cities in the world sitting at 2,850 meters above sea level – we took a cab into the city and headed straight for the Ecuador Freedom Bike Rental headquarters located in a trendy part of town.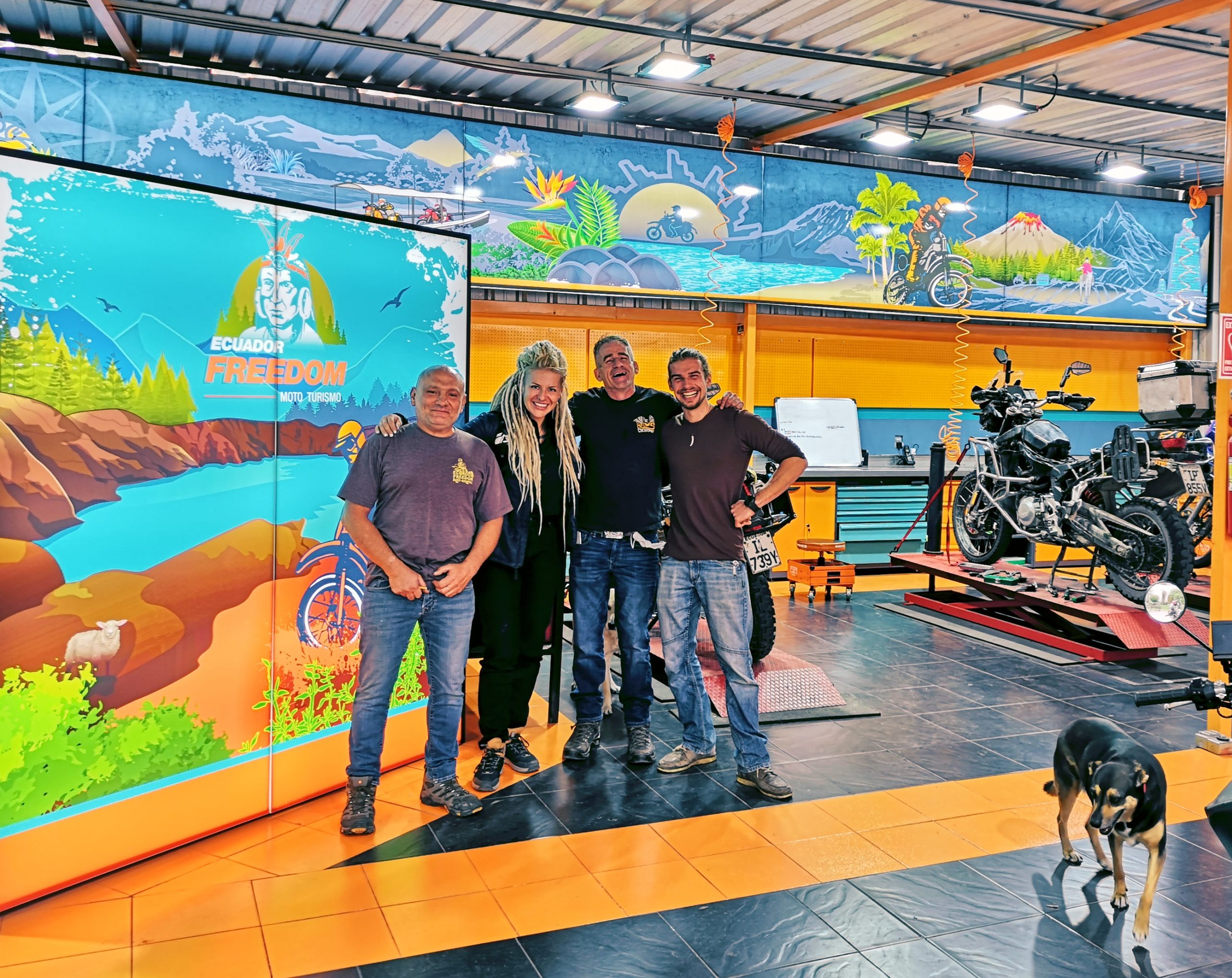 Ecuador Freedom is, quite literally, a citadel of freedom in Ecuador's capital: founded by Court and Sylvain, two motorcycle maniacs hellbent on making Ecuador their home and their motorcycling playground, Ecuador Freedom Bike Rental is a motorcycle tour and rental company with a unique twist. Having spent well over a decade riding, living, and exploring Ecuador on two wheels, Court and Sylvain know this country like the back of their hand.
I first met Court and Sylvain back in 2017 while attempting to motorcycle Ecuador on my DR650. Despite me being a bedraggled motorcycle hobo, Court invited me for a friendly chat and some beers and spent hours poring over maps and pointing out Ecuador's hidden gems and kickass dirt trails most tourists never got to see.
Over the years, we kept in touch, and I went back to Ecuador several more times traveling, leading women's adventure tours, and exploring the Andes. Court and Sylvain were always there, conjuring up new routes, welcoming riders from around the world, and remaining the axis of awesome in Quito while running a fifty-strong motorcycle fleet and designing boutique bike tours for two-wheeled adventurers.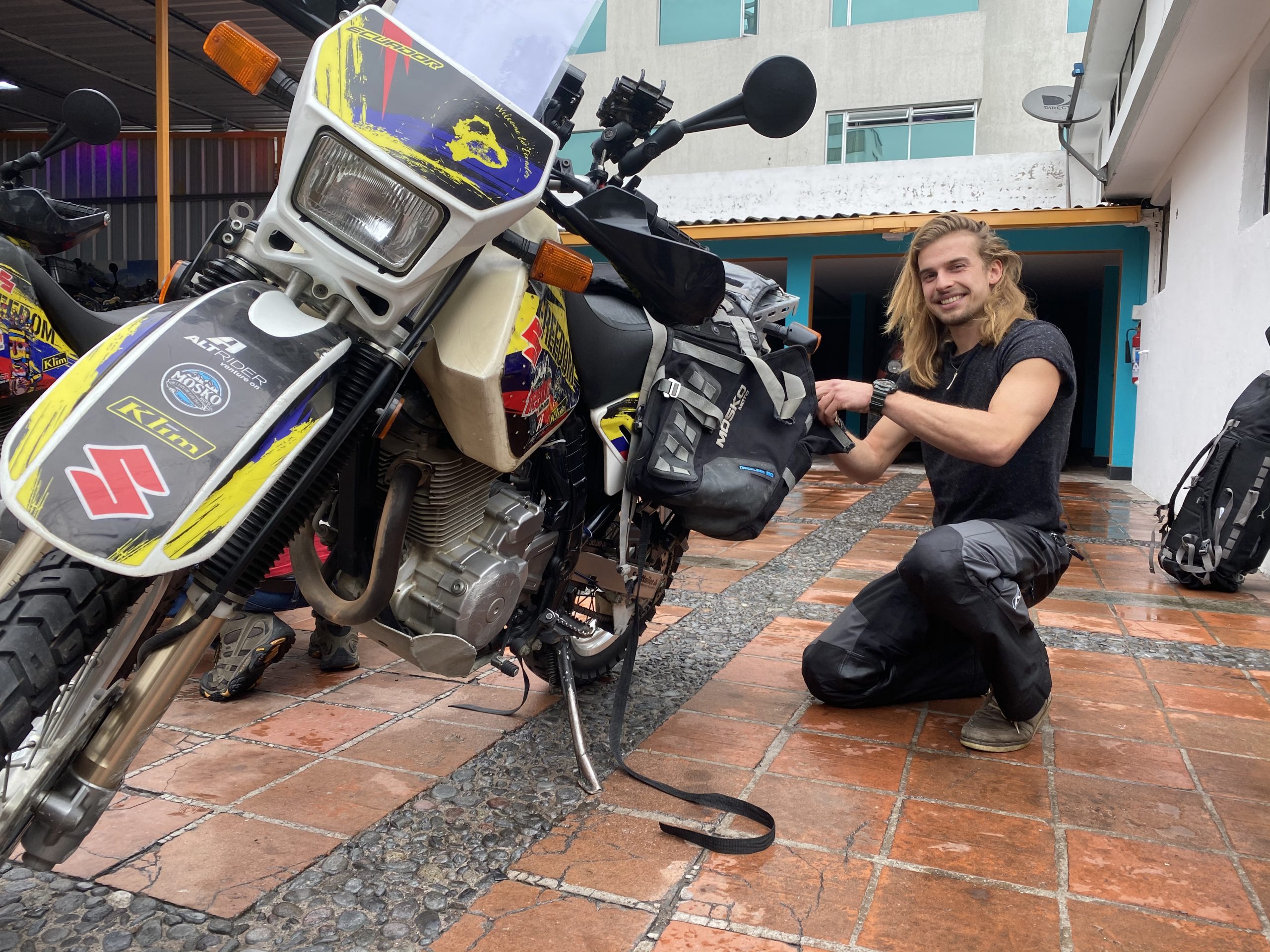 For Lennart, this was his first time in South America, and we received a royal welcome at Ecuador Freedom. Court suggested we pick the self-guided Backroads of Ecuador tour, a ten-day adventure that would take us across the Andes Mountains, along the Pacific Coast, and into the Amazon rainforest.
All we could say to that was, hell yes.
Ecuador Motorcycle Rental
If you don't want to book an entire tour, guided or otherwise, Ecuador Freedom offers bike rentals – you can lay your paws on anything from a humble Yamaha XT250 to a Honda Africa Twin or a BMW GS with all the newest bells and whistles. There's something for everyone, but for our Backroads tour, Lennart and I picked two sturdy DR650's – these are the bikes we know and love, and since we were planning to get off the road as much as we could, the DR's seemed like the perfect choice.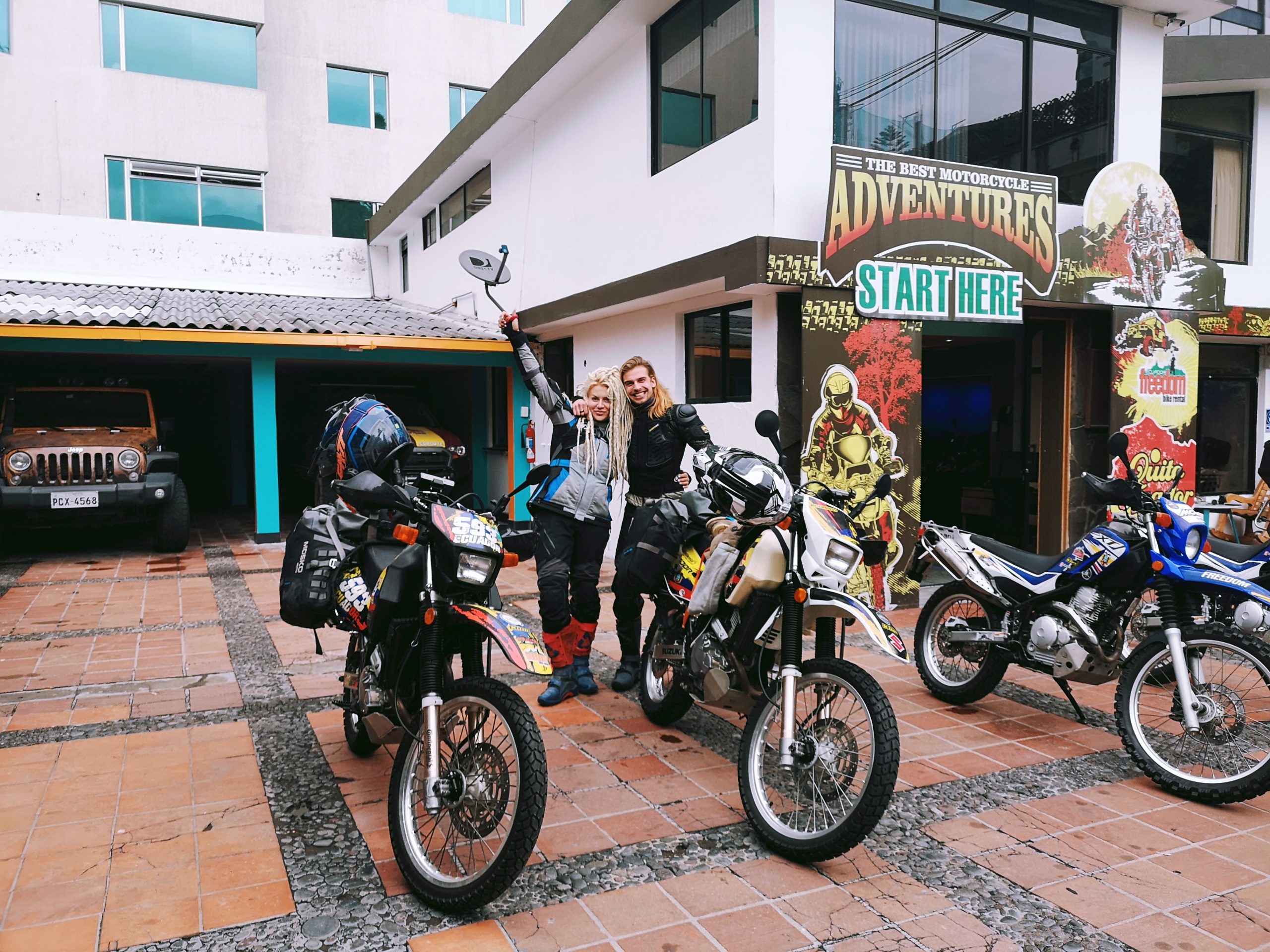 When motorcycling Ecuador, you hardly ever need anything bigger than 800 cc since the roads here are so twisty, you'll likely forget how to ride in a straight line by day two. Ancient cobblestone paths zigzagging through the mountains, narrow backroads hugging cliff faces and snaking up mountain slopes, dirt trails, and local routes in the rainforest demand your full attention, but not necessarily the horsepower. Highways are few and far between, and motorcycling in Ecuador is all about the experience and exploration rather than speed.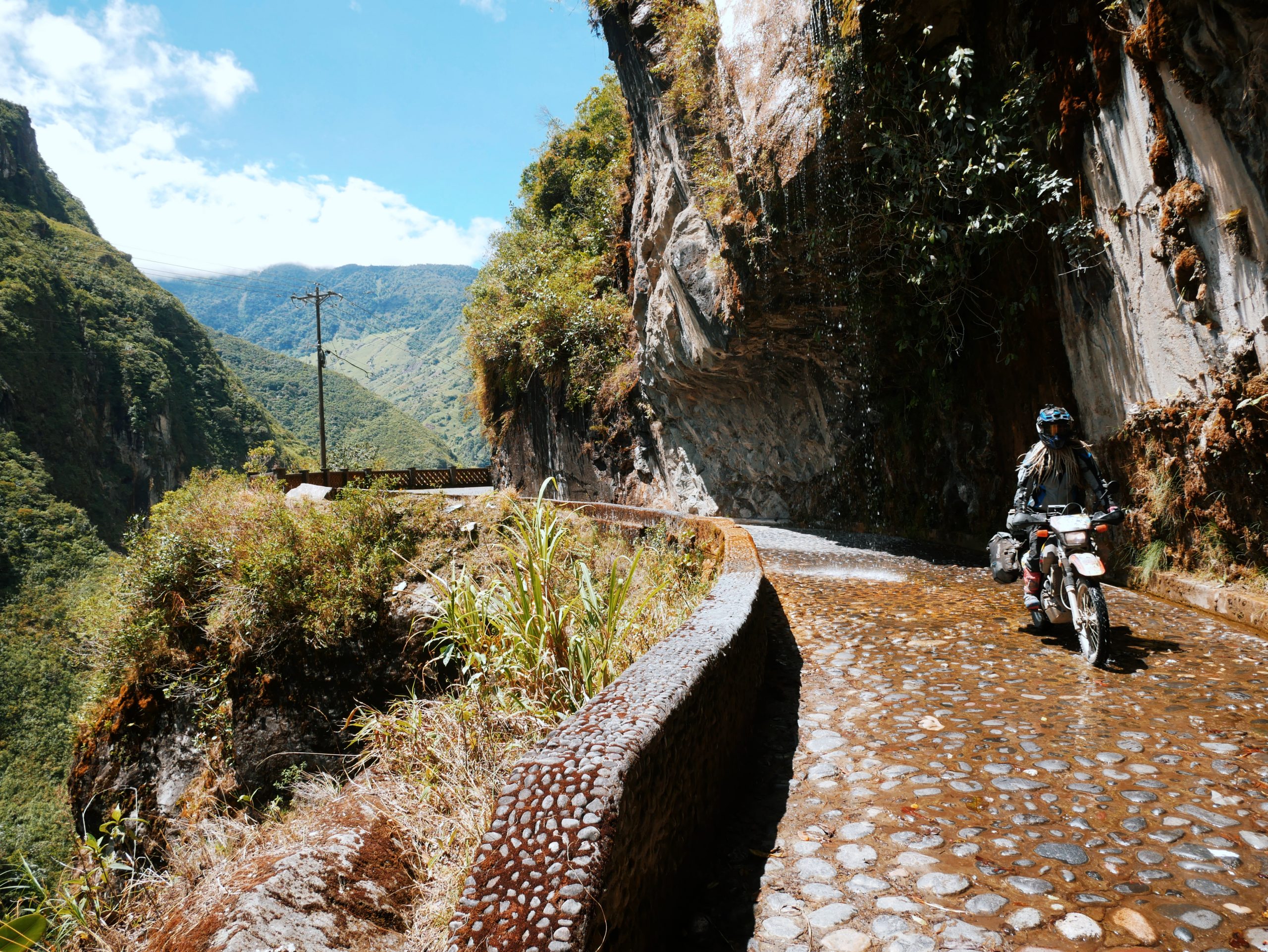 Kitted out with soft Mosko Moto panniers, our Freedom steeds were ready the very next day. Since this was Lennart's first time in Ecuador, Court gave us a briefing explaining the local traffic, highlighting points of interest along the way, and telling us about the concept behind the Backroads of Ecuador tour.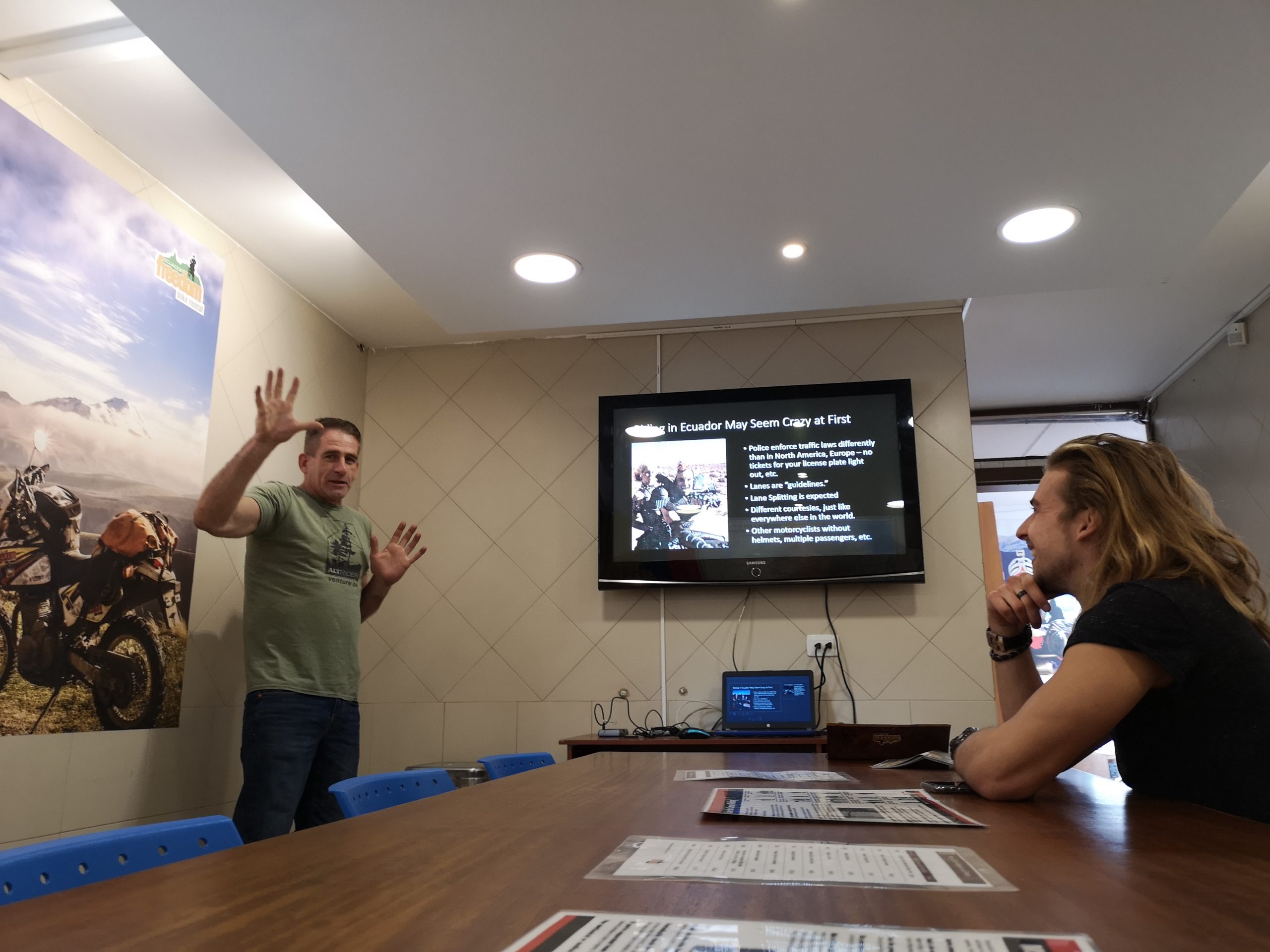 "It's designed to showcase the best of Ecuador while leading you along the smaller, local roads so you can really experience what Ecuadorian life is all about, meet the locals, and see what tourist crowds do not", Court told us.
We didn't need much more convincing.
Day One: Into the Wild
Most people assume motorcycling in South America is one big chaos with crazy traffic, unpredictable locals, and places so remote it's like you're lost at sea. While the former may be true in Bolivia and the latter, in Patagonia, Ecuador is a lot more mellow in terms of traffic and a lot more diverse when it comes to nature.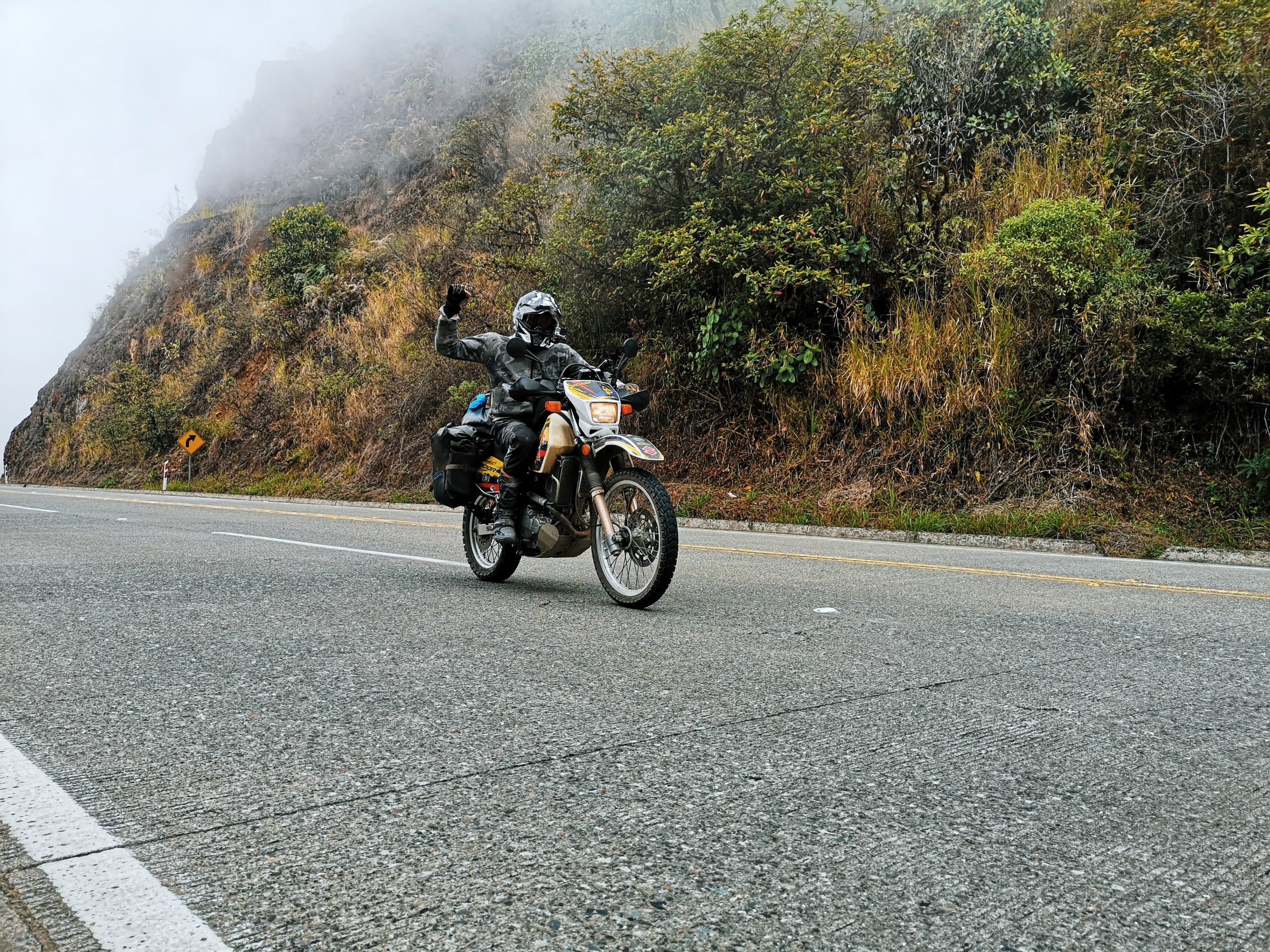 Having left Quito, we headed West passing the equator and following a narrow backroad snaking its way across the Andes. As we rolled along at a leisurely pace, we could feel the temperature rising and the humidity increasing as we descended the slopes of the Andes Mountains blanketed with vivid greenery and teeming with birdlife.
Our first stop was the Los Armadillos roadside eatery… miraculously doubling as a hummingbird sanctuary. Sitting on a wide wooden terrace overlooking an emerald-green valley below, we sampled our first Ecuadorian lunch of fried plantains, rice, and veggies watching the hummingbirds dart about.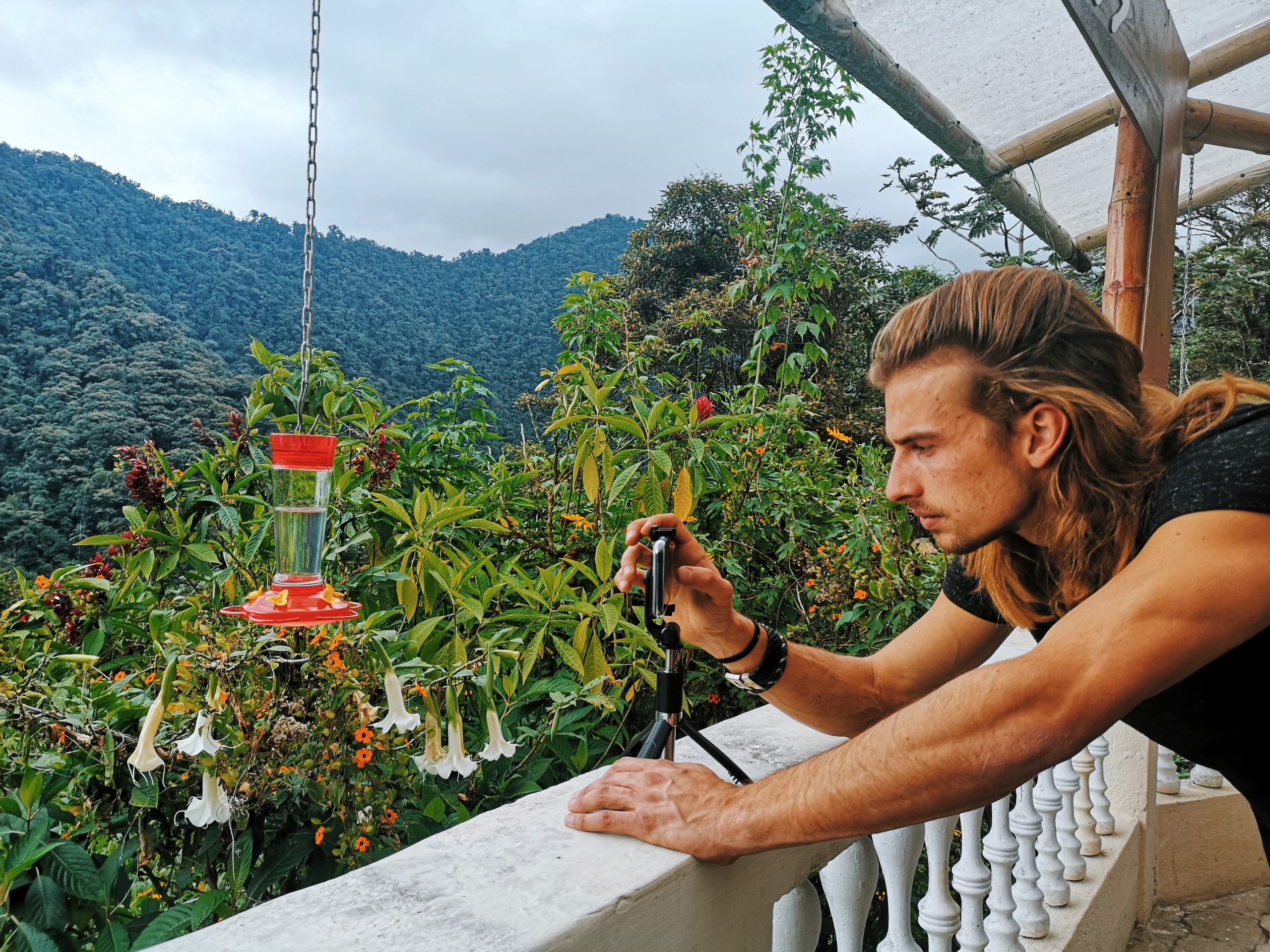 It's surreal how you can leave a bustling capital city and find yourself in a green hummingbird paradise within just forty miles, but that's Ecuador for you. You don't need to travel crazy distances to see the land and the people change – the Andes, the Pacific, and the Amazon are all within reach.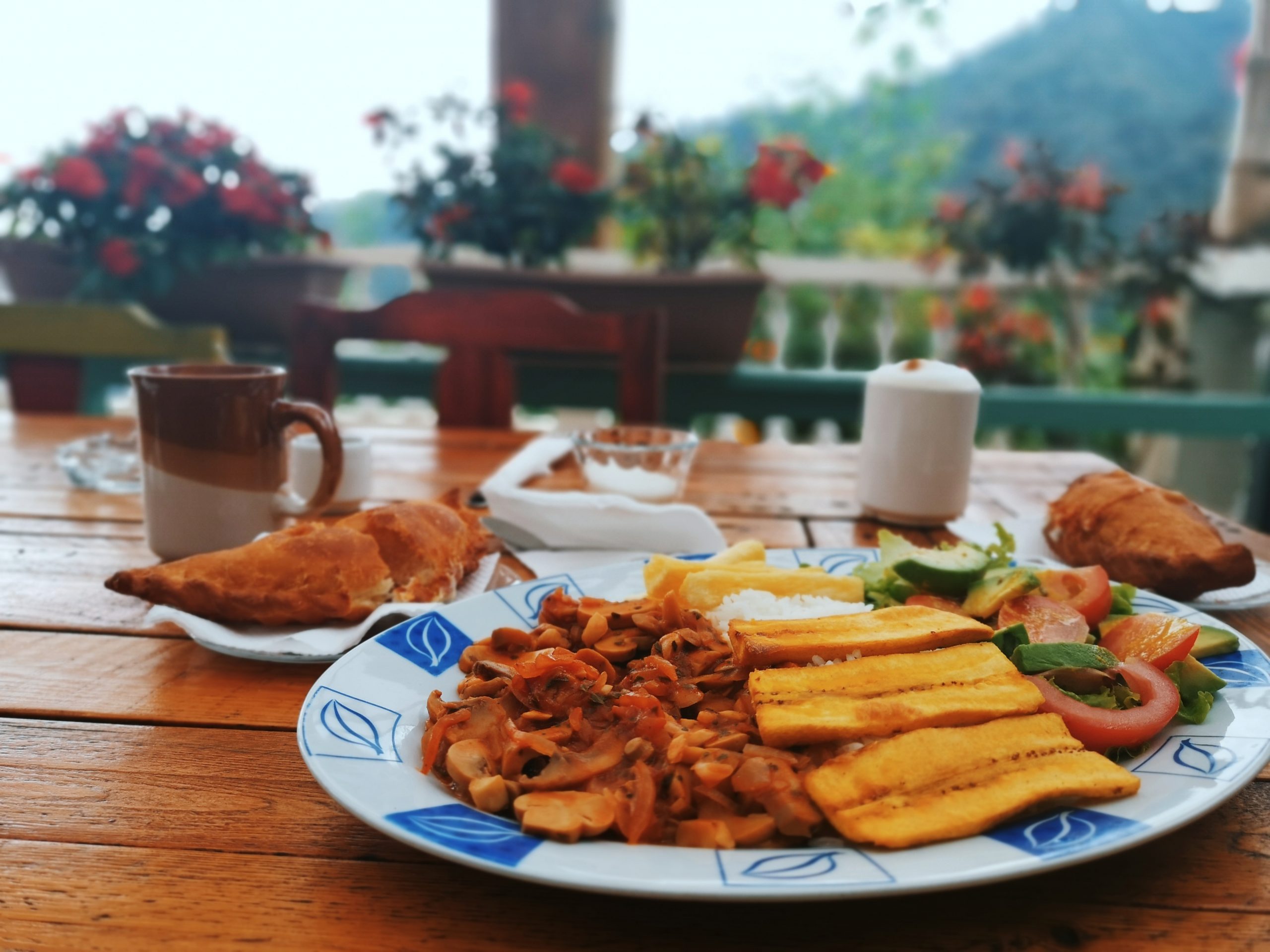 Fully acquainted with our Freedom DR650's and Ecuadorian traffic with Lennart took to like fish to water (Ecuadorians are courteous drivers, and they love seeing motorcyclists on the road), we made our way into the cloud forest and our first stay: the Kashama Resort built into a living waterfall and boasting nature sounds and delicious local food. The Backroads of Ecuador tour includes pre-booked hotels, and we were grateful to have a guaranteed destination instead of wandering about looking for accommodation.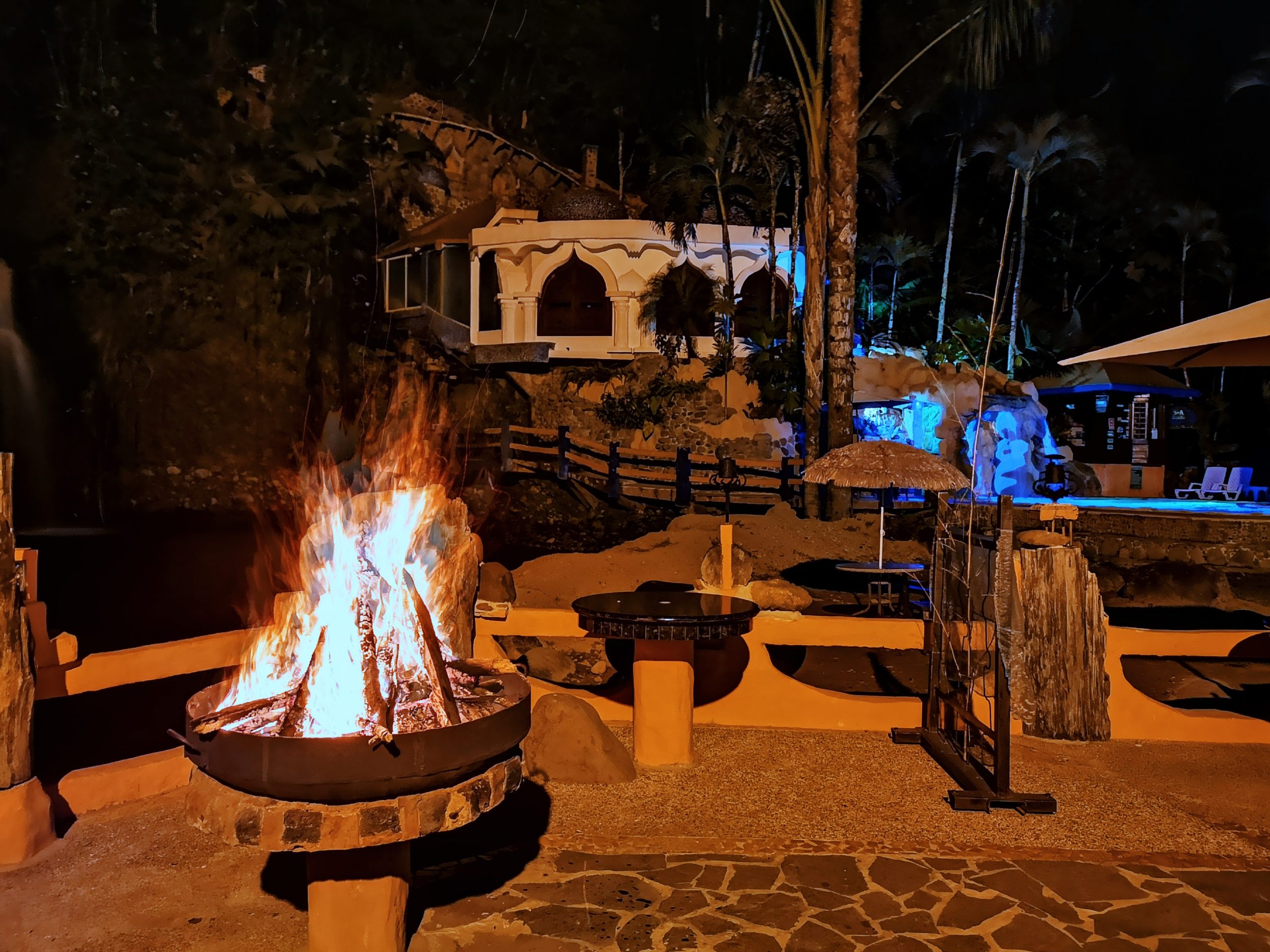 Bliss.
Motorcycling the Pacific Coast of Ecuador
Having fallen asleep to the sound of the waterfall, we got up bright and early, ready to take on the next leg of the journey.
This time around, the mountain routes gave way to the lowlands leading us toward the Pacific Ocean and crossing countryside cassava plantations.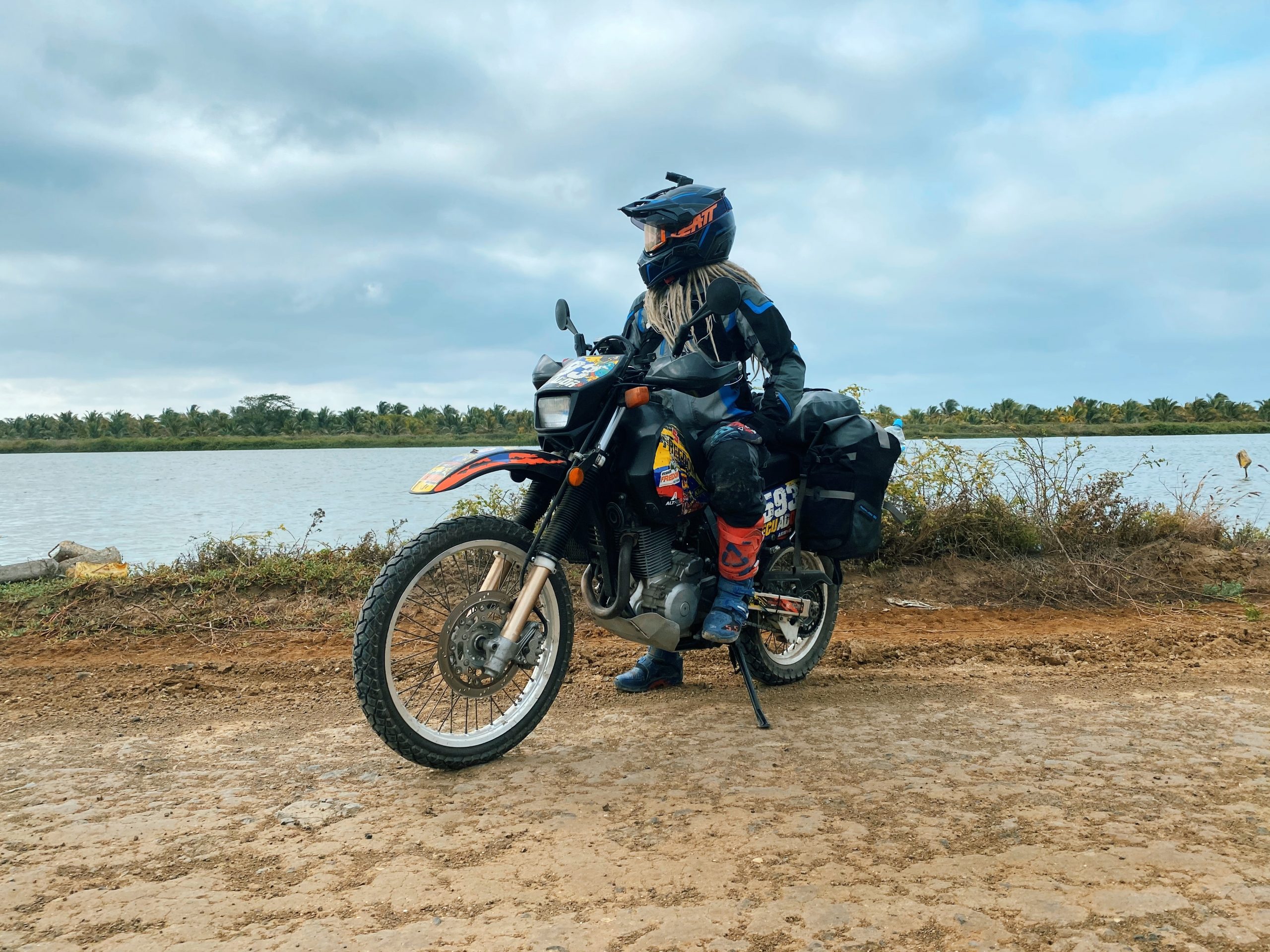 The sunny, meandering Pacific Coast roads in Ecuador pass little fishermen's villages, shrimp farms, and small fishing ports offering mouth-watering seafood, and it's easy to fall into a lazy, dreamy rhythm as your bike eats up the miles.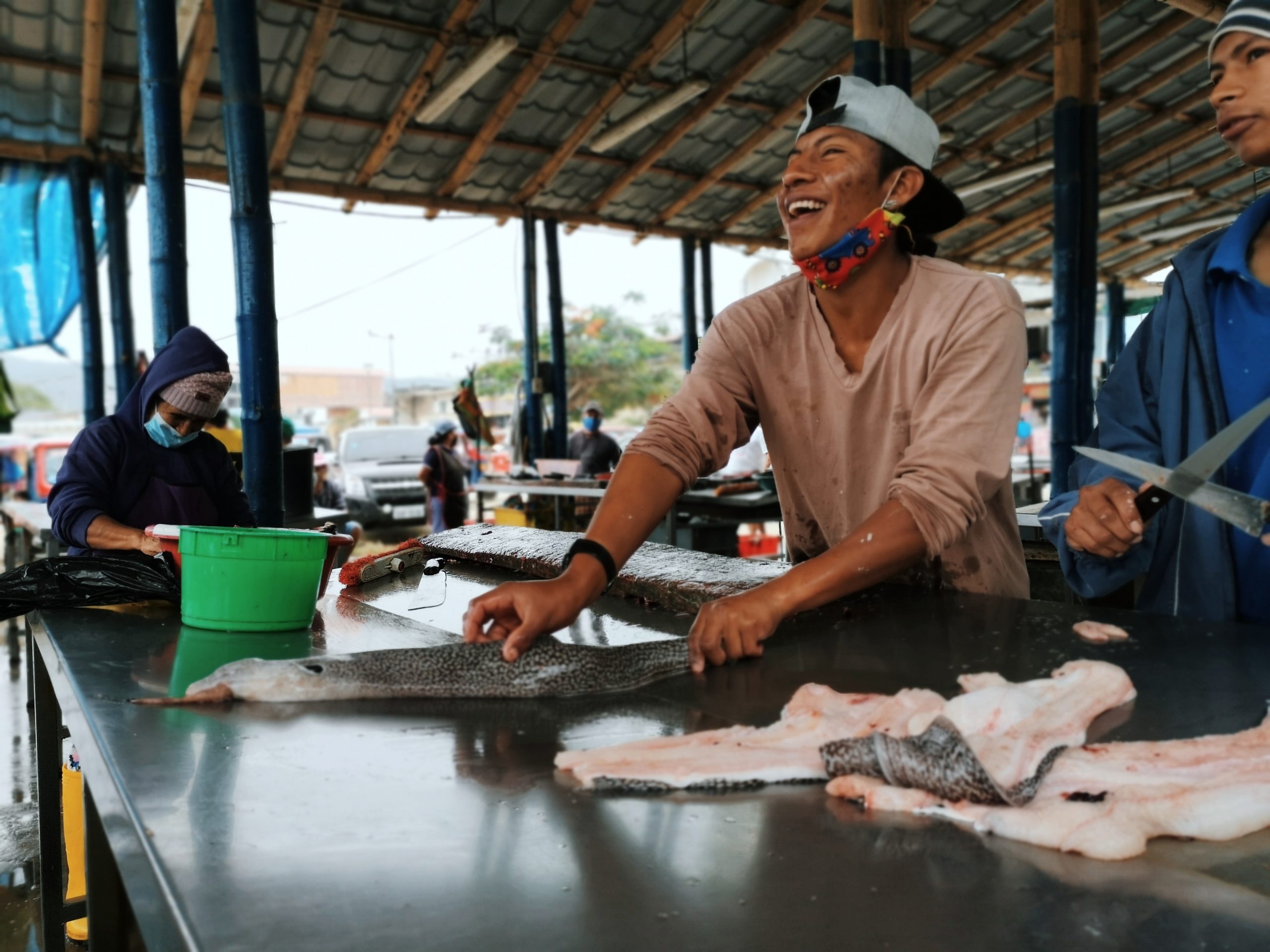 You can follow the coast all the way to Salinas and La Libertad in the South, or, if you're lucky enough to have spoken to Ecuador Freedom first, you'll know a secret stretch of beach you can ride on your motorcycle. When we arrived at our destination in San Clemente, the tide was already in, but we decided to spend another day on the coast and make use of this eighteen-mile stretch to test the DR's on the sand and play the Dakar.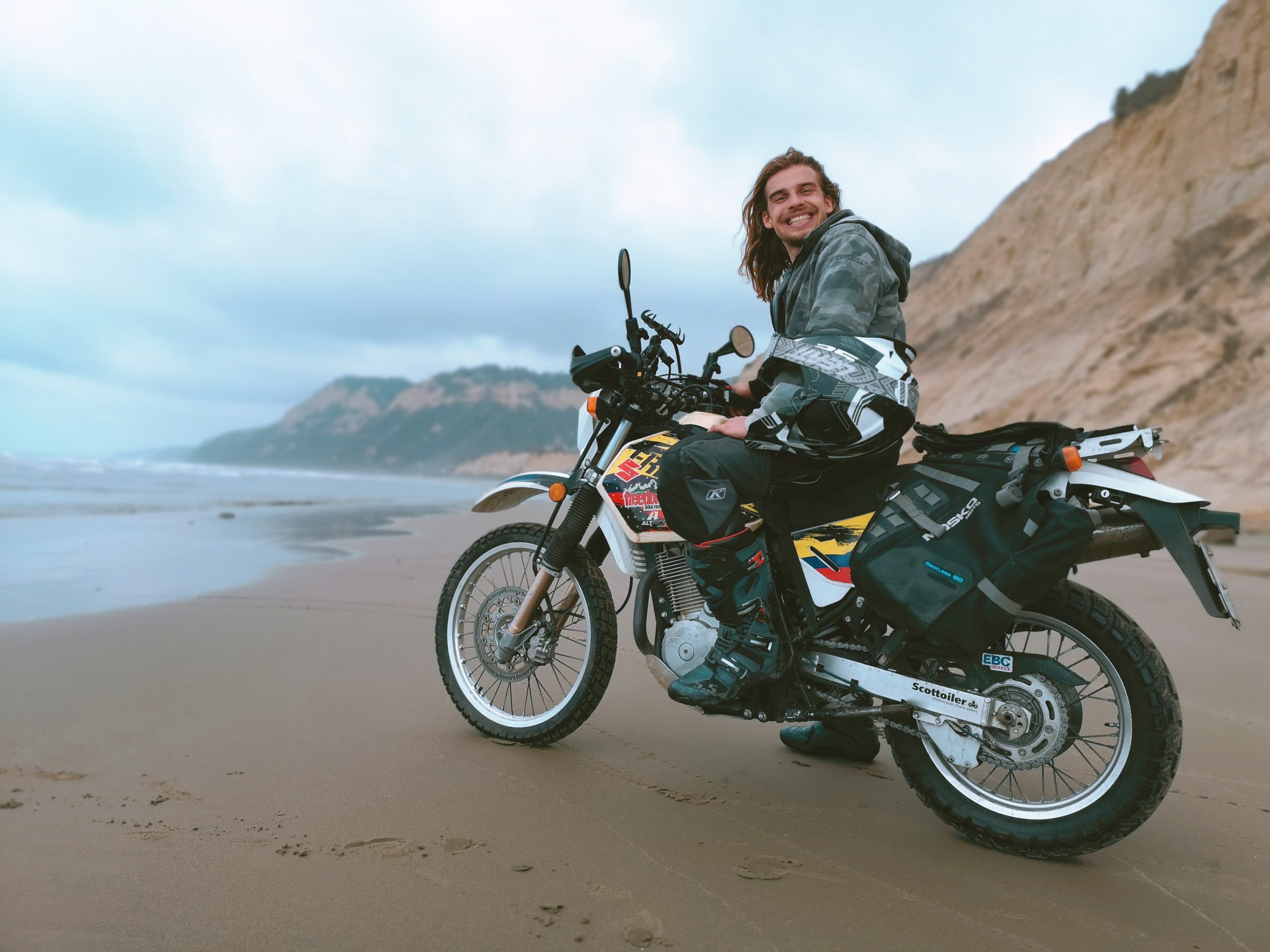 A Beach Start with the Locals
Riding motorcycles on the beach is illegal in most places in Ecuador, but the spot near Bahia de Caraquez is fair game as the locals use this strip of sand to commute between two fishing villages. On-road, you need to cover double the distance, so the locals prefer driving via the beach route instead.
Once the tide was out, we took the bikes off the road and hit the sand, racing along the water like two excited puppies released into the wild. Talk about the feeling of freedom – and the best part was, we met several locals on dirt bikes and found ourselves in the middle of a friendly beach bike race. Don't worry, the entire beach was completely deserted, and we stopped to shake hands with the local riders – turns out, it's their favorite place to enjoy some braap time.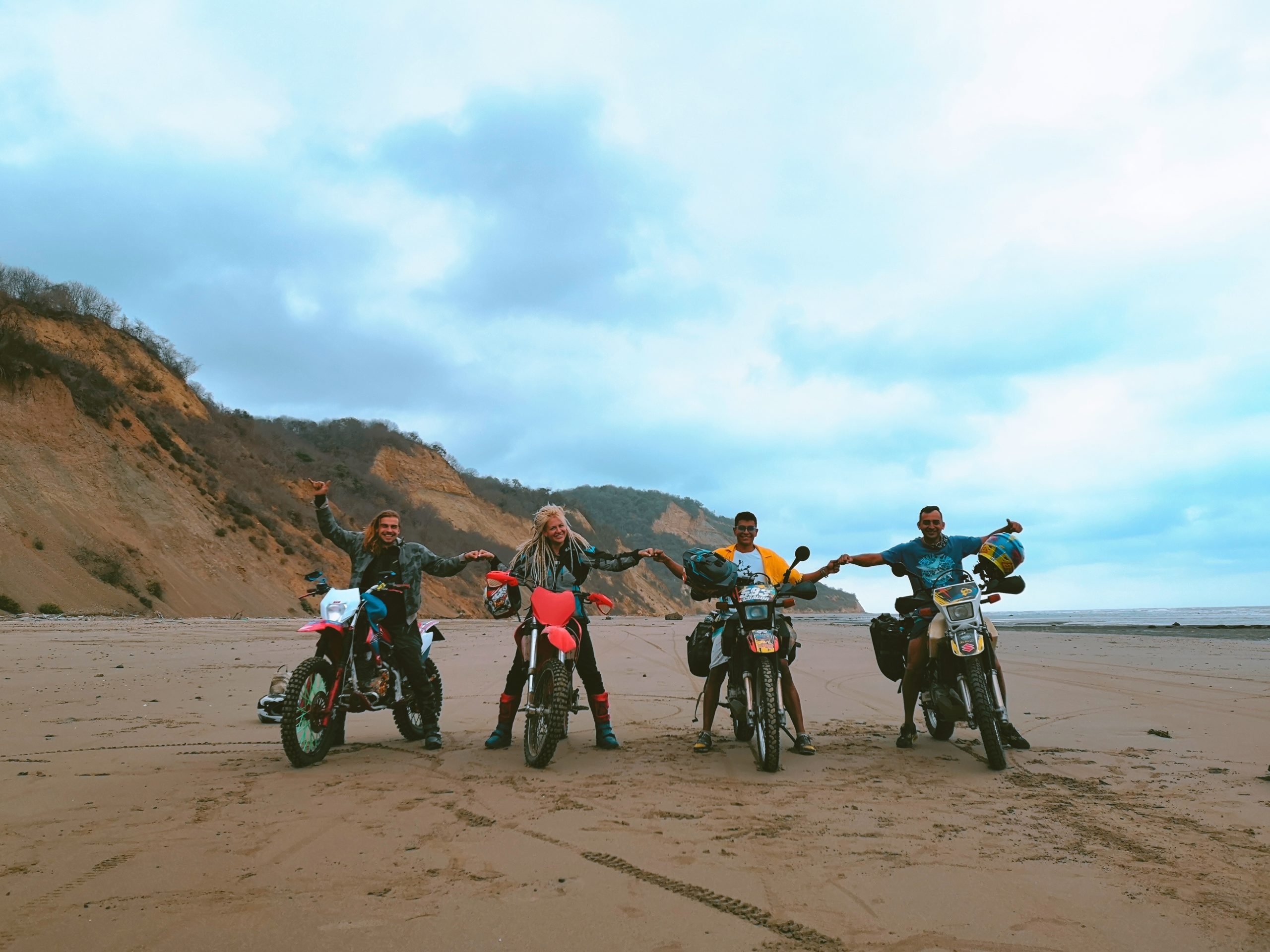 How to Motorcycle Ecuador's the Backroads 
Having thoroughly enjoyed all the frolicking and prancing in the sand, we washed the salt off the bikes and spent the afternoon sampling local seafood and unexpectedly crashing a street car and motorcycle party in San Clemente. Within minutes, we were sharing micheladas (local beers with lime and salt) and road stories with local motorcyclists, and the fiesta carried on well into the midnight as we walked back to our beachside hotel.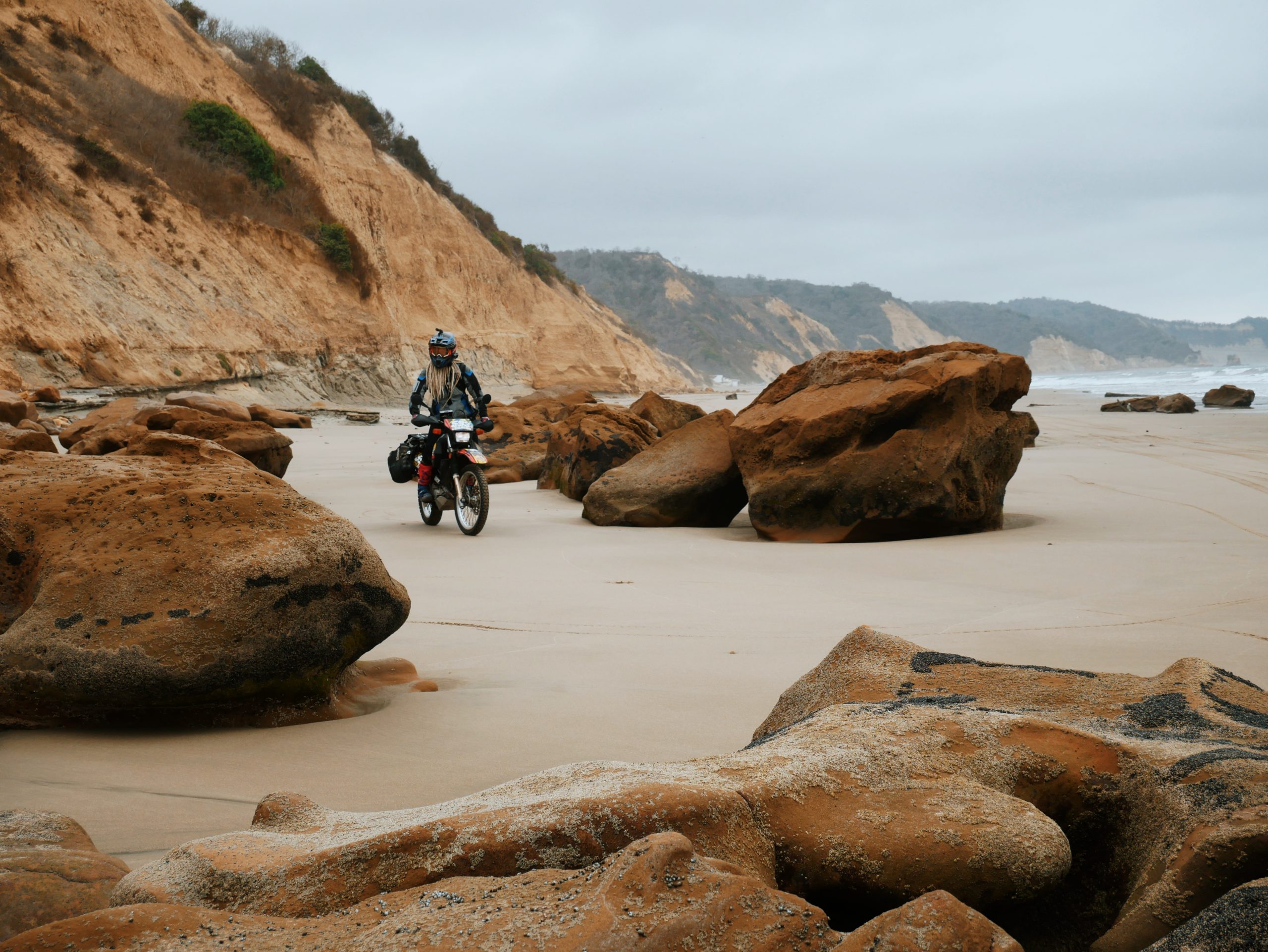 The next day, it was time to turn Eastward again and head for the slopes of the Andes. Now, we were riding across the endless green banana plantations, the pungent aroma of ripe fruit and moist earth permeating the air. If you felt like it, you could take any dirt road and dive deep into a plantation riding among the banana trees, local workers walking the paths with radios on their shoulders and waving at passing bikes.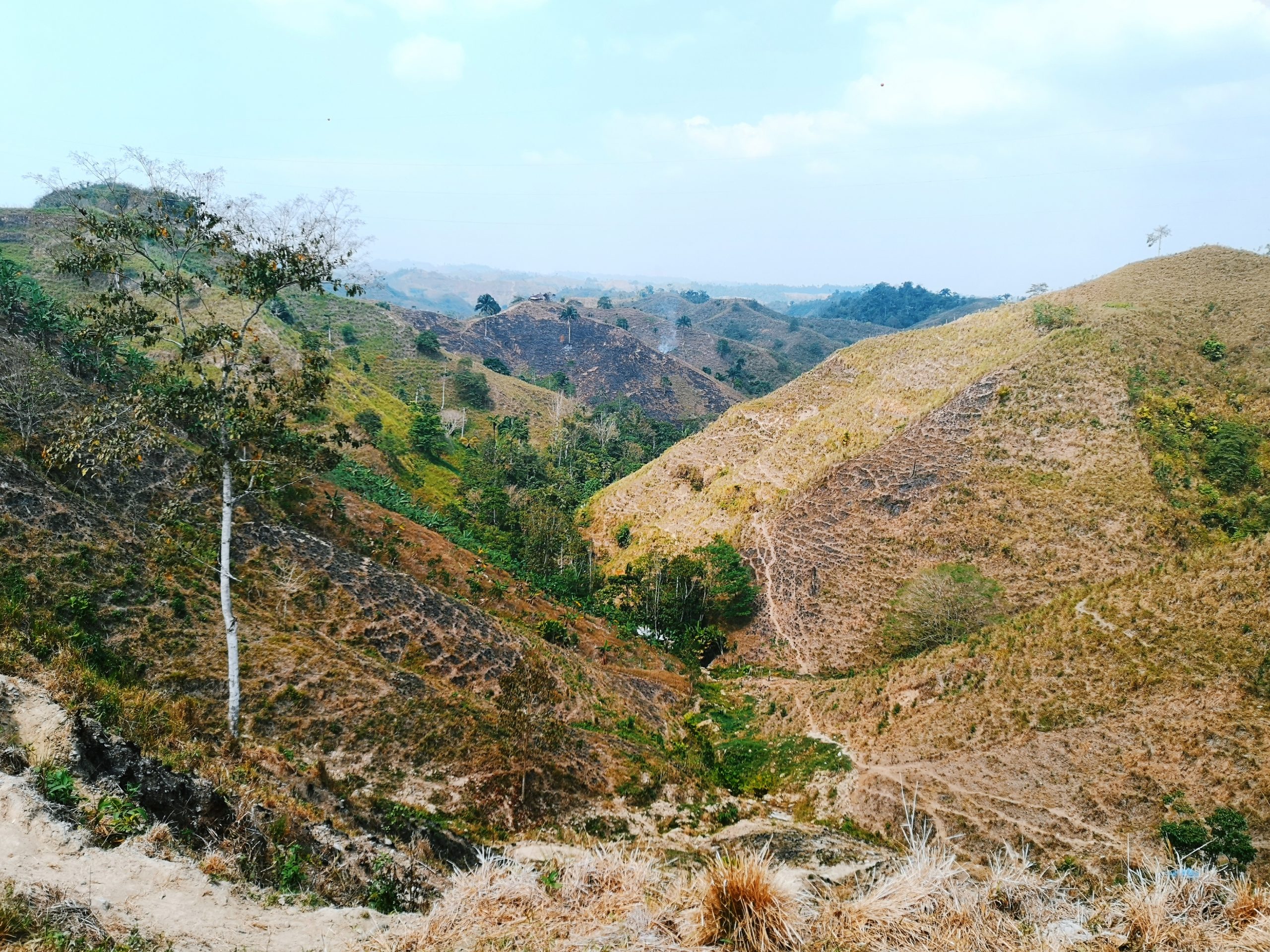 Soon, we were traveling rolling hills dotted with ceibo trees, majestic things resembling… baobabs. We couldn't help but explore a few dirt trails along the way to see the ceibos up close and personal. Their fluffy flowers feel like cotton balls in your hands, and these trees look like ancient, benevolent nature spirits standing sentinel over the Earth as centuries pass under their skyward-reaching branches.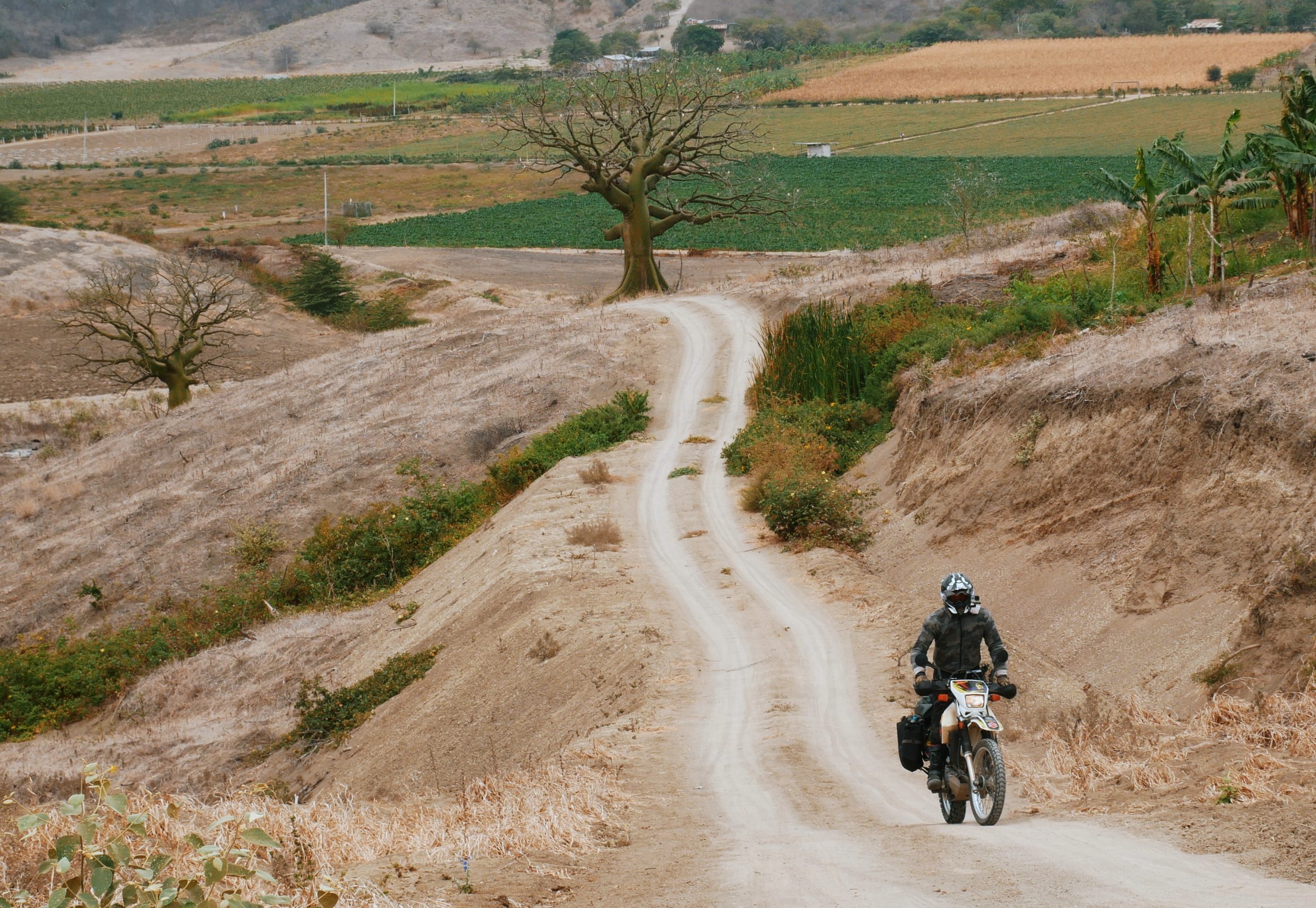 It's a strange and melancholy feeling sitting under a ceibo tree watching the world go by, and we took our time soaking up the moment before we turned the engines on again.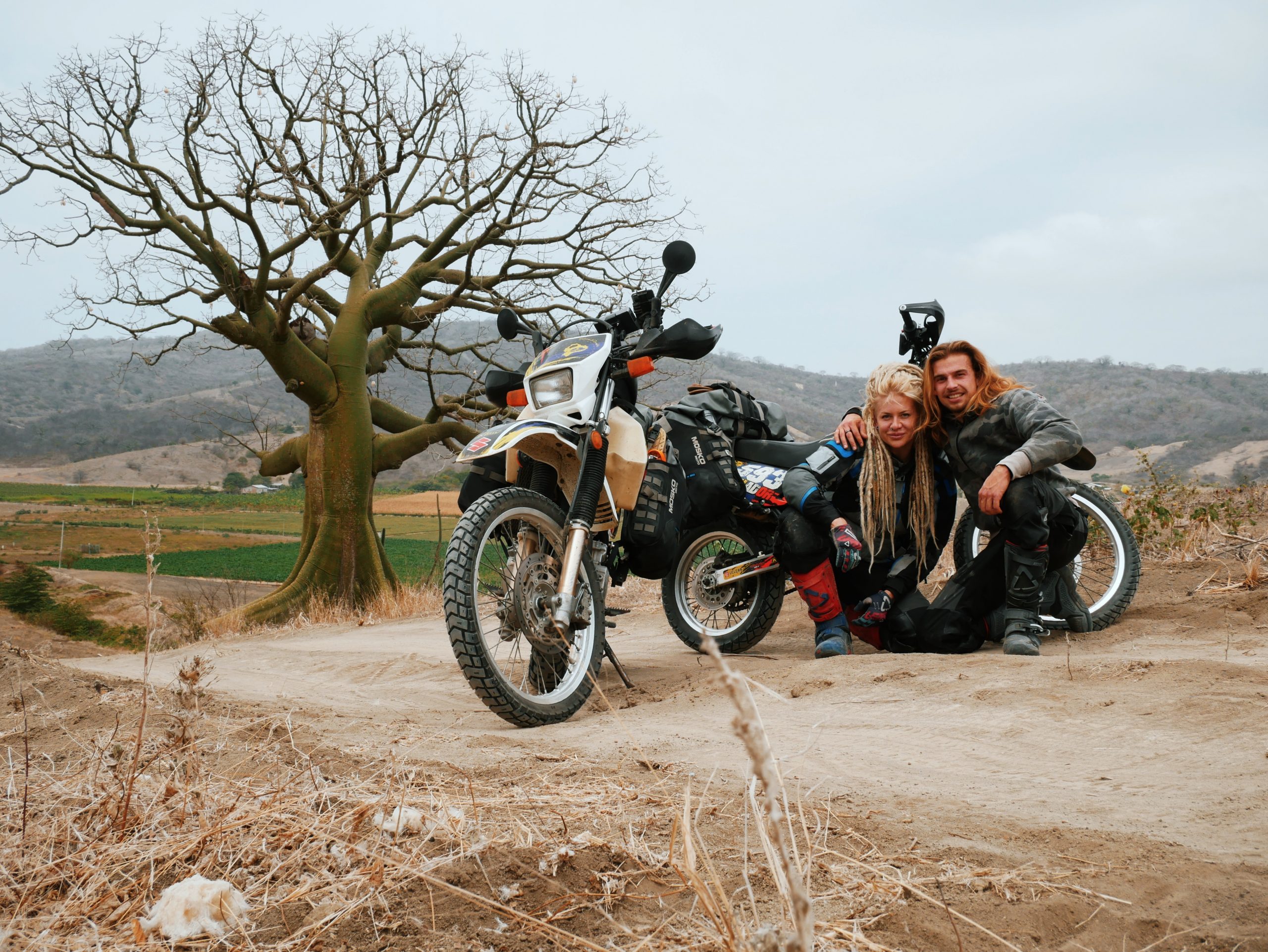 Of Horses and Chocolate
Our destination of the day was Hacienda La Danesa, an old colonial manor house converted into a hotel. The moment we entered through the wrought-iron gates, I'd decided I'd go no further and convince the owners of La Danesa to either adopt me, hire me, or just keep me as a house pet. Why? The incredible grounds and luxurious rooms aside, La Danesa had horses.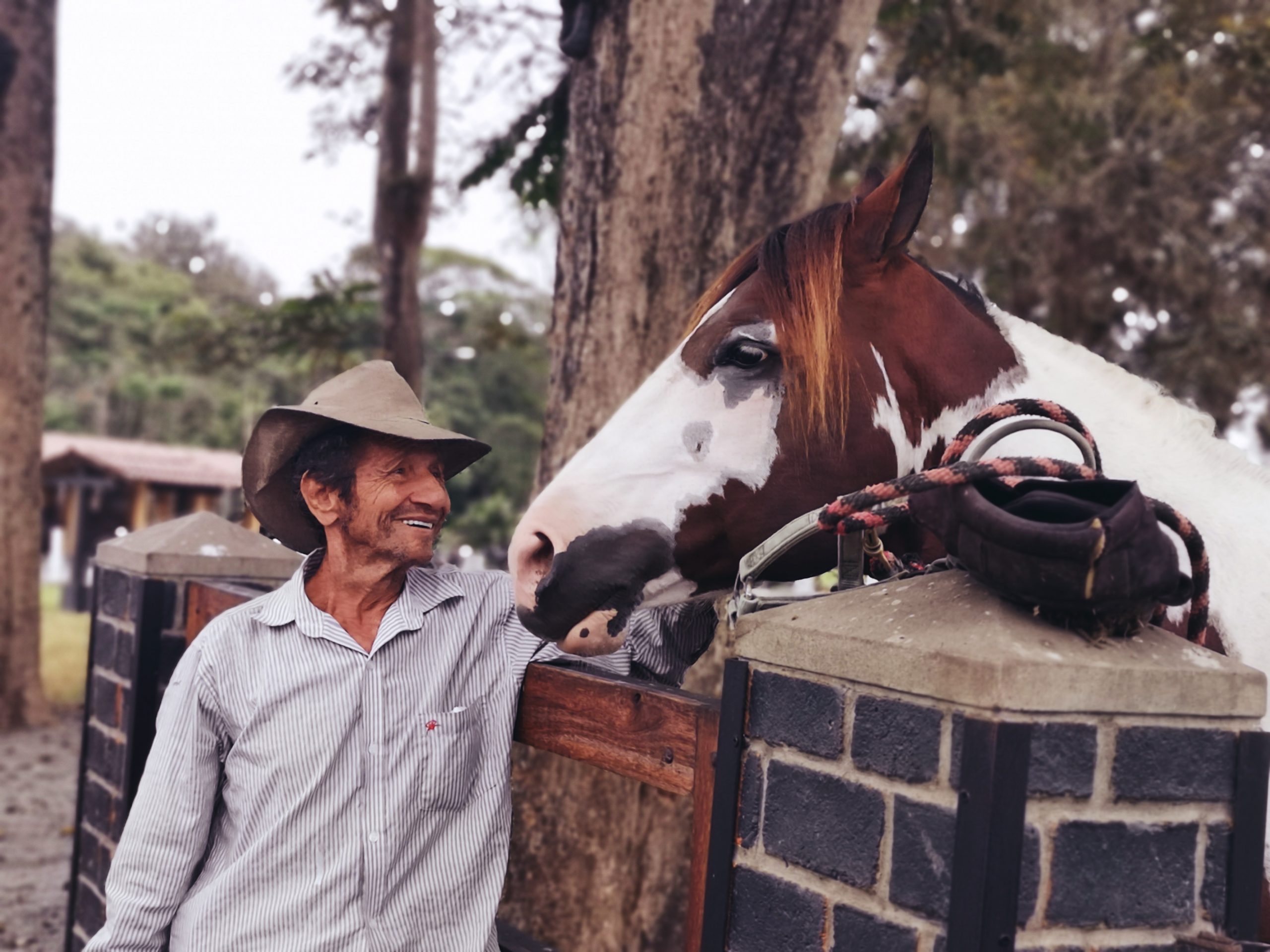 And their own chocolate factory.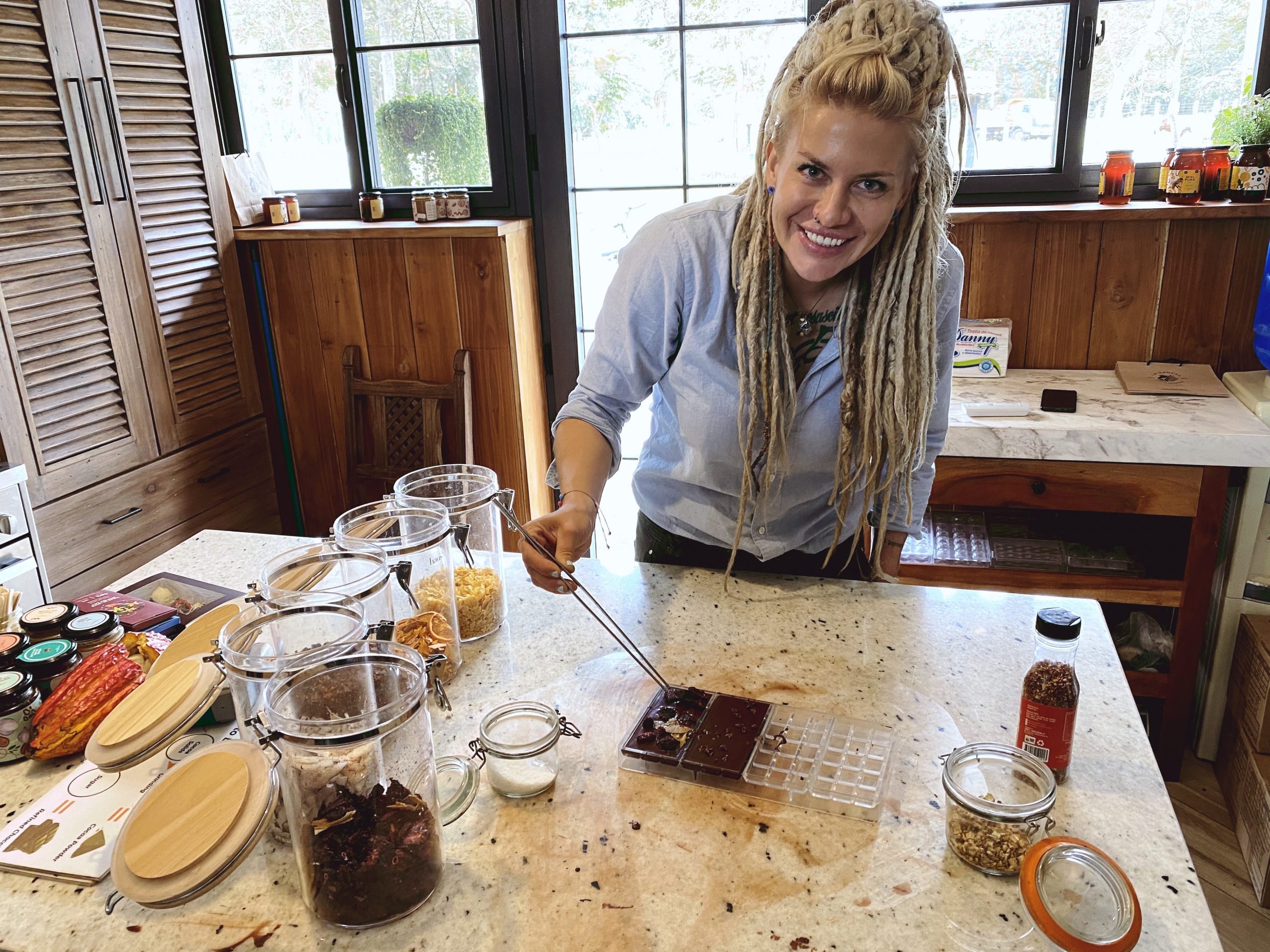 And horses.
Need I say more?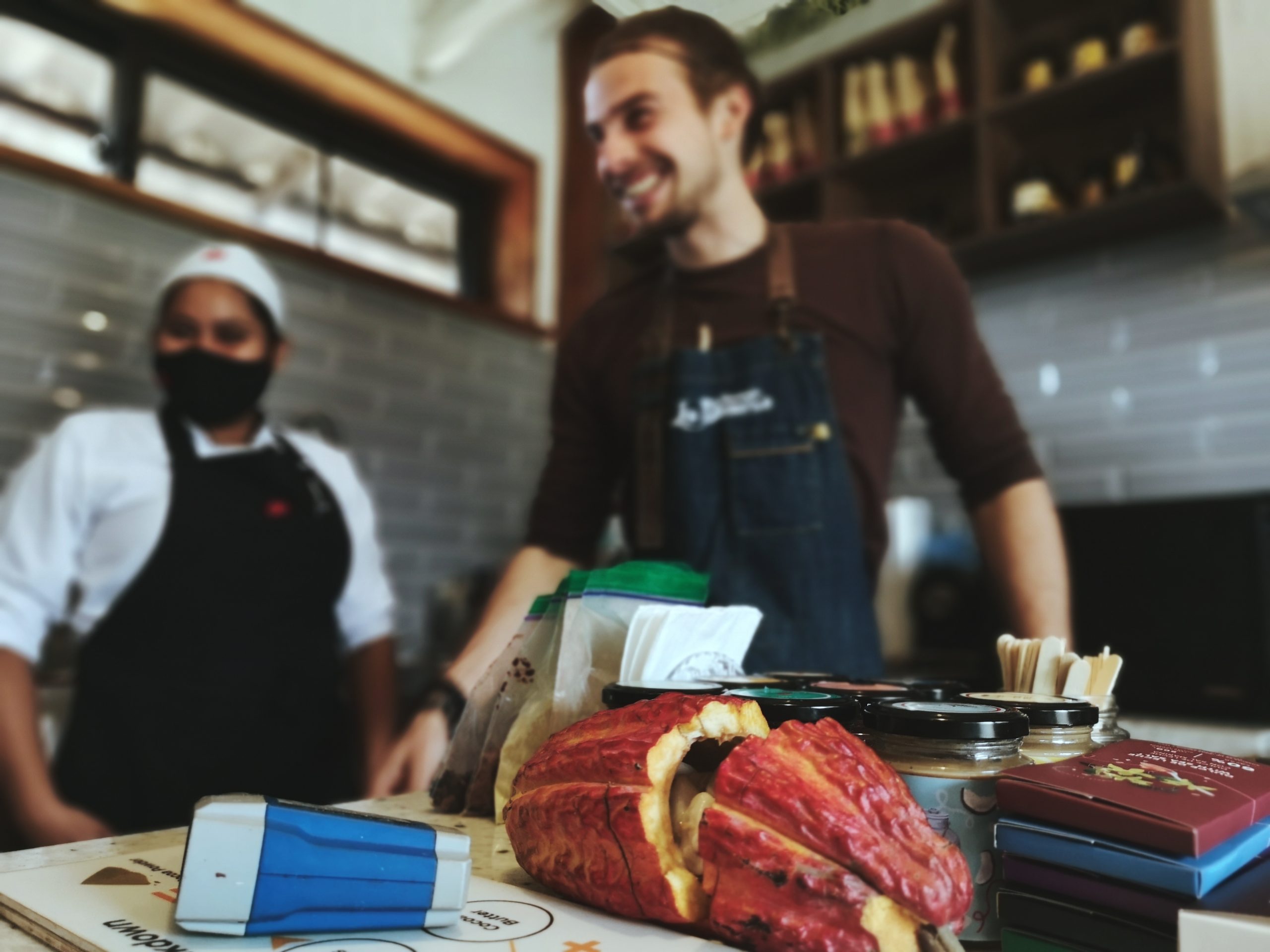 Most hotels on the Backroads of Ecuador tour are special in their own way, but Hacienda La Danesa is so deliciously cosy, picturesque, and relaxing you just don't want to leave. After a gourmet dinner and a night in the world's most comfortable bed, we had a kingly breakfast and a tour of the stables and the chocolatiers' corner.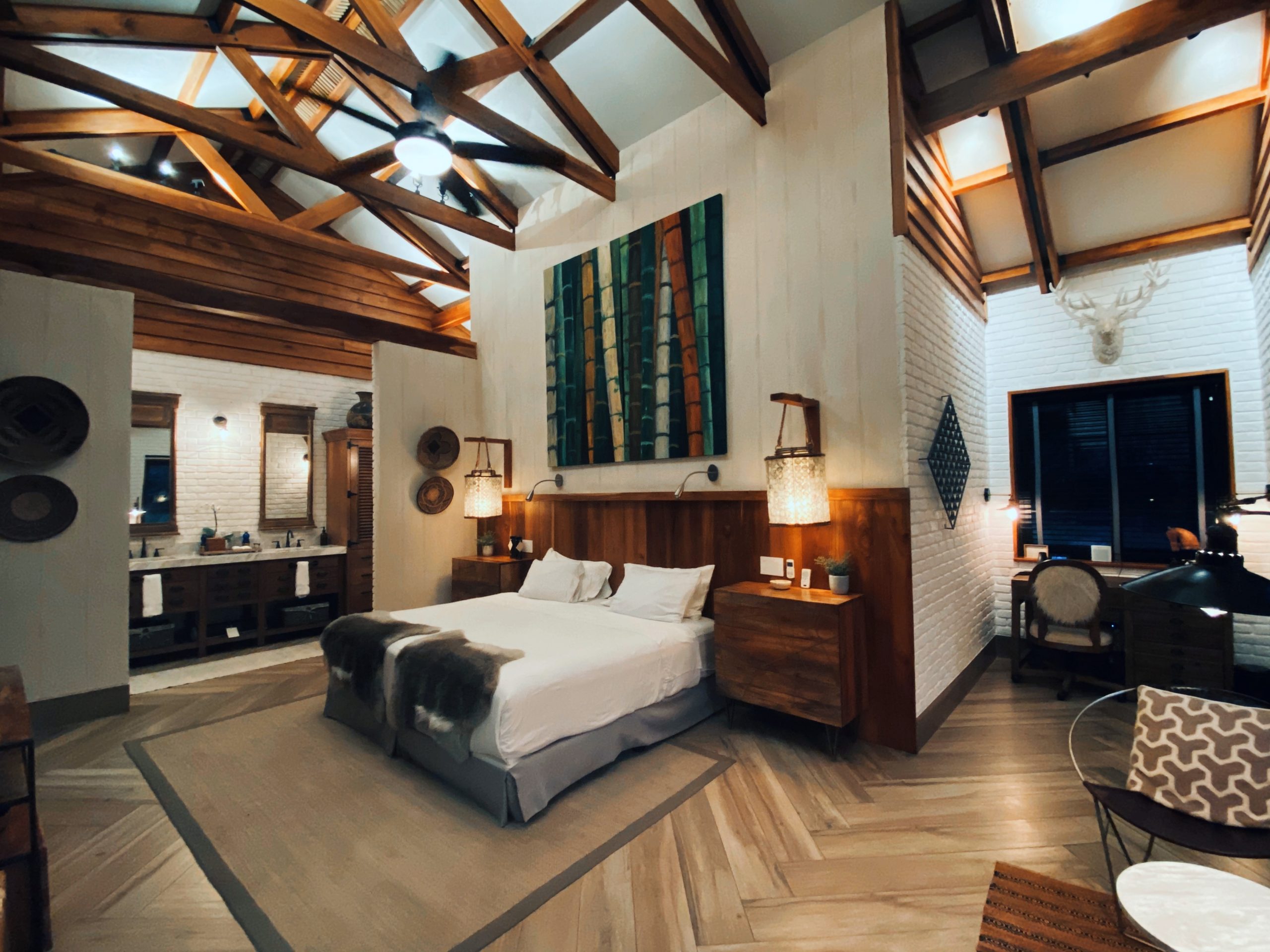 I almost had to be physically peeled off a horse and escorted off the premises – La Danesa was just too good to be true.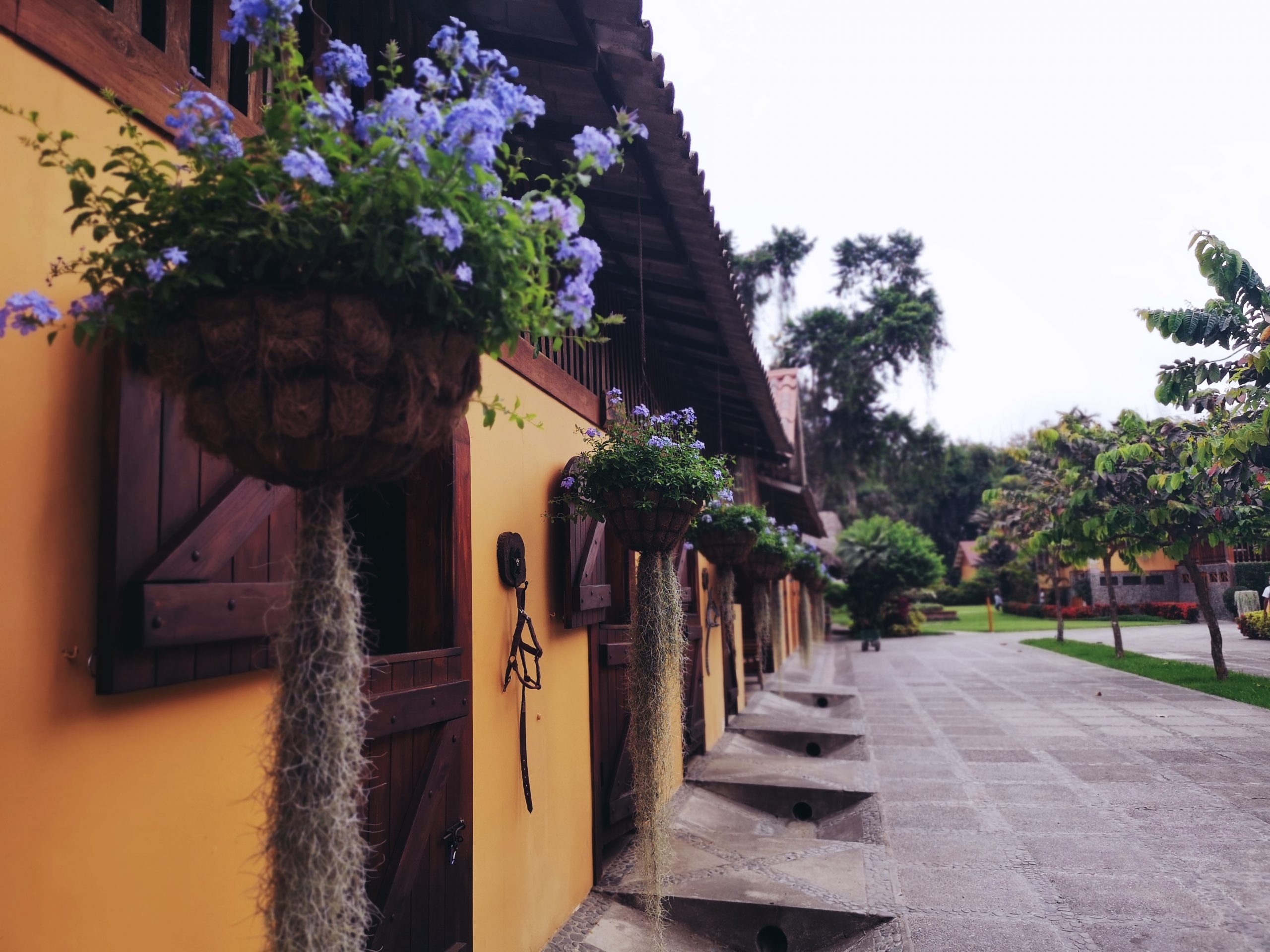 Motorcycling the Andes Mountains
No good deed goes unpunished, however: as we made our way into the Andes climbing higher and higher, we stopped for a quick roadside lunch at a local eatery manned by a large family of women. An entire generation of girls, women and a sharp-witted grandmother were cooking chicken and rice for passing truck drivers, and we had a fun conversation with the girls chatting about traveling and chickens.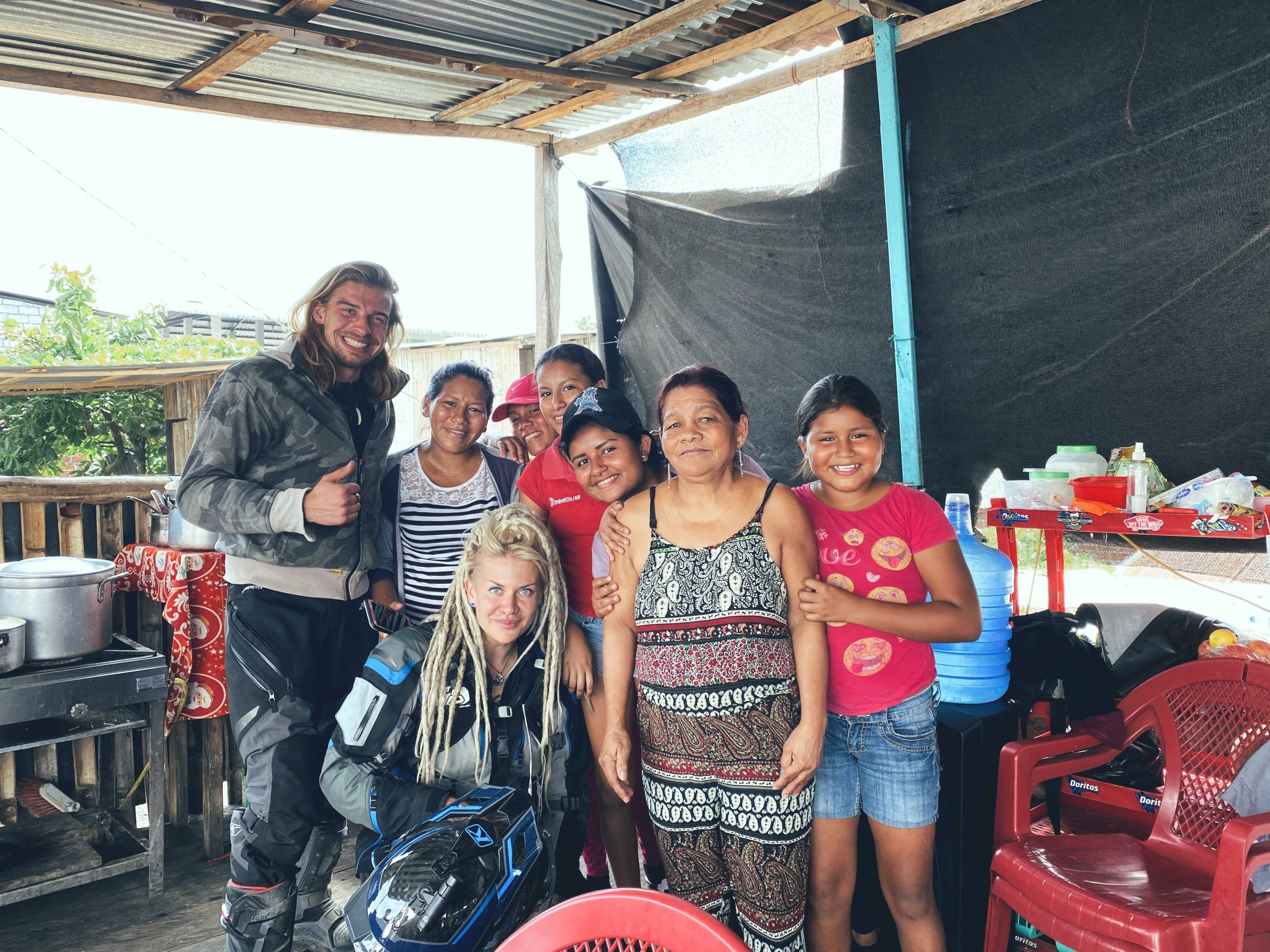 Despite this being 2020, the year of COVID restrictions, locals were happy to see travelers return, and we always felt welcome wherever we went.
Unfortunately, while the chicken tasted delicious, it might have been slightly undercooked. Within hours, as we rode steadily higher and higher, the road taking us deeper into the Andes, I began feeling unwell. Soon, I was stopping every twenty minutes and depositing my lunch on the roadside, my stomach protesting and chills creeping into my bones.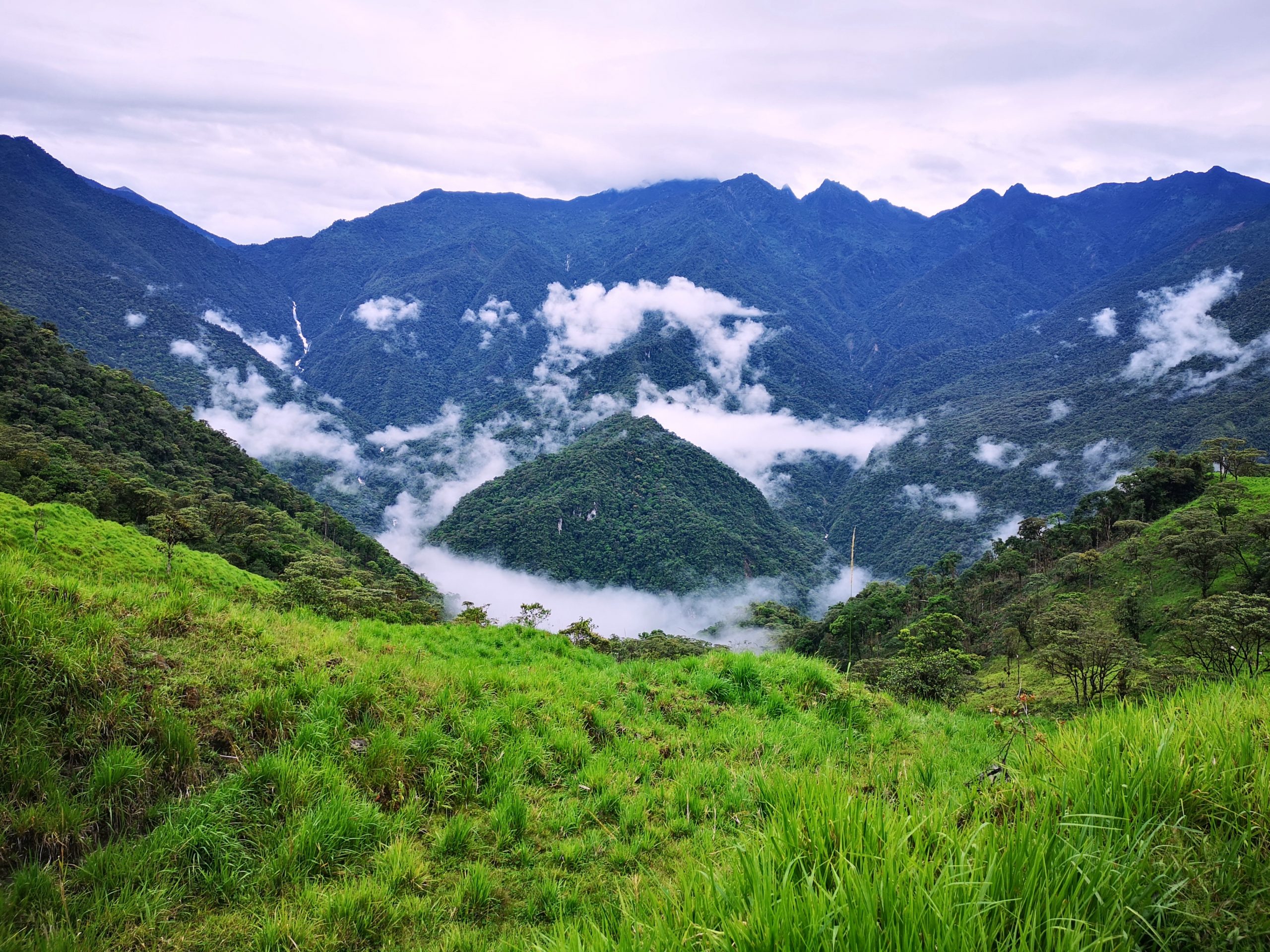 My theory is, it was karma: before coming to Ecuador, I boasted to Lennart how I never, ever, oh but ever, get food poisoning. I gloated about my Iron Stomach and the fact I hadn't had food poisoning in a decade despite sampling weird local delicacies like fried ants in Colombia or breaded larvae in Mexico. I made fun of Lennart's supplies of stomach pills and painkillers – who needs them!
Well.
Chills in Cuenca
The universe clearly felt like teaching me a lesson, and I spent the next day shivering under a heap of blankets at our hotel in Cuenca while Lennart went out in search of pharmacies and vegetable soup. I was worried our forced stay in Cuenca would mess up the schedule – on the Backroads tour, all hotels are already pre-booked, and now, we were staying an extra day in the city – but Court and Sylvain quickly came to our rescue rebooking the remaining accommodation and changing the dates. Once again, Ecuador Freedom had saved the trip.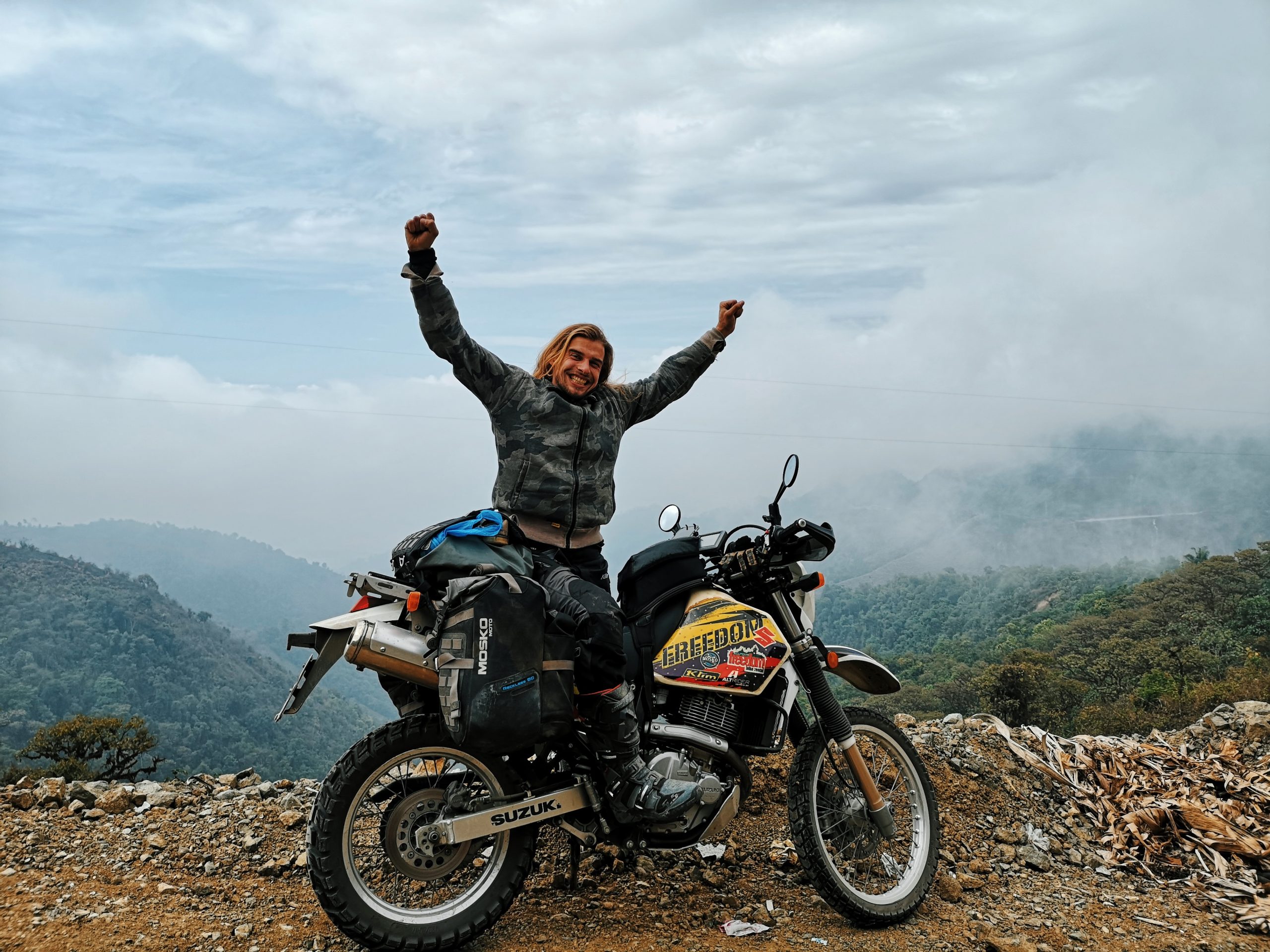 Riding into the Amazon
Leaving the stomach bug and the Andes behind, we crested the mountains and began descending again, this time, aiming for the Amazon rainforest. Riding the twisties, we wondered at the foggy Andean peaks and valleys dotted with cool blue lagoons, llamas and alpacas grazing freely in the meadows, the local indigenous people tending to their animals and selling roasted guinea pigs on the roadside. Guinea pigs are a delicacy in Ecuador, and they taste much like roasted rabbit, but I wasn't quite feeling up to the task just yet.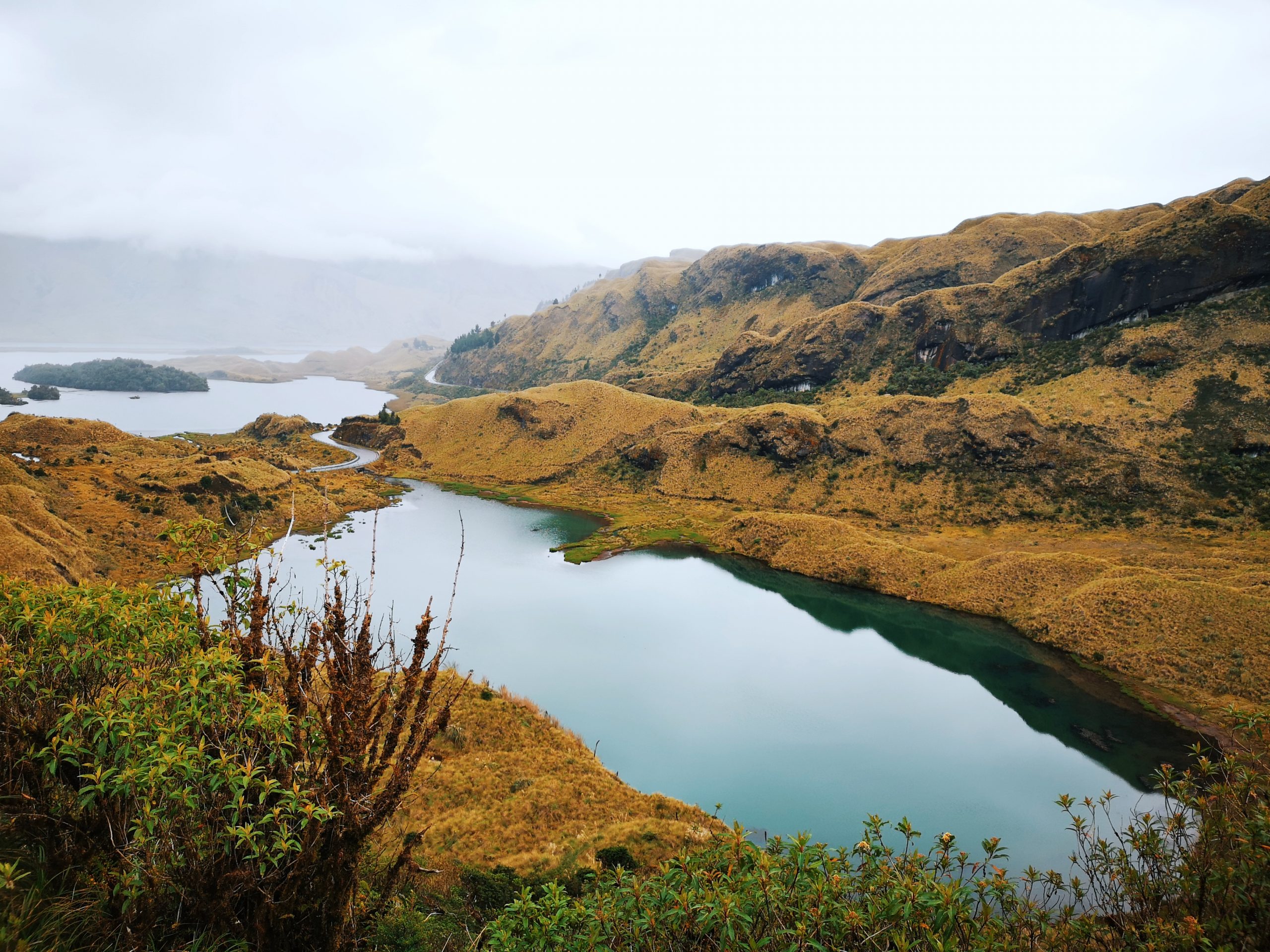 Slowly, the roads zigzagged down the green slopes taking us along the Guitar Route. Ecuadorians are passionate guitar makers, and we stopped at one of the roadside guitar shops to see the trade.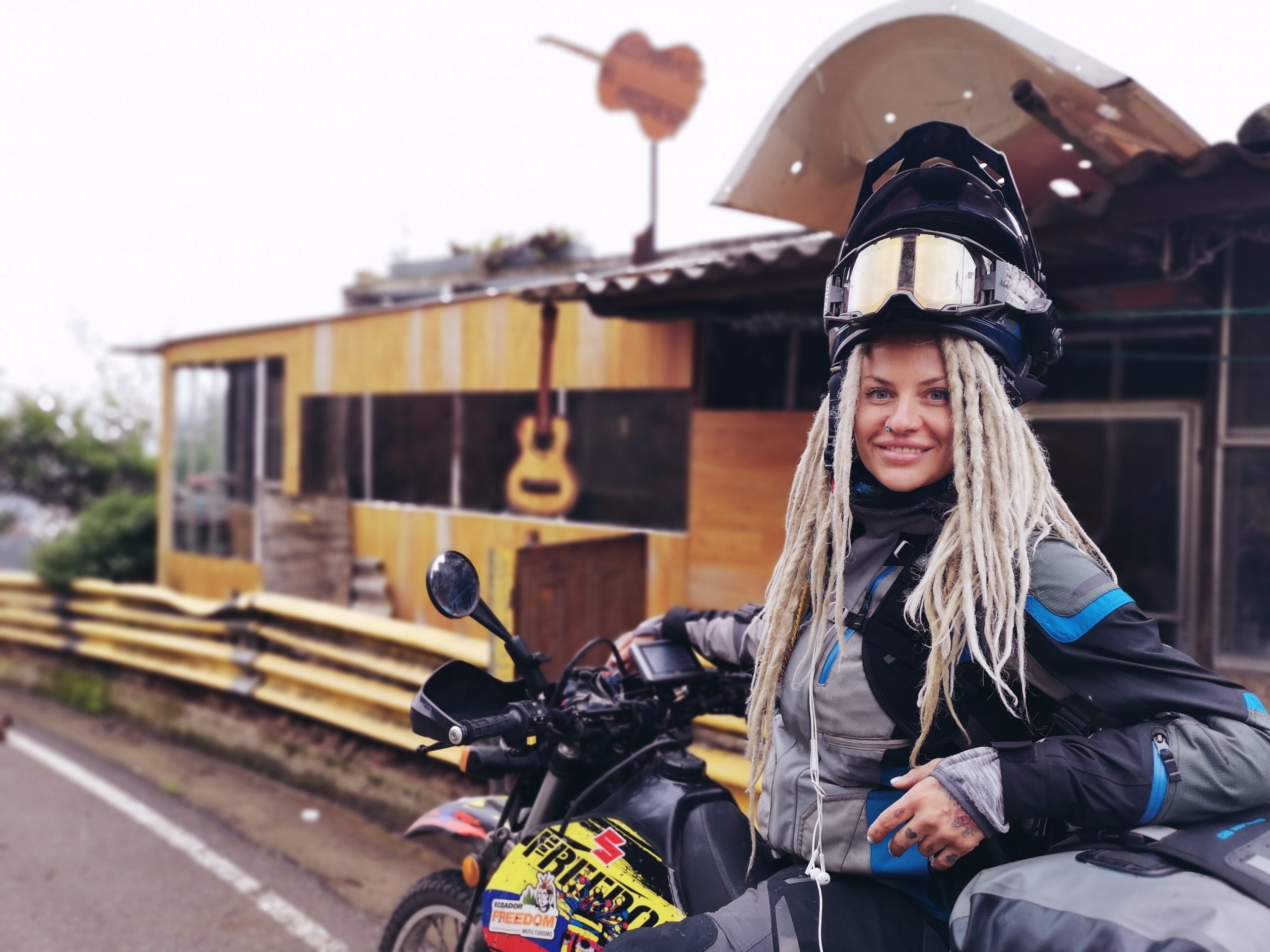 We were welcomed by a father and son team making guitars out of local wood and armadillo shells and chatted about music.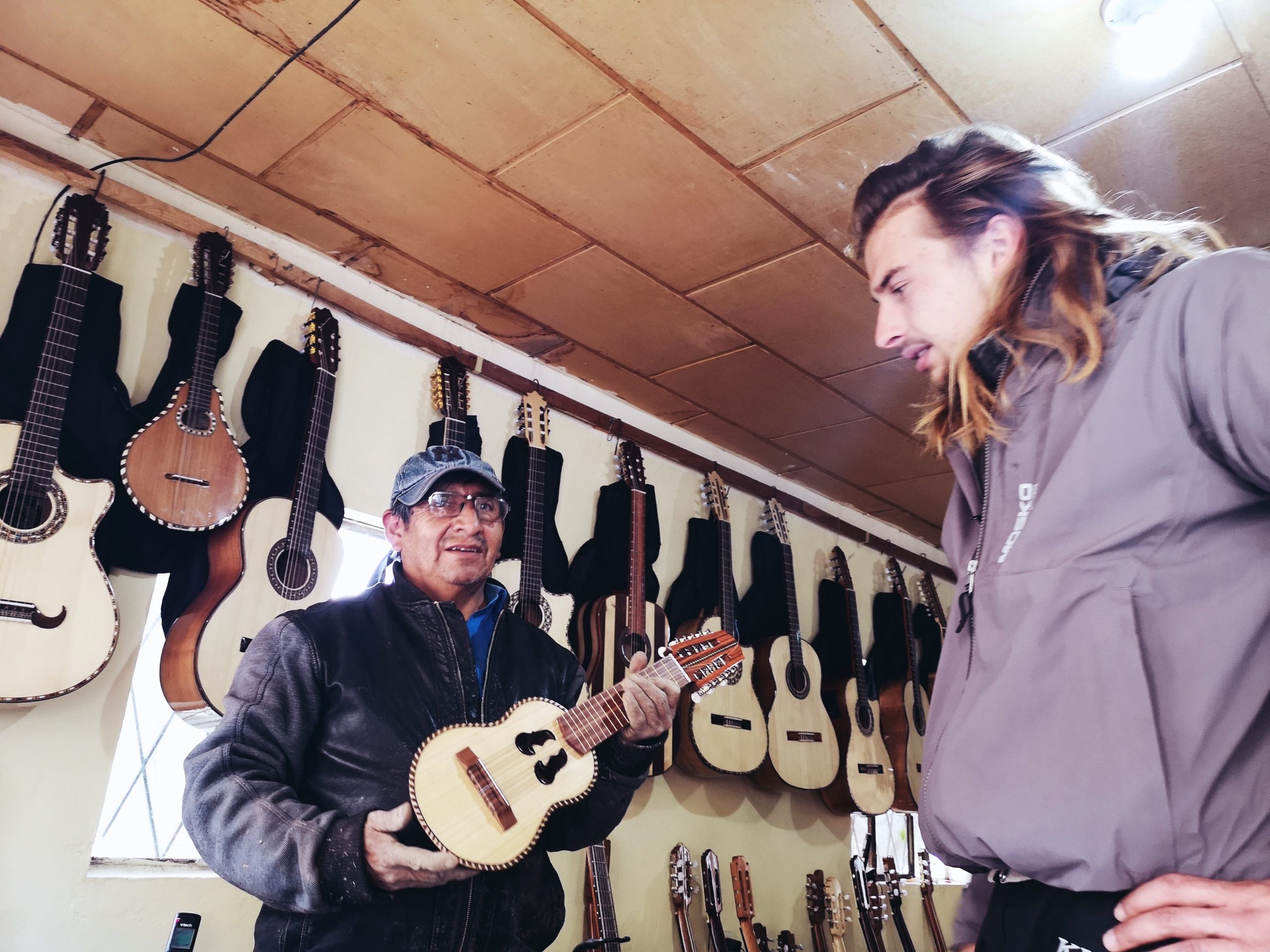 Turns out, Ecuadorian guitar makers are so good at their craft classical guitar players from Argentina and Europe value their instruments and often shop right here on the Guitar Route. Admiring the exquisite handiwork, I wished I had space in my panniers – a hand-made guitar from Ecuador would have made an amazing souvenir.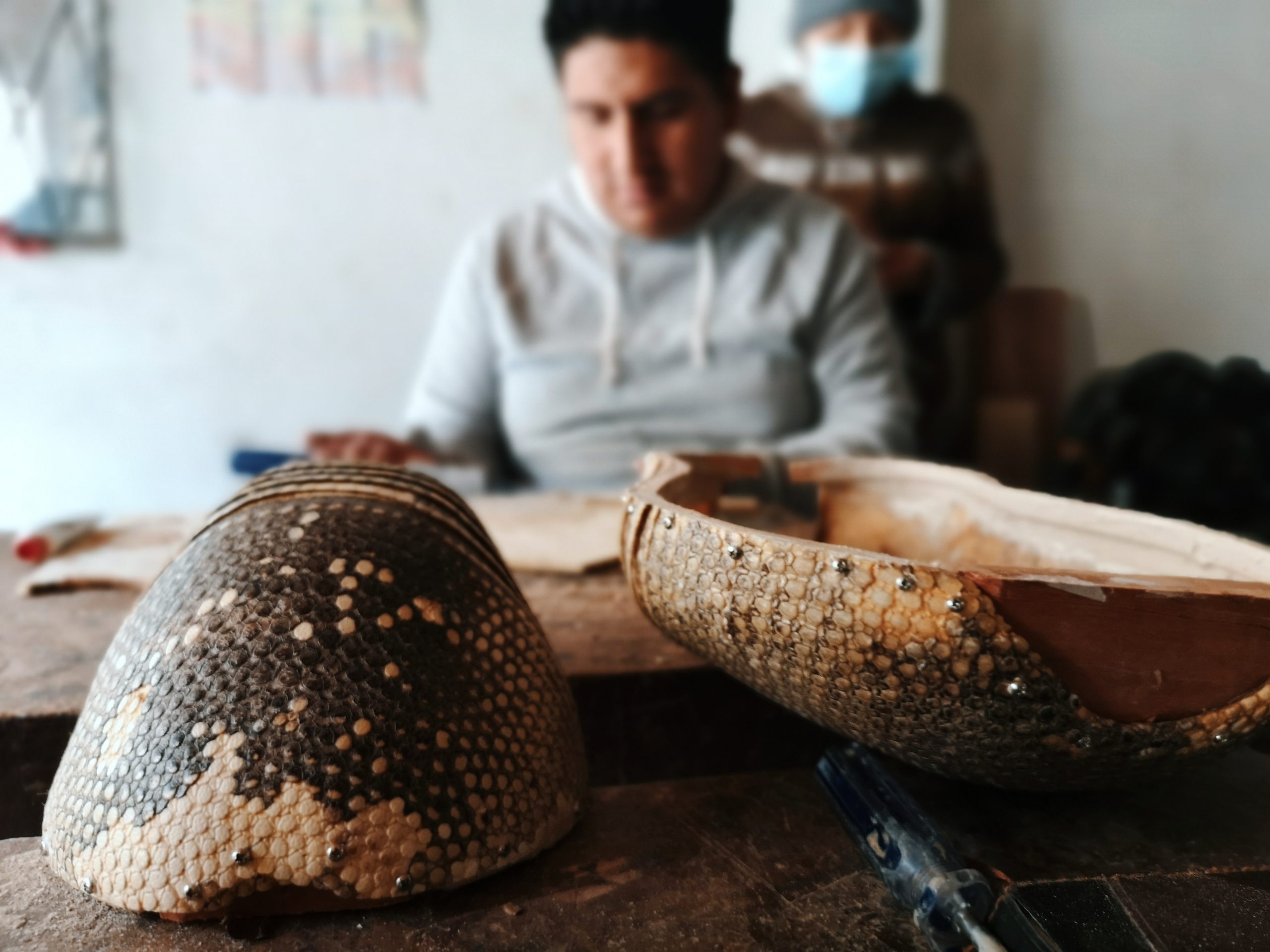 Ecuador's Rainforest Roads
Entering Macas, a city in the Ecuadorian Amazon, was like riding in a sauna: here, the temperatures and humidity are so high you want to peel your riding gear off and jump into the river. The roads meander through lush, teeming landscape so incredibly green it feels like some long-lost tropical Jurassic Park.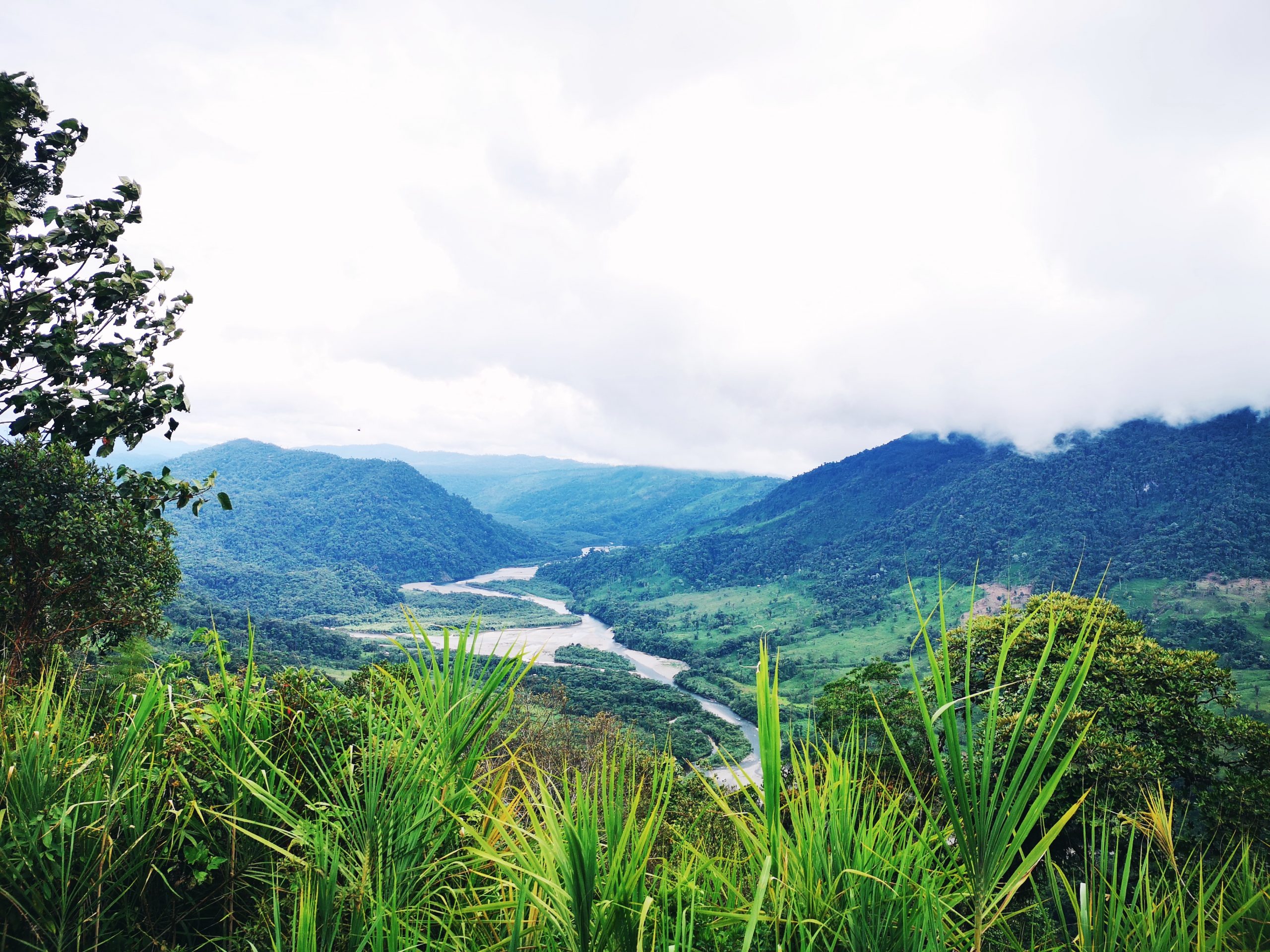 We were grateful to reach Arrayan y Piedra, a jungle lodge situated on the banks of River Upano: it's a quiet green oasis of wooden cabins, boardwalks, and swimming pools, and on a clear night, you can see the smoke plumes rising from the Sangay Volcano across the river. Sangay is one of Ecuador's active volcanos, and watching it rumble is a sight to behold.
The Land of the Icemen
As much as we would have loved to spend another day at the rainforest lodge, it was time to hit the road again and cross the Andes once more. This time, we were aiming for Volcano Chimborazo, Ecuador's tallest mountain and, curiously enough, one that's closest to the sun – due to the equatorial bulge, the peak of Chimborazo is closer to the sun than that of Mount Everest.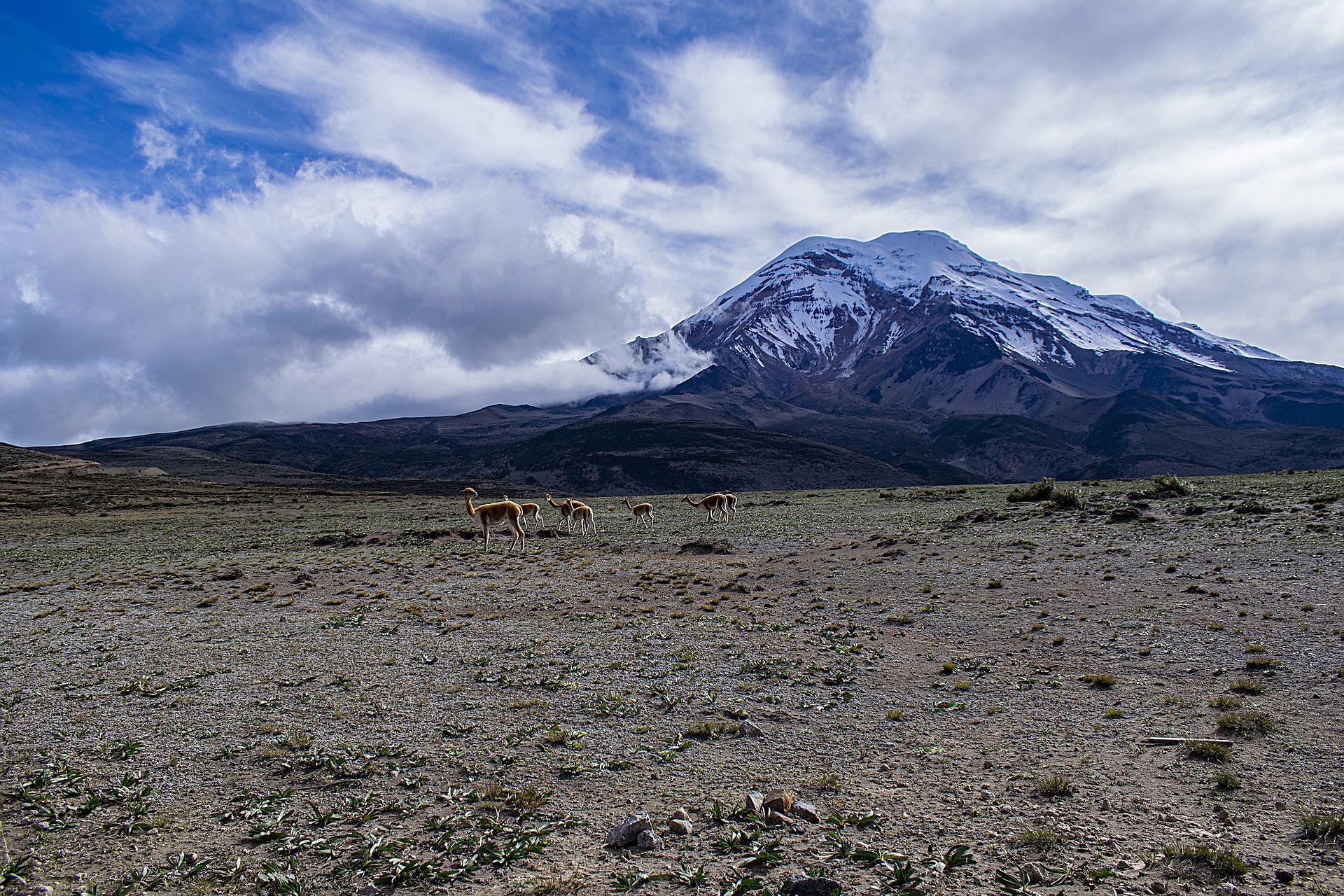 Riding the Chimborazo National Park area is like entering a completely different world resembling some distant, solitary planet. At over 4,000 meters above the sea level, the landscape is barren and desolate, wild vicuna the only sign of life. It's hard to describe the feeling you get as you suddenly glimpse Chimborazo – a massive, brooding lone mountain bracing against the racing clouds and Andean chill, capped in glacial ice.
Chimborazo is considered a sacred mountain among the Ecuadorian indigenous people, and traveling here, you may notice signs indicating the Highway of the Icemen. Icemen were people who would climb Chimborazo and bring down some of its ice that would be melted and used as sacred water in the local communities. One last remaining Ice Man still lives in the Chimborazo area, and it's mind-boggling to imagine an old man and a donkey climbing one of the world's highest peaks to bring down the ice.
The Cauldron of Devil
Having admired old Father Chimborazo and spotted the shy vicuna traveling the high plains, we descended the Andes aiming for Banos de Agua Santa, Ecuador's adventure capital.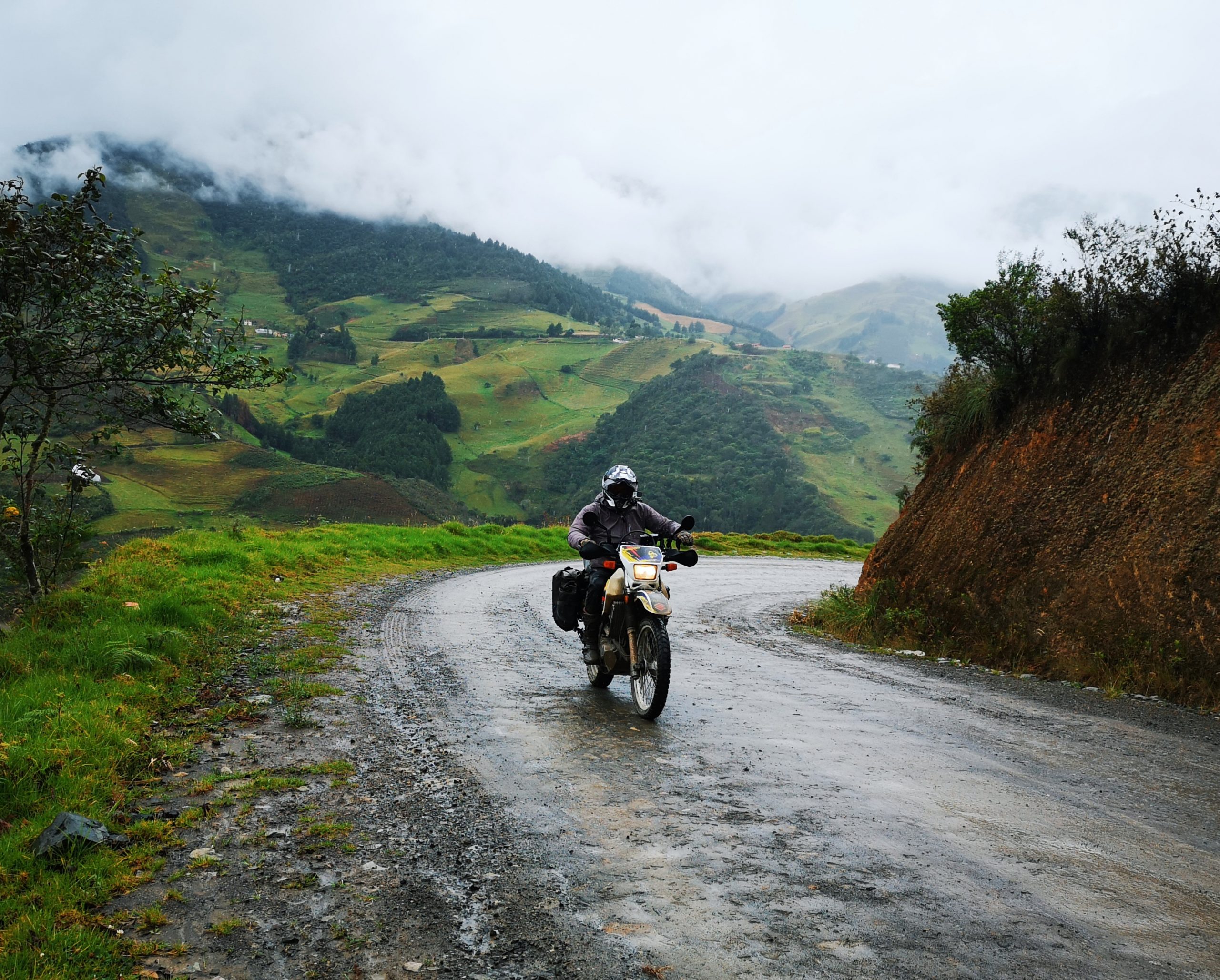 Situated among green rolling hills, Banos is a place for adventure sports, zip-lining, rafting, and expeditions into the Amazon. For us, the road leading into Banos was the highlight of the day – skirting the edge of a narrow gorge, the road hugged sheer cliff walls and dove under waterfalls to deposit us in the Old Town of Banos ready for some roasted guinea pig. By then, my stomach was up for a challenge, and we tried a dish of guinea pig in the local indigenous market.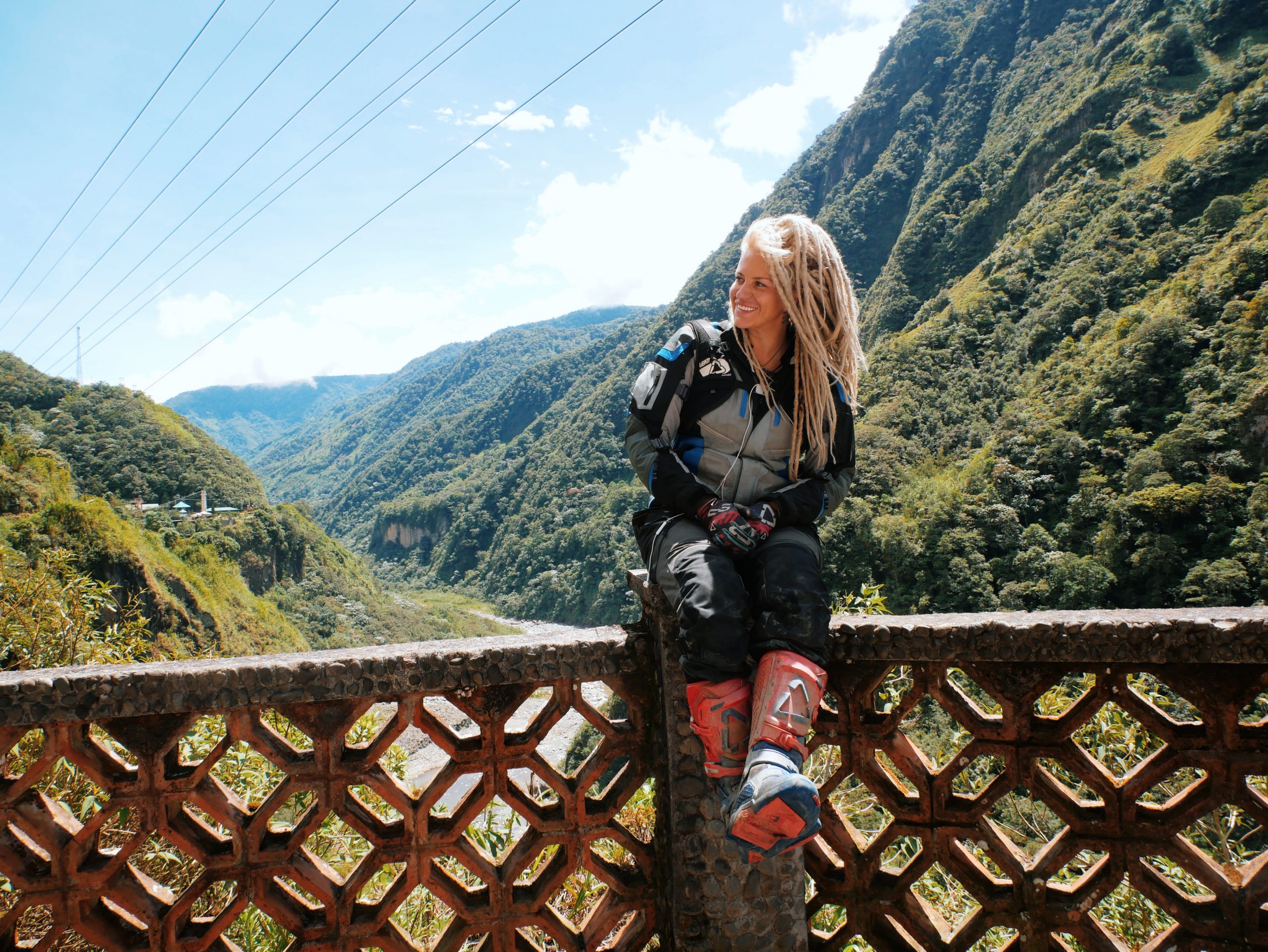 Leaving Banos, we followed another spectacular road, and an old cobblestone pathway clinging to the mountainside. The locals wash the trucks under the waterfalls splashing the road, and for us, it was a good test of skills as I nearly laid down the bike on the slippery cobblestones.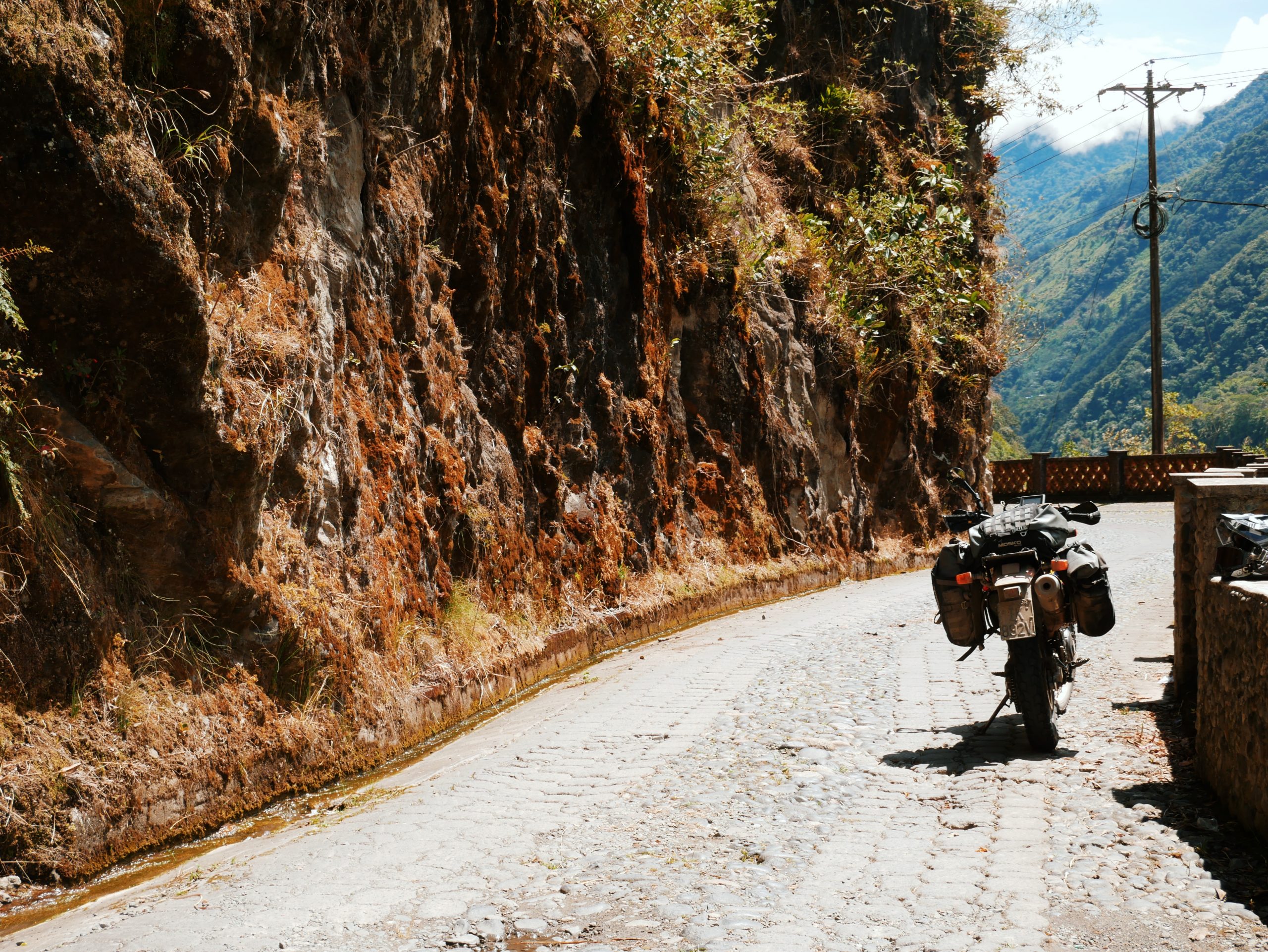 The views were more than worth it, and soon, we were Amazon-bound again, heading for the Napo River region.
Monkey Thieves in the Jungle
River Napo is Ecuador's largest river and the fifth largest tributary to the Amazon River. Out here, we spent the night in a river fortress accessible by boat only – we had to leave the bikes in a local parking lot and take a river barge to get to the Casa Suizo, an old river trading post turned into a hotel.
Next up was Puerto Misahuali, a colorful river town where we stopped for a fresh coconut and a break. The locals warned us to steer clear of marauding capuchin monkeys strolling casually about town and nicking fruit and bread from the local shops.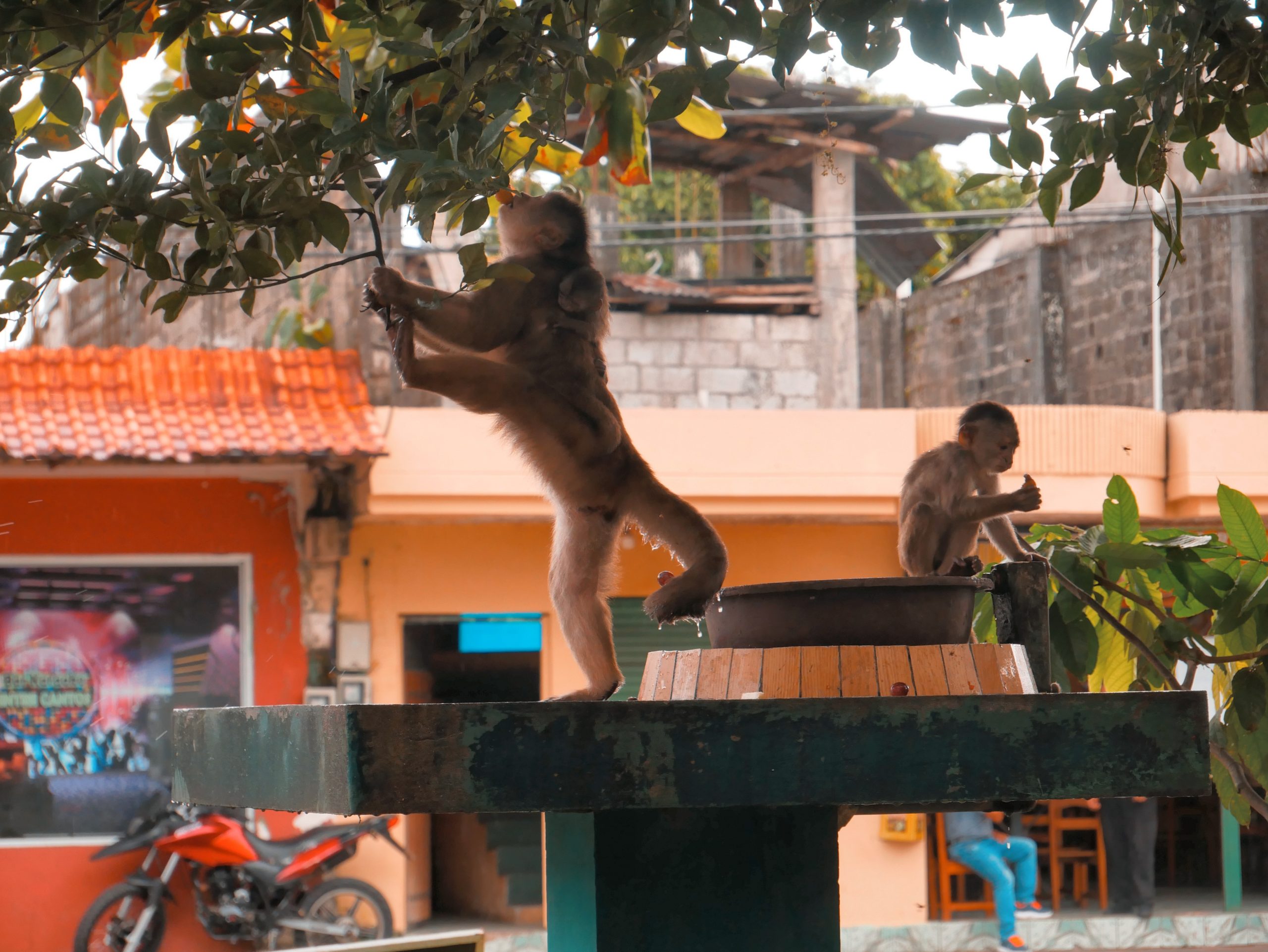 Naturally, we didn't and soon found ourselves in the midst of a stealth Gatorade robbery operation: a large capuchin descended from a tree, innocently sat down on the bench next to us, then ninja-rolled his way along the backrest of the bench and grabbed my Gatorade bottle.
He then climbed the tree, deftly opened the bottle, tasted the Gatorade, and gleefully spilled it on us – clearly, sports drinks weren't his thing.
Properly baptized by Gatorade and our own gringo haplessness, we jumped back on the bikes and made our way to North heading towards Papallacta, our last stop before returning to Quito.
Hot Springs in the Andes
On the last day of a trip, you're always torn between wanting to see and ride more and a quiet sort of blues that's already settling in – motorcycling Ecuador, you just don't want the journey to end. Still, it was time for the last miles on our trusty DR's, and there was plenty to see still.
From Ahuano, we made our way slowly back across the Andes Mountains climbing ever higher and getting our thermals out as the temperatures dropped, and the famous Andean fog began creeping across the roads.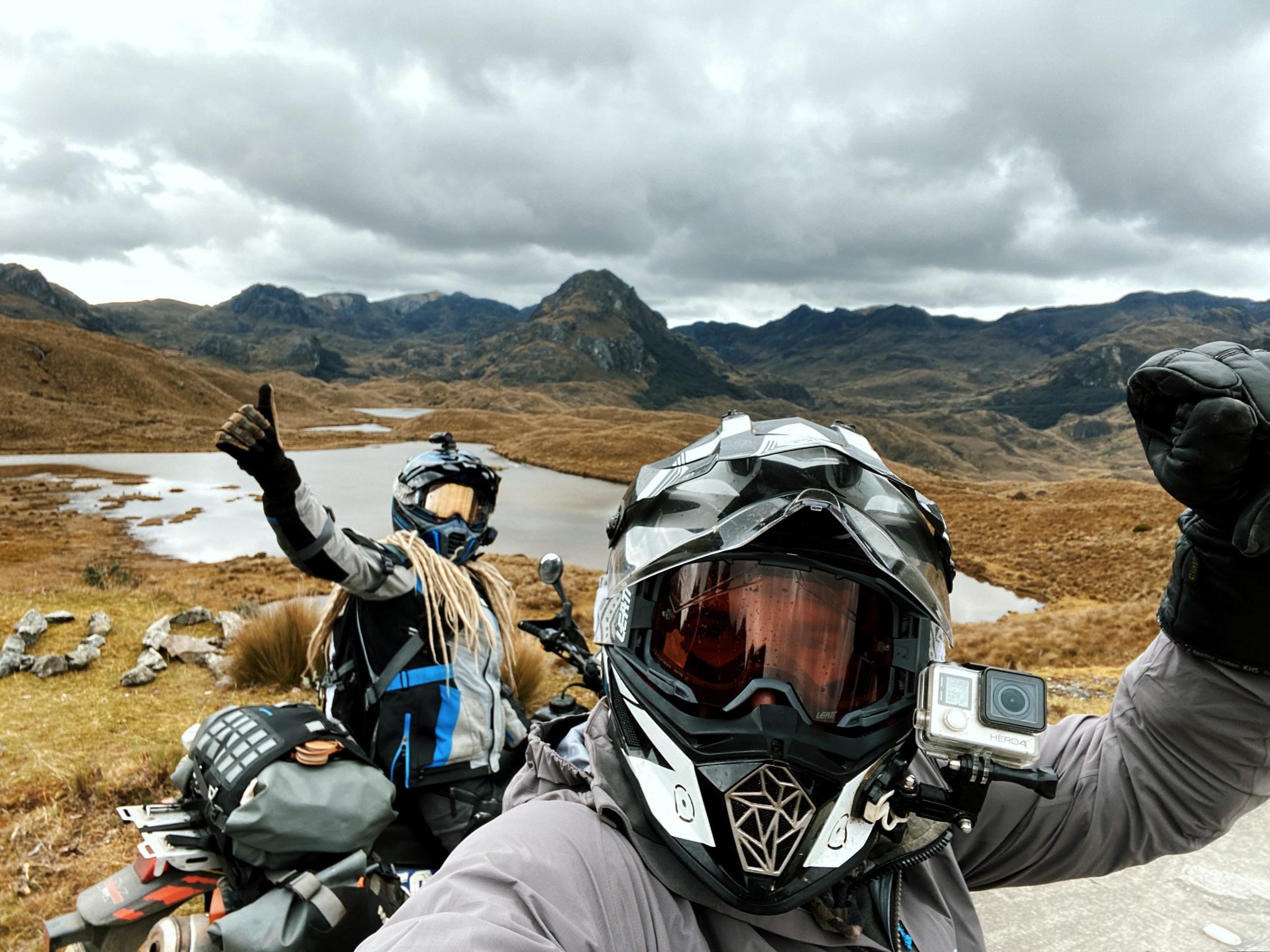 We travelled out of the lush greenery and into the starker, chillier mountain landscapes. Slowly but surely, we ascended higher stopping for lunch and a chat with locals at roadside eateries and small mountain towns. We deliberately took our time and arrived at the Papallacta Hot Springs Resort in the dark, the mountain air chilly and bracing. Luckily, the Papallacta natural hot springs are so warm you can sit in the pools in the middle of the night sipping cold beer and looking up at the starry equatorial skies – there's almost no light pollution here, and the quiet of the Andes is nothing short of spectacular.
Ecuador Motorcycle Travel Tips
On Day Eleven, we covered our last hundred miles across the mountains returning to Quito and Ecuador Freedom. Our mud-spattered DR's have taken us around the entire country, and our heads were still spinning trying to process it all. If you choose to motorcycle Ecuador, prepare for lots and lots of diversity in landscapes, nature, and people: out here, the distances are small, but the range in terrain, altitudes, and views is mind-blowing.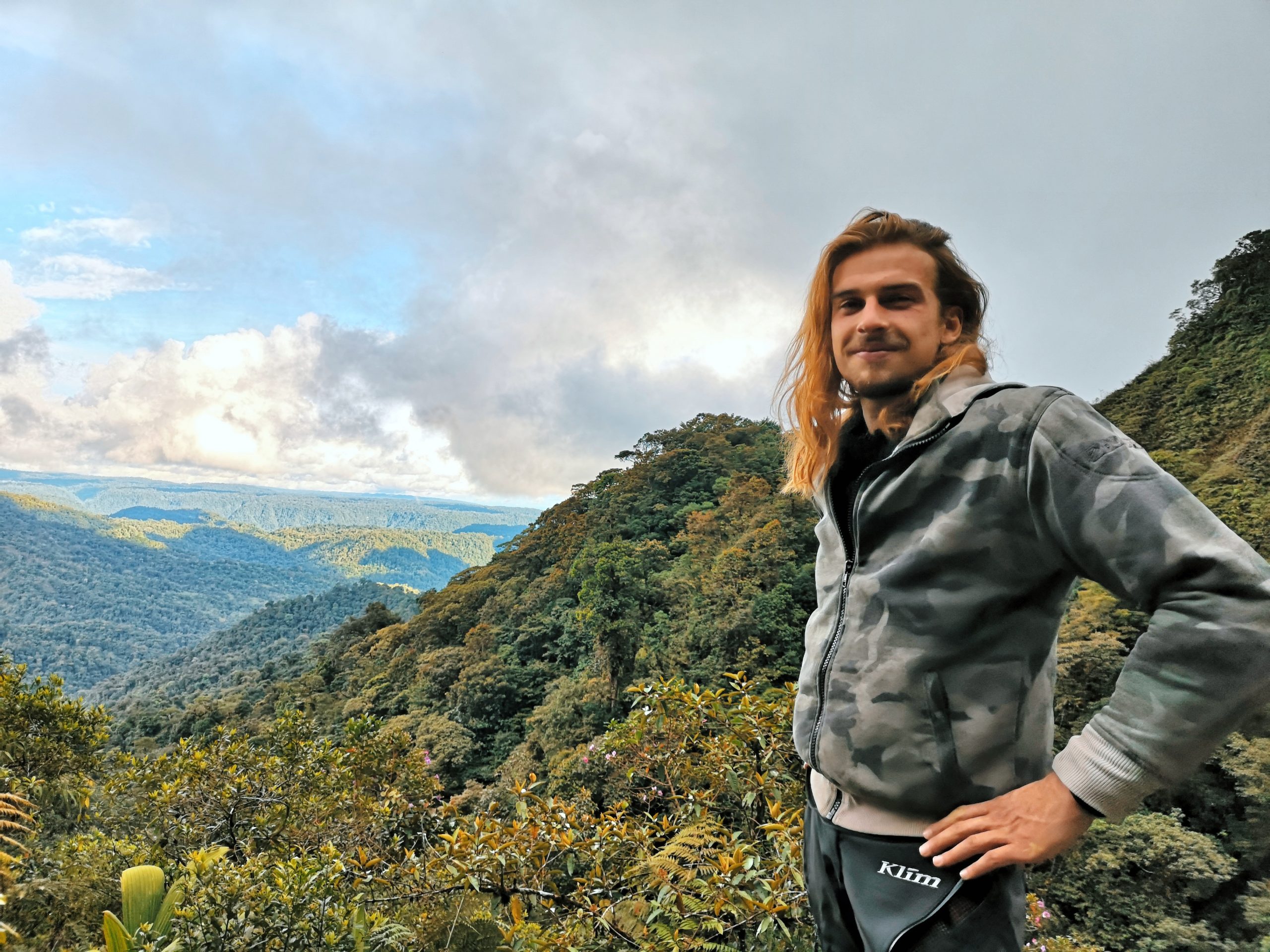 After a few celebratory cervezas at Ecuador Freedom, we said farewell to our bikes. Not wanting to leave Ecuador just yet, we booked a ten-day Amazon rainforest expedition on foot and canoe, but for now, it was time to part with the motorcycles, Court, and Sylvain: our two-wheeled adventure was over.
We know we'll be back again, though. And if you're itching to ride Ecuador, too, here are some useful tips to help you out:
Motorcycles in Ecuador
If you're hoping to motorcycle Ecuador on your own bike, the customs procedures are easy as pie. At the border, you'll get a temporary import document for your bike. When you leave Ecuador, you'll simply hand it over to the customs again, and that's it – no complex carnet de passage or import procedures are required.
If you're renting a bike, Ecuador Freedom is your best bet. Not only do they have a huge range of different motorcycles to choose from, but they'll also help you if you get in trouble – their HQ is always ready to assist. Depending on the type of riding you're planning to do – dirt, tarmac, or both – go for a medium-sized dual-sport or an adventure bike and explore as much as you like.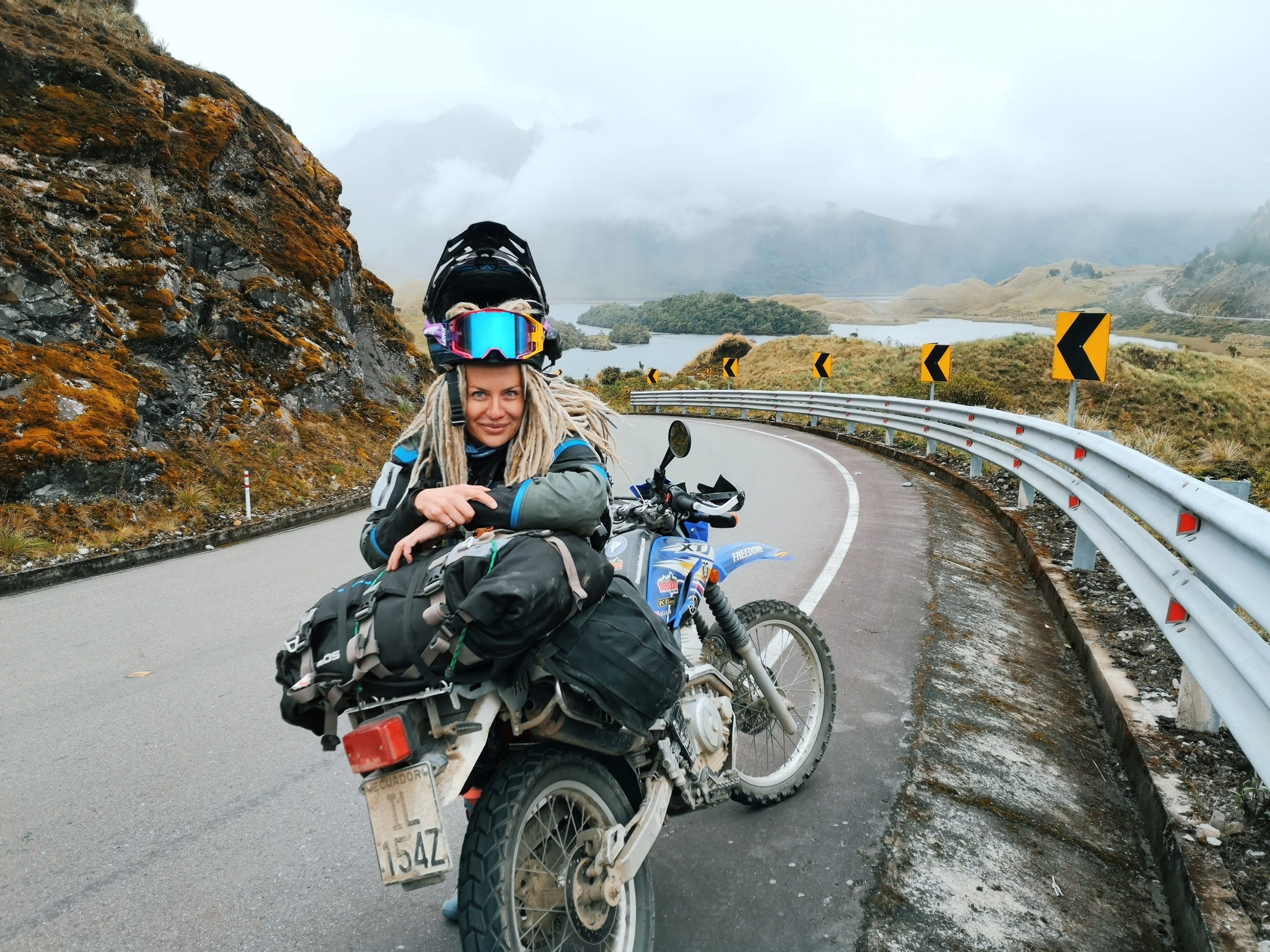 Fuel is cheap in Ecuador, and tolls are mostly free for bikes. Huzzah!
When it comes to spares and roadside repairs, Ecuadorians are skilled mechanics, and flat tires can be fixed in any local shop for $5.
Roads in Ecuador are mostly of good quality, even in the more remote places. They are narrow and twisty, though – don't expect six-lane highways and straight stretches for hundreds of miles.
Off-road riding in Ecuador is virtually unlimited. Ask Court and Sylvain for route recommendations, or simply download Wikiloc and hit the trails wherever you please. We especially loved off-road trails around Chimborazo Volcano and Banos.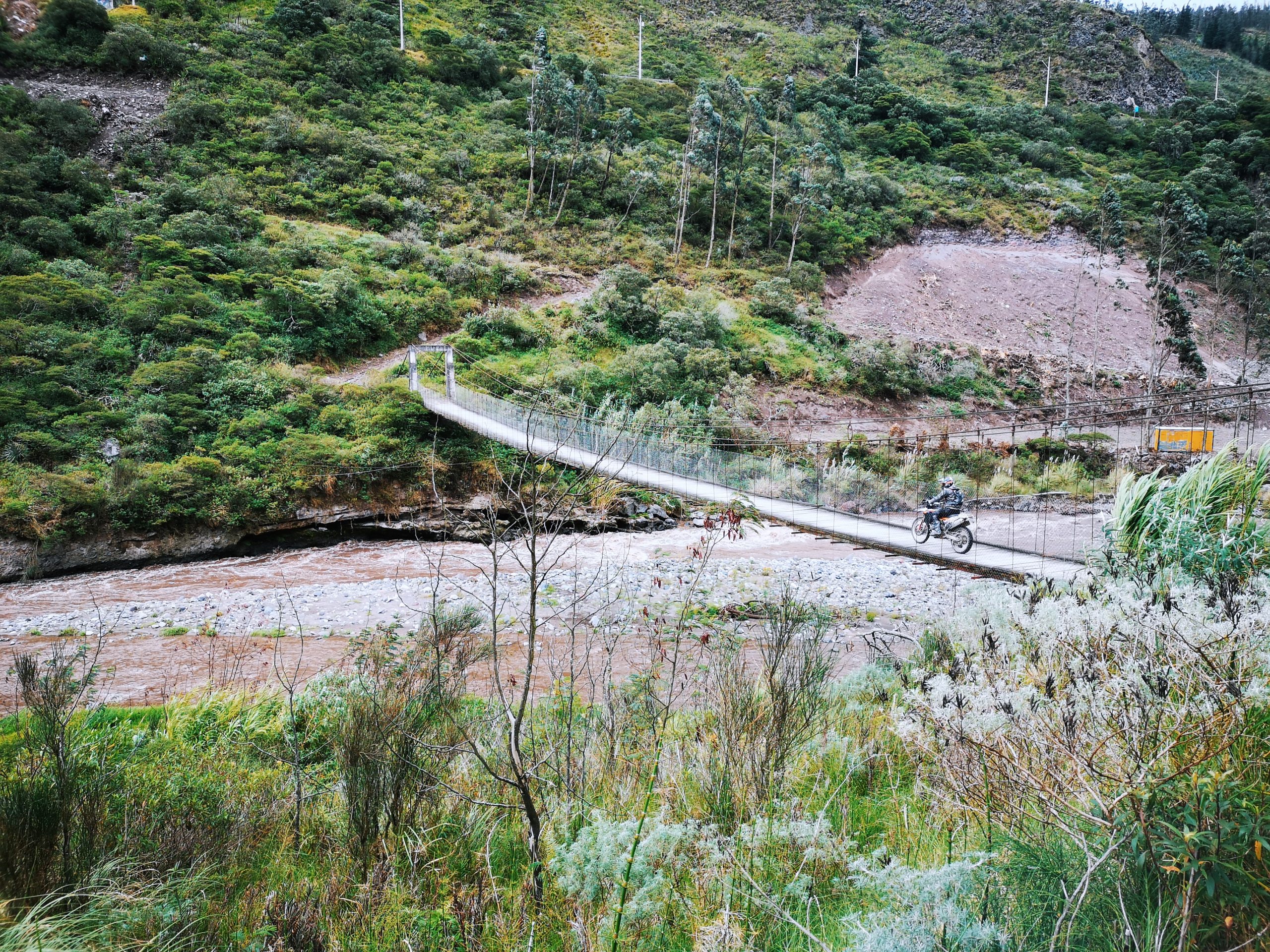 Ecuador Travel Safety
Ecuador is one of the most stable and safe countries to travel in South America. Even if you go solo, expect friendly locals and warm hospitality. Use common sense in big cities, but overall, Ecuador is safe for groups, lone riders, and solo female travellers alike.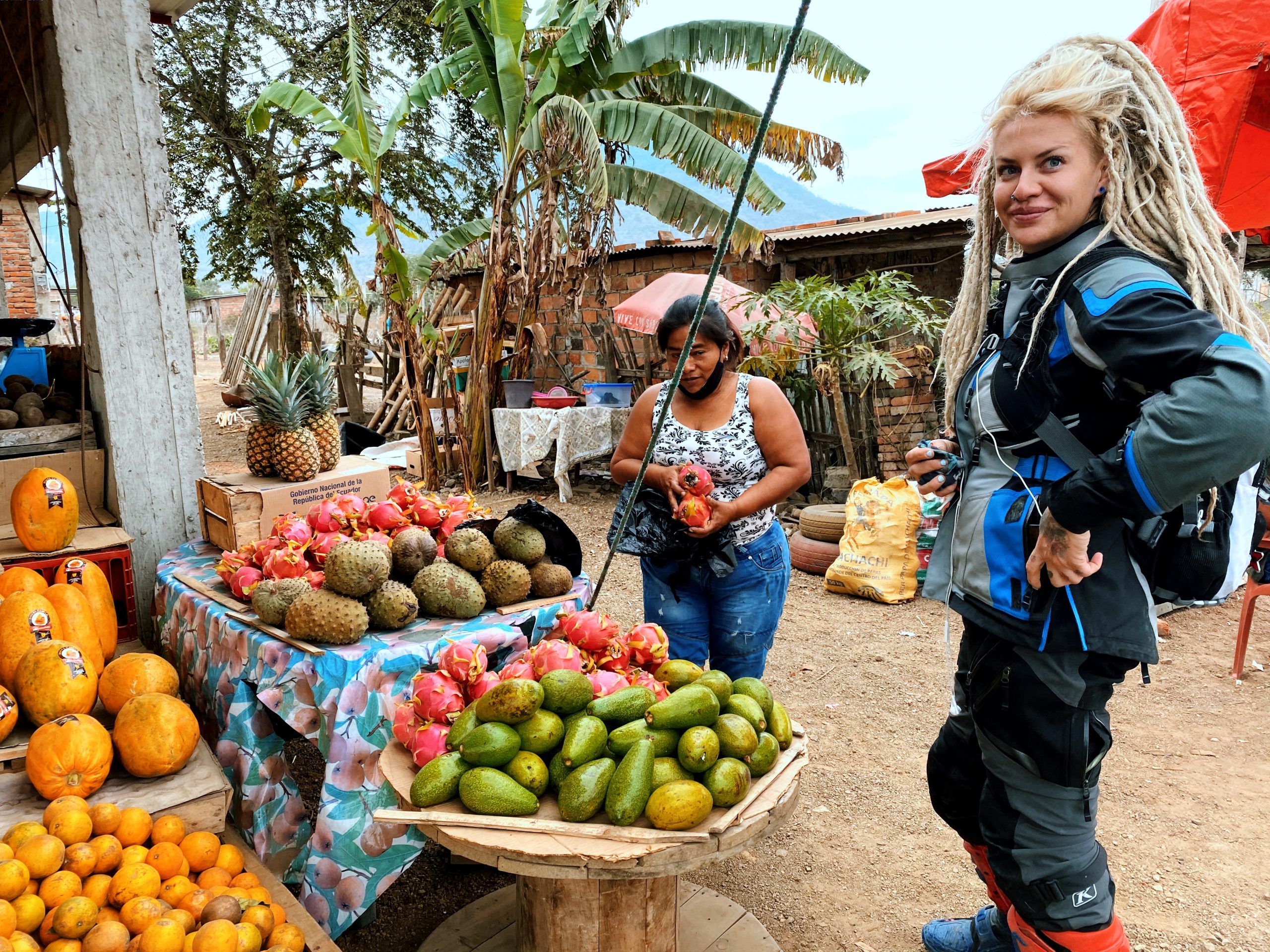 In terms of cash, Ecuador uses US dollar which makes life easier. ATMS are plentiful in most major cities and towns, and you can pay by card just about everywhere in Quito, Cuenca, and Banos. Do carry a little bit of cash with you if you're planning to hit more remote areas.
Best Time of Year to Ride Ecuador
Ecuador gets its name from the equator, and being situated on the equator means there are no seasons n Ecuador – it's the country of eternal spring. In other worlds, Ecuador is the perfect motorcycling destination year-round.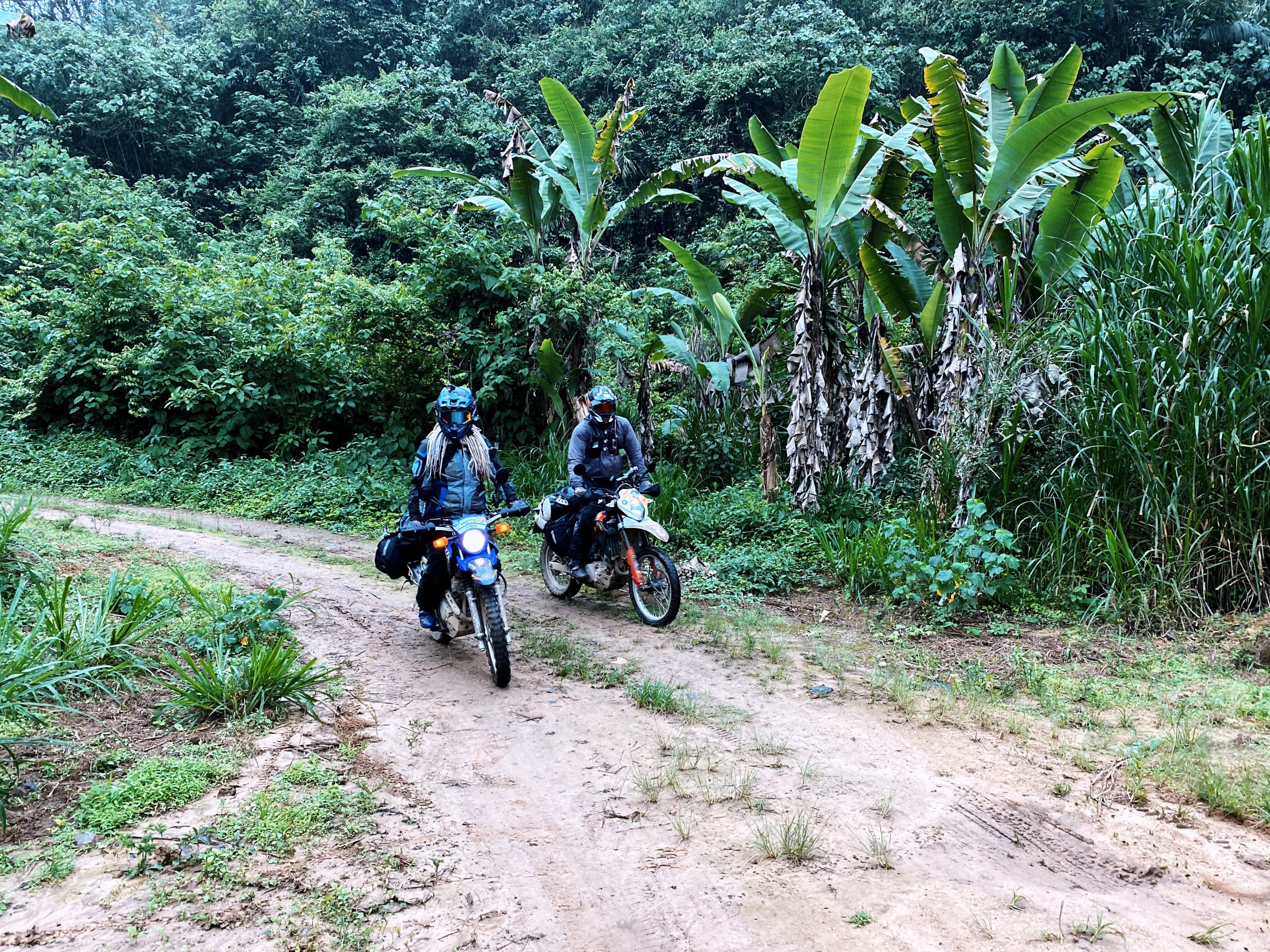 Ready to ride? Let us know if you have any Ecuador questions in the comments below, or contact Ecuador Freedom directly – we know they'll be delighted to hear from you!
For more adventure motorcycle tips and ideas, check out the rest of our blog.