If you're considering a new setup, is Leatt gear good for both off-road riding and adventure motorcycling?
Over the years, Lennart and I have gone from traveling to trail riding to rally racing with some highway miles and on-road tours in between. How the heck do you find the gear that can cover all that, plus survive serious abuse and Egle's spectacular involuntary dismounts worthy of their own YouTube channel?
It's a tough one. It's been a never-ending, ever-evolving story of trial and error, mixing and matching, and testing out stuff on all sorts of terrain and in all kinds of weather.
We've gone from Kevlar and second-hand, ill-fitting gear to Klim and back. We went from trying to race in adventure suits to layering Leatt up to our eyeballs. And so far, Leatt is the one brand that has saved our skins, bones, and skulls the most.
But is Leatt gear really that good?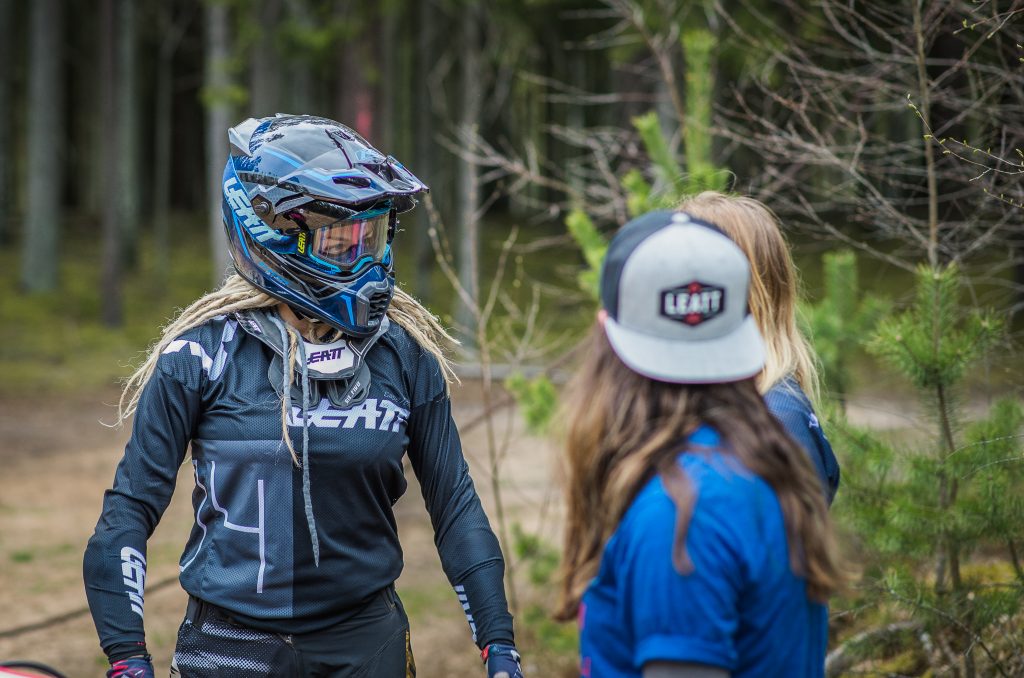 Full disclosure: we have the crazy privilege to be sponsored with Leatt gear. This means they let us test their body armor, knee braces, jackets, neck braces, and other goodies, for which we're both eternally grateful. But here's another full disclosure – they're not asking for anything, and I mean anything, in return.
We are not obliged to promote them, and we were not in any way incentivized to write this post.
We're writing it because we honestly believe Leatt is a kickass brand that constantly produces quality. And, Leatt has a down-to-earth, generous, and kind approach when it comes to two-wheeled hobos with rally racing aspirations. So much so, in fact, that they frequently help young-and-coming athletes to stay safe out there on the races – just ask our friend and stellar rider Ines Stanic.
ADV vs Rally vs Leatt: The Lowdown
So, no, we're not getting paid to write this, nor would we ever agree to something like that. We're writing this because between us, we've used Leatt gear for well over three years now, and it's worked out better than expected.
But let's unpack this whole thing. If you're an adventure rider with rally racing aspirations (or perhaps you're hitting off-road trails a lot more than you do tarmac), what's the best gear setup for you?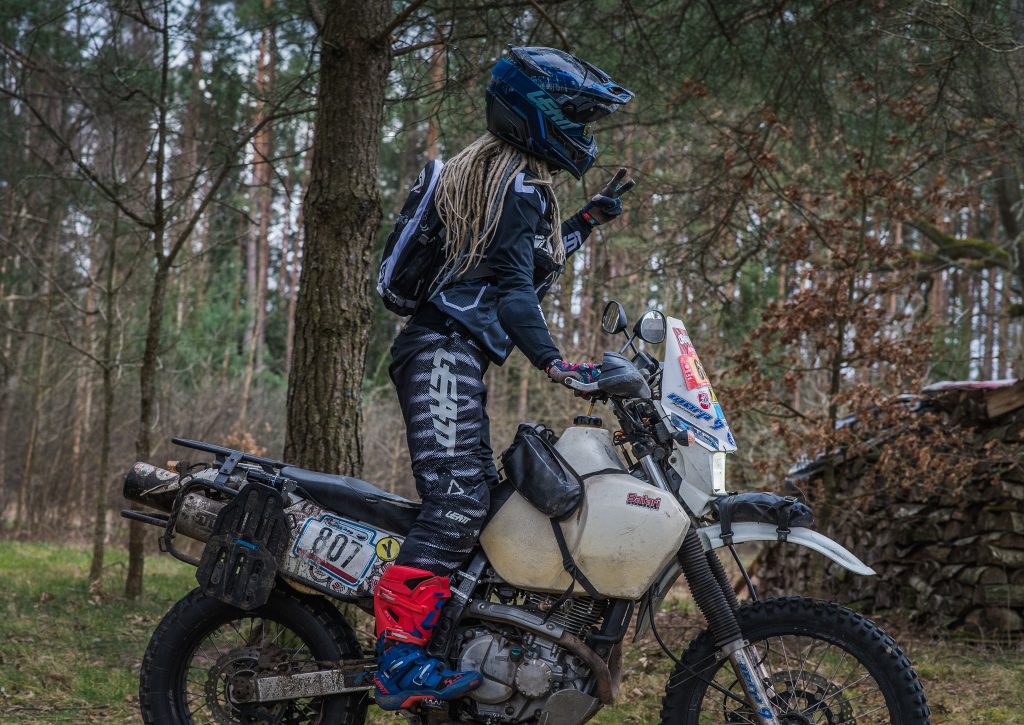 Our gear evo started out just like anyone else's – we rode in what we had. In 2017 or thereabouts, Egle first laid her paws on a Klim Artemis suit. If you're looking for pure ADV, 70/30 or 50/50 on road-off road gear, we honestly don't know that anyone is doing it better than Klim. We'll do another post on that soon.
But here's the conundrum: once you start riding off-road more and more, entering amateur rally races, and braving the single track, ADV gear doesn't work as well. It's too stiff, too heavy, and too hot for long hours of off-road riding.
Plus, it doesn't have adequate protection for those blood-curdling scenarios where you find yourself landing head-first in a deep ravine, overshooting a corner and depositing yourself on a heap of sharp rocks at unsettling speeds, or hitting your back on a boulder with your motorcycle gracefully landing on top of you (yes, we've achieved all this in a fairly short amount of time).
The logical next step is to move from ADV to MX gear.
And that's where the tricky part starts: which MX gear? How much MX gear? And can it work on the road, too?
Is Leatt Gear Good for Adventure Motorcycling?
Having had the bejesus scared out of me when I did my very first rally race training in Portugal back in 2019 in the aforementioned Klim suit (tackling a steep ascent, I managed to veer off track and nearly flew off a steep mountain slope), it was obvious more protection was in order.
Rally racing is a whole different ballgame from your usual Sunday trail riding. After Portugal, I wanted more armor and more safety for my upcoming Hellas Rally Raid debut.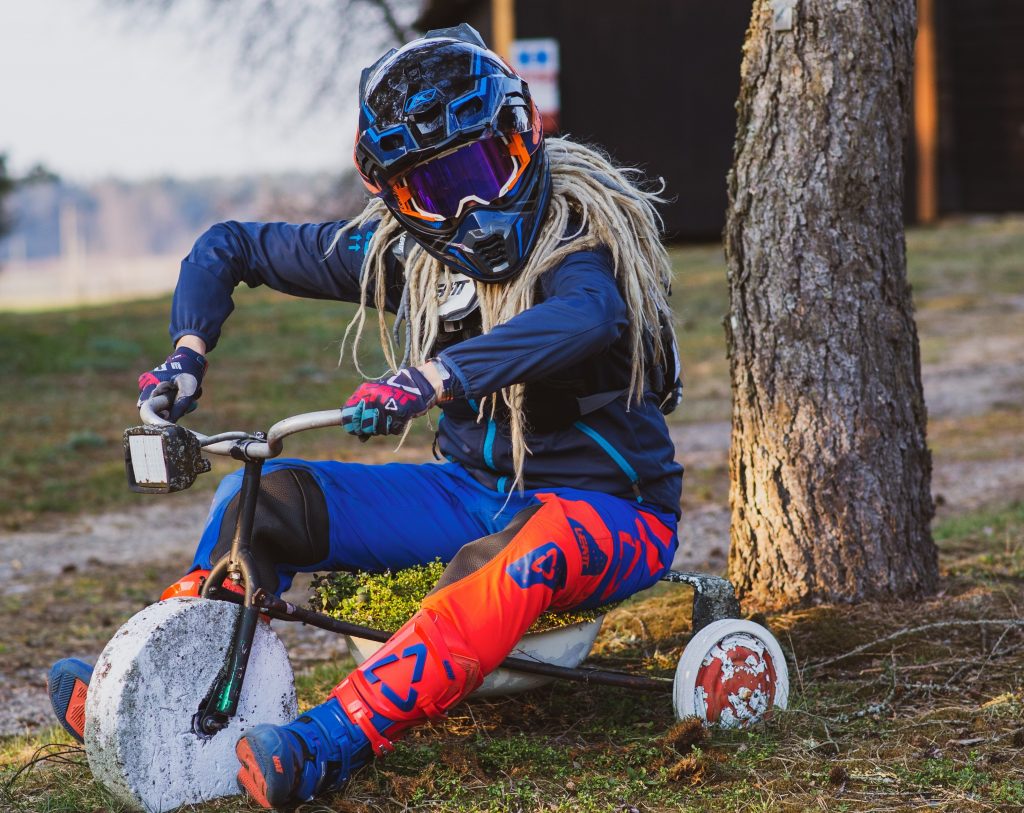 Having talked to a friend who has been riding in a Leatt neck brace for a while at that point, I got a Leatt neck brace and a pair of knee braces for the rally.
Confession: I had my doubts about the neck brace. I thought it would feel like a medieval pillory type of contraption, restricting movement and instilling claustrophobia.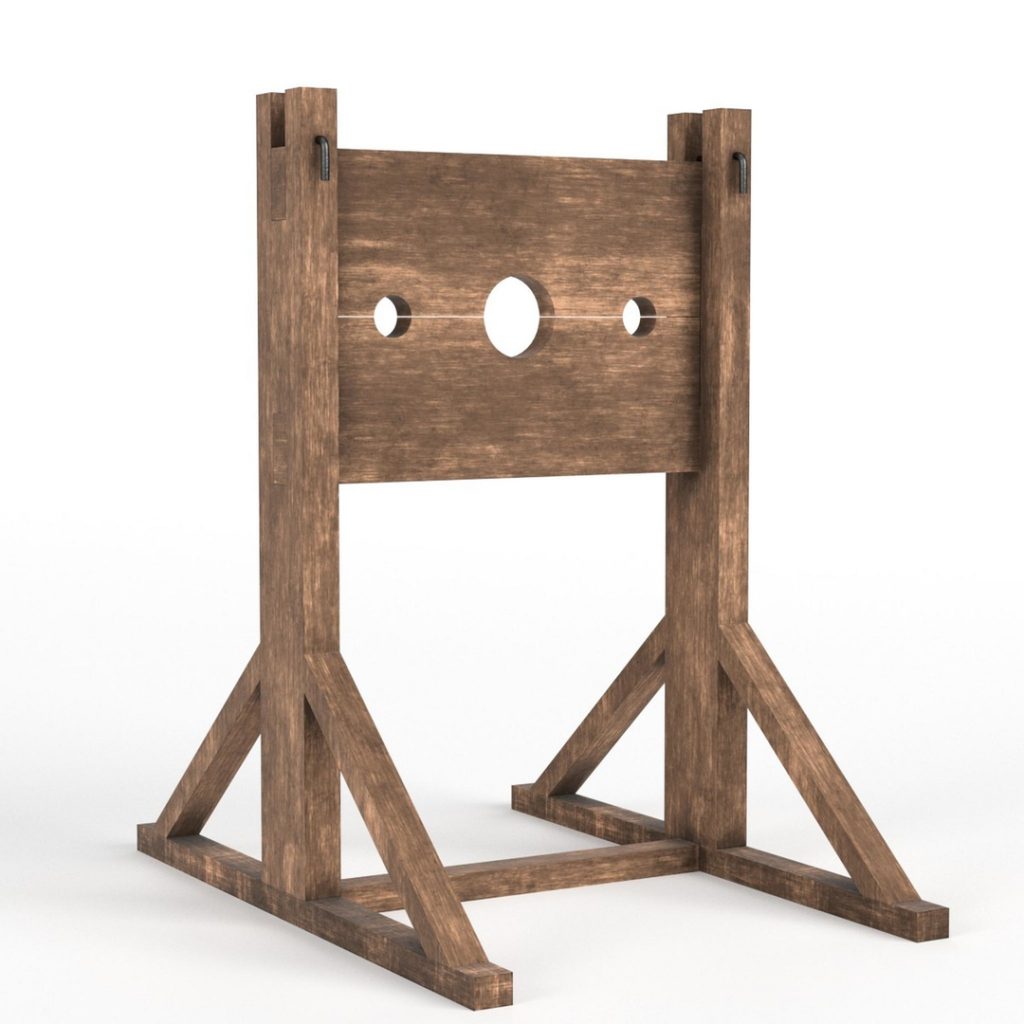 Thankfully, I was wrong – once you put it on, you barely even feel the thing. And that's with my lion's mane of a dreadlocky mess.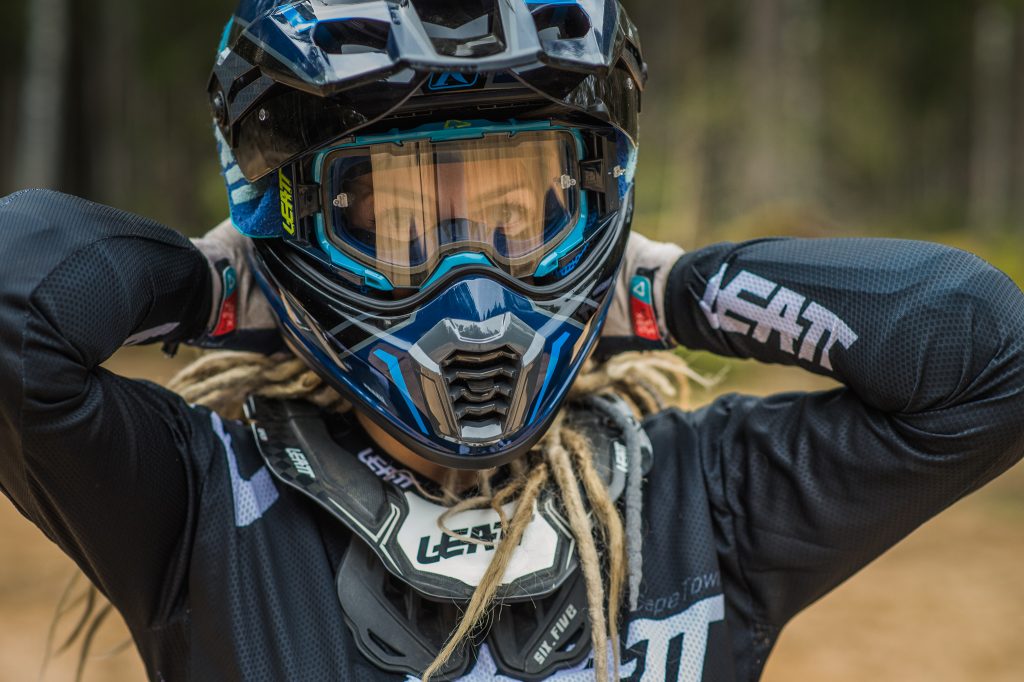 I had the same reservations about the knee braces; I mean, look at this Robocop-type piece of a futuristic exoskeleton. Surely they'd feel chunky and heavy, especially after spending 8+ hours on the bike for seven days straight?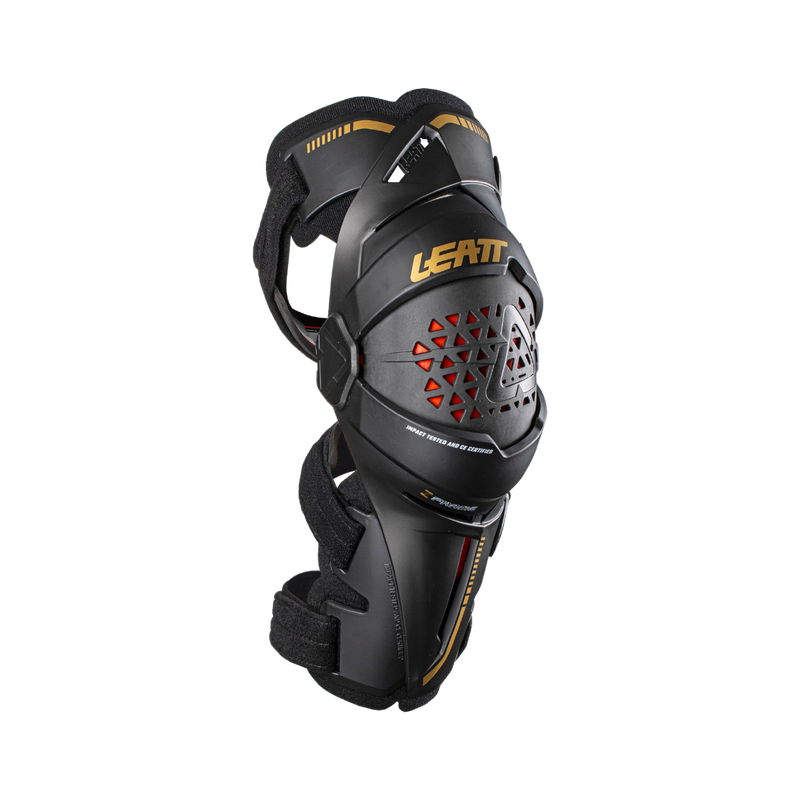 Yep, I was wrong there, too. It takes a little getting used to when you're putting them on (do it wrong, and they'll pinch like crazy). Once you get it right, however, and the knee braces are on, you forget you're even wearing them… until you smash your knee into a rock and walk away unscathed, that is.
Leatt Quality
The protection level was exactly where I wanted it to be. I had multiple low and high-speed crashes at Hellas, and the knee braces withstood them all while the neck brace kept my neck safe whenever I careened off the bike landing at odd angles.
The really cool thing about Leatt gear is that they use surgical precision when designing their protectives – literally. Dr. Chris Leatt, the founder of the company, has a background in neurosurgery. He developed the neck brace after witnessing a fatal crash at a local motocross race in South Africa where a rider broke his neck. Ever since, Dr. Leatt embarked upon a mission to prevent this type of trauma in the off-road motorcycle racing world.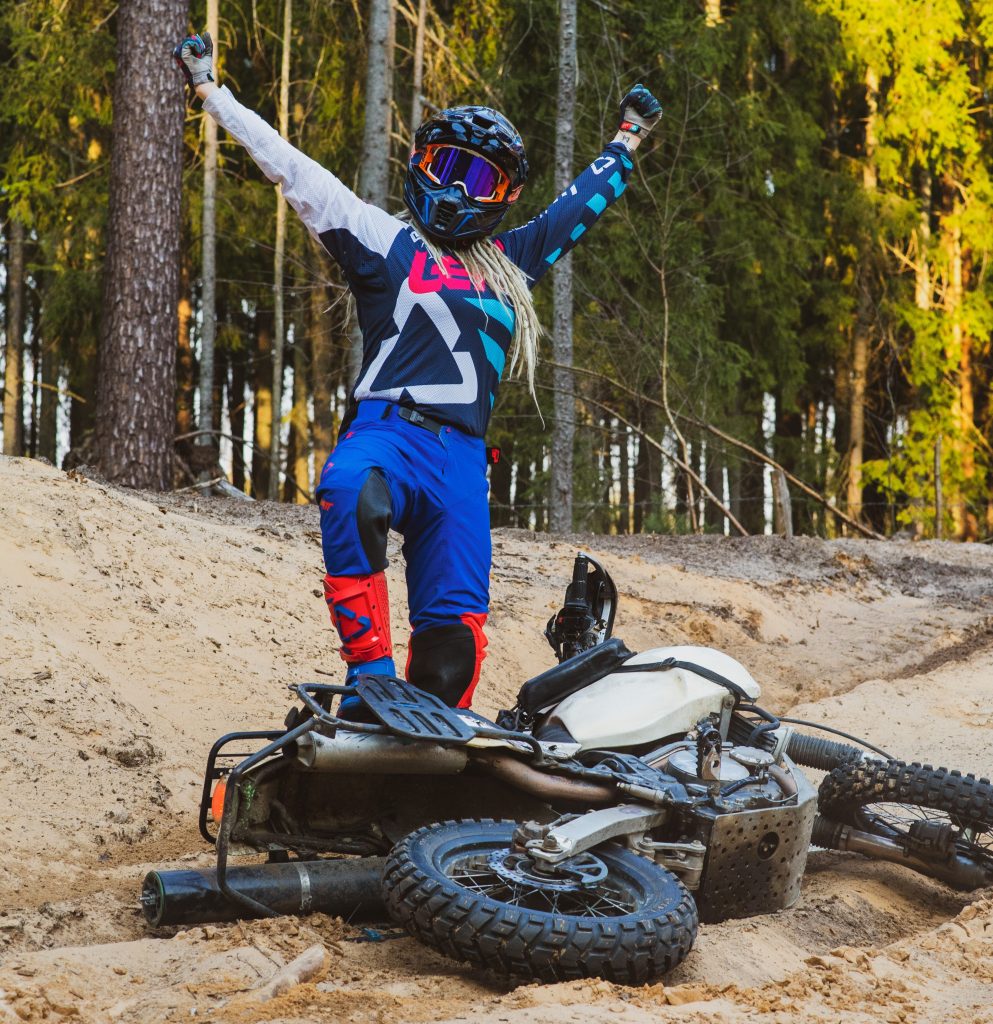 But it doesn't stop there. Every single piece of Leatt gear is designed in Leatt Labs where the gear designers work with doctors and surgeons to figure out the best way to prevent injury. That is, knee braces are designed with the help of knee surgeons, for example. This is the policy Leatt sticks to with all their protectives. If you ask us, that's damned impressive – it means they're really nerdy about what they do, and the result is unparalleled quality.
Okay, so the quality and the protection are there. What about function and comfort, especially for adventure motorcycling?
Adventuring in Leatt Gear
At first, I wasn't quite ready to part with my Klim suit. After all, for all the long distances on tarmac or easy, graded dirt roads, it still worked well. There was no hassle of gearing up for battle like you're Arnie in the Terminator, and it just worked well for traveling. But that resulted in me lugging my Leatt body armor and knee braces in my panniers, which, let's face it, is not a good use for motorcycle luggage (I even sacrificed my camping gear for this).
This wasn't going to work long term; I needed to make a choice.
Luckily, that's about the time when I noticed Leatt had an enduro-style jacket, the Leatt GPX.
Lightbulb moment!
I could wear all my badass armor underneath, throw a pair of GPX pants and the GPX jacket over, and voila! It would work for all the adventure motorcycling I was aiming to do. Soon, Lennart joined me in the same direction – full-on Leatt exoskeleton plus the lightweight yet sturdy GPX outer shells over the armor.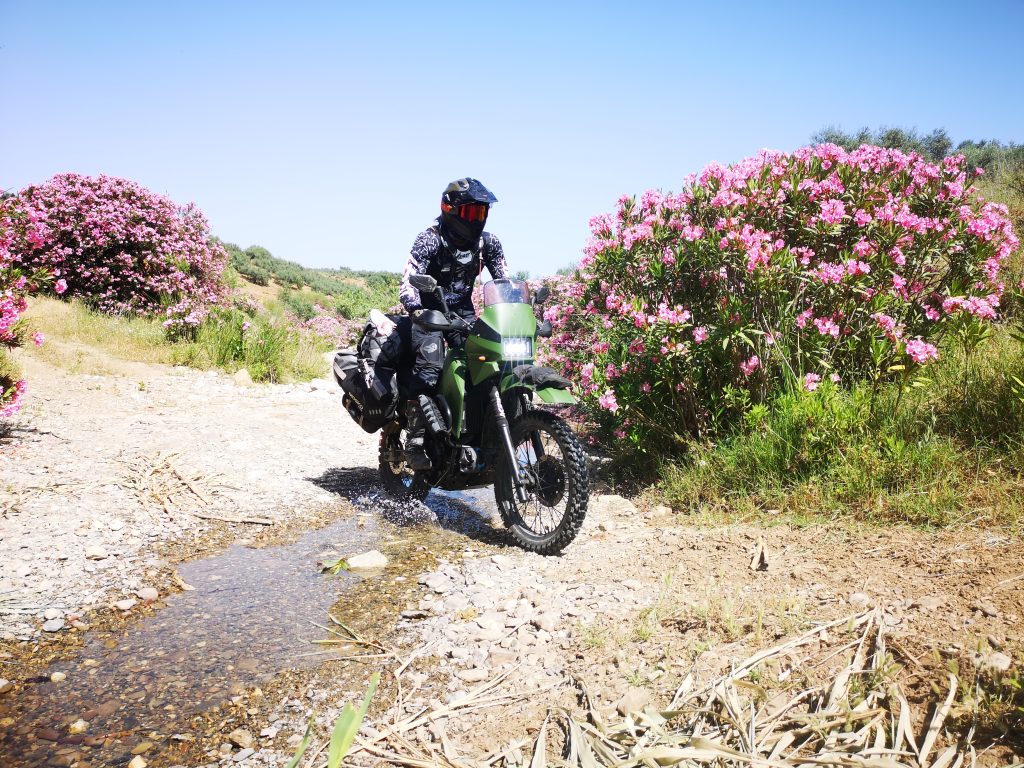 The beautiful thing is this setup works when you're in a hot desert and a chilly, high-altitude mountain pass alike. That's the thing with layering – if it gets too hot, we take off the GPX jackets, roll them under the duffel bags, and wear lightweight jerseys over the armor. If it gets cold, the GPX jackets are surprisingly warm and windproof despite being thin. When it rains, I use the Leatt rain shell over the jacket.
I've had this thing for years and it's still going strong against wind and rain whenever needed. When not needed, it packs tiny.
What's the downside?
The only downside is, it takes a while to gear up. Instead of just jumping into your pants and jacket, you've got to put on your impact shorts and your long socks, secure your knee braces, put on your pants, stick the whole thing into the boots, put a moisture-wicking undershirt on, put the armor on, put the jacket on, and clip the knee brace on top.
In other words, it's a little more hassle than just putting the ADV suit on. For us, however, that's a fair enough trade-off – and once all the gear is on, we know we'll be safe no matter where we're headed.
If you're not into layering, it can feel a tad uncomfortable at first. It's a lot of layers! But layers also mean you can shed them and put more on as needed, so you're never stuck with just one set of gear and can easily adapt to hot, cold, or rainy conditions.
Plus, no one said you must stick to Leatt gear for all your layers. Instead of using the GPX jacket, you can look into what Mosko Moto has done – they've got some pretty neat outer shells for ADV and off-road riding. (By the way, Mosko guys and gals use Leatt for their armor, too. Go figure!)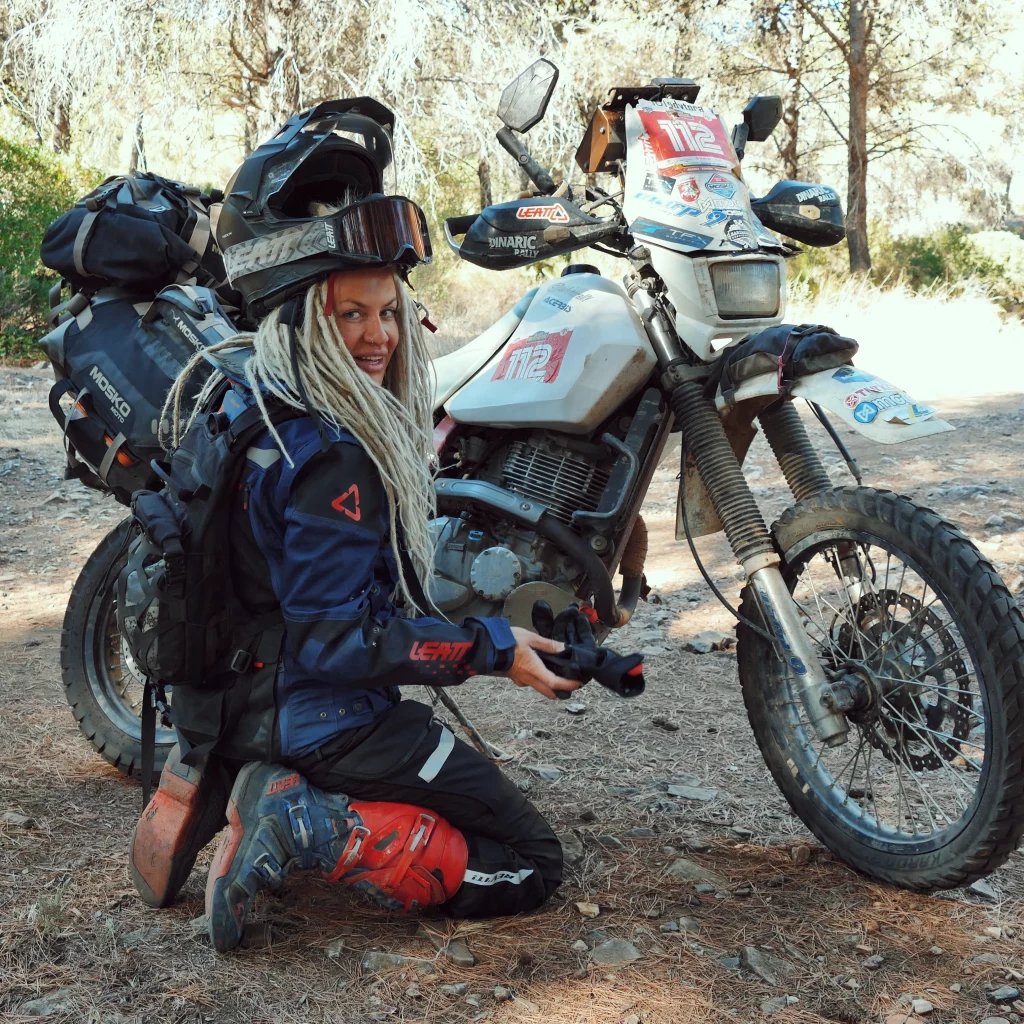 I've combined Leatt armor with different pants (if that's what you're aiming to do, just make sure they're knee-brace-friendly), and you can mix and match different gear however you like. It's up to you to find that perfect fit. The good thing is, Leatt armor and knee braces work with just about any outer shells or jerseys. The neck brace comes with an adjustable set of straps you can use over a different jacket or another off-road setup.
Below, we're listing our favorite Leatt gear we've tried and tested over the years:
Leatt Neck Brace
Leatt is probably best-known for its neck braces, and we wear ours both on and off the road. They're easy to put on and forget – you really do not feel the difference at all.
But what do these things actually do?
In a nutshell, Leatt braces are designed to prevent neck, collarbone, and cervical spine injuries. To put simply, if you happen to land on your head, the neck brace will reduce the forces of the impact by transferring them to the muscles of your body rather than your neck bones.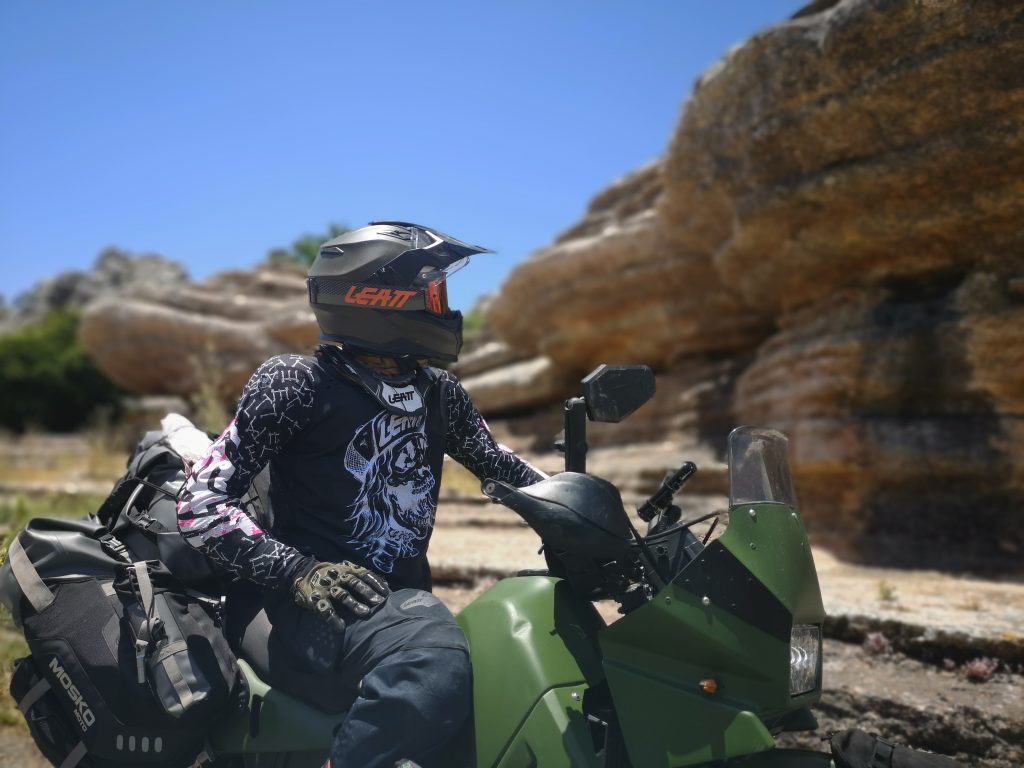 Now, I have landed on my head three times to date. Once, I felt a little over-confident about a jump, went over the bars, and found myself flying into a ditch head-first. I walked away with a mild concussion and nothing more because I had my Leatt brace on.
The second time was me misjudging a steep and narrow ascent, hitting a massive tree root, and taking a dive down the edge of a near-vertical ravine. Another head landing, another concussion, but once again, nothing more, even though the doctors at the ER first sent me for a scan to check for spinal cord injury. Yep, I was wearing my neck brace that time, too.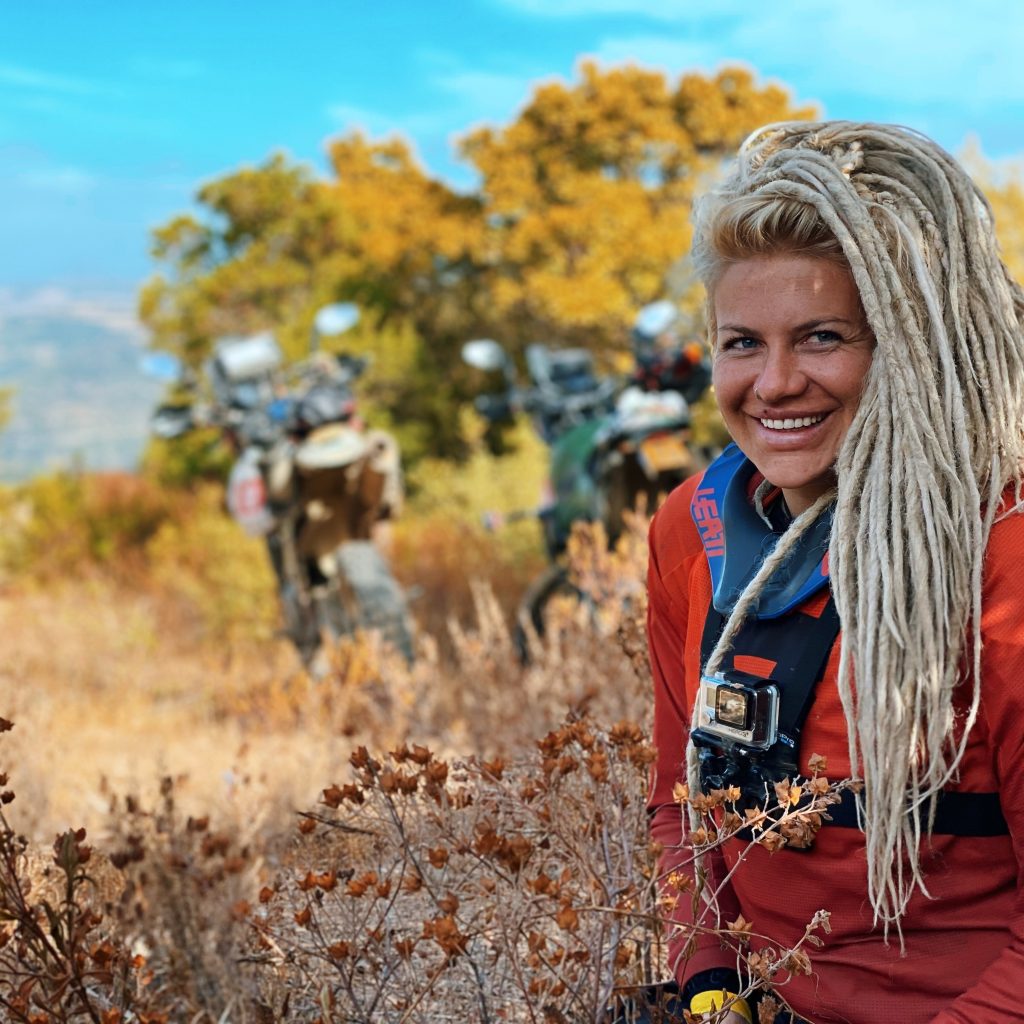 The last one was me eating dirt after losing the front of a 250 Husky on a gravel road and falling flat on my face, the force of the impact turning the helmet on my head sideways (now that was claustrophobic for a second). The result? Slightly bruised ego, a trashed helmet, and a torn jersey sleeve.
Of course, it's impossible to say that it was the Leatt brace that saved my neck on all these occasions. Maybe I was just lucky. But I'd rather have both luck and Leatt on my side.
Leatt Body Armor
Lennart and I wear the Leatt GPX 5.5 Body Armor, and it's my favorite piece of Leatt gear. It fits very snugly, and despite being chunky – it has chest, back, shoulder, and elbow protection – it's surprisingly comfortable and lightweight.
Plus, it's got a wide kidney belt integrated into the armor, which probably supports the weight somewhat. The protection is amazing, the comfort level is great, and it fits under most outer shells, jerseys, and jackets. I've worn my GPX 5.5 for years now, and it's still in great condition despite multiple crashes, weather fails, and constant abuse.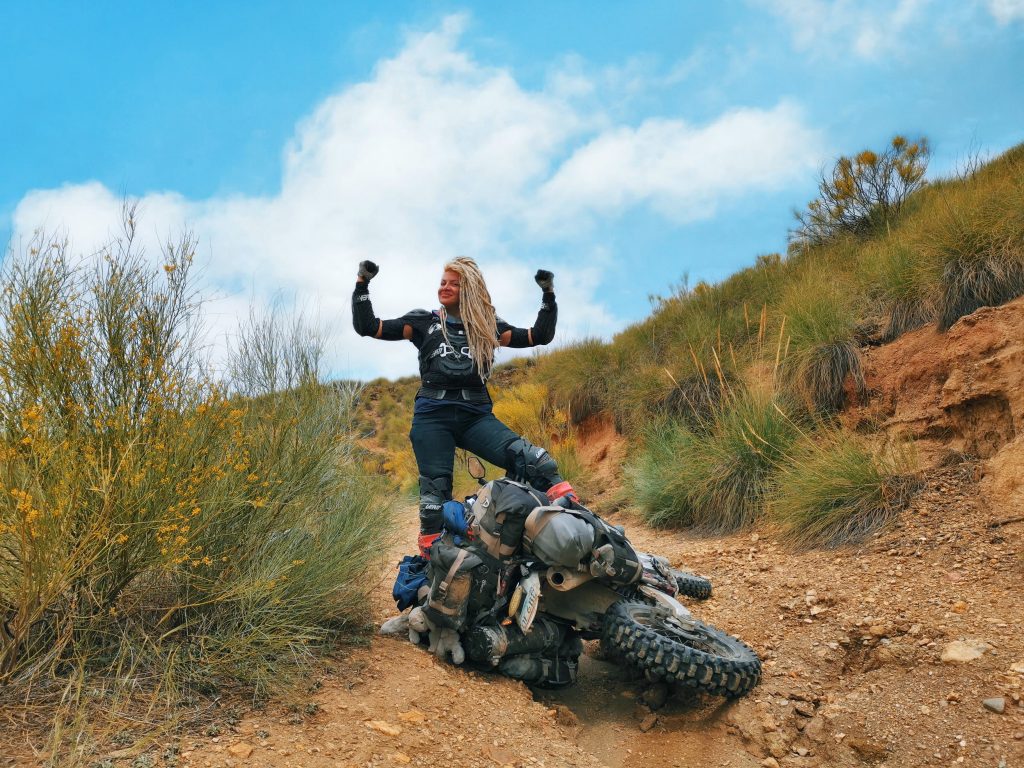 As we mentioned before, you can mix and match your gear however you like to find what works best for you, but if you're only looking for armor, Leatt gear is definitely something to try out.
Leatt Knee Braces
Even with rally racing, I first thought the Leatt knee braces were a bit of an overkill. Then, overshooting a corner in a dry riverbed at the Hispania Rally, I flew into a heap of sharp rock and boulders, crashed landing on my left side, and the bike landed on top of my leg.
The pain was so bad I was certain I'd broken my leg; it turns out, I only tore a thigh muscle – right above the knee brace. The tear was painful as hell, and I still have a weird dent in my leg where the torn muscle has healed unevenly, but I shudder to think what would have happened to my knee if I didn't have the Leatt braces on.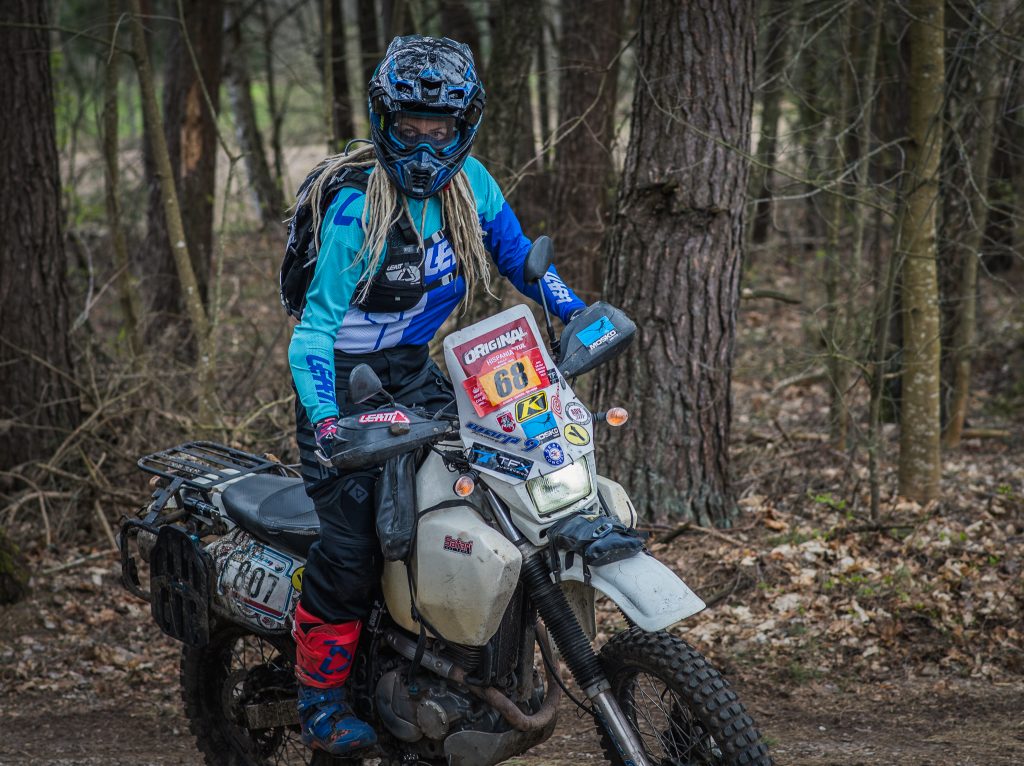 Lennart and I wear the Leatt Z-Frame knee braces, but there are several options to choose from. The cool thing is that the knee braces are adjustable for a snug fit, and once you learn to put them on and fit them correctly, you don't even feel you're wearing them while riding. It takes a bit to get it right, but once you do, you've got serious protection and plenty of comfort.
Pro Tip:
Don't get too clever for your own good and wear the knee braces over the pants – at least, not jeans. I thought I was being smart wearing the knee braces over my Dyneema jeans this one time in Spain, but the seams of the jeans rubbed and chafed my skin raw with the braces over them. Do yourself a favor and wear your knee braces properly – long knee brace socks first, braces second, pants third.
Leatt Boots
Another favorite piece of Leatt gear of mine, the Leatt 5.5 Flexlock boots have something most other MX boots don't: comfort.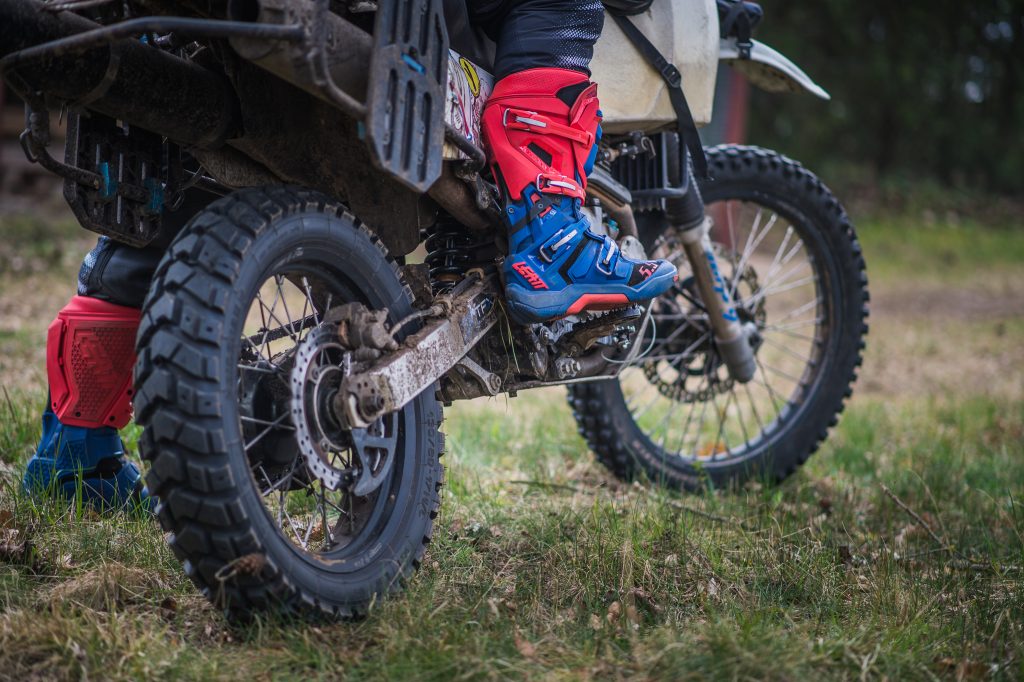 I switched from ADV to MX boots some six years ago because, once again, protection is my number one priority. MX boots have much better protection, but they aren't waterproof, and most of them aren't exactly comfy to walk in.
My first MX boots were Gaerne SG12's, and while they were protective, it felt like my feet were encased in cement. Then, I switched to Sidi Crossfires; to be honest, they're great boots. The Crossfires were much more comfortable than the Gaernes, and they lasted long.
The FlexLock, however, is a game-changer. The fit is snug without feeling restrictive, and I can spend hours on the bike, run around the bivouac, and take a short hike in them without feeling like I'm getting blisters.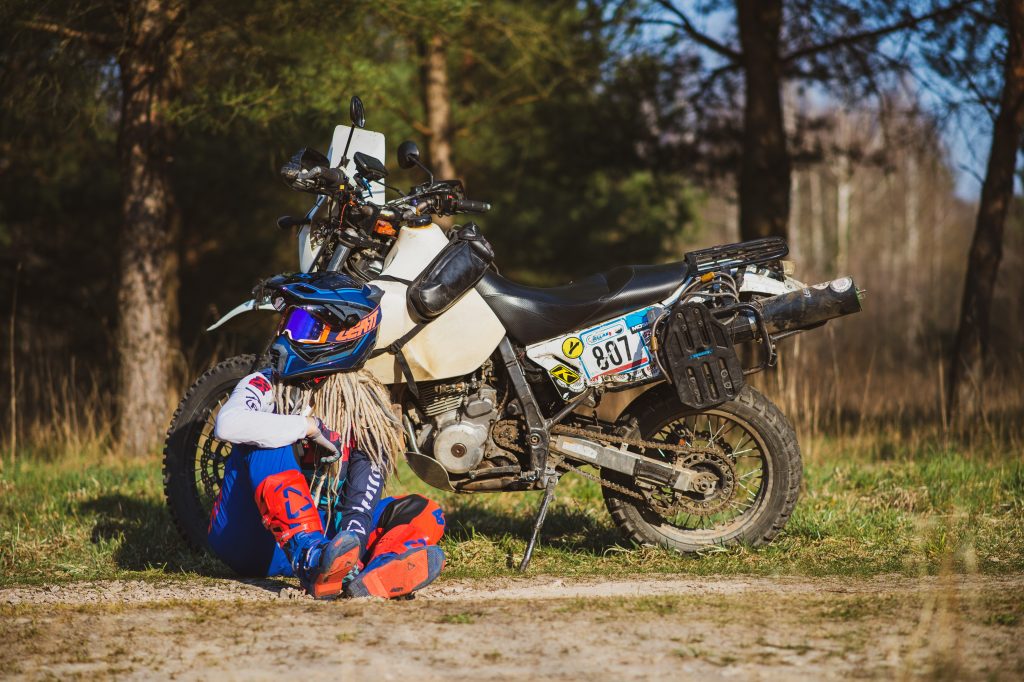 And, just like with anything Leatt, the protective factor is amazing. I've managed to crash getting my foot twisted and stuck under the bike during the SWANK Sardinia Rally just recently, and it felt like my ankle didn't fare too well – but, once the pain subsided, I realized I didn't even sprain it. I've had the FlexLock boots for nearly two years now, and they're still pretty much good as new. Lennart has had his for a year and had one spectacular dismount attempting a wheelie when the bike flipped over and landed on his leg. The result? A couple of scrapes, but his shin, ankle, and foot were perfectly fine.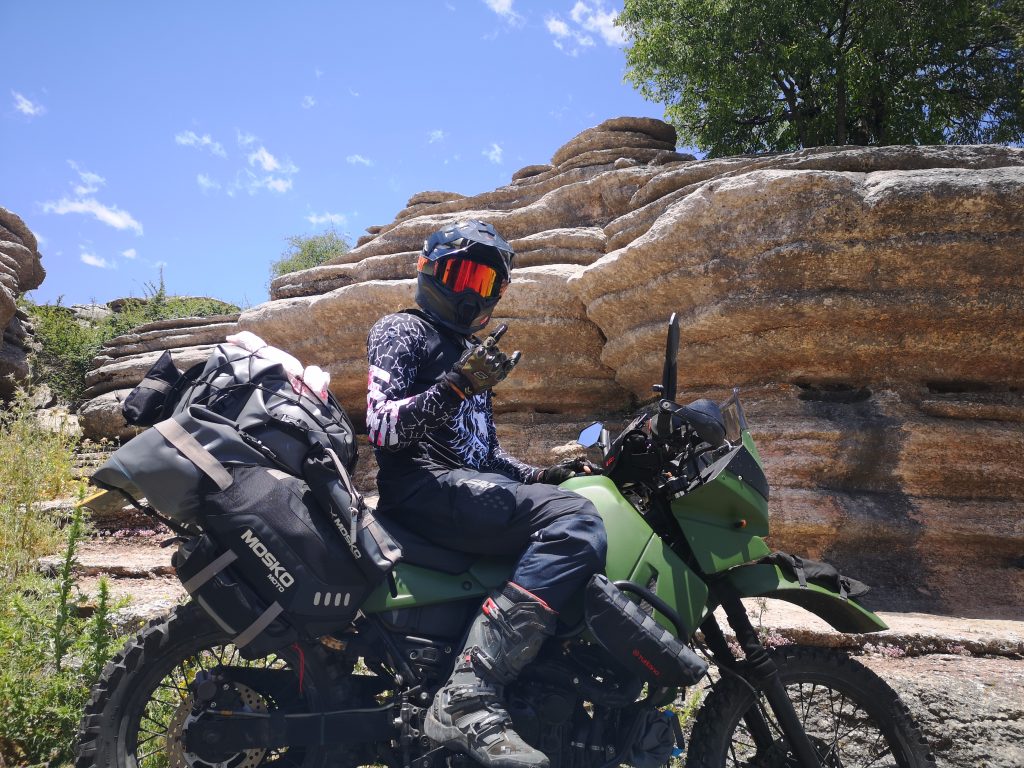 Even if you aren't as crash-prone as me and don't typically wheelie your bike over, having sturdy, durable, and tough boots are essential for safe riding.
Leatt Jackets
Leatt has a wide range of lightweight outer shells meant for high-intensity off-road riding and racing, and you can take your pick: from ultralight race cover jackets to enduro-style ones, there's probably something for everyone.
Lennart and I wear the Moto 5.5 Enduro jackets which are sturdier and more ADV/enduro than pure off-road/MX/rally, the reason being that we still have to do highway miles and long distances as we travel. In essence, the Moto 5.5 Enduro jacket is like a super light adventure jacket – it's got all the nifty pockets (including a large back pocket), vents, and the cut and style of an adventure jacket, but it's much lighter and more adjustable. If it gets hot, you can zip the sleeves off; if it gets cold, there's an additional windproof collar you can zip on.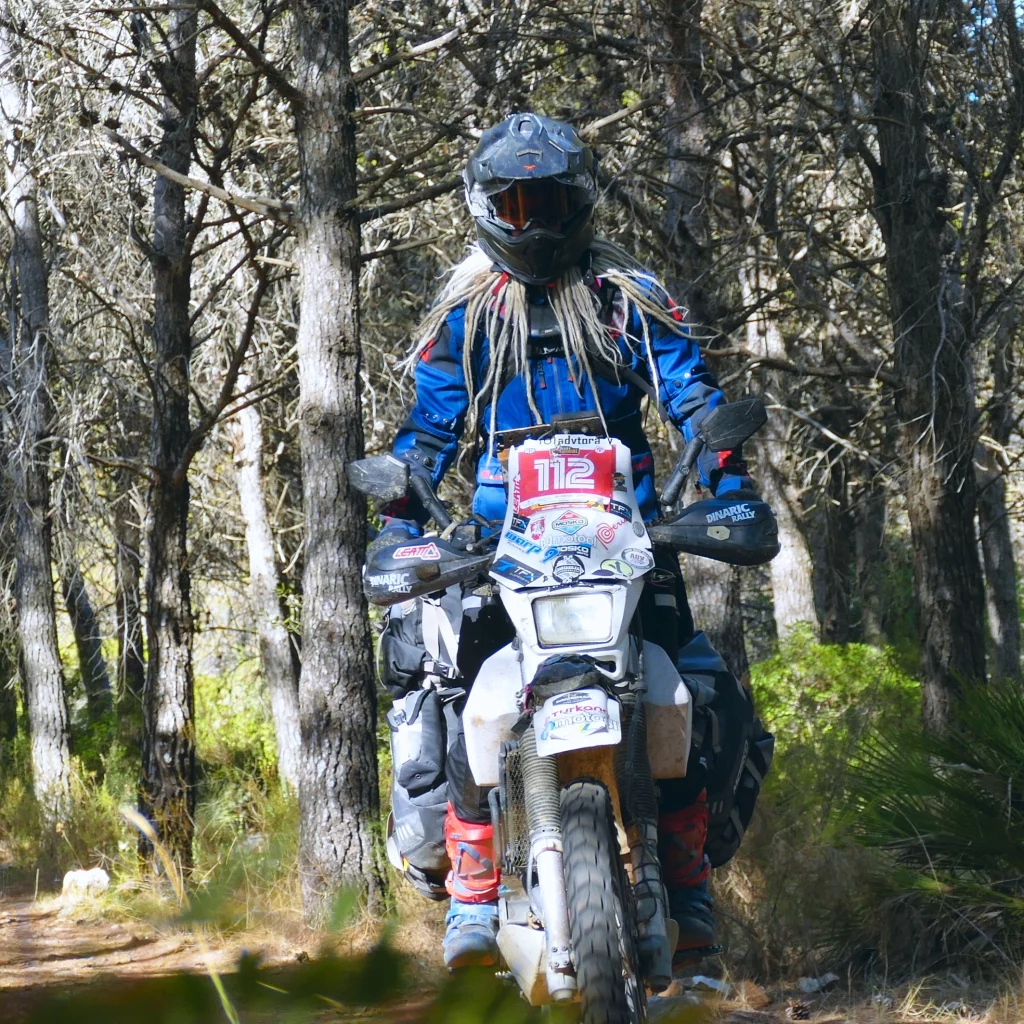 The jacket fits over the body armor, and it has a slot for the neck brace. When it's cold, I sometimes put several layers plus the body armor on, and the jacket still fits over all my thermals due to the adjustable waist and sleeves. It's water-resistant, but it's good to have an additional lightweight waterproof shell for torrential rain days.
When it's very hot, we roll up the jackets (they pack surprisingly small) and use jerseys over the body armor, and when it gets chilly, the 5.5's come out again.
Leatt Pants
Much like with jackets, Leatt has a wide range of pants, but for us, the Moto 5.5 Enduro pants work best. Instead of being a straight-up motocross pant, the 5.5 Enduro is like a crossover between pure MX and ADV: the fabric is sturdier, you've got generous pockets and vents at the front, the inner knees have leather pads for grip, and there's plenty of room for the knee braces. Lightweight MX pants just don't last long for me (by now, you can already guess why), but the 5.5 Enduro has been great over the years despite my numerous attempts to destroy them.
Lennart has tried several different pants and has kept the 5.5 Enduro, too – it's just a well-made, well-designed, straightforward pant that does what it's supposed to, no fuss, no muss.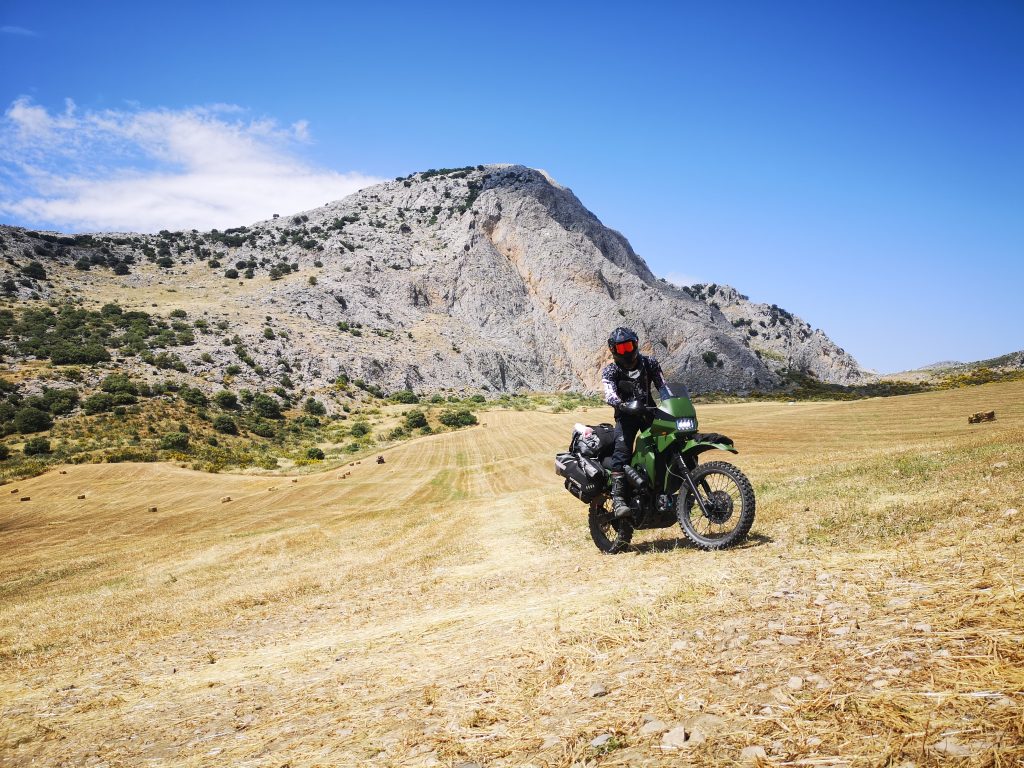 Can You Go Adventure Motorcycling in Leatt?
So is Leatt a good idea for adventure riding? If you mostly stick to off-road trails, the answer is yes, absolutely.
Leatt gear really is that good in terms of protection, durability, toughness, and comfort, and we haven't found a better alternative yet – to be honest, we don't think we need to look for one. From boots to goggles, Leatt gear works exceptionally well, and we'll be sticking with them for all our off-road and rally shenanigans.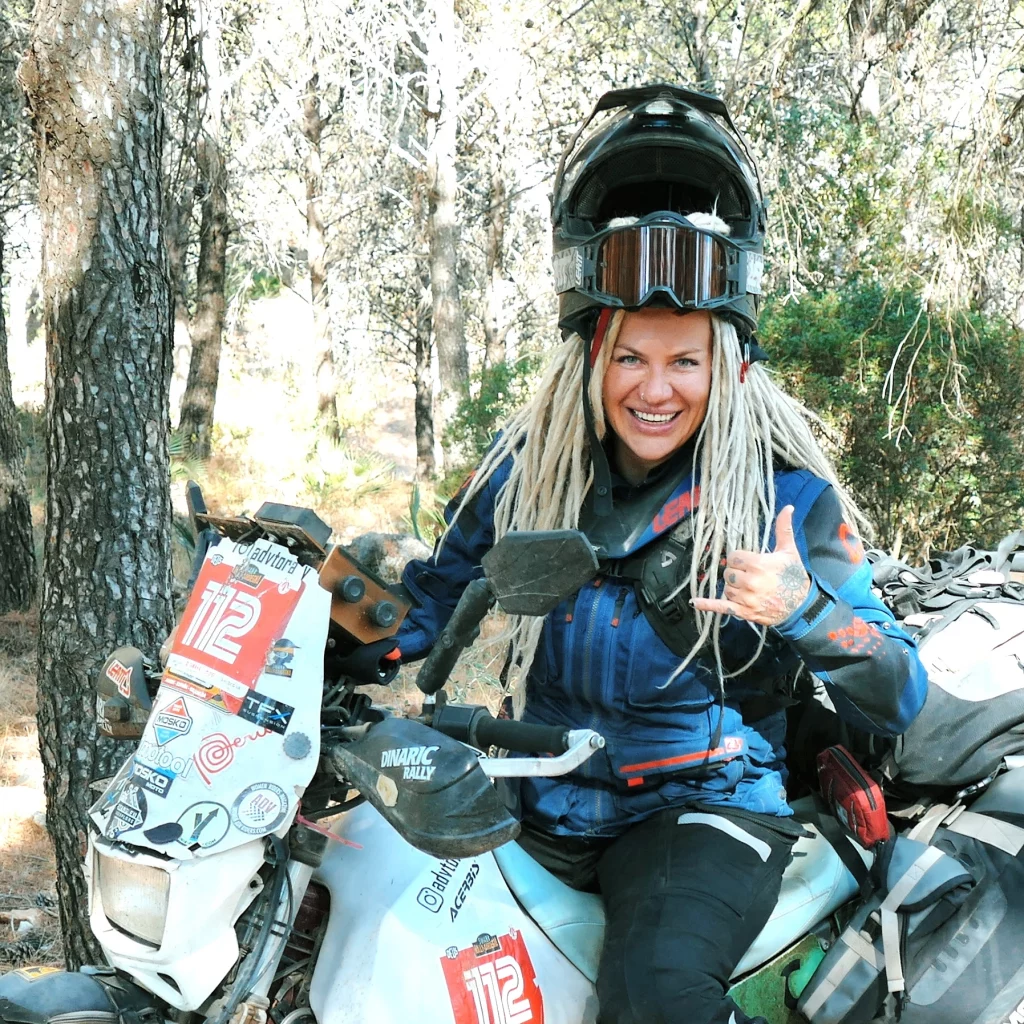 Our only gripe with Leatt is that they do not offer ADV-style helmets yet; if you always ride with just the goggles, they've got great off-road helmets in their range. We prefer helmets with visors (even though we mostly ride with goggles) for when it rains, so we'll just have to wait – but I bet Leatt already has something cooking when it comes to ADV helmets.
Leatt Setup
The bottom line is, Leatt gear is a good investment if you need stuff that's highly protective and can withstand lots (and I mean lots) of abuse for years. If I had to pick just four items of Leatt gear, I'd first get a neck brace, the knee braces, the boots, and the body armor; next, I'd look at their pants and jackets, and I'd definitely stick with their Bulletproof (literally, apparently!) goggles. I've heard rumor they may be coming up with some new armor options for women, which is exciting, and I can't wait to see what they'll do with rally and ADV gear if they choose to go down that road.
The best part is, you can mix and match Leatt gear with stuff you already have – that's the beauty of modular gear. You can mix it, adjust it, and pair it whatever you like, no fuss, no muss.
What gear do you love? Share the good stuff in the comments below!