The short answer? The set you currently own.
The long answer is this: women's adventure motorcycle gear is a tricky subject, but it's 2022 now – not 2012 – and a lot has changed for the better.
As someone who has ridden in no gear (bad idea – don't do this), crappy gear, second-hand gear, men's gear, and women's ADV and off-road gear, I feel like I've gone through it all.
Having started riding in 2013 in Peru, I had zero clue about good gear. So much so, in fact, that I thought protective motorcycle gear was for racers. You know, for professionals; little old me on a 150cc bike, I figured, didn't quite qualify for fancy leathers or a full-on ADV suit.
Then, I crashed and skinned my left leg to the point of discovering what my kneecap looked like up close and personal, and changed my opinion quick smart.
Still, I was completely new to motorcycling back then, traveling the faraway lands of Peru, and unless you shop in Lima, moto gear isn't exactly easy to come by. I made do with sturdy construction boots, work pants, and a Taiwanese helmet till I reached Punta Arenas, Chile. There, I scored my first ADV suit of sorts – cheap men's textile pants and jacket, but the things had armor pads in them, and the fabric was somewhat abrasion-resistant.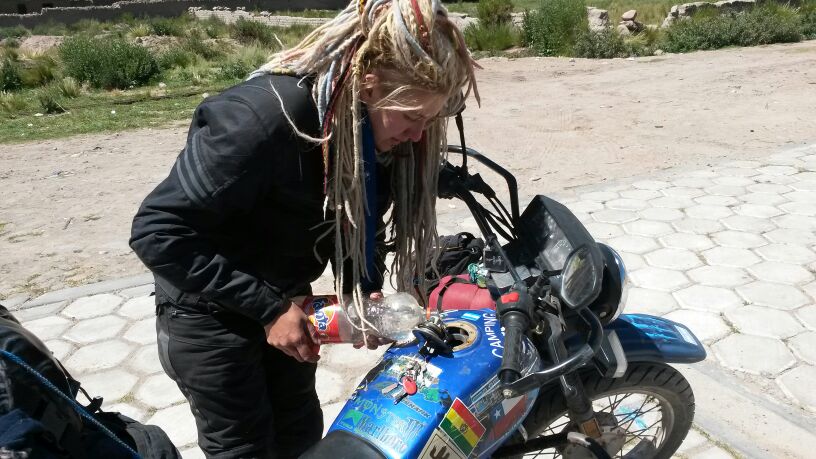 Win!
Women's Adventure Motorcycle Gear, Resized
Once I got back to Europe in 2015, I realized my initial gear assumptions were all wrong. Moto gear, including adventure motorcycle gear, was abundant – that is, if you were looking for men's motorcycle apparel. Women had little choice: either you bought a BMW Motorrad or Touratech suit for an obscene amount of money, or you made do with men's gear.
Or, you'd occasionally find low-quality women's gear clearly made adhering to the Pink It and Shrink It principle.
Luckily, gear manufacturers have long since caught up to the fact that gals love riding, too. Now, there's an abundance of women's adventure motorcycle gear in all price ranges.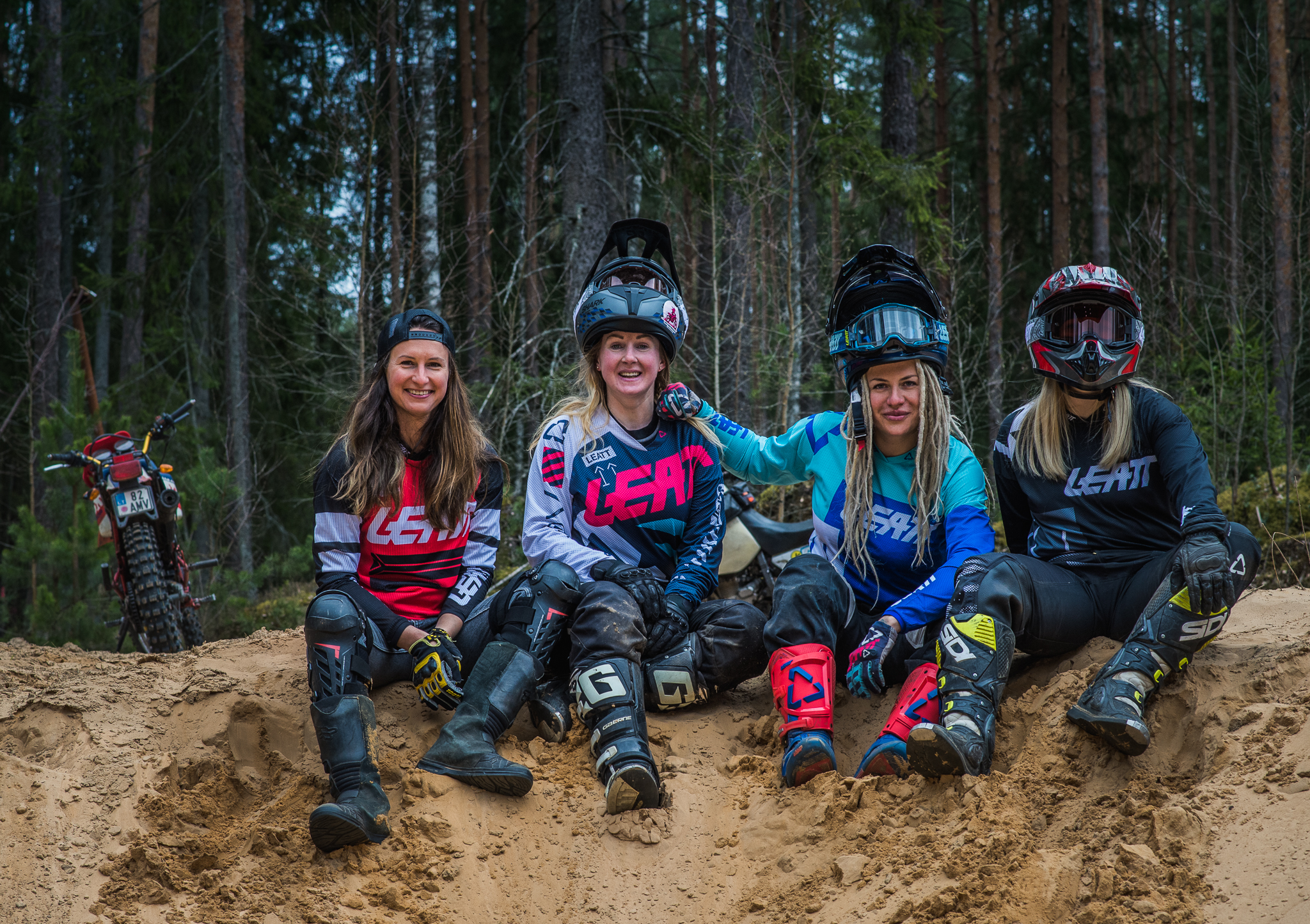 But what should you pick?
Women's ADV Suits Explained
First thing first: what kind of riding do you do, or plan to do? If it's mostly on-road, a full-on adventure suit may not be necessary. If you're a dirt bike maniac, on the other hand, adventure gear might be too hot and heavy and not offer enough protection.
However, if you ride both on and off the road, need gear that's tough, protective, and aimed at four-season riding, investing in a good quality women's adventure motorcycle set is usually a good idea.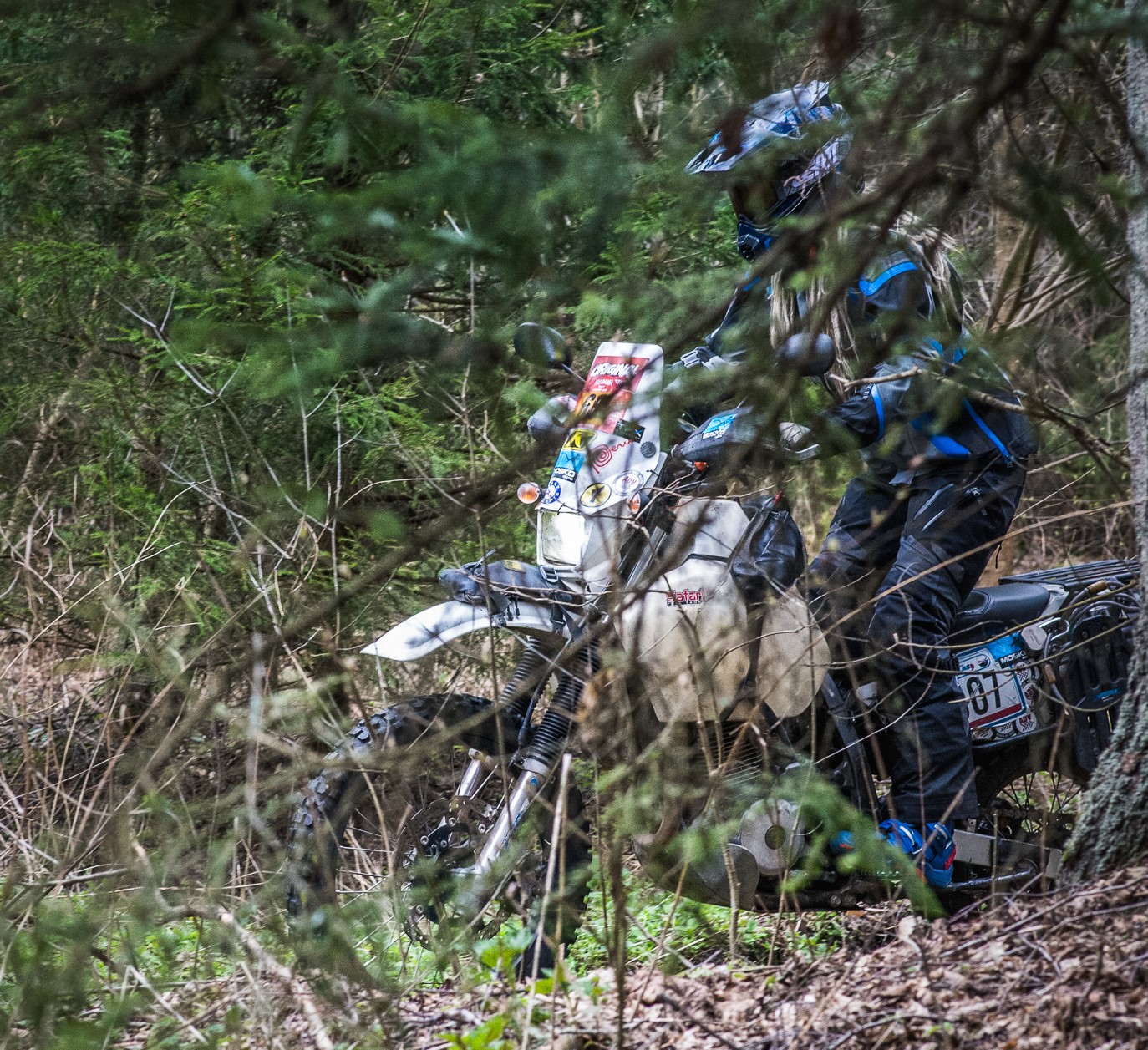 Not all adventure riding gear is created equal, however. The quality of the fabric (look for stuff that's abrasion, tear, and heat resistant) and armor matters a lot.
So does the cut, the fit, and the functionality. Ill-fitting gear isn't safe, because if the armor pads aren't sitting where they're supposed to, they won't be much use in case you crash. If the gear isn't comfortable, the ride won't be comfortable, either.
Finally, how much function do you want? Light summer mesh jackets and pants are great for those hot days, but when it rains, you'll need to layer up. If you pick a four-season jacket and pants, make sure they've got plenty of vents for the warmer weather. In other words, if you're going to part with a large chunk of change for your ADV gear, make sure it's as functional as humanly possible.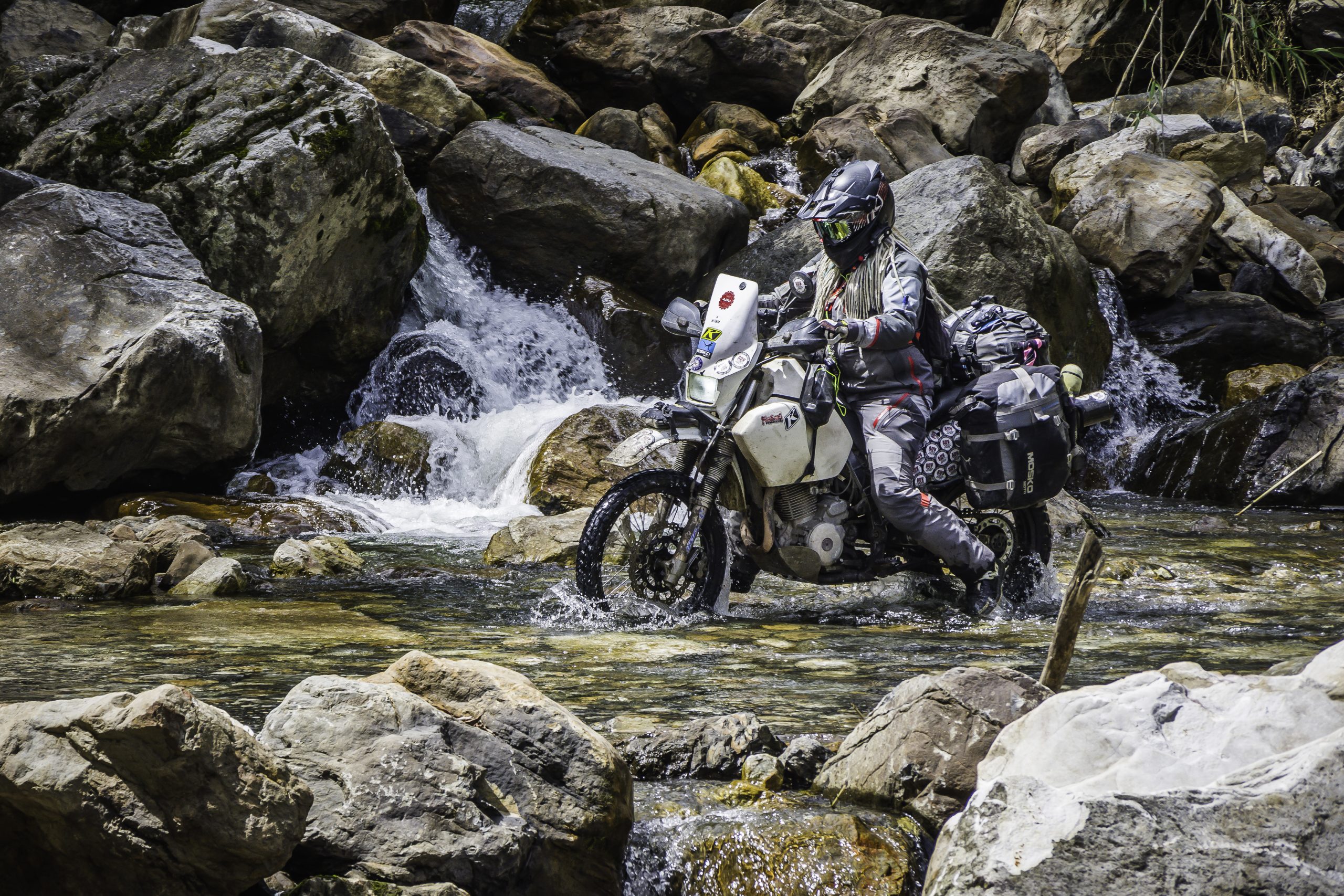 Klim Artemis Women's ADV Suit
For me, tough, durable, four-season women's adventure motorcycle gear is the best option for long-distance travel. My favorite ADV suit is the Klim Artemis: I've ridden Central and South America with it, raced two rallies, and spent months abusing it during moto expeditions in Colombia, Ecuador, and Spain.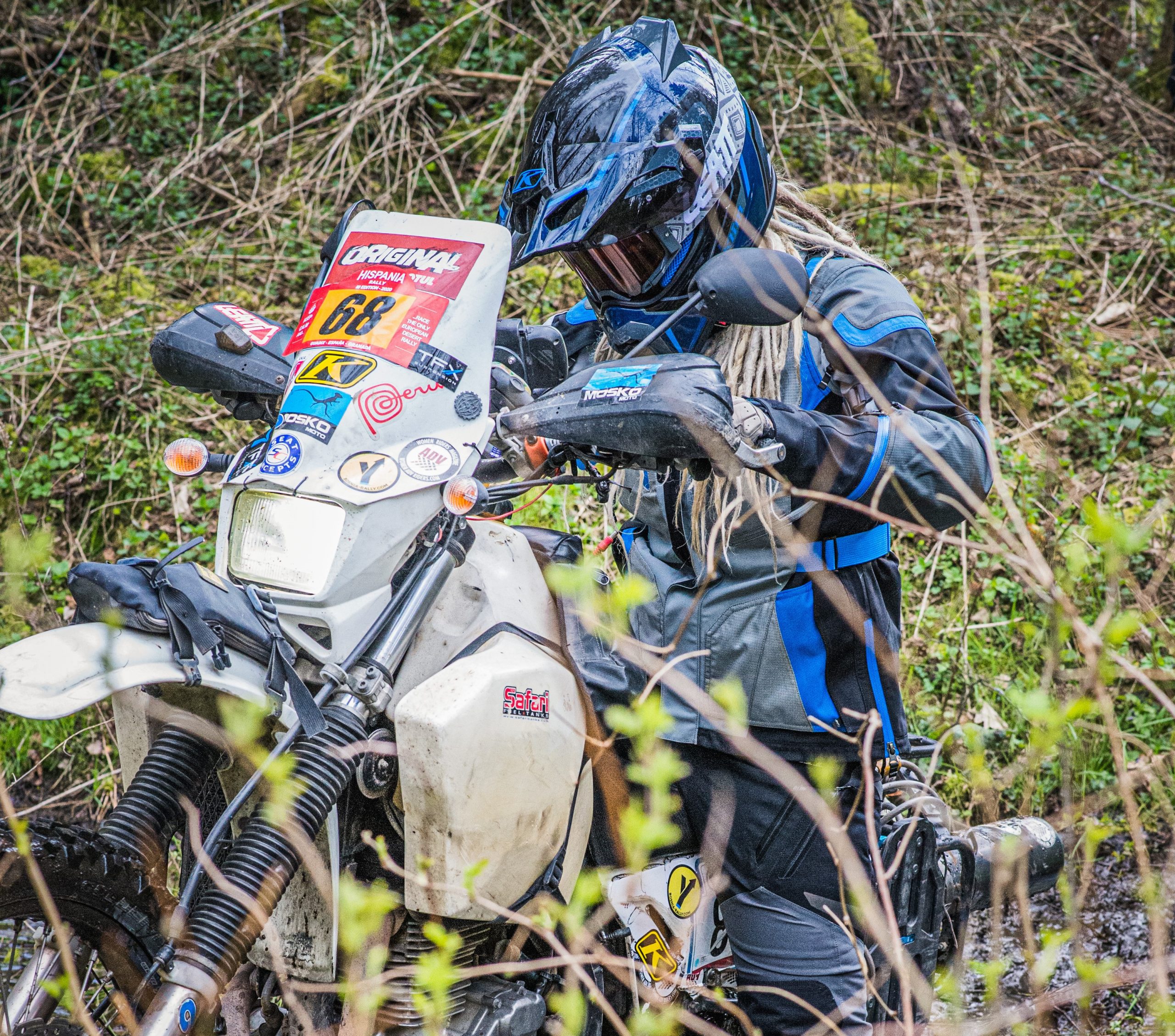 I've crashed at high and low speeds wearing the Artemis and walked away unscathed. I quite literally dragged it through mud, wore it in temperatures ranging from 100F (38C) to 23 F (-5C), and ridden through torrential downpours with it. It's withstood it all – and is still in a decent condition after years of abuse.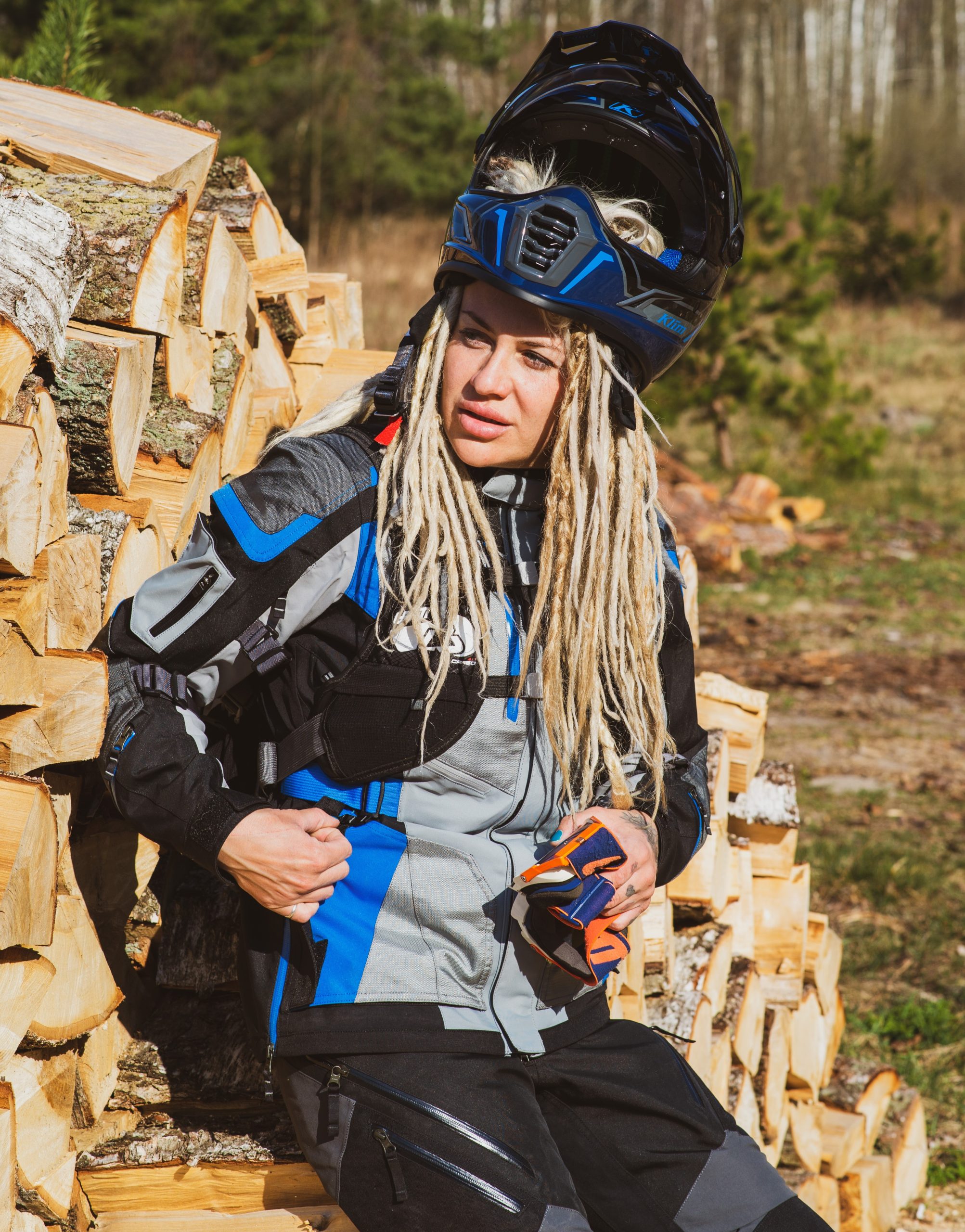 The quality aside, I love the abundance of vents and pockets in the jacket and pants. The design and fit are amazing, and the cool part is, Kilm Artemis was designed by a female rider and gear designer Kelsey Runge. That's a huge bonus in my book, and I'm sure that's a big part of why the Artemis is so well made.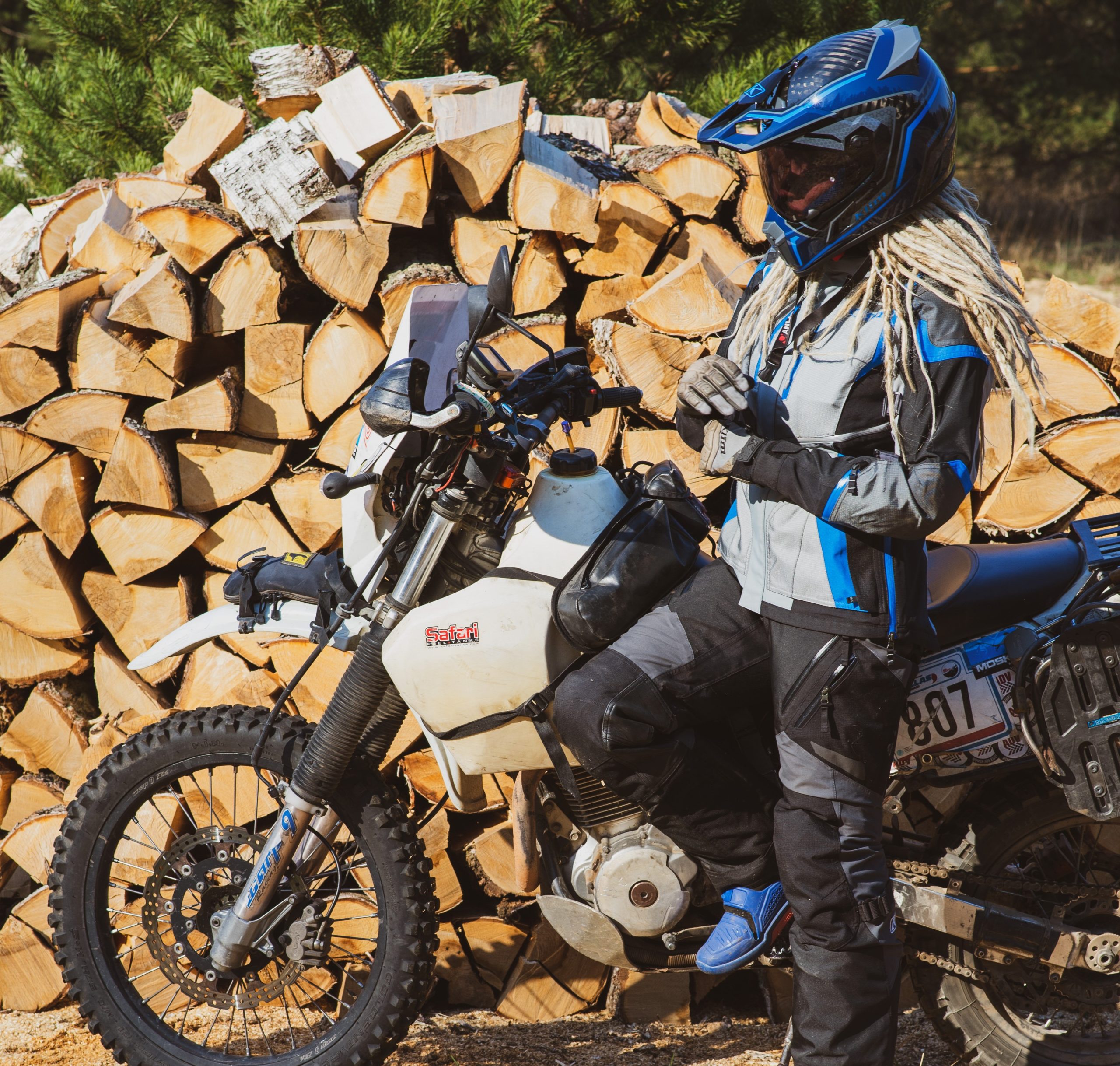 However, the Artemis isn't exactly cheap. On the one hand, the fact that it's going to last you for years to come means you won't need to spend another dime on motorcycle gear in a very long time. But if you're just starting out, budget women's adventure motorcycle gear is available at Alpinestars, First Gear, and similar outlets; alternatively, you can always hunt for second-hand bargains.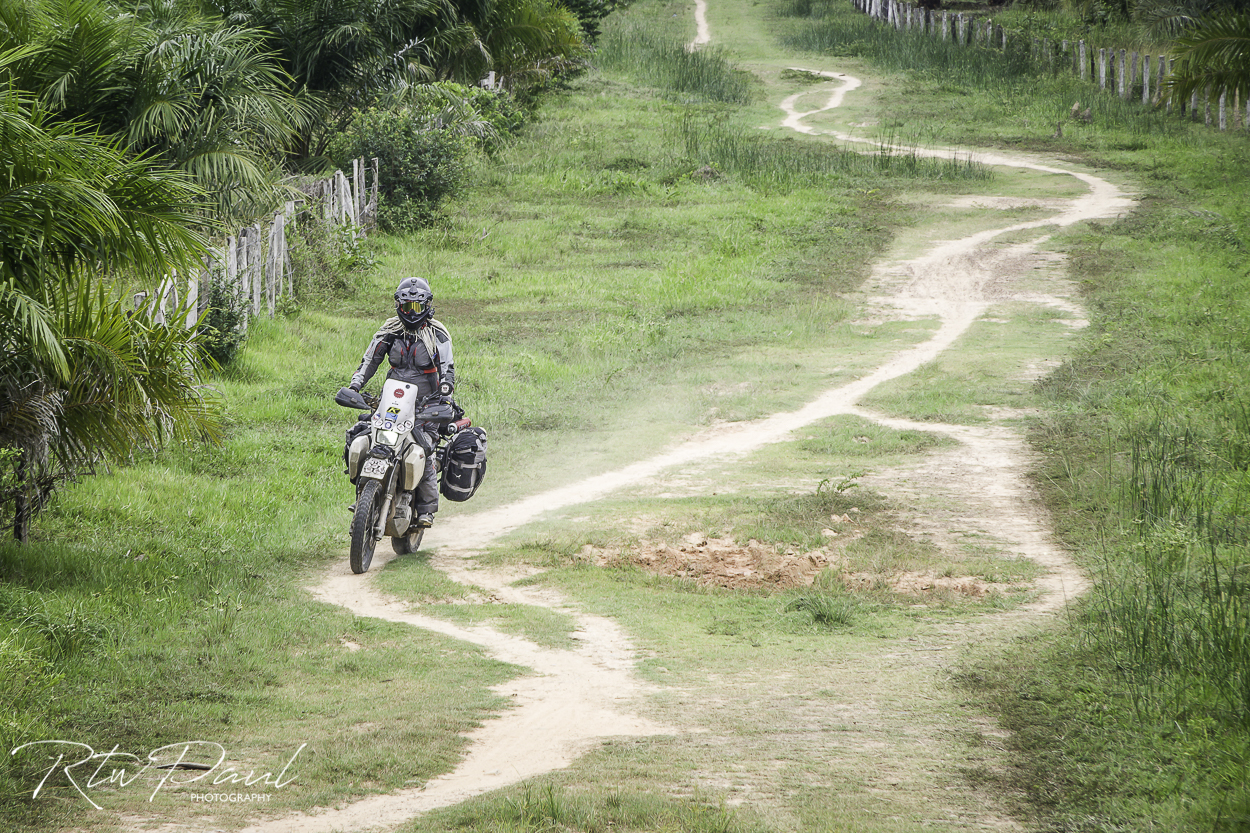 Women's Off-Road Gear
Riding purely off-road? More power to you, but you do need to gear up accordingly. If you're always tearing it up on gnarly trails or plan to start racing, you'll need a hell of a lot more protection than an adventure suit can offer. Ideally, you want chest and back armor, elbow guards, knee braces, and a neck brace with lightweight, motocross-style jersey and pants on top.
When I'm planning to tackle some technical terrain or race a rally, I swear by Leatt gear. True, they don't (yet) have an extensive line of women's gear, but most of their protectives fit the female shape well: my Leatt body armor feels like a second skin, and things like knee braces or knee pads, neck braces, and elbow guards are unisex anyway.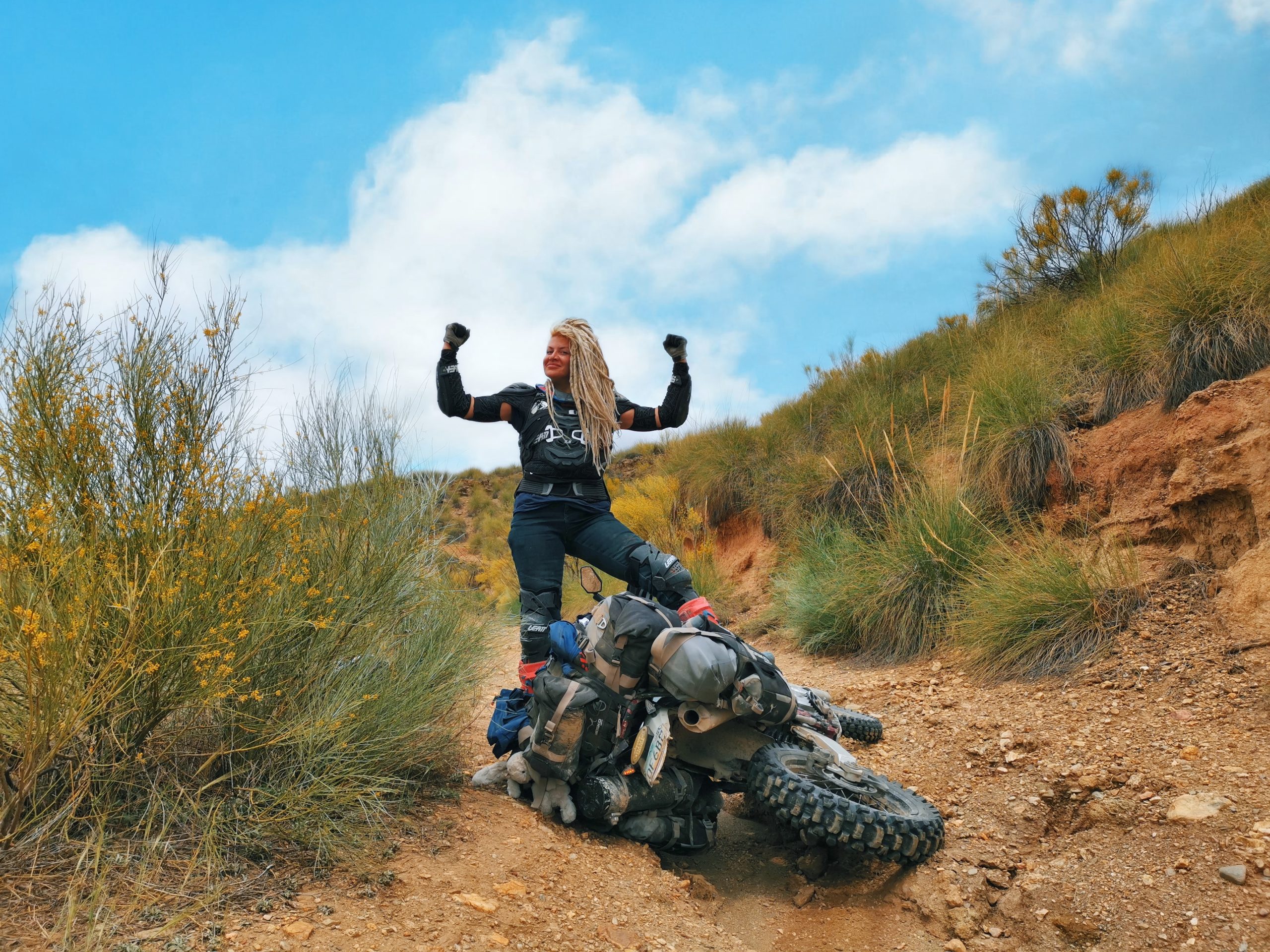 Once you're all armored up, it's time to layer the outerwear. For most off-road riding, a lightweight jersey and MX pants are enough, but you may want to carry a lightweight windproof and waterproof jacket in case it rains or gets colder. Equally, you may want to layer up in slightly sturdier outer shells: Leatt 5.5 Enduro Jacket and Enduro Pants, as an example, is a great fit for off-road and dual-sport riding.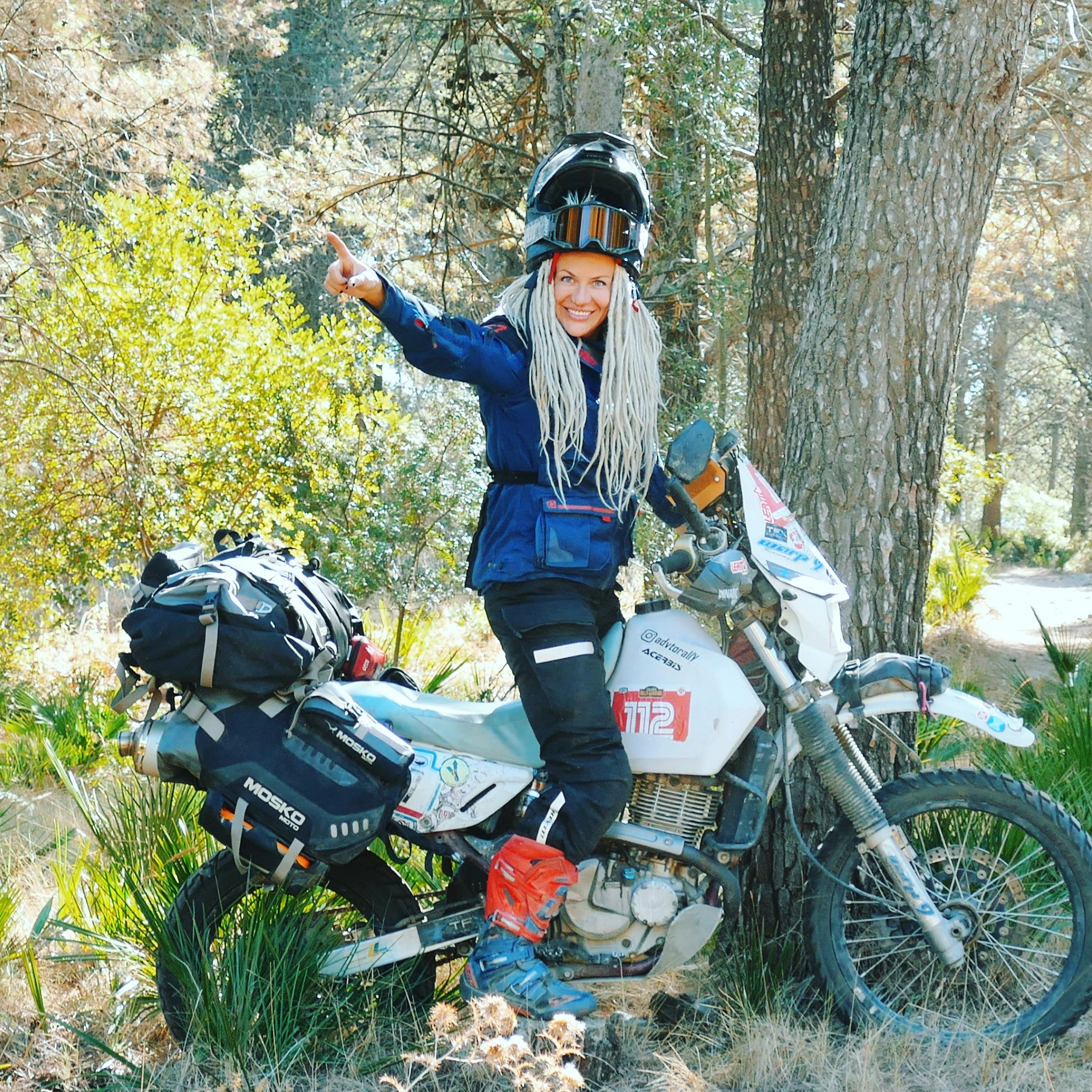 Mosko Moto has some really nifty modular gear for this purpose, too; it's a great fit if you plan to do some longer trips on dirt trails or fly and ride.
Women's Adventure Motorcycle Helmets
Now for the most important piece of protective gear you'll need: a helmet. These things aren't exactly male or female-specific, so you've got plenty of choices there. Most ADV helmets have a visor (and sometimes, a drop-down sun visor, too), a peak that's handy when you're riding West at sunset, and you can use them with goggles as needed.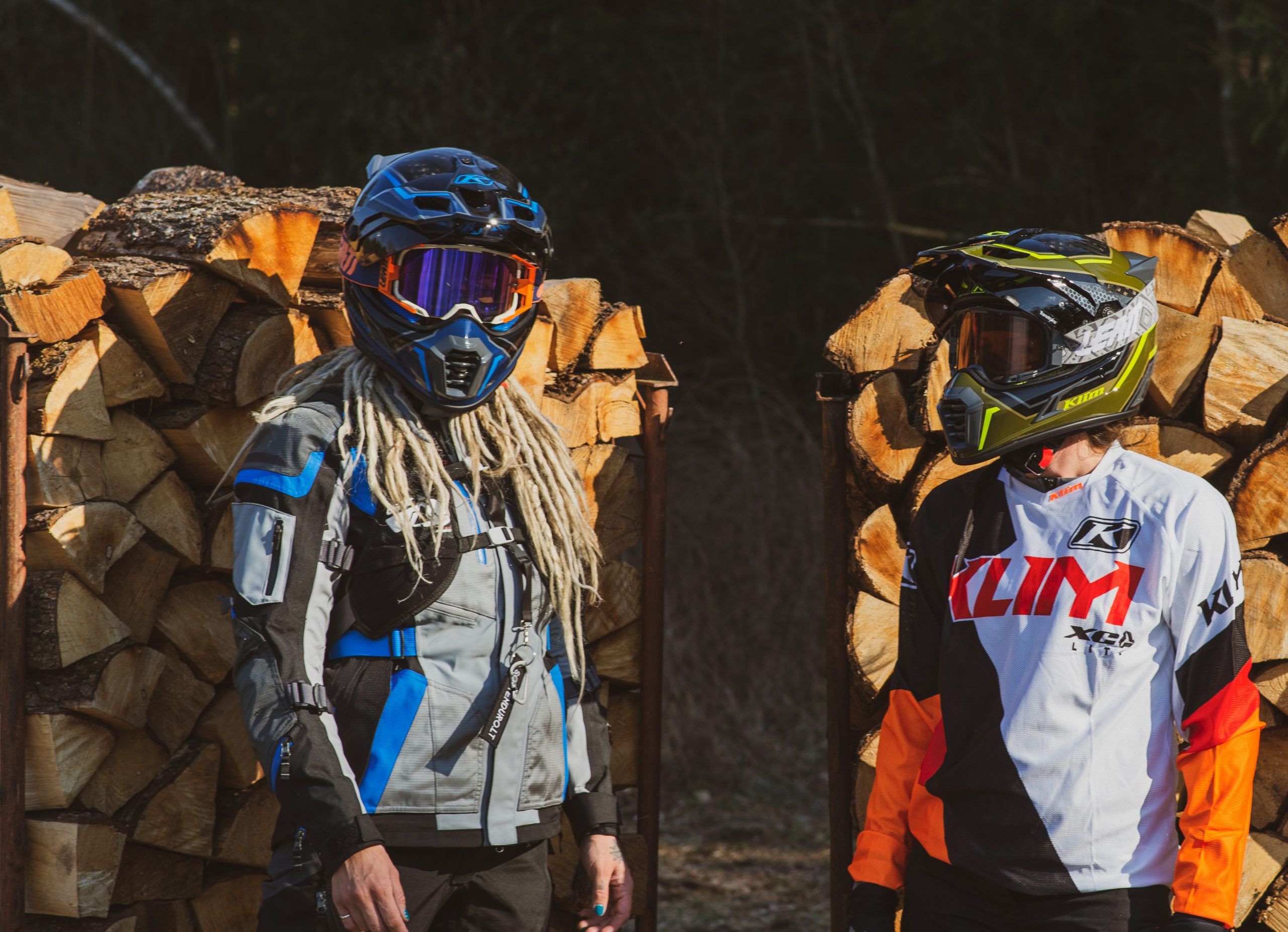 Klim Krios Pro is a fantastic helmet for several reasons: it's incredibly lightweight, which is great for long-distance riding. And, it's got the integrated Koroyd system which offers extra protection in case of a crash. I've used the Krios helmets for years and I've always appreciated how light they are and how well they fit – and, how well they've protected my noggin during several crashes.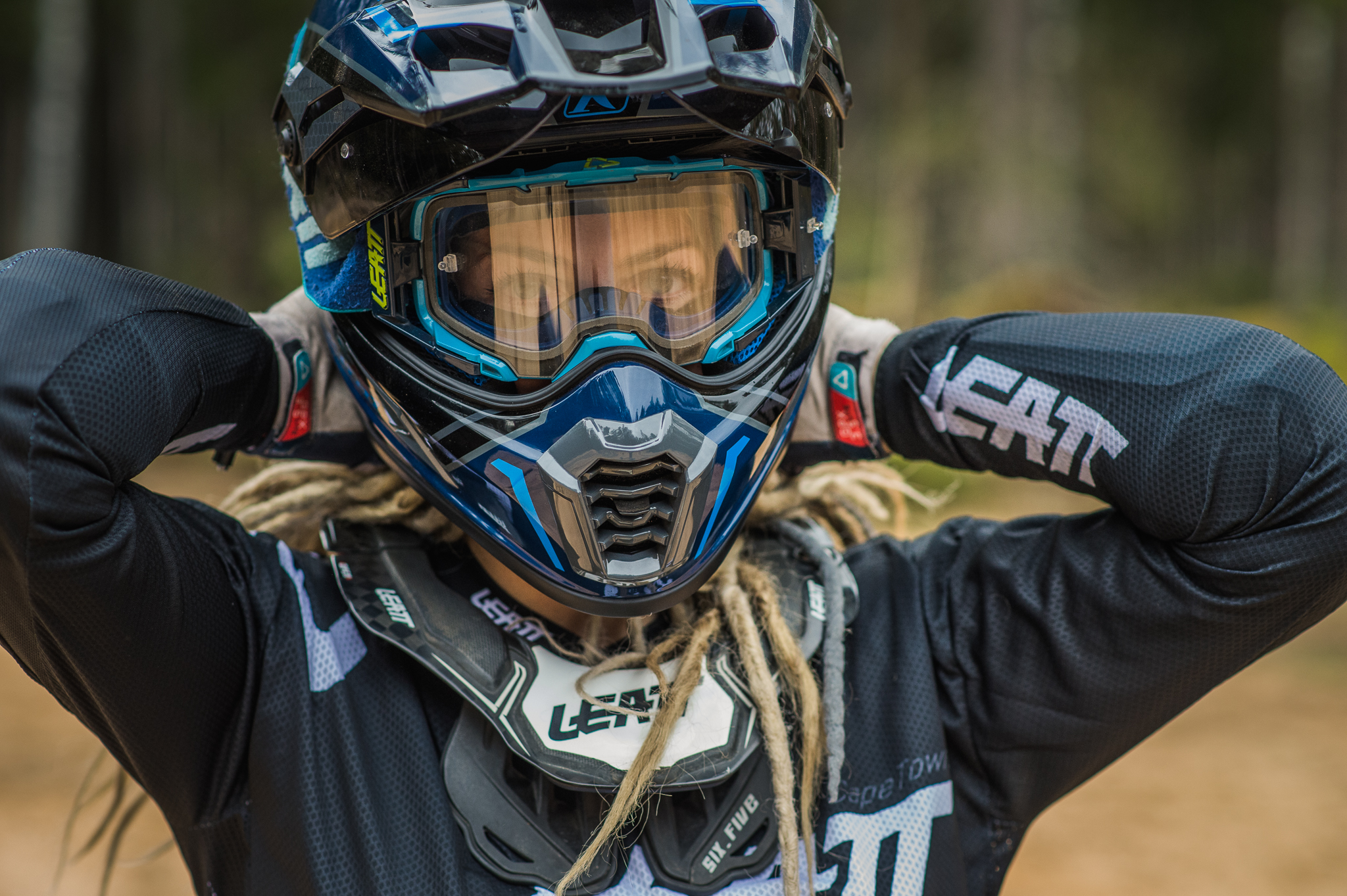 A similar option is the Nexx helmets: these are also lightweight, have some great designs, and are highly protective.
For pure off-road helmets, look no further than Leatt: they're one of the best (if not the best) designers and manufacturers of protective gear, and I trust them for all my off-road exploits without question.
Adventure and Off-Road Boots
Now that you're fully geared up, the last piece of the puzzle is a decent pair of boots. For adventure motorcycling, most ADV boots – think Klim, Forma, TCX – will do the job, plus they'll likely be waterproof.
Since I ride off-road more than I should and crash more than I care to admit, I've long decided to trade the waterproof feature for extra protection. For me, boots need to be sturdy, durable, and protect my feet, ankles, and shins as best as possible. Known to drop my bike on rocky terrain and get stuck under it, or crash on a pile of boulders and nearly crush my ankle, I prefer to stick with enduro or motocross-type boots.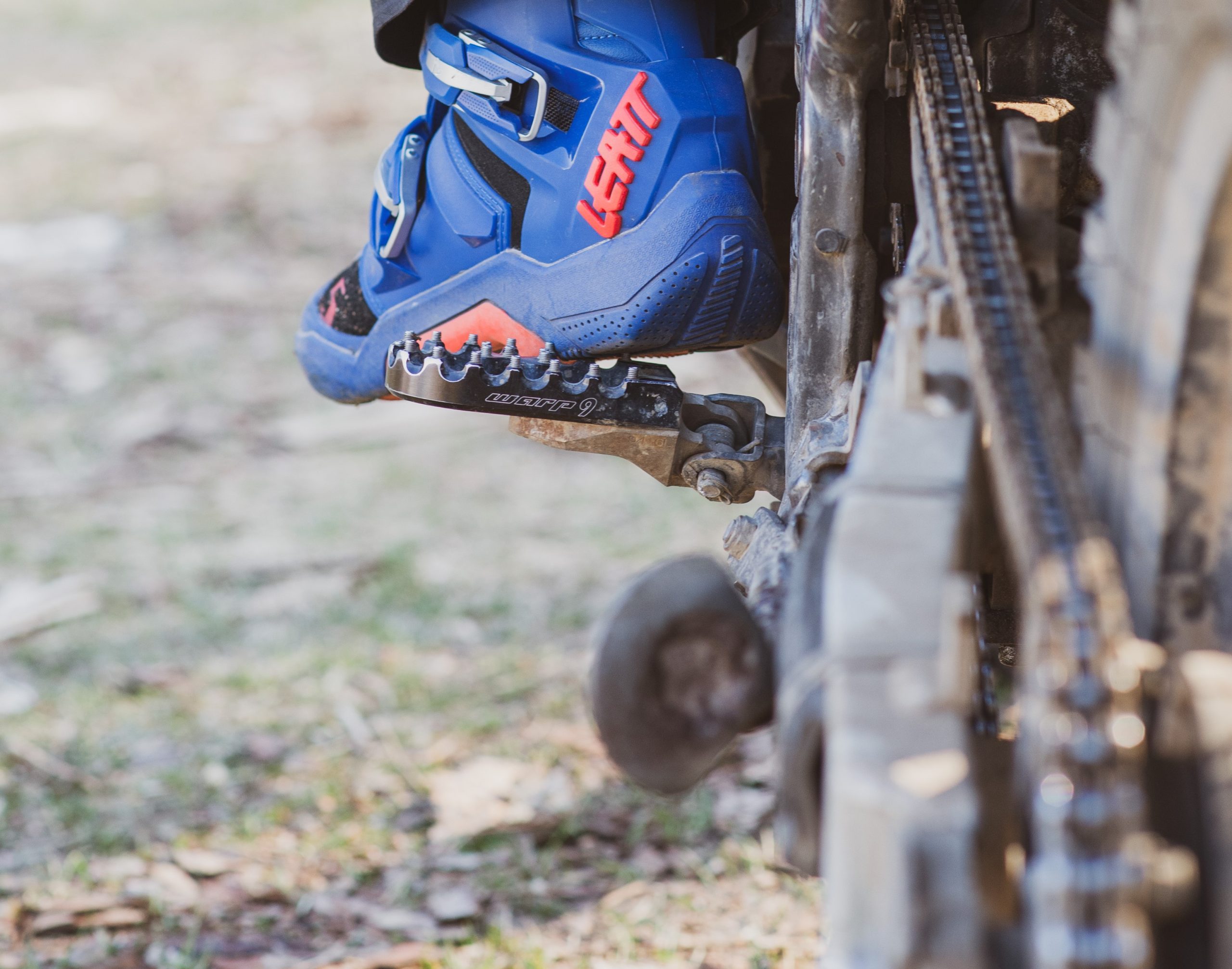 Now, they're not the most comfortable for walking, and they're usually not waterproof, but for me, that's a fair trade-off. For a while, I favored the Sidi Crossfires for protection and durability. Leatt Flexlock, however, has an additional bonus: comfort!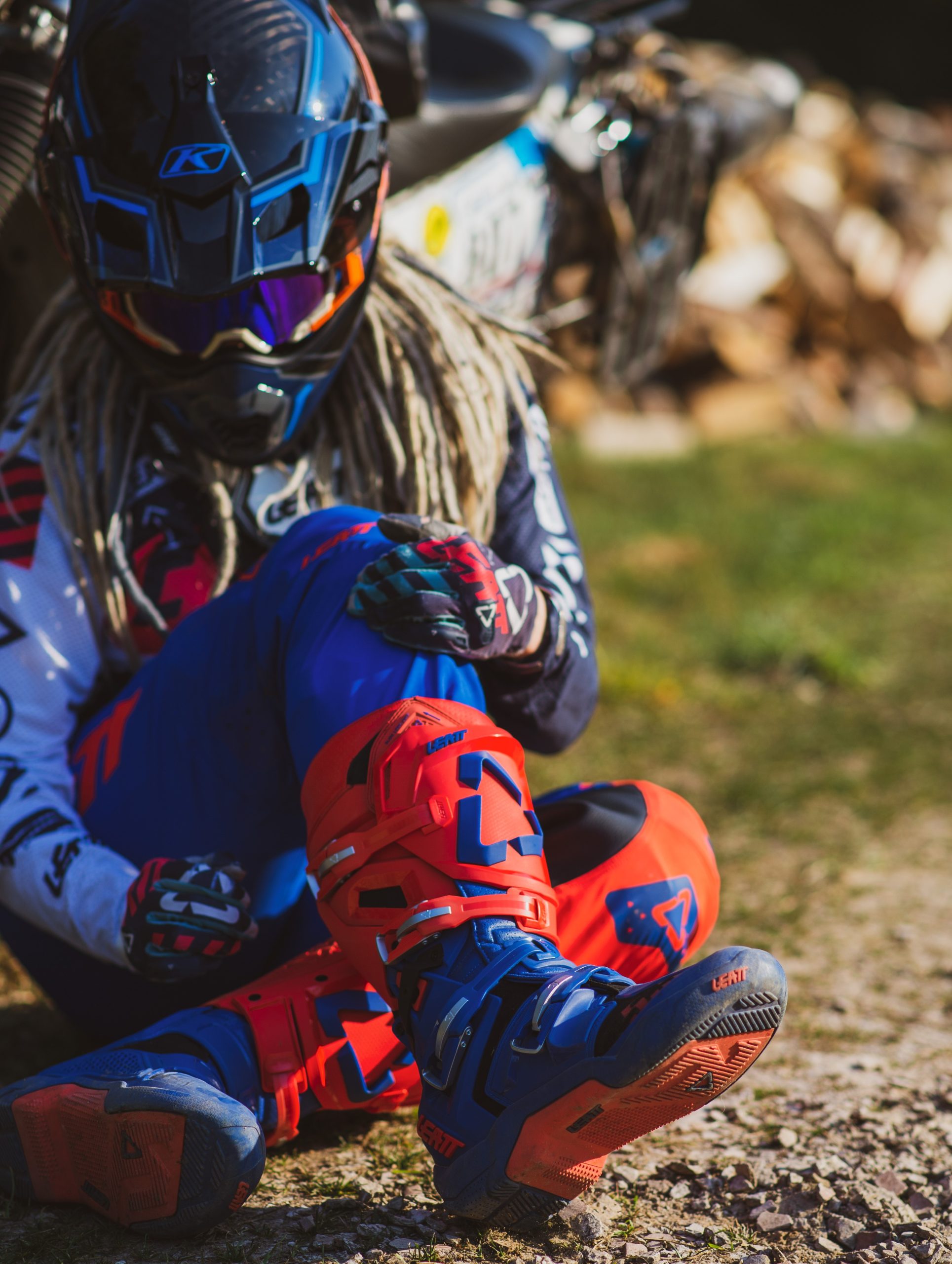 I've ridden in my Leatt Flexlock boots for over two years now, and they've been fantastic in terms of protection – plus, I can comfortably spend hours walking around the rally bivouac in them or go on a short hike when I stop somewhere scenic.
Added bonus -these babies are somewhat water-resistant. don't get me wrong, they will get soaked if you cross a creek or a river, or if there's heavy rain… but it will take a while. Get a pair of GoreTex socks to go with them, and you're golden.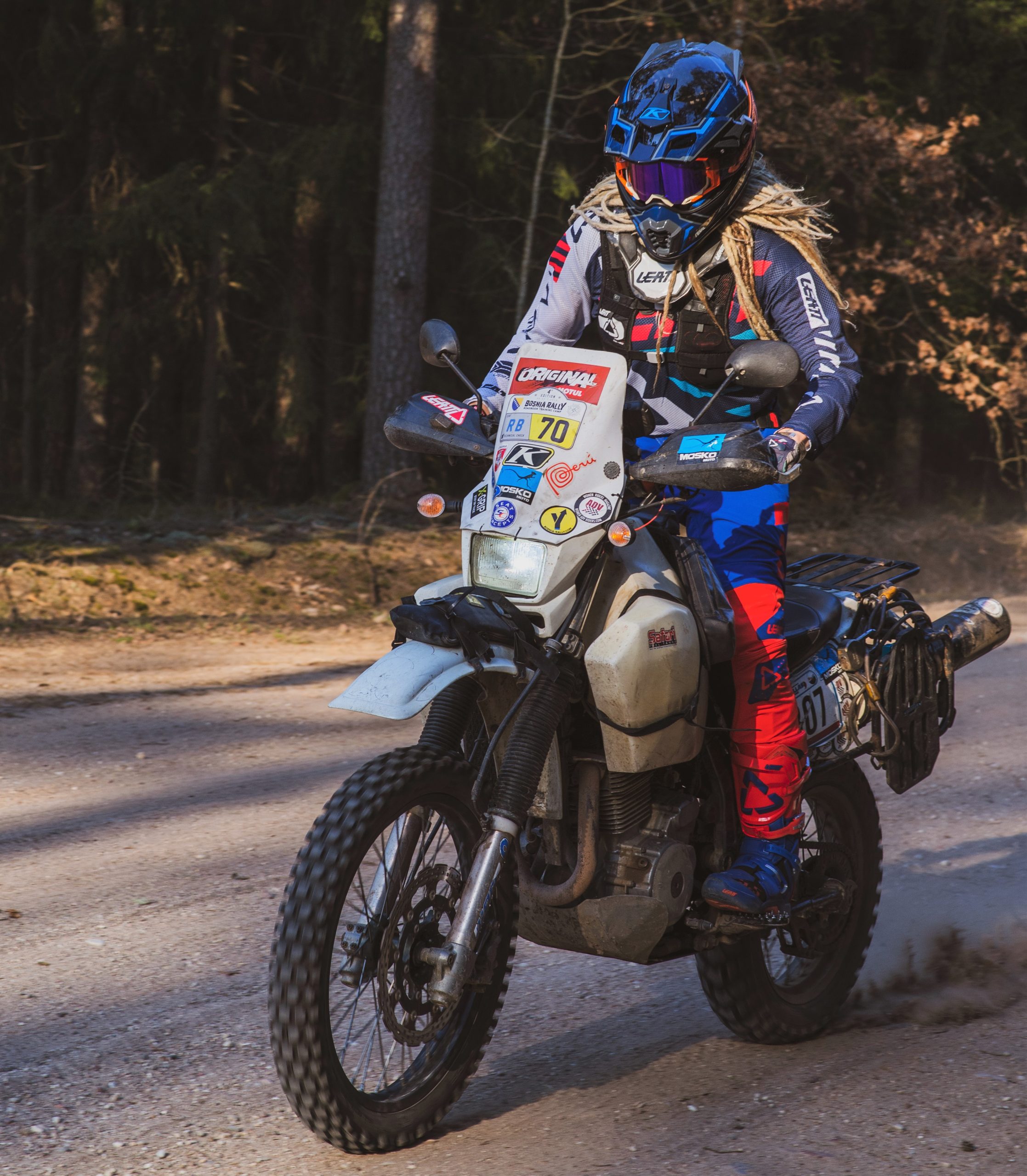 Choose What's Best For You
Women's adventure motorcycle gear is now better and more versatile than ever. While I'm extremely partial to Klim for adventure gear and Leatt for off-road and racing protection, it doesn't mean you necessarily need to stick with these brands, too – it's just that they've worked wonders for me.
When looking for new gear, choose what works best for you, and you can always mix and match gear pieces to create your own unique set.
Whatever you do, just stick with protection first and looks, second – although nowadays, the two aren't mutually exclusive any longer.
Questions? Comments? Deep thoughts on boots or armor you can't wait to share? Leave them in the comments below – we're always stoked to hear from you, and we always respond!