In this post, we're sharing our approach on how to get sponsors for a motorcycle trip. Make no mistake, it's not something that just happens to you, and sponsored travel isn't the same as free travel.
In fact, we're not sure free travel exists in the first place – whatever the sponsorship or brand partnership deal you land, you'll need to offer something other than your pure awesomeness in return.
To get sponsors for a motorcycle trip, you first need to figure out your "why". Why do you want sponsorships? If your reason is, "everyone seems to be doing it, and it looks cool", stop right here and go read our blog post on working on the road instead. It'll benefit you more.
You need to have a good reason to look for sponsorships because it's a lot more involved than it appears on the surface. Most riders happily ride around the world with no sponsors at all, and that's how Lennart and I started out, too. We just got on our respective bikes and took off, and for the first years of traveling, we never even thought of getting sponsored.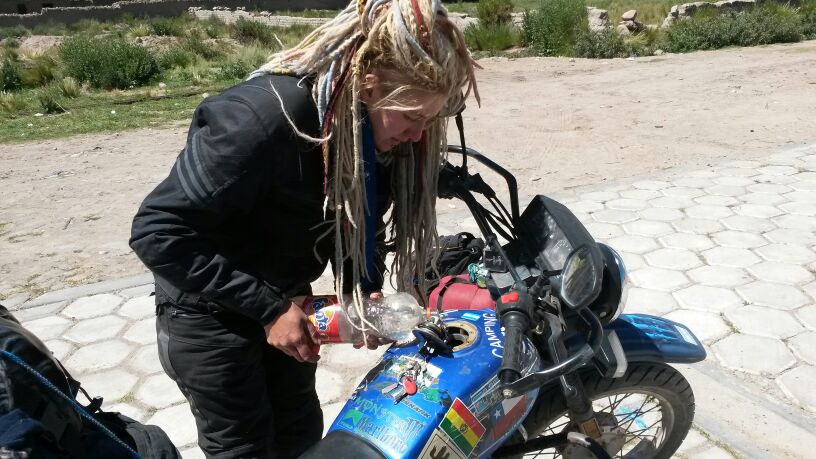 On the other hand, if your reason to get sponsors for a motorcycle trip is testing new gear, offering brands unique value in the form of great content, and forging new partnerships that will benefit both you and the brand, keep reading.
We'll share our own policy on sponsorships and give you some pointers on where to start. Better yet, we'll offer you a perspective from the brands – we interviewed several motorcycle gear manufacturers asking them to share how they pick their sponsored riders and what they expect in return.
The Glamorous Sponsored Life?
First things first: if you think sponsored motorcycle travel means free bikes, free gear, free hotel stays, and a generous cash advance, we're here to shatter that illusion right now. Unless you're a Rally Dakar champion or a Hollywood celebrity, no brand will ever offer you this much.
Some riders do get sponsored motorcycles, some riders get sponsored gear, and very, very few riders get cash sponsorships. Why?
Think of it from a brand's perspective. The reason brands sponsor riders is that they expect something in return. It could be exposure, content, getting in front of a new audience, expanding their market reach, or breaking into a new market altogether. Ewan and Charley did not get BMW Motorrad backing because they were cute, they got it because of their combined celebrity status and the massive Long Way Round following they created with their travel documentary series.
Some riders have managed to re-create this success story, to a degree, with their YouTube channels. However, we're talking hundreds of thousands of engaged subscribers and millions of views – and even then, it's not guaranteed.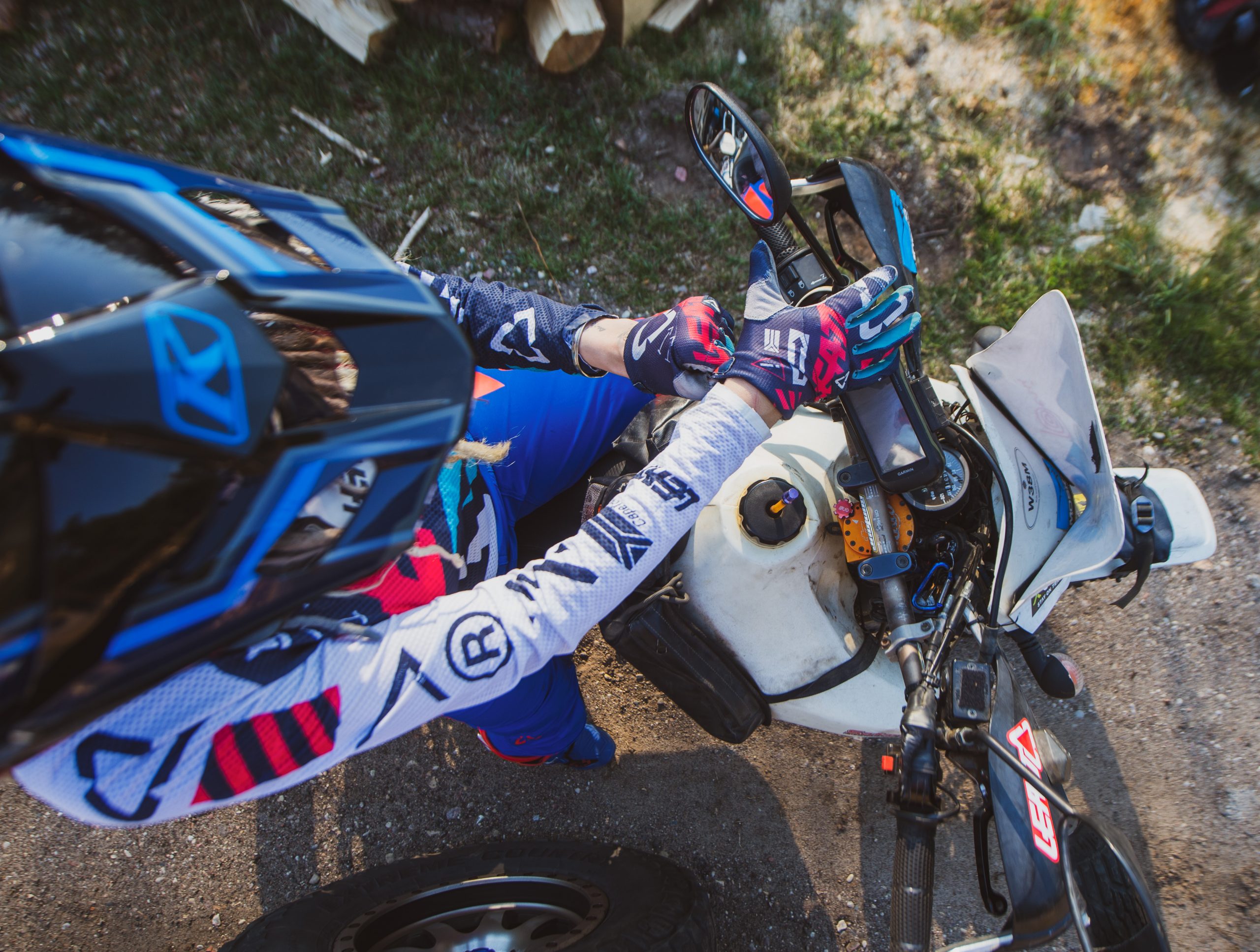 To get sponsors for a motorcycle trip, you need to provide the brands with what they want – exposure, brand awareness, brand trust, great content, and the like. And that doesn't mean posting a couple of photos on Instagram. Most of the time, it's a lot of work and effort, and you need to carefully consider whether it's worth it. If you have a job and make $60 an hour, wouldn't you rather pay for a new helmet with five or six hours of your work instead of trying to get it sponsored and then spend 30+ hours creating, sharing, and promoting the content to deliver for the brand that's given you the helmet?
What Is Sponsored Motorcycle Travel
On the other hand, getting sponsors for your motorcycle trip can be a big boost to your gear setup and your network. Lennart and I are sponsored with gear and motorcycle parts by several seriously awesome brands, and we're on board with these sponsorships not just because of the gear we get to test, but because it's interesting to see the brands coming up with new stuff and developing creative new solutions. Often, these brands ask for feedback when they're creating the next product, and we get to be involved in the process. In addition, we only work with brands whose products we have already tried, tested, and put through serious abuse over the years. Because of this, we feel our gear reviews and recommendations are genuine – we'd never peddle stuff we don't believe in just because we didn't have to pay retail for it.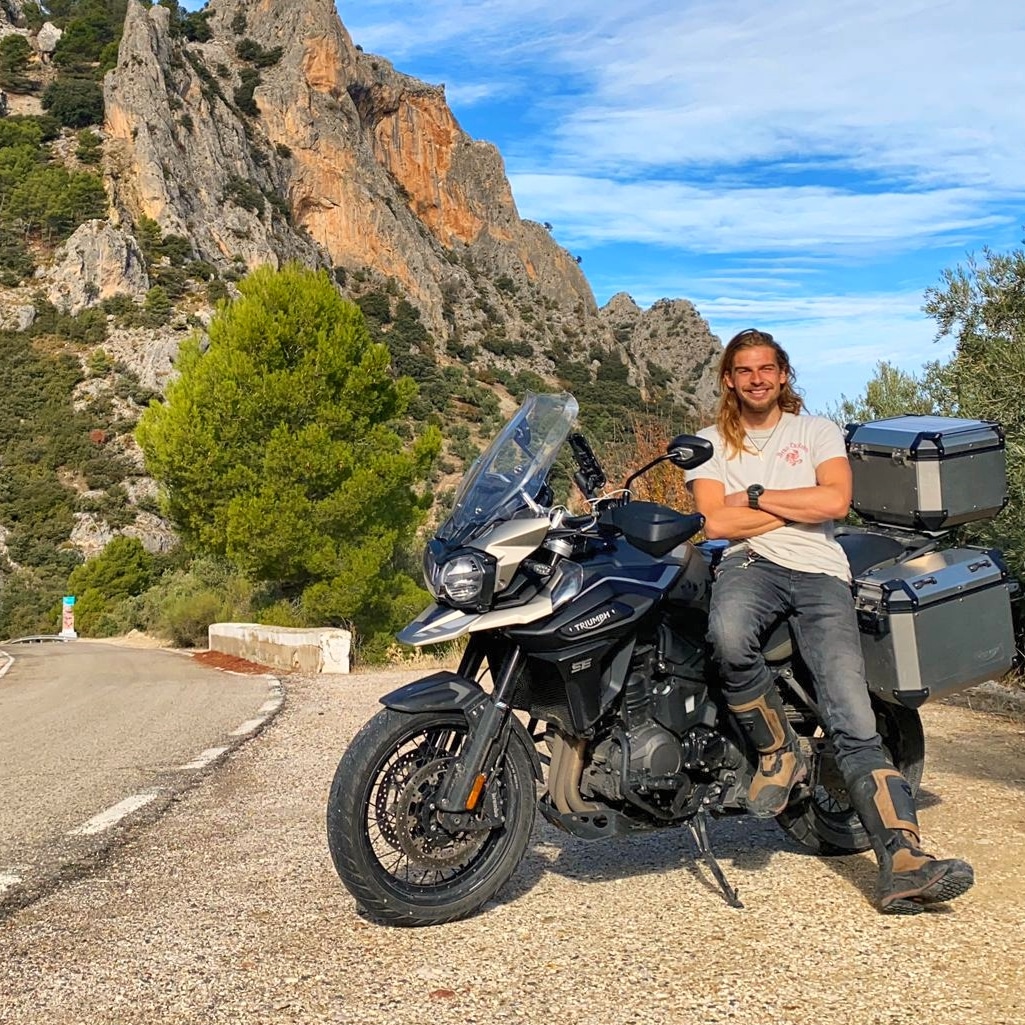 For us, this is the essential part of sponsored motorcycle gear and parts. For years, we traveled on cheap bikes with the strangest luggage setups imaginable and with second-hand or low-quality gear (or, in my case, barely any gear at all). Frankly, it worked just fine for our needs at the time. We were just starting out, and hitting the road was more important than getting good gear or the best saddlebags.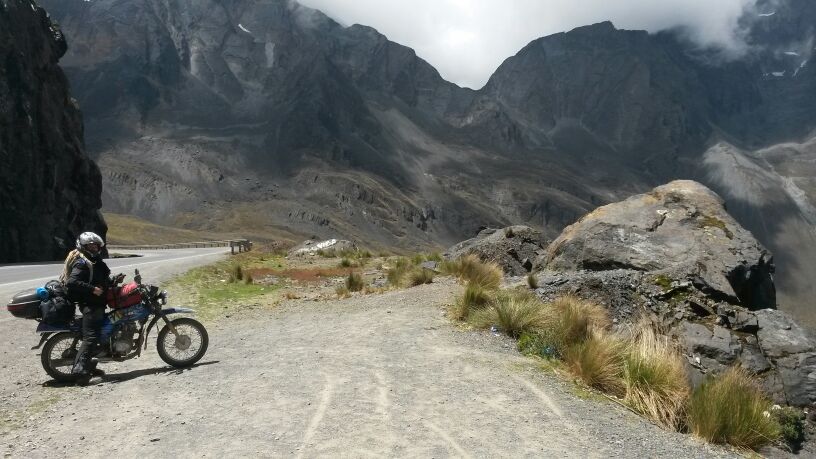 Over the years, however, our trips became a lifestyle. We decided we wanted to stay on the road indefinitely. Now, the bikes, the gear, and the luggage had to protect us better and last a hell of a lot longer. This was the point where we both started using better gear and installing bike mods, and we soon figured out which brands and products we loved the most. Then, and only then, we began getting sponsors for our motorcycle hobo lifestyle.
Do You Need Sponsors for Your Motorcycle Trip? The Big Why
If you're wondering how to get sponsors for your motorcycle trip, first decide on your big "why". We already touched on this in the beginning, but let's expand it a little. Why do you want to get sponsored?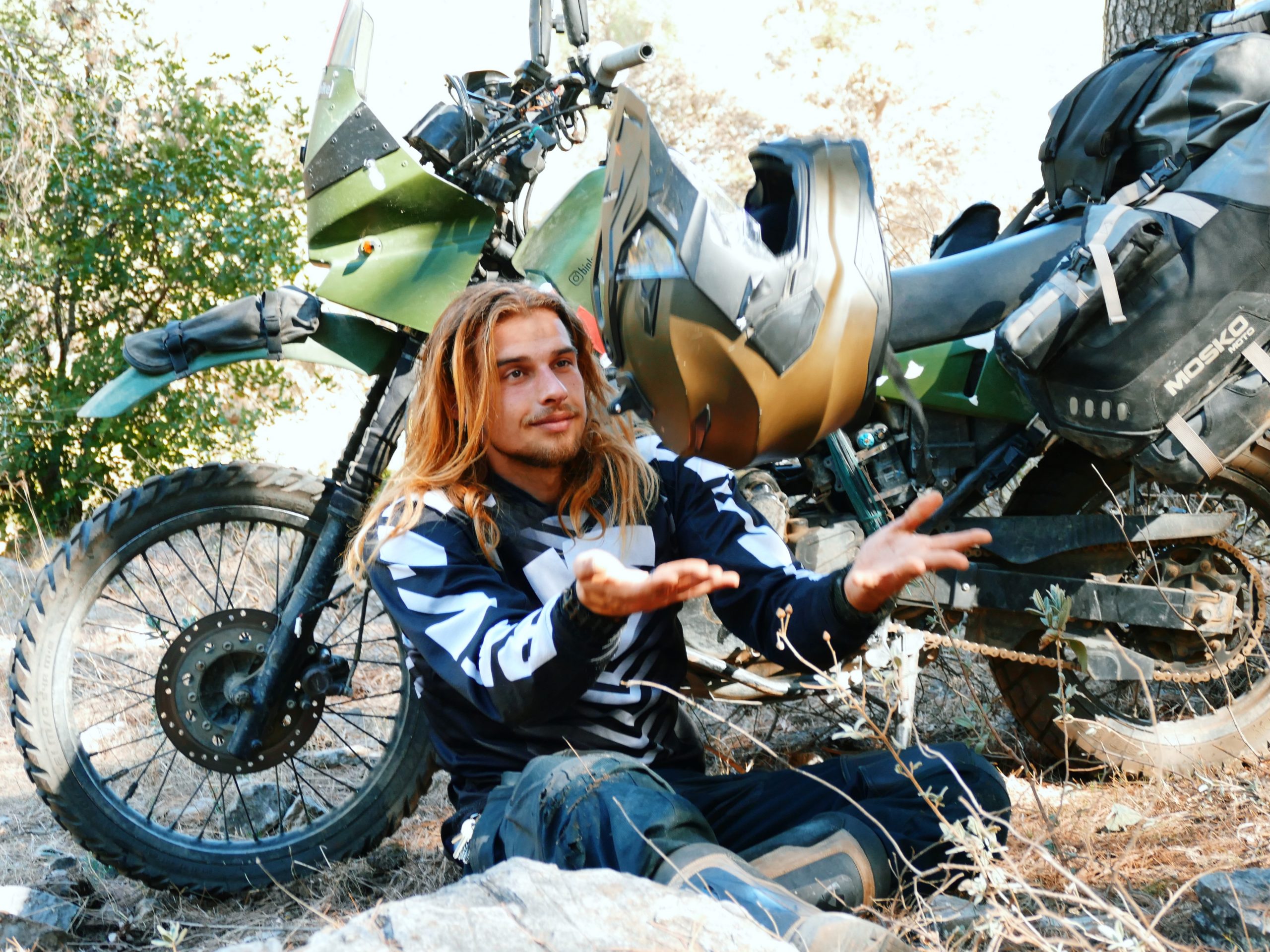 For us, the beauty of partnering up with brands is that we get to help other riders navigate the big, colorful, and often overwhelming world of gear, bike, and luggage choices. The adventure motorcycling sector is exploding like never before, and there are so many different products to choose from it's hard to take your pick when you don't have the experience.
Our mission with the Adventure Bound blog is to help other travelers go on overland adventures, and let's face it: gear is a big part of travel. By working with brands, we get to thoroughly test gear and motorcycle parts and share our experiences on what worked great and what didn't.
Naturally, we're grateful for all the gear, luggage solutions, and bike mods we receive, and it does significantly cut down our travel expenses. But more than that, we're excited to work with gear manufacturers who are seriously nerdy about what they do and who care about their riders' safety or help them find clever solutions on the road.
Sponsored Travel Deals
We also love working with brands when it comes to kickass motorcycling destinations. For example, Ecuador Freedom Bike rental invited us on their ten-day Backroads of Ecuador tour in return for some social media, video, and blog content. It was an epic adventure, it allowed us to escape the European winter for a bit, and we're still getting messages from riders who have booked tours or bike rentals with Ecuador Freedom because they were inspired by all the content we were posting.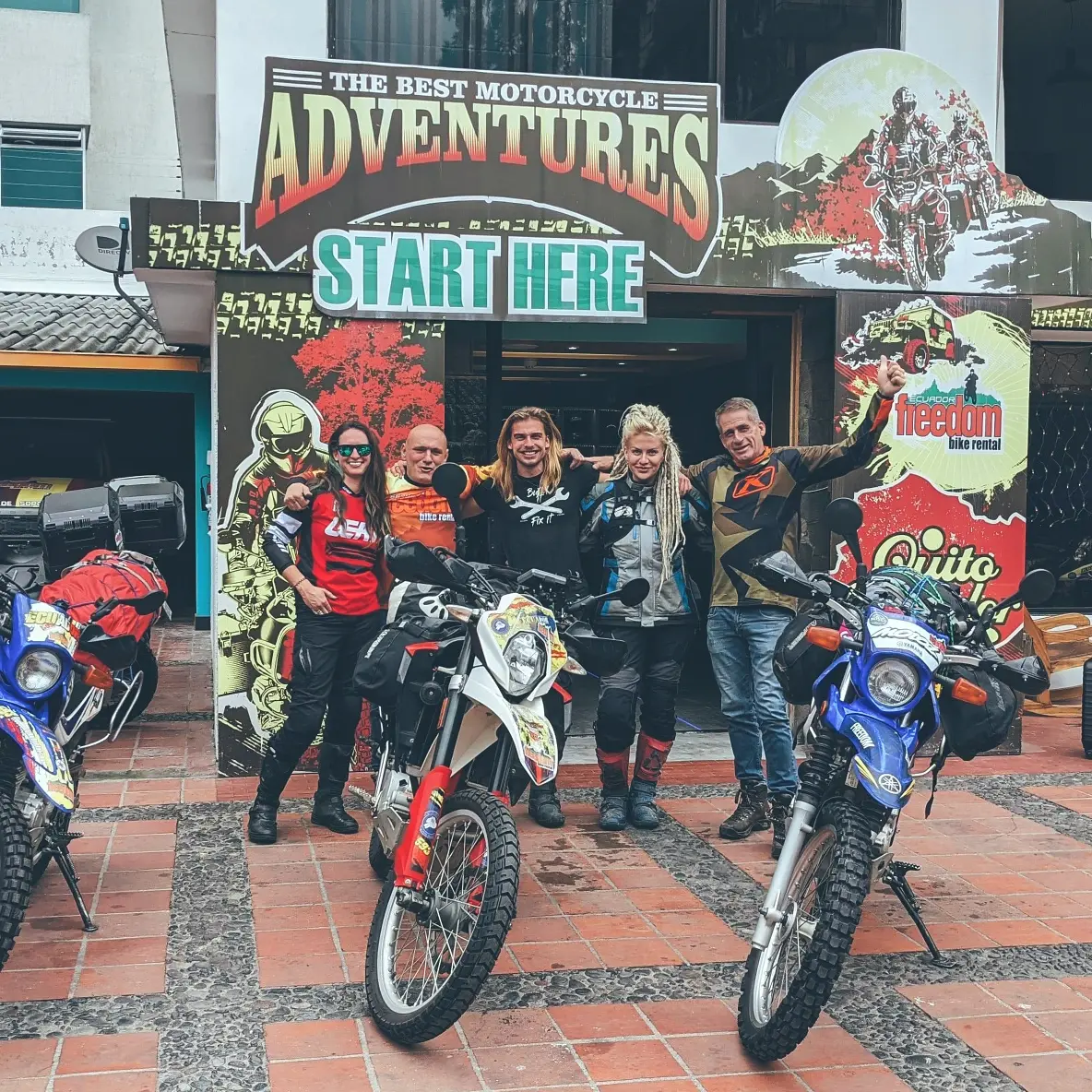 Win – win – win: we had a great time, Ecuador Freedom got new customers, and riders who trusted our tour review had a fantastic time riding Ecuador themselves.
When you're looking for sponsors for your motorcycle trip, think in this win-win-win frame. You need to win by getting the gear or the product you love; the brand wins by you giving them content, exposure, or whatever else it is that they need; your followers, readers, friends, or your community wins from your experience. If you think in this winning triangle, getting sponsors for your motorcycle adventure will be much easier because you'll have a clear picture of what you want to achieve.
Knowing When To Say No to a Sponsor
This is why it's important to work with brands and companies whose products or services you've already tried and trust or love. We went on the Ecuador trip with Ecuador Freedom because we've known these guys for years, I've led two of their tours as a guest guide, and I know they're thoroughly obsessed with giving riders the best experience in Ecuador imaginable. We work with Leatt, TFX Suspension, MOTOURSMO, and Mosko Moto for the same reasons. And whenever we get sponsorship proposals from brands we don't know or feel their stuff isn't quite up to the standard, we say no. Getting free stuff for the sake of getting free stuff is just not worth it – not for you, not for the brand, and certainly not for your community.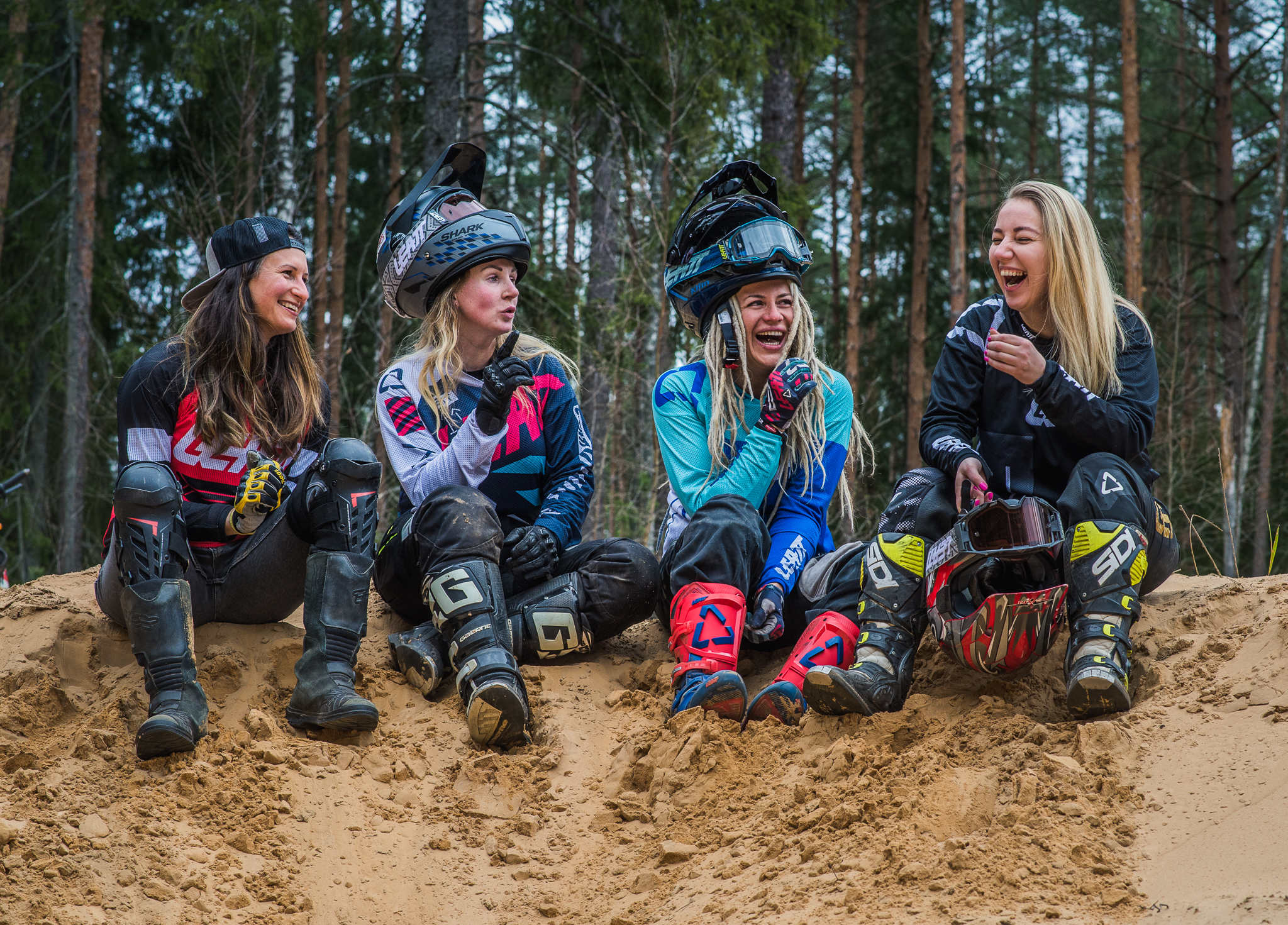 What Do Motorcycle Trip Sponsors Expect in Return
Alright, so that's our perspective. What about the brands and companies themselves? What do they expect in return for sponsorships?
Lukas Eddy, Communications Manager at KLIM, told us KLIM sponsors a variety of riders and racers in multiple disciplines, and expectations vary from case to case. "we have our Racer Support Program where we help qualified privateer and amateur racers get a special discount on our gear. Appropriately, we have higher levels of support for higher-level racers all the way up to full professional off-road racers, and off-road race teams as well. In terms of ambassadors and riders, we partner with people who align with our brand values and who bring something unique to the industry.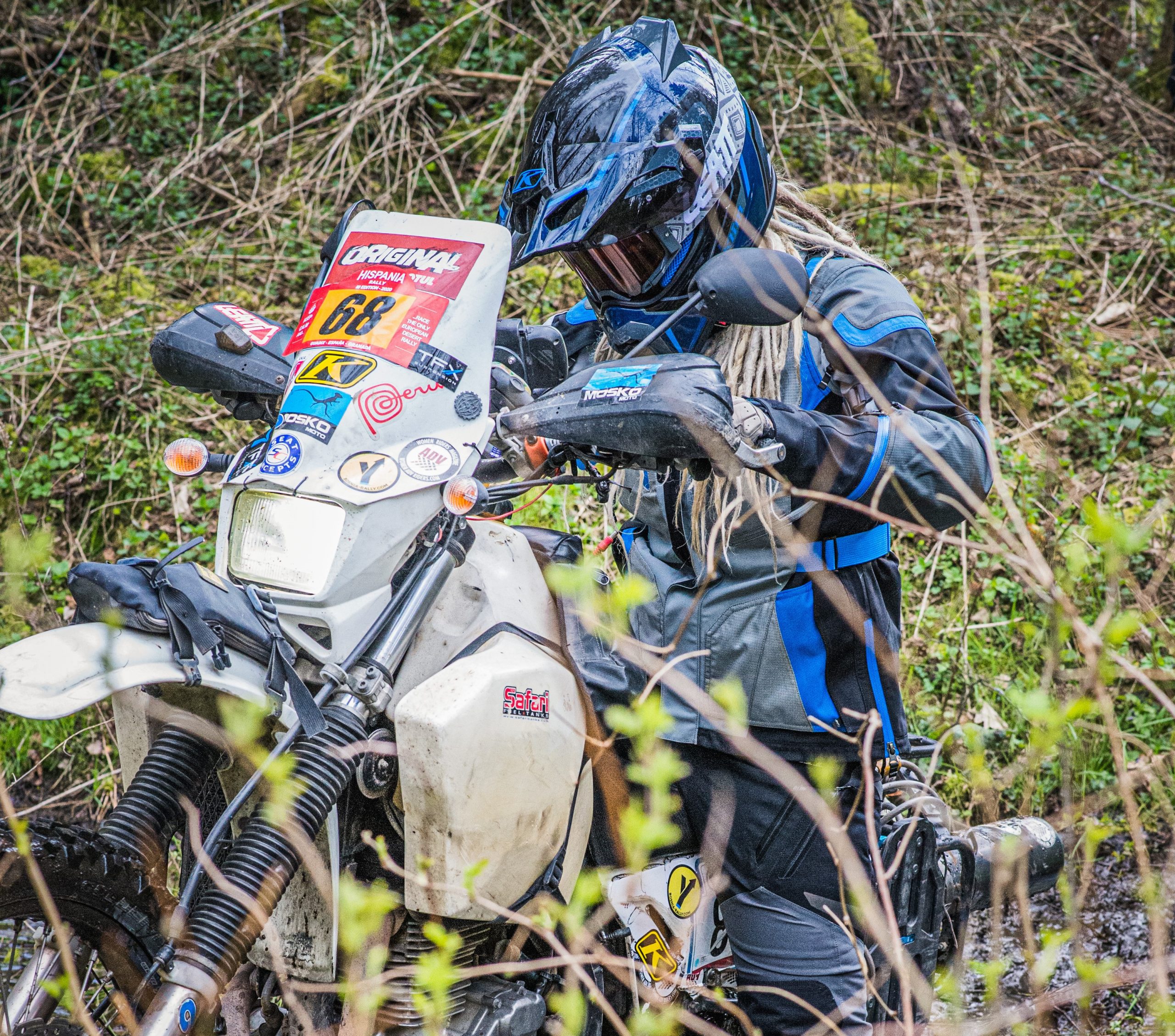 Of course, we can't sponsor everyone, there are tons of awesome people out there, but when we look at sponsorship pitches, we look at everything: their audience, their reputation, the quality of their work (whatever it may be), their race performance (if applicable), their expectations from us, and our expectations from them. Equally, what we expect in return varies from one individual case to another. It could be product testing and review with a media outlet or gear support for a racer who we expect to do well in their series. The bottom line is, we expect our ambassadors to properly represent our brand and to do a good job in their area of focus!", Lukas told us.
Joni Costa at NEXX Helmets said it's all about the lifestyle, kind of motorcycle, travel destinations, travel purposes and objectives, racing spirit, and passion for motorsports. "In return for gear sponsorships, we expect that our riders send us great and unique content every month and always show our brand all over the web and social media worlds", Costa said.
Brand Loyalty
Another gear manufacturer told us they care about getting great-quality content from their sponsored riders – as well as consistency. "When someone reaches out for a potential sponsorship, they need to ask themselves, "What direct value can I offer this company so it's worth for them to invest in me?". Sending a DM asking "Are you looking for people to sponsor?" is not very efficient, and will most likely just end up being deleted. The same goes for people who share their whole life story and add that they will travel the world next year, but between the lines, they say that they can't really afford it, and therefore need free gear. The only thing that matters, in the end, is what value you can bring to the company you're seeking sponsorship from.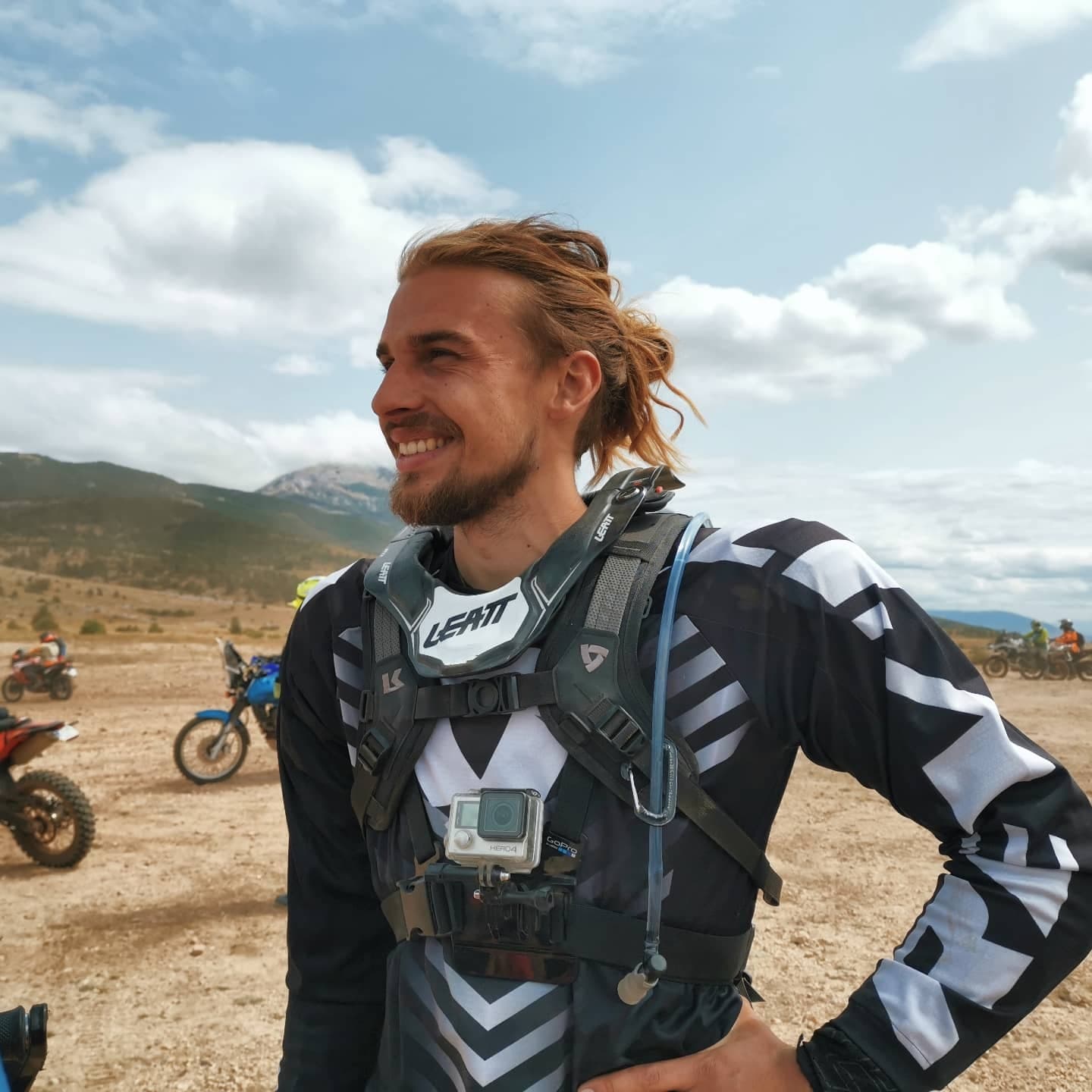 In regard to what we expect in return when engaging in a sponsorship, we value outstanding quality, consistency, and brand loyalty".
Consistency and Trust
This last piece of information is important, and it's something to think about before you begin brainstorming how to get sponsors for your motorcycle trip. Will you stay loyal to the brand that supports you, or will you desert them for another if something better comes along? Short term, jumping between brands may seem OK, but long term, you'll ruin all your brand relationships and your own reputation in the process.
If you're recommending Brand A boots one day and Brand B boots the next, how can people trust you? In addition, it takes a while to thoroughly test a product. We abuse our gear to a ridiculous level, and only then offer up content or reviews. And while we often receive sponsorship offers from different gear companies, we stick with what we love because we know these brands make the best products for the type of traveling we do, and we appreciate their long-term support.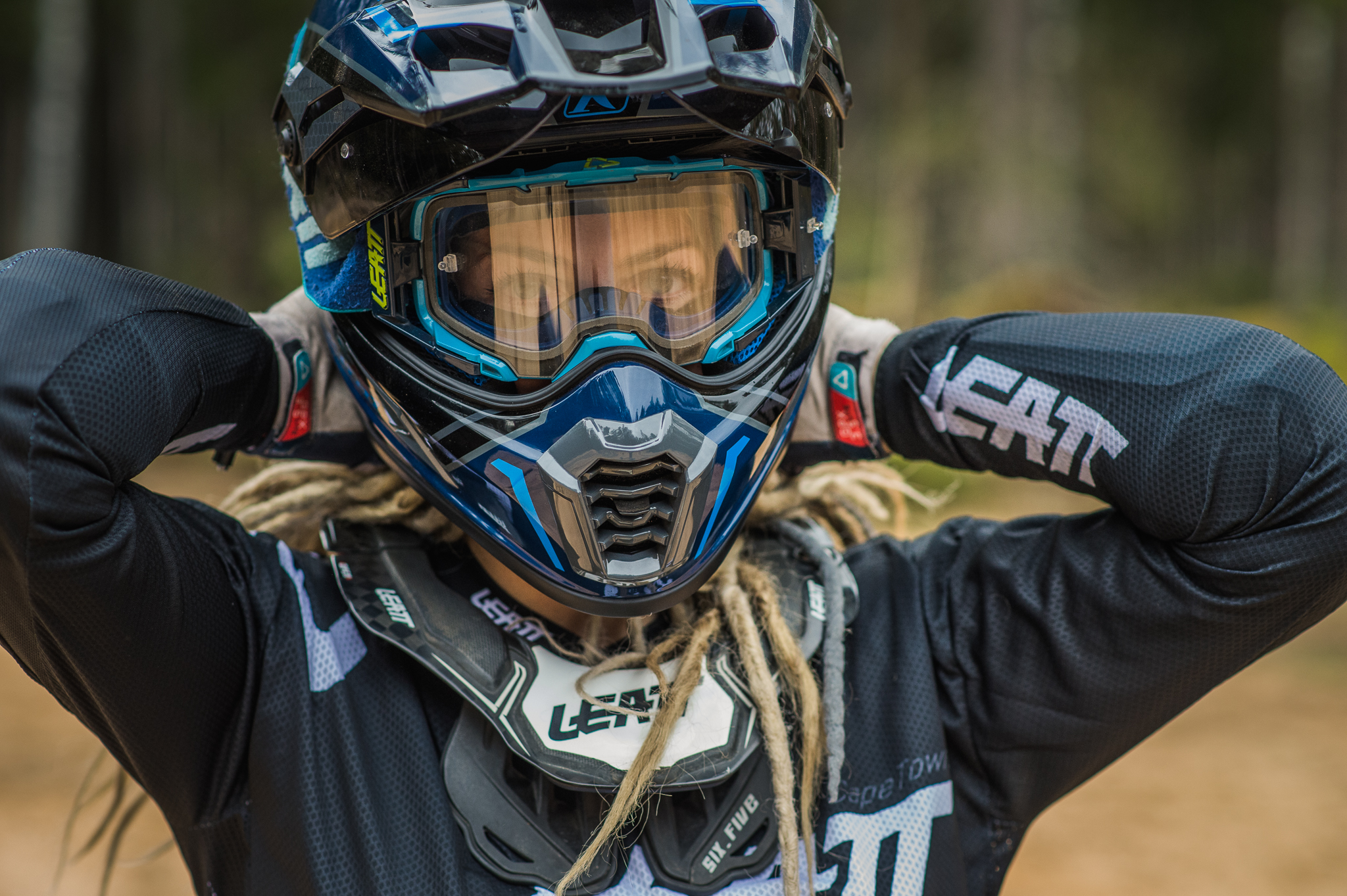 Knowing Your Value
Now that you know why you want to get sponsored and what brands are expecting in return, it's time to assess your own value. And, no, you don't necessarily need hundreds of thousands of followers or subscribers (although it certainly helps). What's more valuable than follower count? Authority, trust, engagement, and the quality of your content.
Put it this way: if you have fifty thousand Instagram followers, but your posts receive very few likes and no comments, your audience clearly isn't interested in what you have to say. If, on the other hand, you only have five thousand followers, but each post receives twenty or thirty comments and thousands of likes, you have an audience who's actively engaged and invested in what you do. From a brand's perspective, which audience is more valuable and which audience is more likely to appreciate your product review or recommendation? The answer is clear – the more engaged your audience, the more valuable you are as an influencer.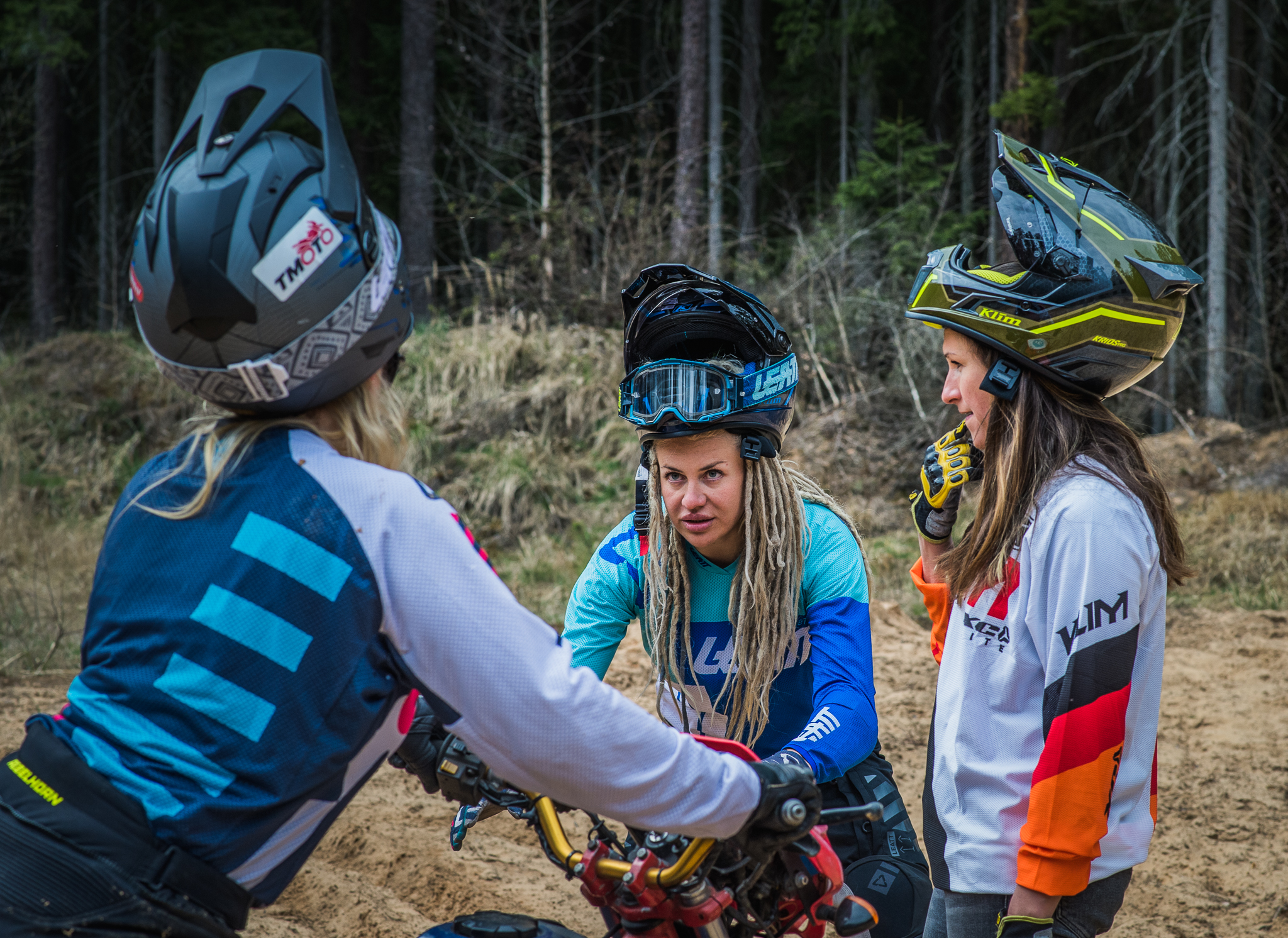 However, getting sponsored isn't all about audiences and social media. If you're an exceptional photographer, perhaps you can offer extraordinary images in return. Maybe you're a tour guide, and chances are, your riders will ask you for gear advice. If you're a filmmaker, creating amazing product or destination videos can be the value you offer to the brand.
Be honest with yourself and the brand you're pitching; if you try to artificially boost your value, it's not going to fly. Don't promise what you can't deliver, and when you do make a promise, stick with it. Brands often get burned by people who promise them incredible world travel content and never even start their trip. Equally, as a sponsored traveler, you may get burned out if you promise too much and then find you're struggling to deliver.
Where Can You Find Motorcycle Trip Sponsors
Okay, so now you're ready to start drafting your sponsorship pitches. But where do you find motorcycle trip sponsors in the first place? Is there some handy list of companies just waiting to sponsor you?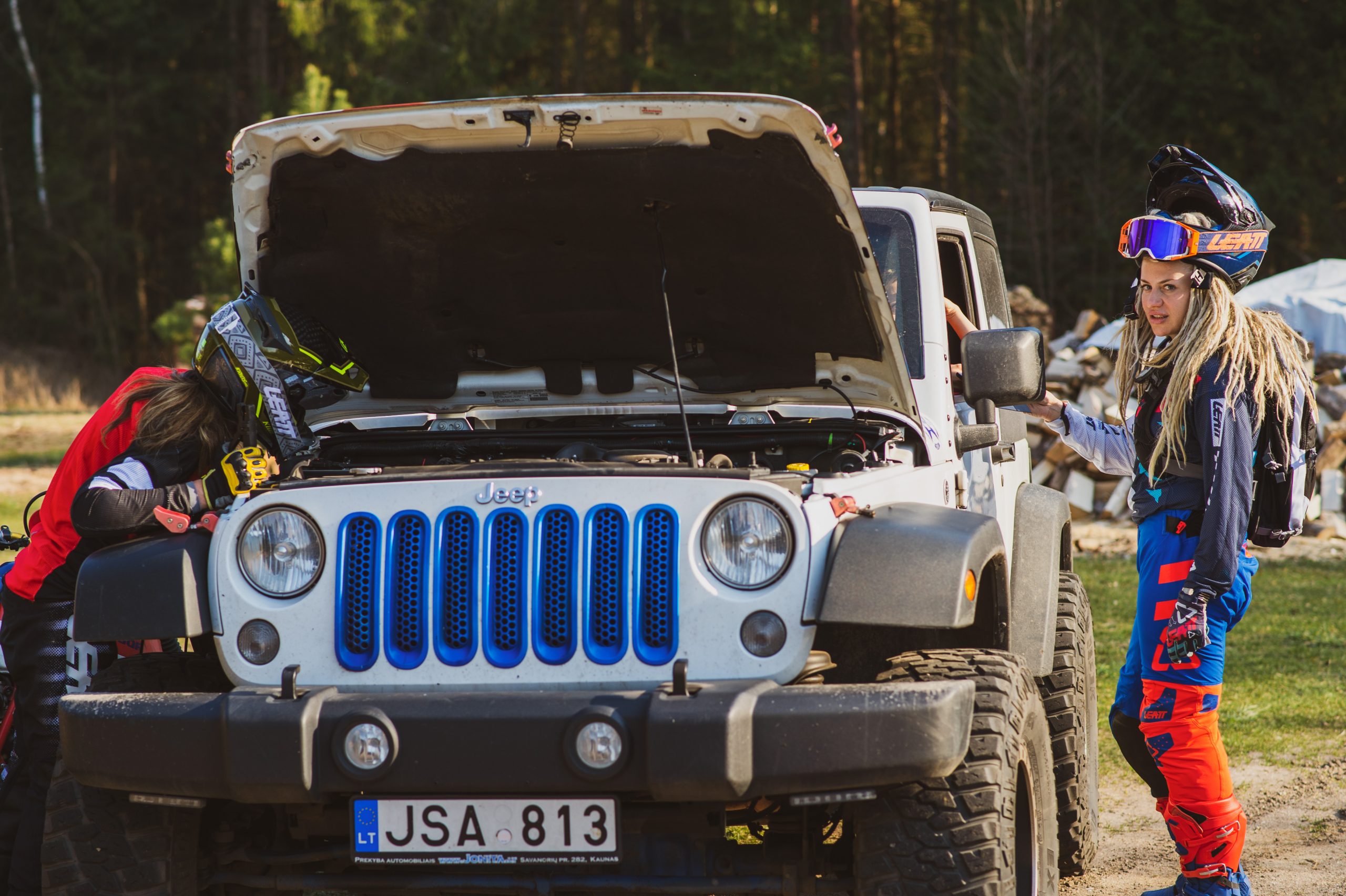 Nope. To find sponsors for your motorcycle trip, you'll need to be proactive. First, make a list of brands and companies you love and, ideally, already use their products. Don't, by the way, limit yourself to just motorcycle or overland vehicle–related brands: if you use and love a certain waterproof watch, a mini coffee maker, or travel shoes you just can't live without, include those brands in your list, too.
Next, do some research into each company. What kind of riders or travelers do they already sponsor? What is their mission? Are they adventure, overland, or off-road-oriented? What are their values and what sort of content are they already publishing?
Take all of this into account when drafting your proposal. If you're reaching out to a brand that makes off-road riding gear, focus on that aspect and tell them how much dirt riding or racing you're planning to do. If it's a brand that makes adventure jackets, tell them about your world travel plans, but don't go into details about your digital nomad lifestyle blog – they don't care about that, they care about the adventure. Tailor your draft to each individual company, highlight the focus and the unique value you can bring to the table, and don't ramble about all the other aspects of the trip that aren't relevant.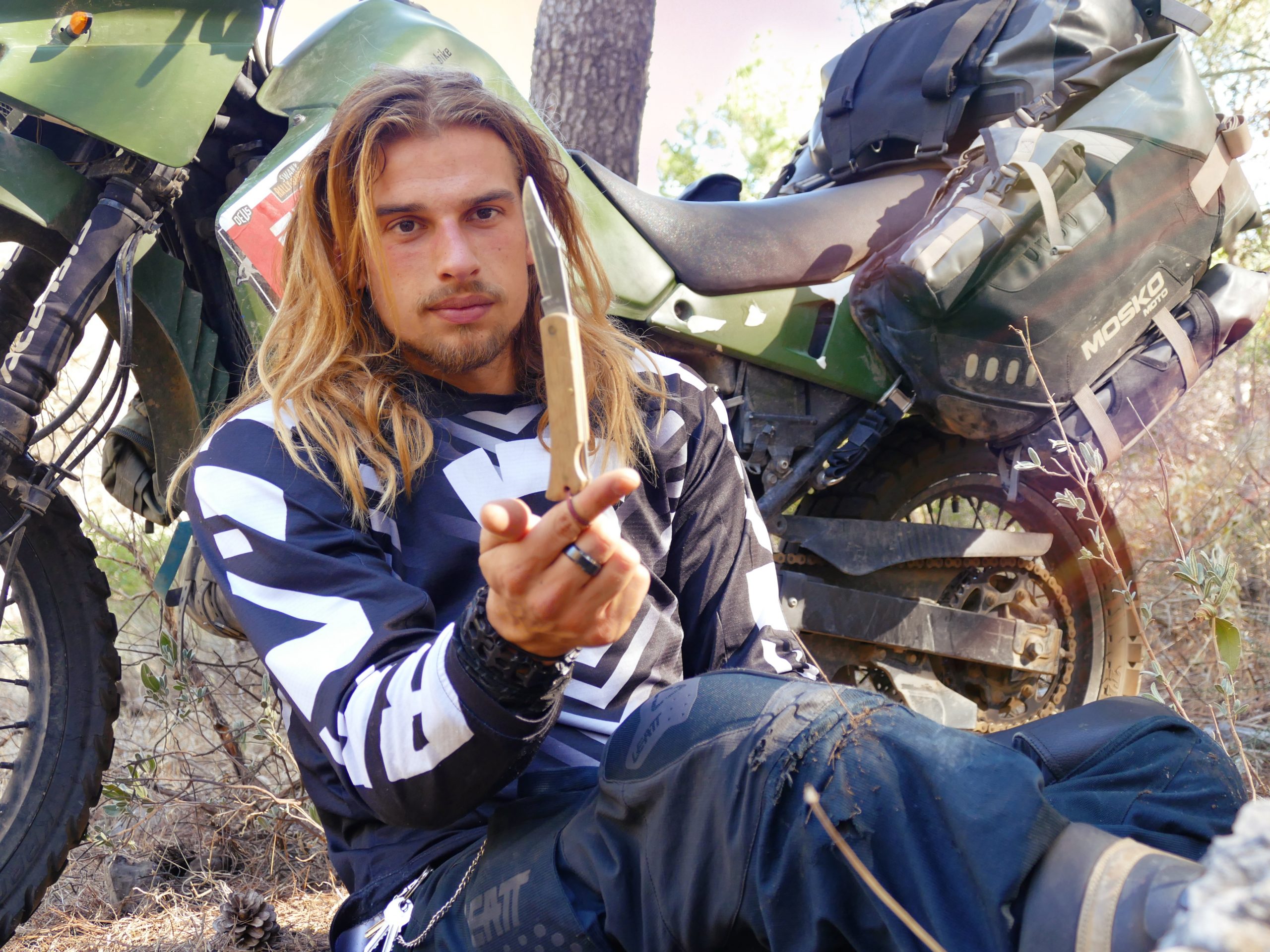 Finally, hunt down the contact details of the company's marketing department. Comb through their websites, trawl LinkedIn pages, and find the people you need to speak to. Emails to info@brand.com tend to disappear forever into a bottomless vortex of Unopened in their admin inbox.
How to Get Sponsors for a Motorcycle Trip: The Pitch
Now comes the most important part of your quest to get sponsors for your motorcycle trip: the pitch. A crappy pitch will get you exactly nowhere, while a good one can land you the sponsorship in one single email.
First and foremost, think about the person who's going to read your email. They're probably busy people, and they certainly do not have the time – or the mental energy – to read your entire life's story. Don't ramble, introduce yourself briefly, and get to your point.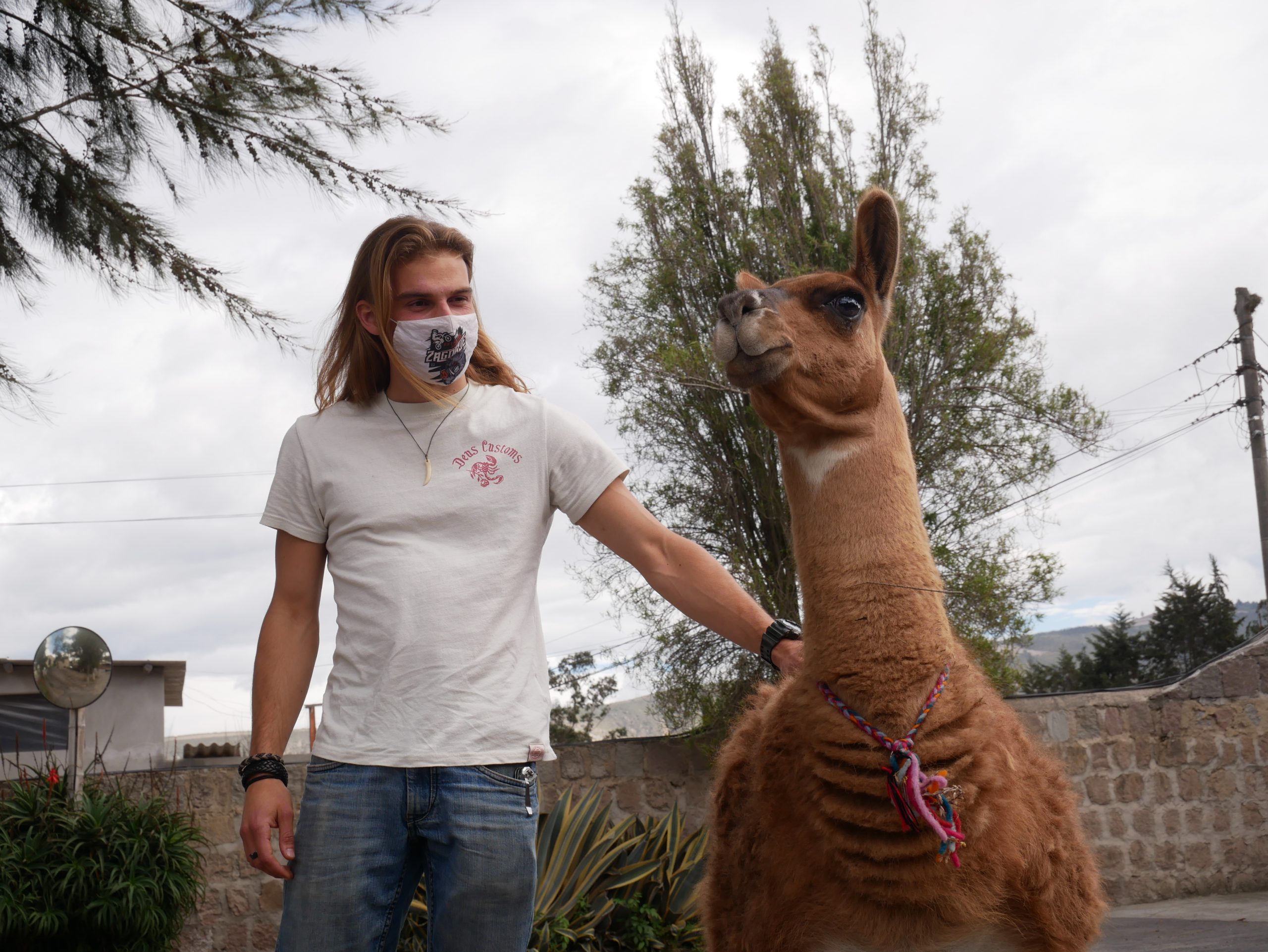 Your first email to the company is your first tentative hook – either it'll pique their curiosity, or it won't. If they reply, you can then provide more information, send over your media kit, or expand on the finer details of your project. That first email pitch, however, needs to be intriguing but brief and concise.
Speaking of brief: in addition to keeping your email short and sweet, don't go crazy with your attachments. If you attach a PDF of your media kit, ten images from your last trip, and a video, that email may not even get opened – it'll appear spammy and suspicious.
Instead of attachments, use links. And don't go nuts on that, either – links to your travel-related social accounts, your web, and your YouTube channel are relevant. Links to your hobby fishing site and your Pinterest board of home décor ideas, on the other hand, are not.
If the brand wants more information, they'll tell you. For now, don't clog their already busy inbox.
Sample Travel Sponsorship Pitch
In many ways, your pitch will inadvertently tell the brand exactly what they can expect from you if they choose to sponsor you. If they receive a long, rambling email overflowing with irrelevant tangents and blurry images, it will tell the brand the content you will create for them will also be a rambling, incoherent, inconsistent mess. If your email is short, sweet, intriguing, and unique, that's most likely what your content or promise to them is going to be like, too.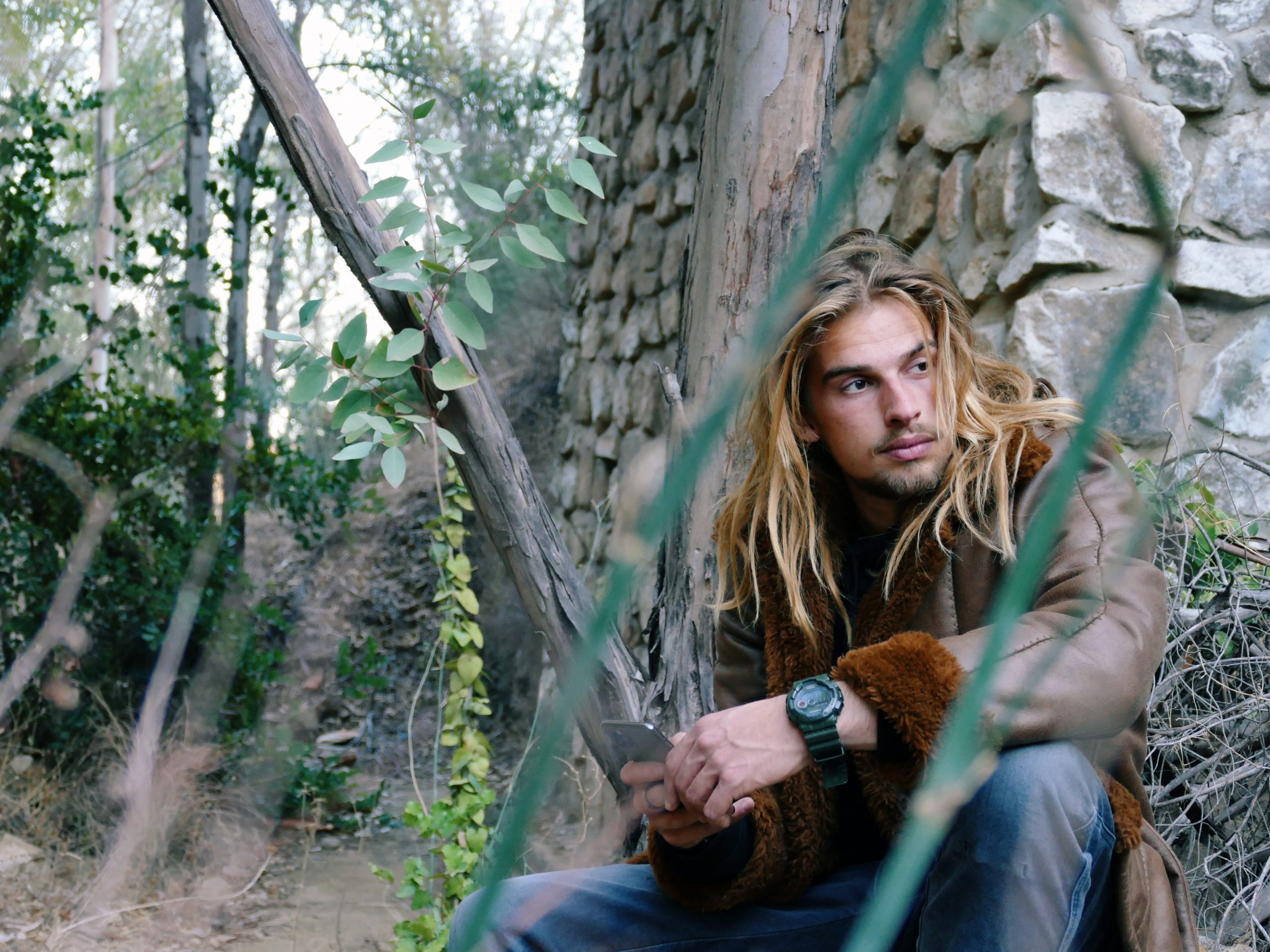 Finally, don't just talk about yourself. Yes, you need to introduce yourself, but you also need to show the brand you know their products and can bring value to them. Say hi, introduce yourself in two sentences, add another sentence about your trip, then tell them exactly what you can do for them in return for a sponsored product or trip.
Here's a sample travel sponsorship pitch to give you an idea:
Sponsorship Email Template
Hi, Brand of Awesome Socks!
I hope you're having a great day. My name is A, and I'm an adventure traveler and content creator obsessed with your Awesome Socks. During my last adventure trip, I used your socks for hiking, trekking, and city tours, and I loved how comfy and durable your Awesome Socks were. In three months, I'm embarking on another adventure expedition – this time, I will be adventuring in X exotic place and hiking the incredible Z trail – and I was wondering if you're be interested in partnering up.
As a content creator, I have a 5k-strong YouTube channel, an engaged 15k Instagram following, and a blog that receives 20k views per month. My audience cares about hiking gear and equipment, and I'd love to share my Awesome Socks experience with them. I'd be happy to create some unique content featuring Awesome Socks in X and Z locations for your use, and I'd love to share my Awesome Socks experience with my own audience.
If this sounds like something you'd be interested in, I'd be happy to offer content and exposure in return for a year's supply of Awesome Socks. I know you create product for active, sock-wearing people, and I believe our collaboration would benefit your audience!
Best,
A
Customizing the Proposal
Obviously, you'll want to customize this template to fit the brand you're reaching out to and add your own specifics as to who you are and what you do. You may want to expand a bit more if you're planning an epic expedition spanning five continents, and you may want to include samples of your previous work or your previous sponsored content (but remember, links, not attachments). In your pitch email, you need to show the brand you have a unique proposal, can deliver what you promise, have a proven track record, and have done your research into what they care about most.
Be Who You Say You Are
When writing a proposal for your potential motorcycle trip sponsors, remember that they'll look you up. Brands are careful with who they align themselves with: if your Facebook profile is littered with images of your drunken escapades in Bali or heated political conspiracy debates, that's not going to be attractive to sponsors. If you only post your pets' images and share obscure articles on cryptocurrency, that's going to tell the brand you aren't quite the travel content creator you're boasting to be.
That's not to say you shouldn't be yourself – of course, you should. Be as quirky, funny, and extraordinarily unique as you like, but remember context, credibility, and reputation. Equally, don't go overboard trying to present yourself as the perfect candidate for a particular brand. Blandness is another extreme that won't get you very far.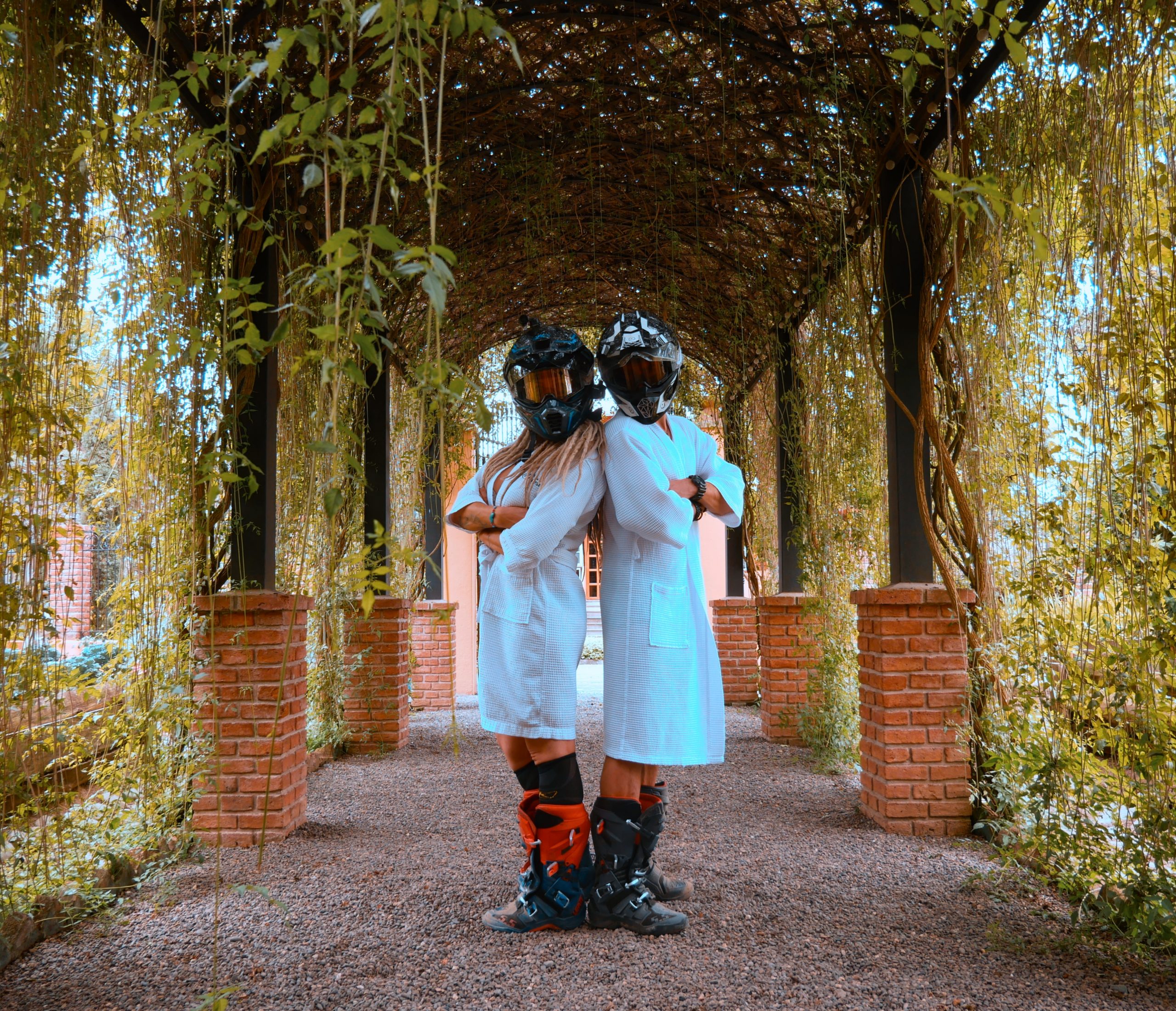 When all is said and done, remember that win triangle we talked about. If you feel that by getting sponsors for your motorcycle trip is going to benefit you, the brand, and your audience in equal measure, this is the sweet spot to aim for. Go for it, and good luck!