So you're ready for the big adventure? Whenever we meet people on the road and tell them we have no return date, they inevitably ask the same question. How much does it cost to ride the world?
We get it – riding around the planet seems like a pretty long project. How much money do you need for something like this? How much do riders spend on food, fuel, and accommodation? What are the actual motorcycle travel costs?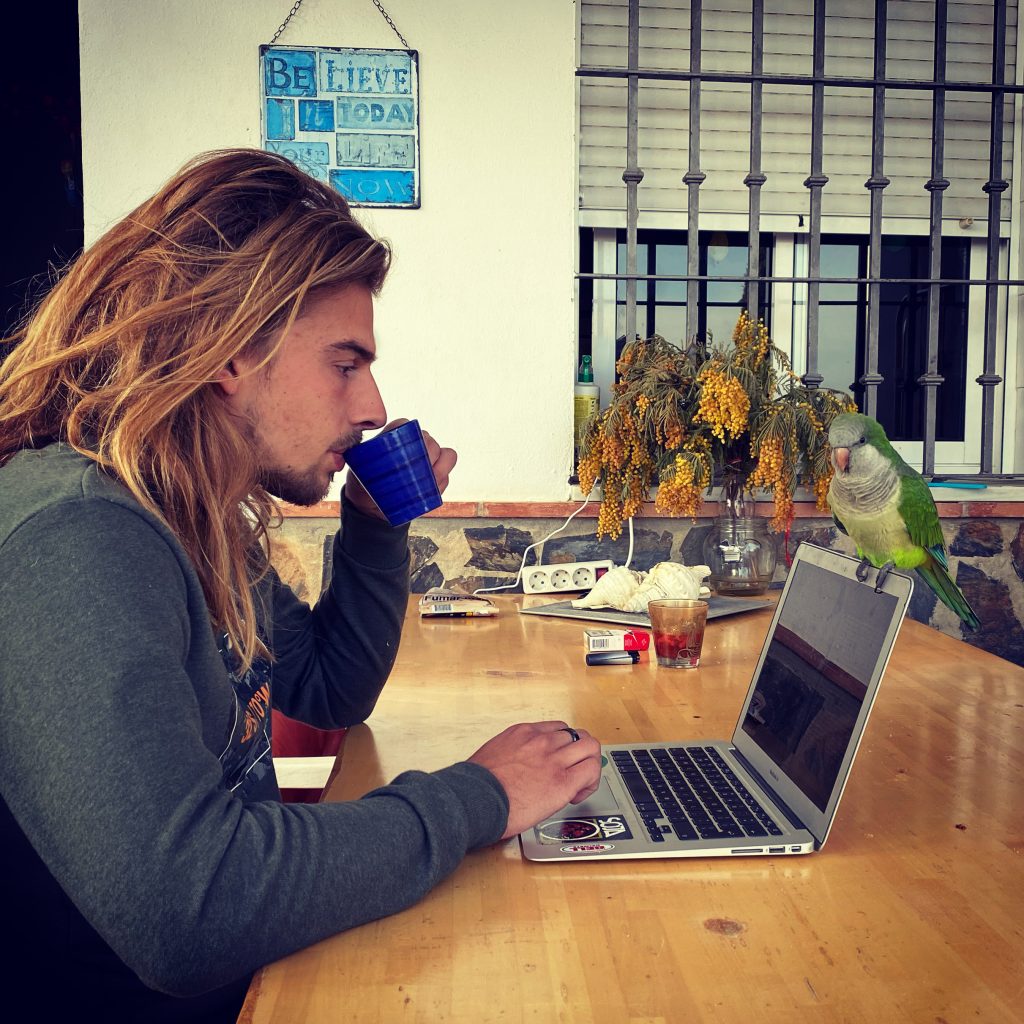 The thing is, most people assume traveling the world is like an extended holiday. And on holidays, we all tend to splurge on better hotels, surfing lessons, shopping sprees, good eats, or nights out. If that's your vacation MO, chances are, you may be spending $2,500 and upwards for a ten-day holiday in Bali, Mexico, or wherever else your adventurous soul takes you.
If it costs around $2,500 to travel for ten days, does that mean you'll be spending $7,500 a month while traveling around the world by motorcycle?
No.
The math is completely wrong, and we'll tell you why.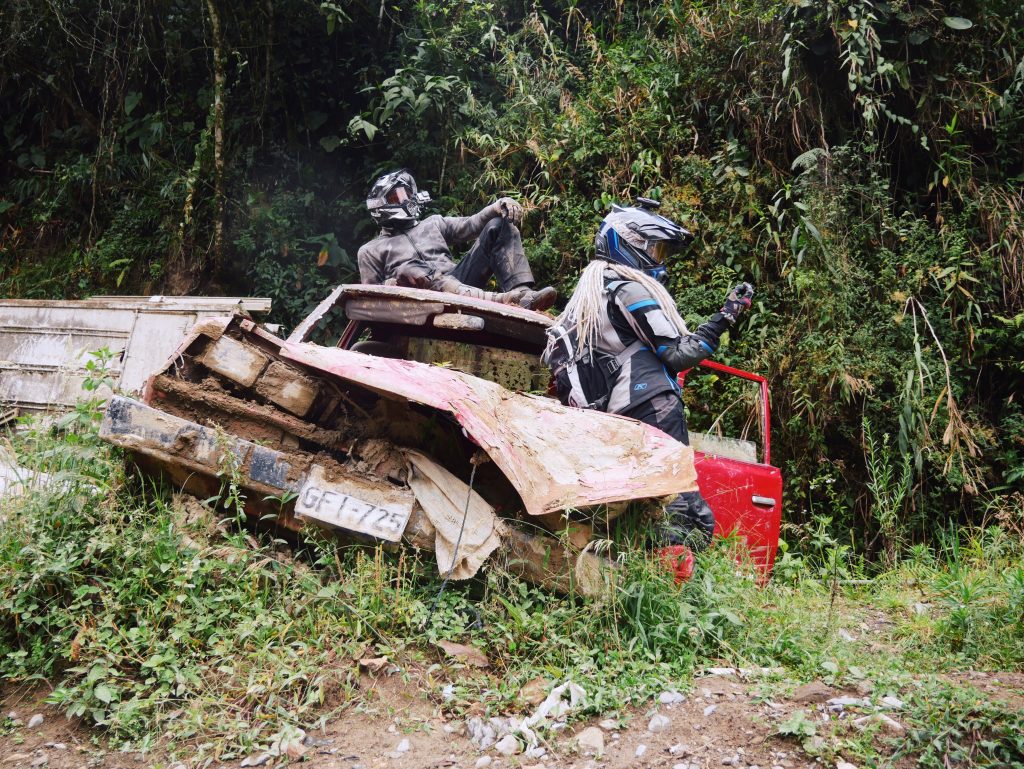 Round-the-world travel is much more affordable than you think. Besides, we're not talking about extremes here. We're not going to tell you to wild camp all the way, survive on rice and beans, and pinch every penny. It's entirely possible to travel around the world for less without sacrificing fun activities and subsisting on $5 a day.
In this post, we're going to share:
How much it cost to ride the world for us
What's a good way to can calculate your own costs
How much does it cost to travel the world for one year
Ways you can save while traveling – without depriving yourself
Ready to crunch some numbers? Let's dig right in.
How Much Does It Cost to Ride Around the World?
Okay, so we just told you the math is off if you're calculating your holiday costs and think this is what it takes to travel the world.
Long-term travel is not a holiday. Let that sink in: a round-the-world journey is not an extended vacation. When you travel for months or even years, you're not on vacation. Instead, you are living a different lifestyle. You spend more on your week off because you're taking flights, staying at good hotels, and allowing yourself to have unlimited fun because that week is all you've got. Once it's over, you're going back home and back to work.
When you travel long-term, on the other hand, you're more flexible. You don't have a limited time frame. This means that you can travel slower, experience each day as it comes, and budget in a way that allows you to keep traveling.
Long-term travel isn't a vacation. Instead, it's life on the road.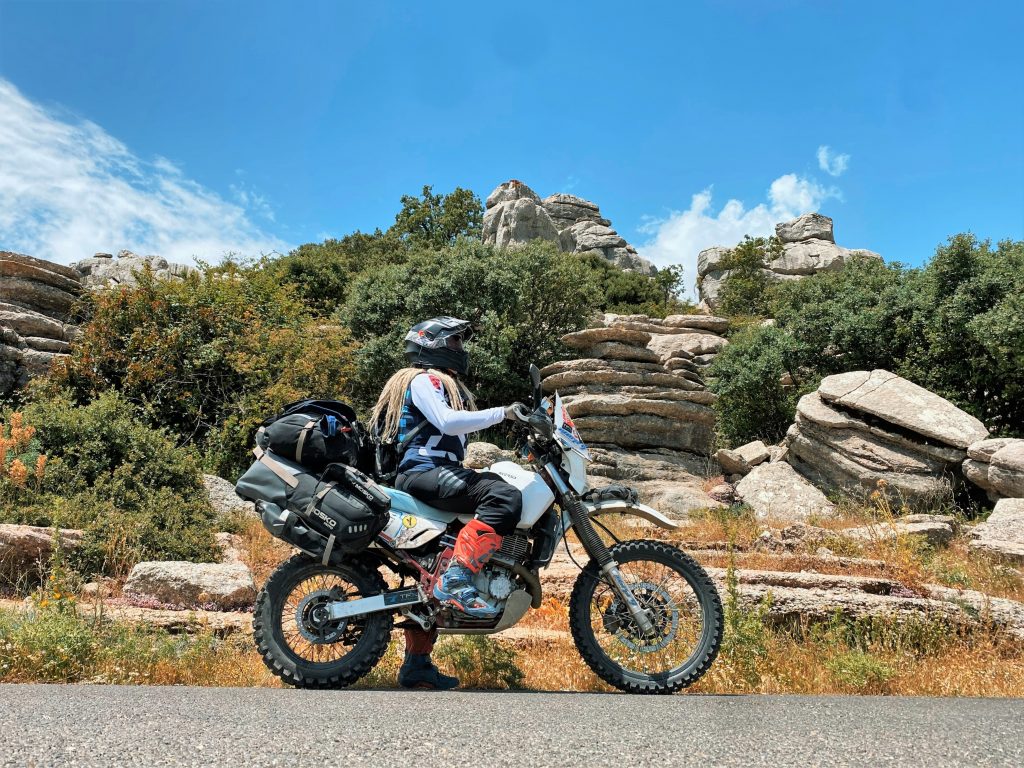 Life On the Road vs Holidays
When you think of it this way, calculating how much it costs to ride around the world is much easier.
Ask yourself this:
How much do you spend on rent or mortgage, car payments, and utilities per month?
What are you spending on food, shopping, and entertainment?
Which expenses go toward fuel, car or bike maintenance, and the like?
Let's say this number is $3,000 including all your expenses. That's pretty standard if you live in one of the major cities in the Western world. Your mileage may vary, but let's take the $3,000 as an example.
This, more or less, is what you can expect to spend a month on your trip around the world.
Ride Around the World: Cost Explained
Let's unpack this further: if you currently spend around $3,000 a month on your living expenses, this is what you'll be spending on the road. When you leave for long-term travel, chances are, you will terminate your rent back home or rent out your home for some additional income while you travel. You'll put your car in storage or sell it. You won't have utilities any longer, your shopping budget will shrink significantly – after all, there's only so much you can pack on the bike – and your entertainment priorities may change as you travel.
Now, your main expenses will be food, fuel, accommodation, travel and motorcycle insurance, and bike shipping.
That's it.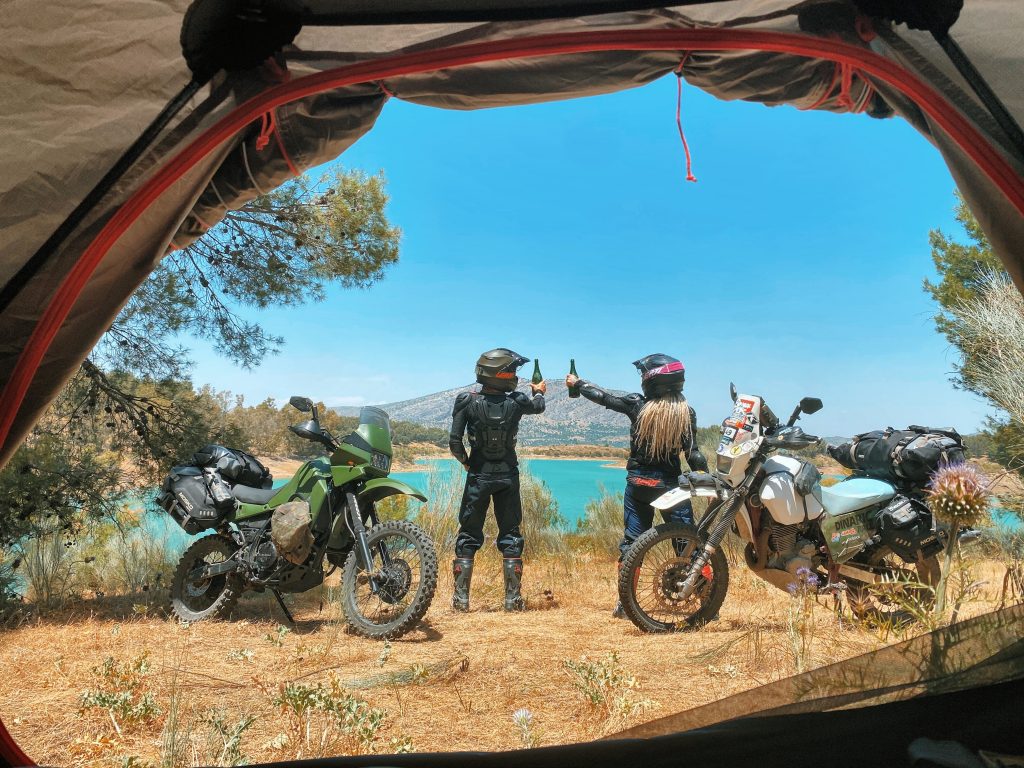 Sure, along the way, the unexpected will happen. You may need to replace parts on your bike, you may want to fly home to visit your loved ones, or you may be tempted to take a scuba diving course when you hit Central America.
These unplanned expenses aside, however, all you need to worry about is your food, gas, and hotel budget.
If you have $3,000 a month to spend, that's about $96 a day. Usually, $30 goes toward fuel, $20 goes toward food, and the remaining $40 is for hotels or Airbnb's.
But this is where the beauty starts. When you travel around the world for more than a year, you can minimize these expenses and still be comfortable. In fact, you can travel on less than $2,000 a month while still enjoying decent mileage, good food, and staying in hotels along the way.
Here is how.
How Much Does It Cost to Ride the World for 1 Year?
Our monthly budget – and, mind you, that's for two people – is around $2,500, depending on where we are. The Western world is always more expensive, so if you mostly stick to South and Central America, Central Asia, Southeast Asia, and Africa, expect to spend less.
In comparison, Europe, North America, and Australia will always be more expensive. That's not to say you should only stick to Peru or Kyrgyzstan. The trick is to stay longer in cheaper countries and shorter in the more expensive ones.
In addition, you can splurge more on the fun stuff – wildlife hikes, skydiving lessons, or language courses, whatever takes your fancy – in the cheaper regions of the world. Equally, if you camp more and prep your own meals more often when you're traveling Norway or Canada, you'll be stretching your travel budget much further.
In other words, you can balance it all out. Spend more in cheaper countries and get more value for your cash, and splurge less in more expensive places.
Round The World Travel Cost
But let's get back to that monthly budget: how exactly are we spending that $2,500 a month when we're on the road?
About one-third of that goes toward our fuel. On average, we spend around $40 on fuel per day (again, that's for two bikes).
What's the trick here? Travel slow! We don't usually do more than 150 miles a day, because we're not in a rush to get anywhere. Instead, we prefer to stop often, wander off the main roads, explore the scenery around us, and take it easy. If we were to do 300 or 400 miles a day, we'd be spending a lot more on fuel.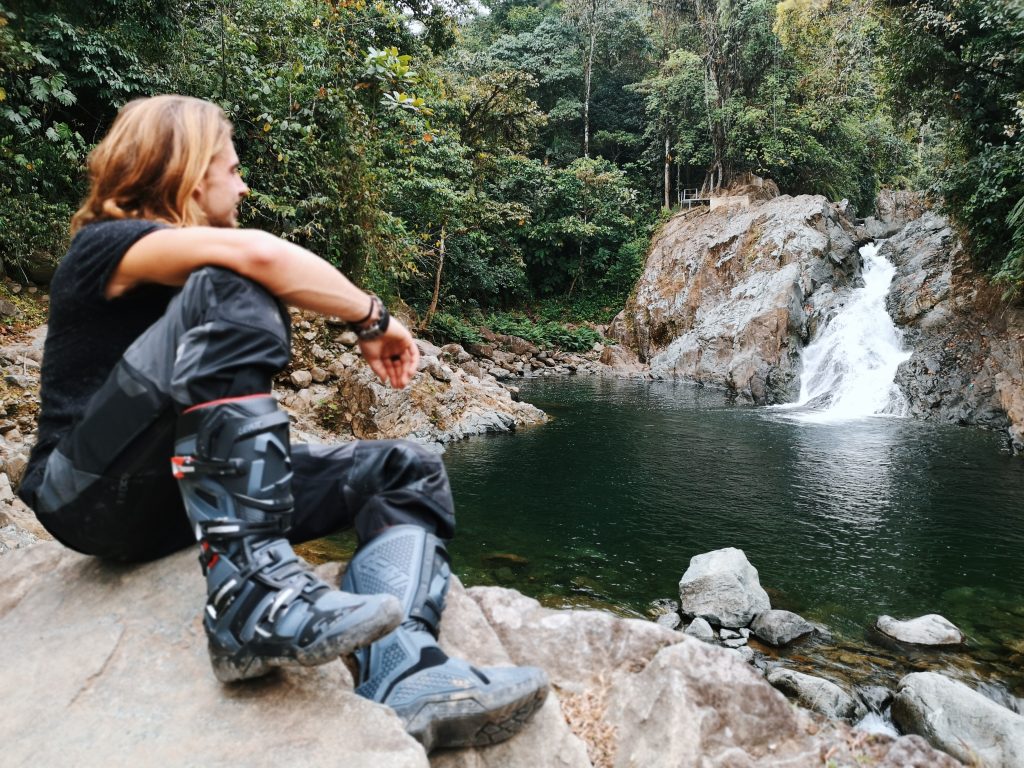 Next is our food budget: on average, we spend around $20 on food a day.
Remember, this is an average: some days, we spend less (or nothing) on food. This happens when we stay at Airbnb's for longer periods of time. We shop for food at local markets and, since Egle loves cooking, we prepare our own meals for most of the time.
On the other hand, there are days when we spend $60 or more on food. Usually, it's when we're in a hurry to get somewhere, we're doing long miles, and we're just too exhausted to cook or there aren't many options out there and we're forced to eat at restaurants.
However, this evens out – some days it's $15 for food, some days it's $60, and some days, that number is zero, so for the sake of average numbers, it's usually around $20 a day.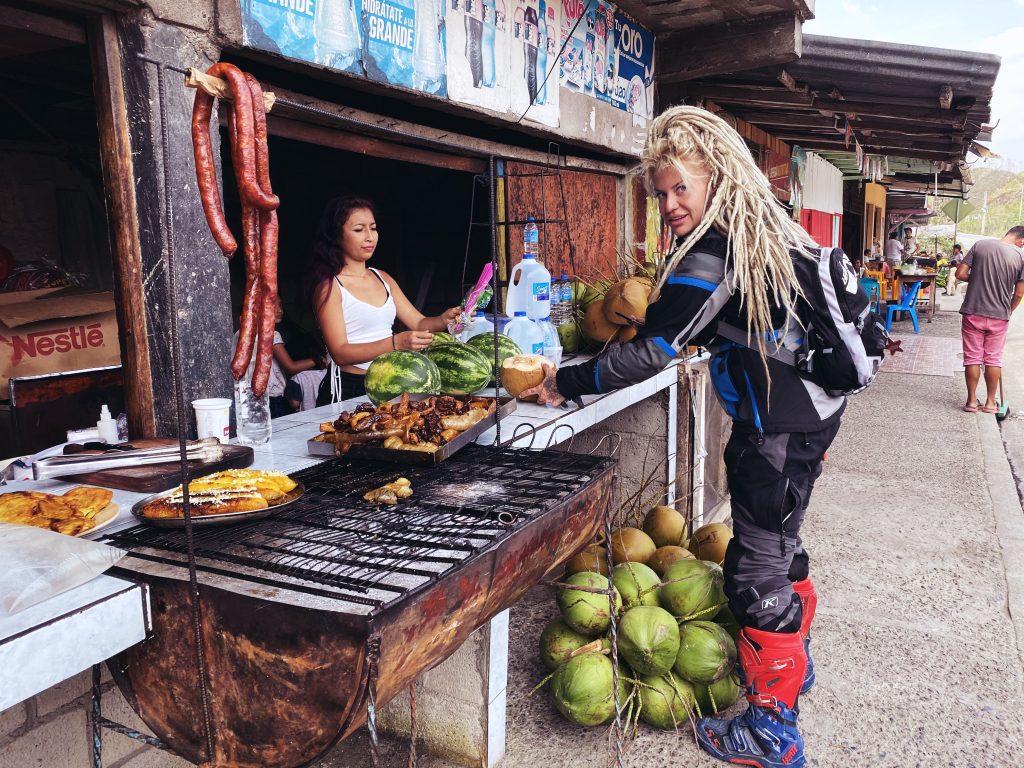 Accommodation Costs
Finally, we spend around $20 a day on accommodation.
Once again, this is an average: we have days when we spend nothing at all because we're camping or staying with friends. Other days, we may spend $35 or more if we're getting a hotel room or an AirBnB. Remember, that same hotel room will cost less in Ecuador than it does in France. In Europe, we tend to camp more or stay in hostels, while in South America, we may stay in hotels more often.
Finally, there are always miscellaneous costs like tobacco, motor oil or chain grease, and of course, the beer budget. However, with slight variations here and there, we're spending around $2,500 a month.
So how much does it cost to ride around the world for one year? $30,000 – and that's for two people on two motorcycles.
Bringing the Cost to Travel the World Down
The $30,000 a year budget to travel the world may not work for everyone. You may be spending more – or less – than that depending on how you travel.
If comfort is important to you and you don't like camping, you may be spending a lot more on accommodation along the way. If you do 400-mile days on a regular basis, you'll spend more on fuel. On the other hand, if you wild camp a lot, cook your own meals, and travel slowly, you may get away with as little as $1,500 a month.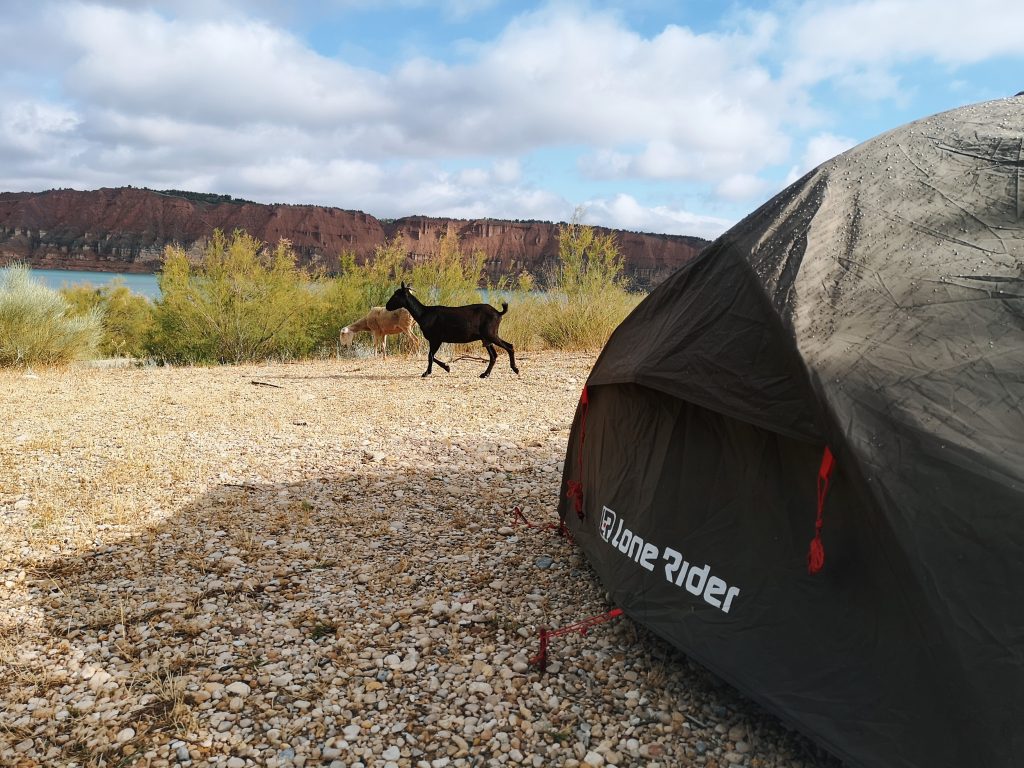 For example, Daryl and Deborah, a couple traveling the world 2-up, spent $13,530 in a year riding their bike from Malta to Australia. You can find their travel budget breakdown here where they share exactly how much they spent traveling the world for one year.
On the other hand, some world riders spend more than $150 a day while traveling. To compare how much people are spending traveling around the world, check out this article detailing what it costs to travel the world on a motorcycle. You'll find examples of people spending a lot more – and riders surviving on as little as $15 a day.
For us, traveling around the world is a balancing act.
Along the way, we've learned that setting a very strict budget and depriving ourselves of fun, good food, or social gatherings where we may spend more is just not good. Every once in a while, we want to do something that's over the budget, for example, enter a rally race or rent a little Airbnb with a swimming pool and get some rest.
And that's fine, because we also have days when we camp a lot, do very low miles, cook our own food, and spend very little. For us, the key is to balance it all out.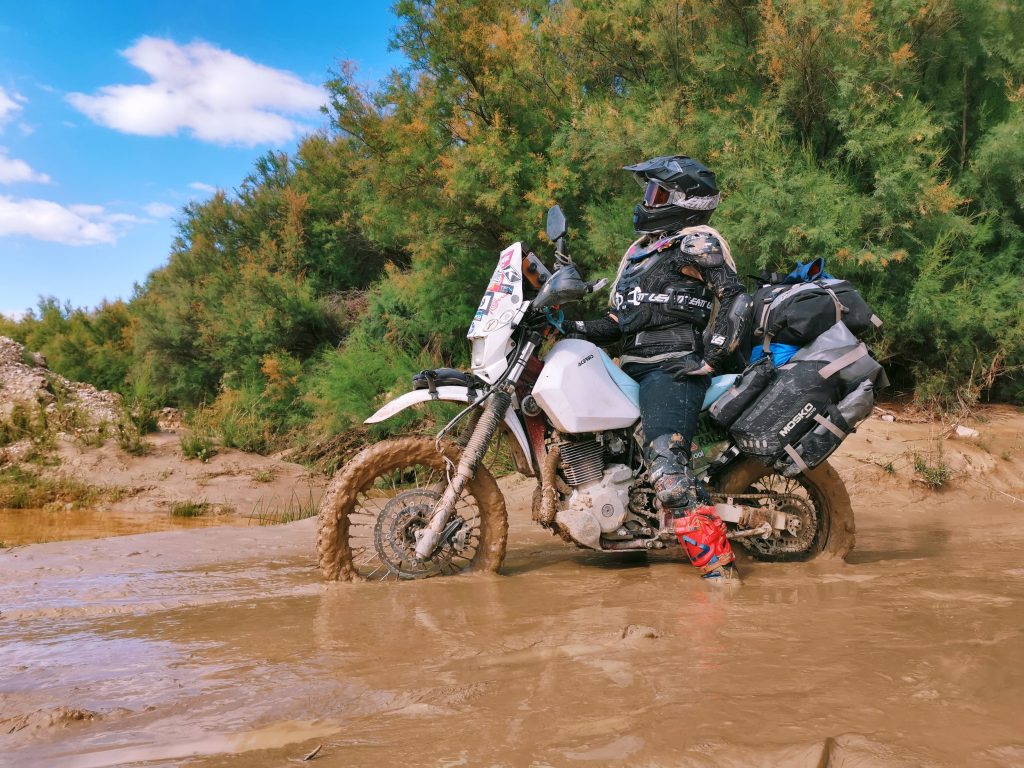 Saving the Costs Without Depriving Yourself
If you pinch every penny and don't allow yourself any comfort, fun, or activities you love, traveling around the world may become joyless.
Equally, if you splurge on a constant basis, you simply won't get very far.
In addition to the balance principle, we've also learned that the cost to travel the world can be brought down significantly if you:
Travel slowly. As we mentioned before, low daily mileage means you spend less on fuel – and, usually, see and experience much more when you're not in a rush.
Splurge in Ecuador and save in Switzerland: stay longer and spend more on fun activities in cheaper countries, and tighten your belt when you hit North America, Europe, and Australia.
It doesn't have to be every day, but if you like camping, this can save a big chunk of change in the long run. For us, camping is all about staying in nature, and we love finding beautiful wild camping spots and unplugging as often as we can.
Cook your own food. Again, it doesn't have to be every day, but whenever you stay somewhere longer and have access to a kitchen, get creative and prep your own meals.
Speaking of extended stays: usually, it's much cheaper to book an Airbnb for an entire week than stay in a new place every day. Most hosts and hotel owners offer discounts when you stay longer. We love getting a place for a week or two and using it as our basecamp: we can leave the luggage and go explore local trails on our bikes.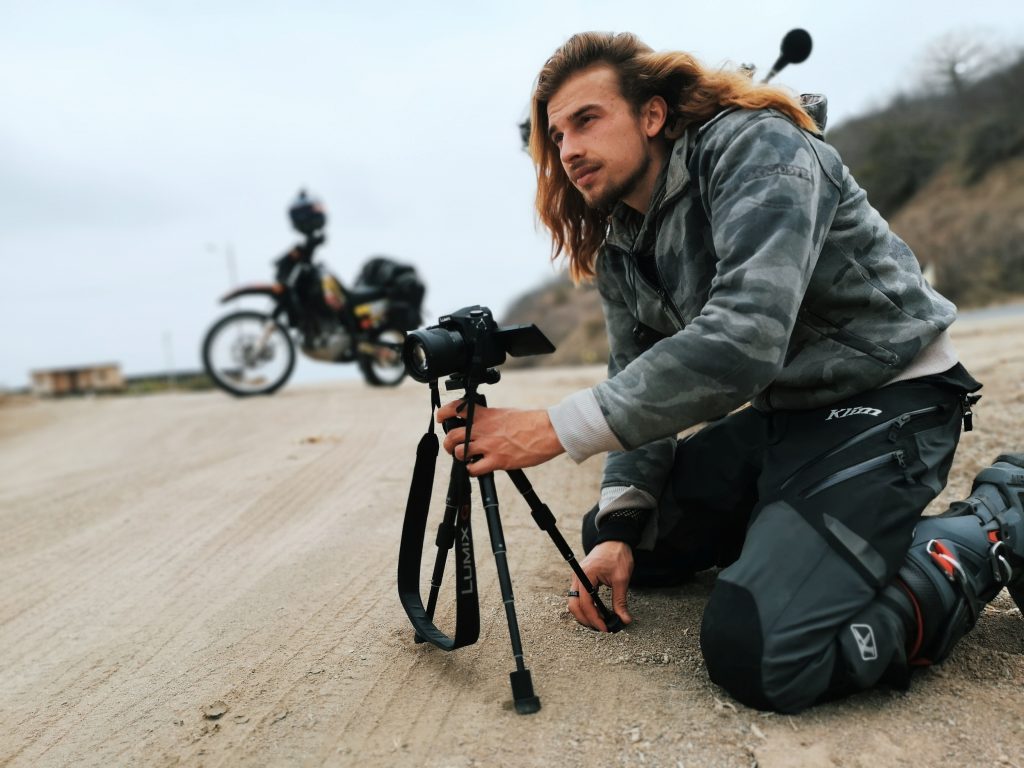 Ride Around the World Cost: The Miscellaneous and the Unexpected
So far, we covered our round-the-world travel budget for food, fuel, and accommodation (and, yes, beer). However, when you travel long-term, you may also need to cover additional expenses like:
Bike shipping
Travel and motorcycle insurance
Motorcycle maintenance and repairs
Visa fees
Flights home
Motorcycle Shipping Costs
In 2019, after riding her bike from Arizona to Chile, Egle needed to ship her bike back to Europe. While it seems like a costly undertaking, motorcycle shipping is not as expensive as most people assume.
To ship her Suzuki DR650 from Valparaiso, Chile to Warsaw, Poland, cost $1,000 including all paperwork processing. Egle shipped her bike with Motobirds, a Polish motorcycle shipping agency, and we hear they offer even better rates when you ship return.
The trick to cheaper motorcycle or car shipping is picking the most popular routes and biggest ports.
For example, Chile to Germany is an extremely popular sea freight route, whereas Lima to Portugal may cost you a fortune. This is because certain ports are more amenable when it comes to import and export procedures and customs, as well as simply being popular shipping destinations.
Shipping your motorcycle from Rotterdam to Cape Town, for example, may cost you as little as $900 with African Overlanders. Shipping from London to Nairobi, on the other hand, may cost double or triple that.
When planning your round-the-world motorcycle journey, keep this in mind and research the cheapest shipping routes to save costs.
Additionally, always look for sea freight instead of air freight. Sure, air freight is awesome – you ride to the airport, get on the plane, land, jump back on the bike, and you're off. However, air freight is almost always more expensive than sea shipping.
Insurance, Visas, and Paperwork
Travel and motorcycle insurance costs will vary a lot depending on your origin and destination country. For example, if you're riding across South America, you can purchase local motorcycle insurance in each new country. It typically costs no more than $50 for a few months.
In Europe, you can get your Green Card insurance for the Schengen Area fairly cheaply. However, if you're looking at international motorcycle insurance with global coverage, that may cost a lot more.
To avoid visa fees, stick to countries that do not require them – or, at the very least, organize your visas in advance to avoid unpleasant surprises at border crossings.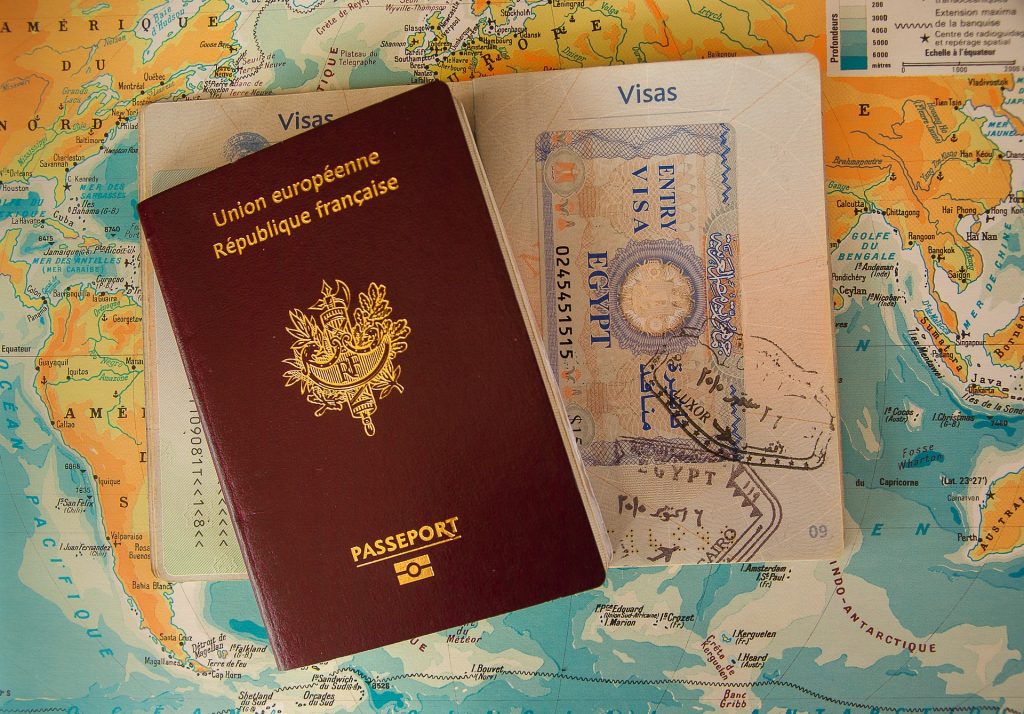 Speaking of which: some people are so terrified of border crossings they hire local fixers to help them. This is absolutely unnecessary – even in Central America where border crossings are notoriously tricky, you are perfectly capable of doing all the paperwork yourself. It may take you a little longer, but you do not need to spend anything at all.
Motorcycle Maintenance Expenses
Here's a fun fact: your bike will break down at some point if you travel for more than a year. It may not be anything significant – perhaps you'll just need to replace your clutch plates or clean your carb. On the other hand, it may be something pretty big.
Last year, we had to completely rebuild the engines of our travel motorcycles. With ridiculous miles and years of abuse on them, the bikes needed some serious TLC, and we spent around $1,700 each to overhaul and completely refurbish the engines. Owch.
However, big repairs like this do not happen often.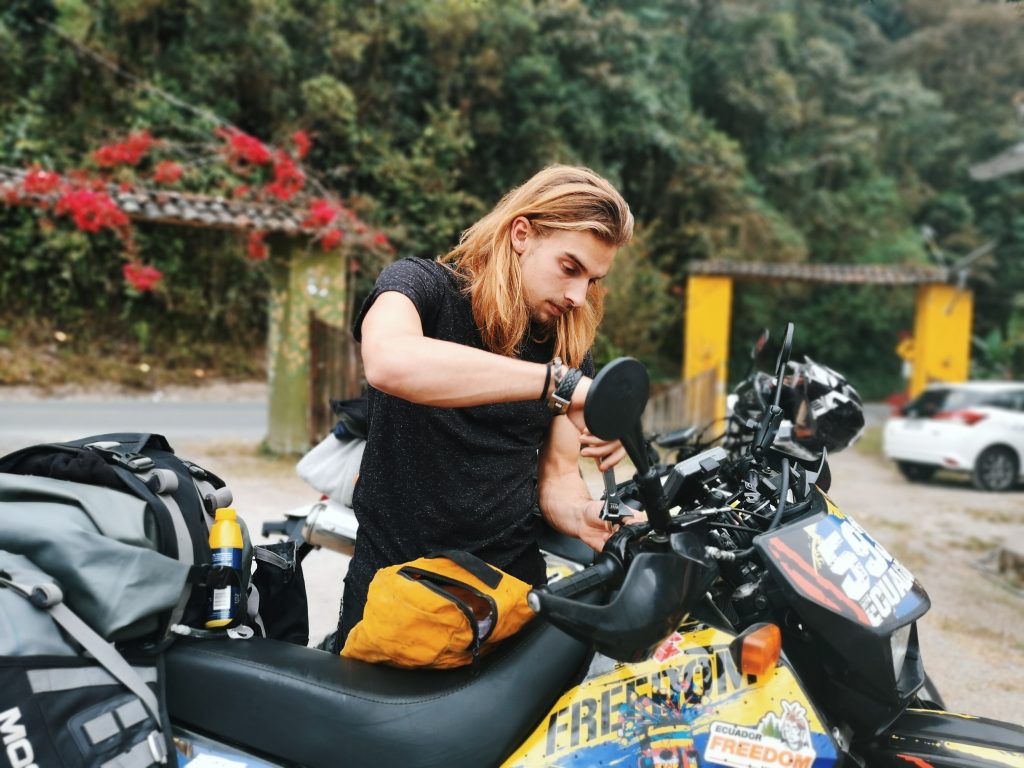 If you service your bike regularly, you shouldn't be spending much on maintenance. The trick is to plan ahead a little: for example, if you know you'll be needing a new shock soon-ish, order it and ship it to the next big city on your route.
Why?
Because shipping a shock absorber to Medellin or Lima will be significantly cheaper than trying to get one when you're stuck in some tiny remote village in the Amazon rainforest.
Finally, carry some spare parts. Sprockets, brake pads, chains, and air filters can usually be found just about everywhere. More specific things like piston rings or clutch plates, especially if you ride a new model bike, may be harder to come by in places like Bolivia or Tajikistan, so carry those with you (or order ahead).
Read More: Essential Suzuki DR650 Mods for Performance
Flights Home
Last but not least, when you're traveling around the world, you may get homesick once in a while. Or you may want to visit your loved ones during birthdays or holidays – whatever the case may be, you may want to fly home every now and then.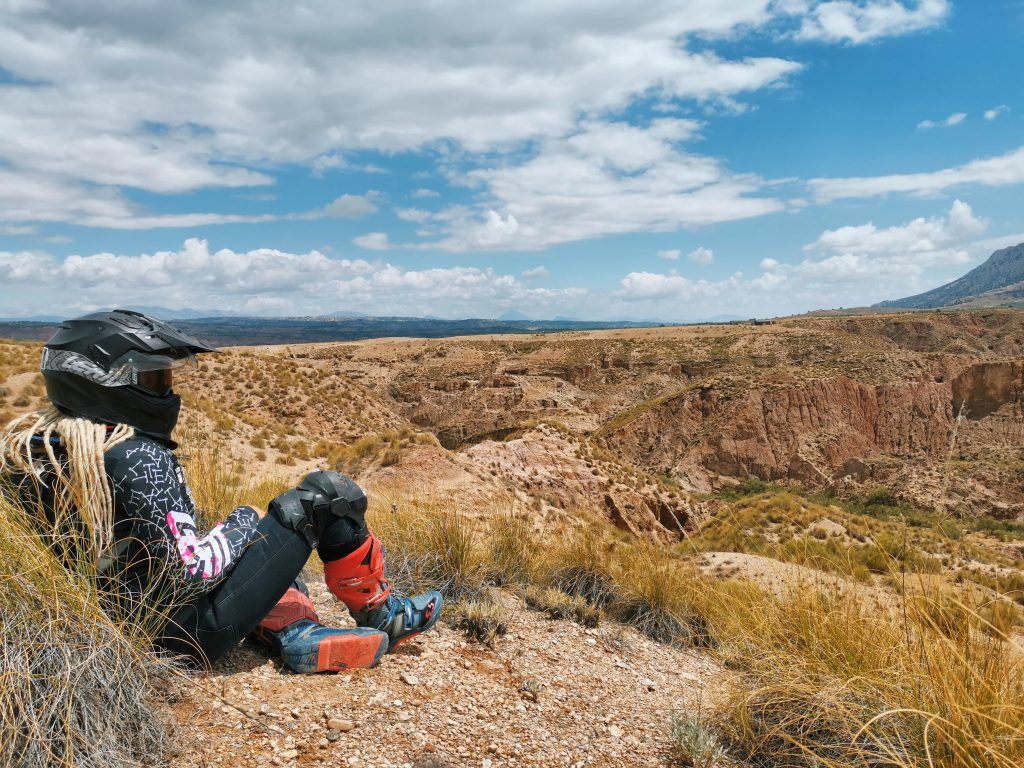 The key to spending less on international flights is a lot like the bike shipping trick. Always look for major hubs to fly out to, because it will always be cheaper this way. For example, if you want to fly home soon but you're in Bolivia, hop across the border to Peru and fly from Lima – it will save you a ton of cash. Flying out of capital cities will always be cheaper than traveling from remote towns, not to mention the amount of connections you'll avoid.
In addition, book your flights home early, and use sites like Skyscanner to compare prices. You can save as much as $400-$600 per flight if you book smart and get that early bird ticket before the rush.
The What If Budget
When you're calculating how much does it cost to ride the world, always set aside a bit of a What If Budget. The unexpected will inevitably happen, and when it does, it's good to have a little extra financial padding to cover the expenses. Some travelers say the What If Budget should be the size of a plane ticket price home from anywhere in the world. Others advise having your What If Budget worth two months on the road. Whatever it is, set a little something aside so you don't have to panic when something unforeseen happens.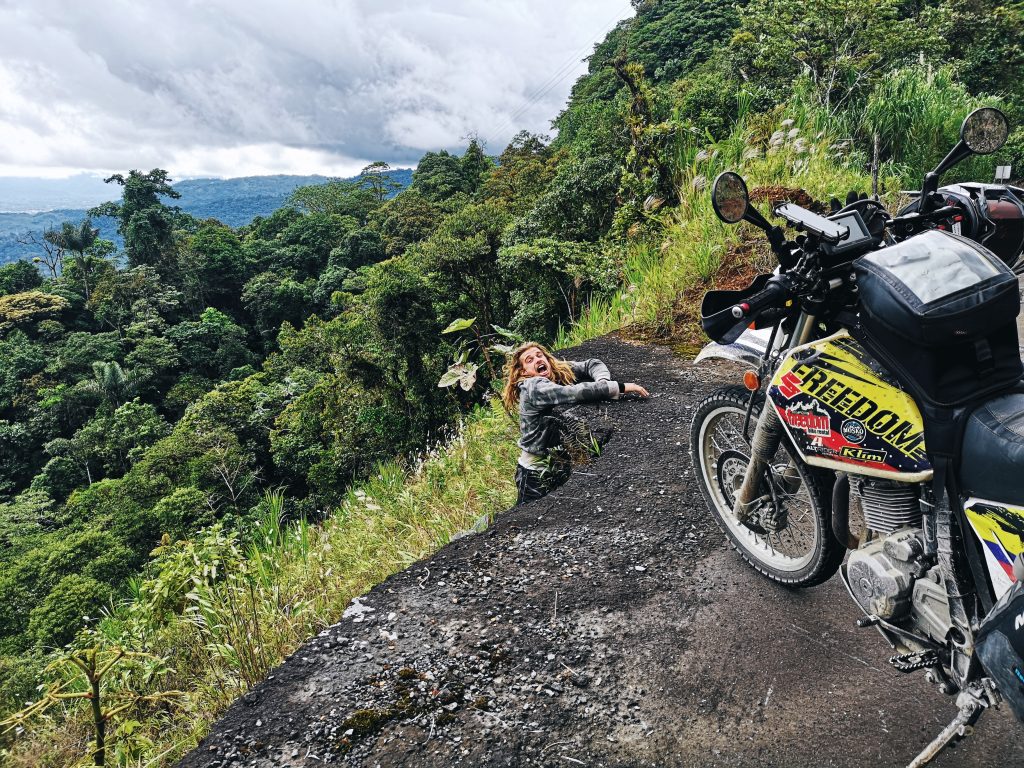 So how much does it cost to ride around the world? In the end, only you can answer that. Every traveler is different, and we all have different needs and priorities on the road.
However, we hope this post explains what the average cost to travel the world can be, and how you can budget for your own adventures.
Let us know if you have any questions or comments, or if you'd like to share your own travel budget tips – we always love hearing from you, you wonderful wandering souls!
More resources:
Quit Your Job and Travel the World Overland
How to Fund a Motorcycle Trip from Zero
How to Get Sponsors for a Motorcycle Trip