Woken up by the roar and rumble of the truck and motorcycle engines, I peeled my eyelids open, still dazed after barely three hours of sleep. My tent was covered in sand and dust inside and out, and, as I crawled out and located my grime-splattered riding boots, I blinked at the rising sun. Day three at the Rally Dakar 2019.
It was just past four-thirty in the morning, but there was no time for poetry or scrambled eggs. Exhaust fumes would to for breakfast, and, after scurrying to the portable sinks at the back of the camp to brush my teeth, I quickly packed my tiny nylon abode up, loaded my bike, and wheeled it outside the bivouac gates. I put the packed bike on a side-stand near a lonely wooden bench and set about making coffee as the wind tore into my jacket.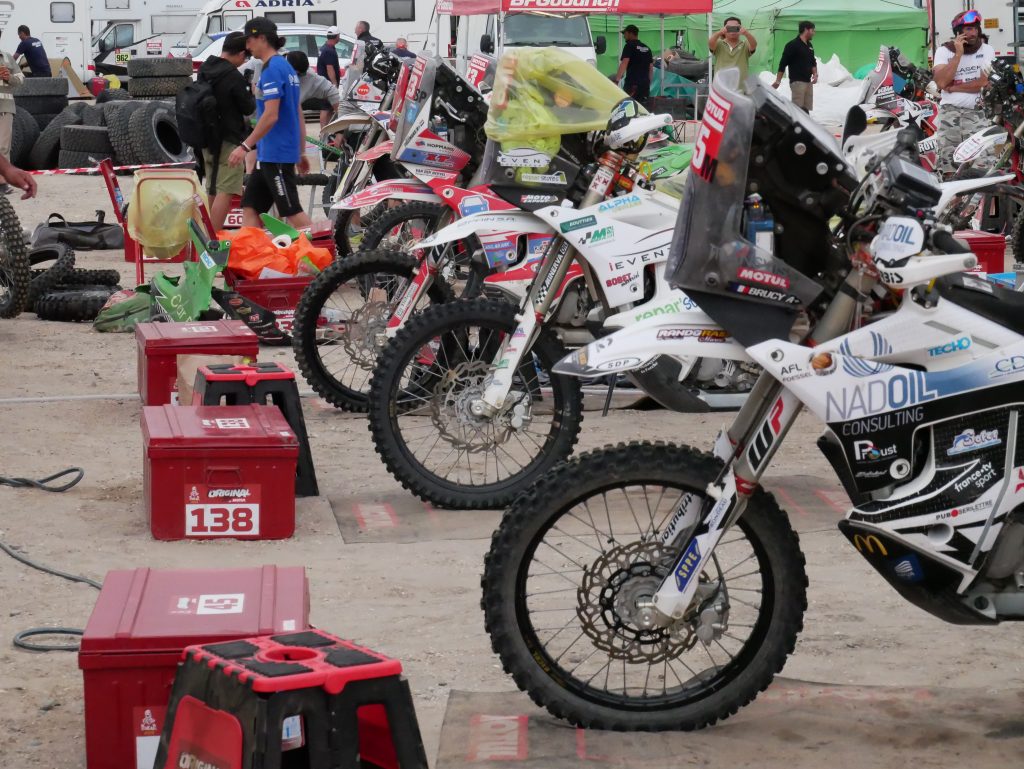 Riders were already lining up at the start line, warming up their wrists, revving their engines, giving their goggles one last wipe. One by one, they left the San Juan de Marcona bivouac for yet another grueling stage in the hostile, otherworldly Atacama Desert. Sharing my coffee with the Peruvian bivouac security guys, I hurriedly emptied my mug, put my helmet on, and started my bike's engine. There was a long day ahead: following the Dakar caravan, sneaking into the desert at the finish waypoint, then racing after the riders to welcome them back at the next bivouac with cold drinks, painkillers, and chain grease.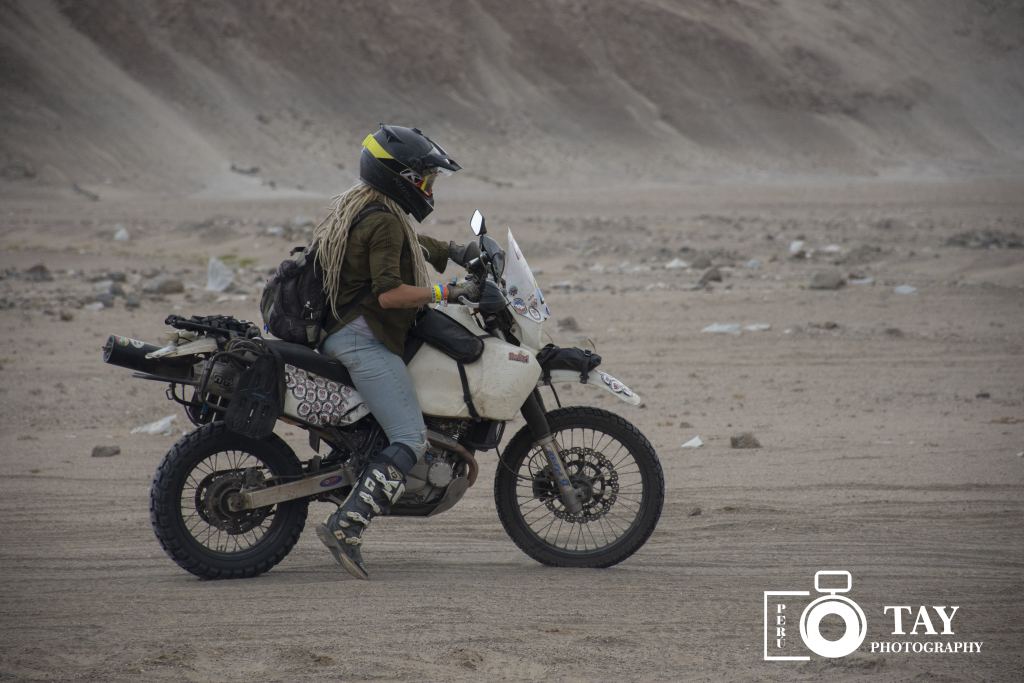 The ten mad days of chasing Rally Dakar seem like a distant, blurry desert mirage now. All I know is that it's the white sands, black engine oil, and super-human determination, not the cool helicopter footage or the winners' podium, are what I remember from Rally Dakar the most. I remember that nothing is impossible, and nothing is guaranteed. And perhaps that's why I'm so hooked.
But the Dakar has moved to Saudi Arabia now. I moved, too – in the least imaginable direction. Reminiscing about the toughest rally race in the world while trying to recover and get my bearings in Lima, Peru, I already vaguely knew that adventure riding and traveling just wasn't going to do it for me anymore. I could carry on traveling, heading towards the Salt Flats in Bolivia, crossing Argentina and Chile again, perhaps wandering off into Brazil on my way back, perhaps going back to North America again, then getting to Vladivostok; keep on going, keep on rolling, as I have for the last six years.
Or I could ship Lucy, my loyal Suzuki DR650, to Europe, and enter a rally race myself.
The Journey into Rally Racing
It wasn't a realistic idea. I didn't have the first clue about what it took to actually race in a roadbook navigation rally. I had a bike that was a solid pack pony, not a thoroughbred rally beast; my off-road riding skills were somewhat passable, but my speed was that of a flustered penguin; my budget was, to put it mildly, modest, and I had no powerful sponsors behind my back. Yet, in the wise words of Israeli rider Achinoam Harel, " "realistic" isn't a very good measure of whether to aim for something or not".
Armed with indestructible naiveté, new clutch plates, and a one-way flight to Europe, I packed Lucy up in a shipping container bound for Poland and set out on a mission to survive at least one cross-country roadbook navigation rally as a competitor.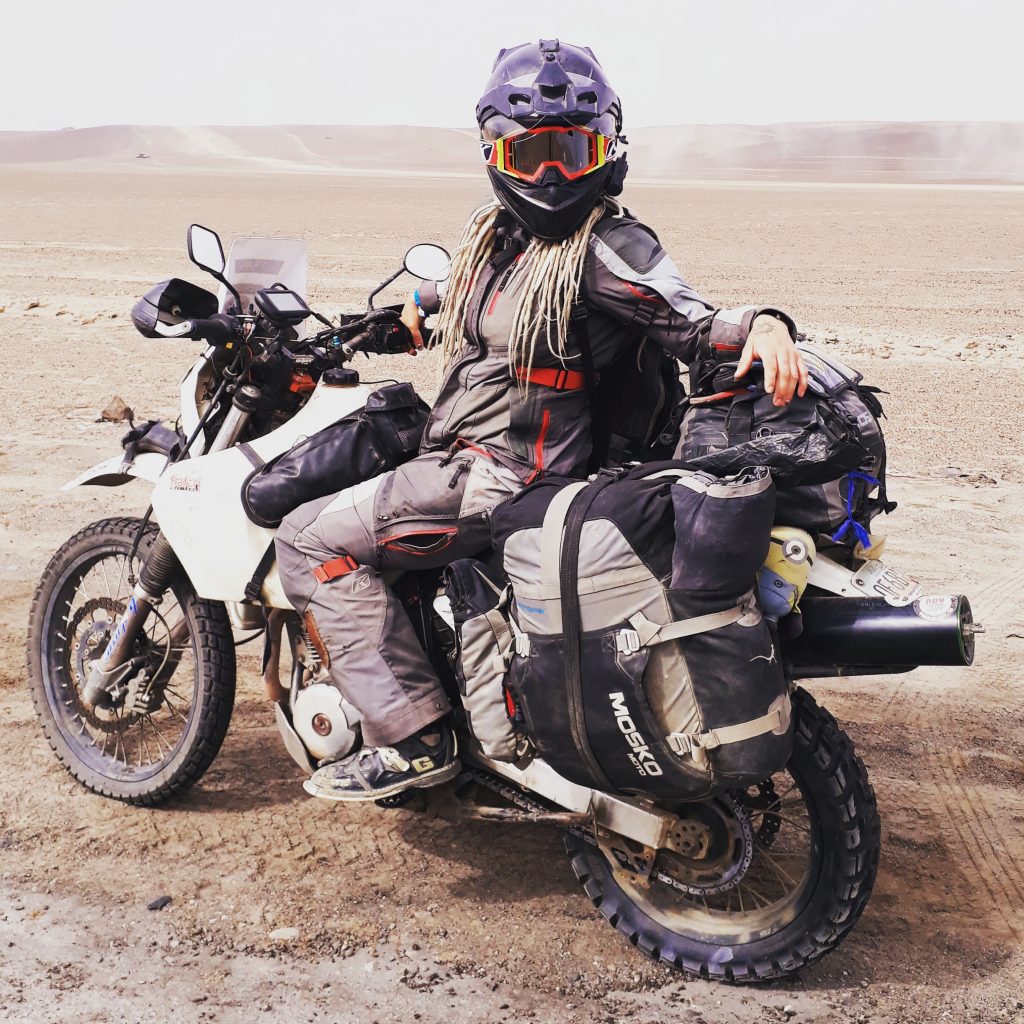 As luck would have it, I got an unexpected invitation to race in the Hellas Rally Raid in Greece. Chancing upon a Facebook post by Tim Hewitt, better known as the Dirt Bike Jesus, detailing his experience at Hellas as a rally newbie, I reached out to Hellas Rally organizer Meletis Stamatis for an interview about roadbook navigation. Before hanging up, Meletis said to me, "you should come to Hellas and experience it for yourself. The best practice for a rally is a rally".
Rally Papa was right, and I filled out the entry form shortly after touching down in Europe.
Trans Alen Tejo Rally, Portugal
Waiting for Lucy to arrive from Chile and being thoroughly terrified of roadbook navigation and Hellas Rally Raid, I managed to work myself into pure panic. Rally racing looked all sorts of awesome during the post-Dakar buzz days in Lima; in freezing cold Vilnius, without my DR650 by my side, the whole idea suddenly began looking sketchy. Doubts started creeping in, and I felt a little absurd with my rally aspirations.
But if the Dakar has taught me anything, it was that nothing worth doing is ever easy; nor perhaps it should be. We tend to think that success, incredible breakthroughs, or amazing victories come in this one broad, sweeping stroke. The one "AHA" moment, the big, defining pivot point, the one heroic move. It's a curious myth, but it's got nothing to do with reality. Breakthroughs come after countless hours of hard work; an overnight success is usually some ten years in the making. Of course, hours and hours and hours of smaller, private, unseen battles, trials and errors, steps forward and falls backward sound a lot less inspiring than superhero moments. The small things sound tedious and mundane, even. And maybe that's why so few ever experience the overnight success… Or get to the Dakar start line.
Not that I have achieved either of those things, but for me, this was a workable way to reign panic in. Was I in over my head with Hellas? Sure. But, since this was my first ever rally, I wasn't aiming to win it, to place in the top 30, 50, or even 100; all I wanted was a finish, and for a finish, you just put one foot in front of the other. There will be panic, mud, and exhaustion. But you don't need to think about conquering it all at once. You don't need the big, incredible superhero moment. You just need to dig your bike out of a mudhole, for now. Just take a few deep breaths. Just stand up, one more time.
And so, obsessing over everything that might go wrong but still hoping to somehow make it, I spent a few weeks back home, riding an emotional roller coaster and watching my Peruvian tan and my Dakar exhilaration fade away. Thankfully, sometime around then, I got an invitation to join the Trans Alen Tejo Rally, a three-day rally training camp in Evora, Portugal. I packed faster than I could say "roadbook".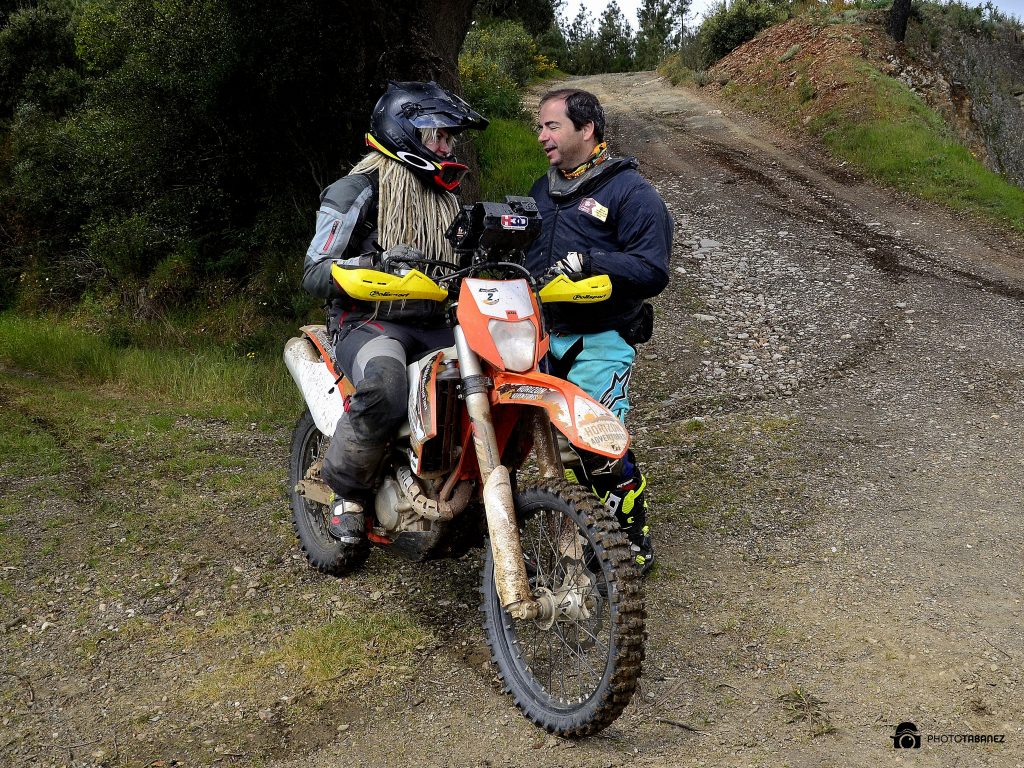 Trans Alen Tejo is not a rally race: it's an event that mimics rally conditions, but you're not timed. This means that you're doing a 150-200 km special stages (that is, off-road stretches) each day, navigate using a roadbook, and have to hit certain waypoints. Since you're not actually racing, however, you can take your time figuring things out (which I did. Lots and lots of time).
There's a detailed account of how it all went in Portugal floating around on ADV Rider somewhere; needless to say, I'm forever grateful to the organizers Joao and Pedro for inviting me over. No, it didn't transform me into a fierce rally racing demon; but it taught me three things. First, it showed me that it was doable, even if I had no training and no clue. Second, that the roadbook navigation wasn't as complicated as I thought. And third: rally people will help you, guide you, advise you, and support you even if you're a complete and hopeless newbie. Why? Because we are all there, at the rally bivouac, for the same reason.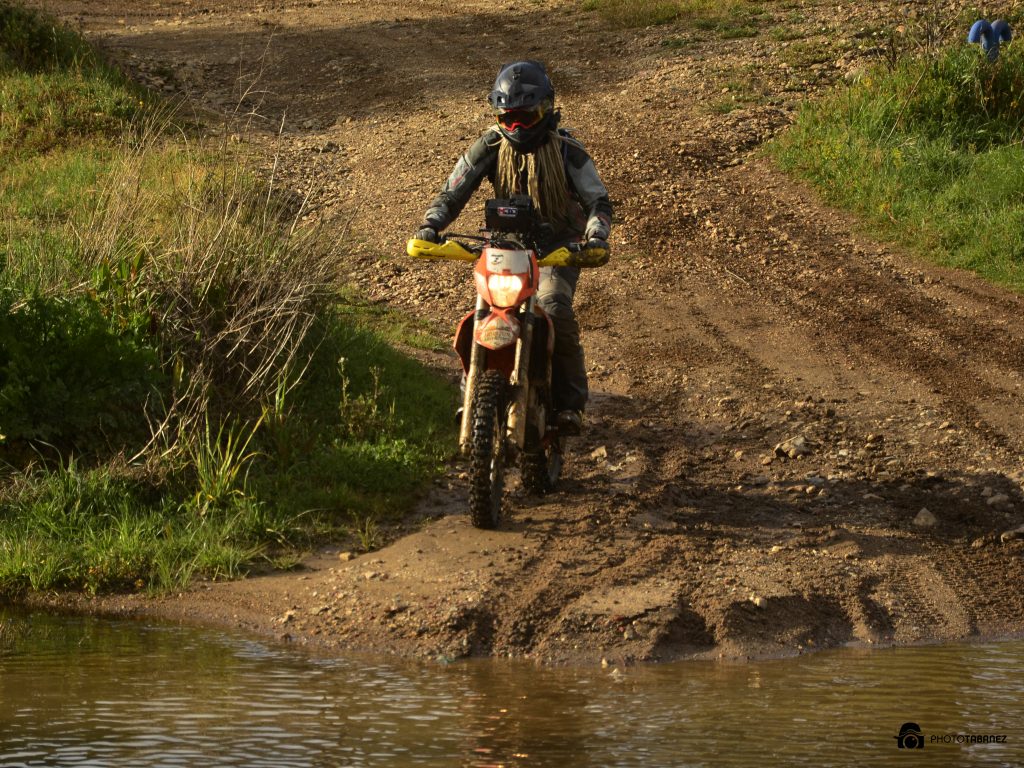 Road to Hellas
The three days in Portugal flew by quickly, and I traveled back home, then to Poland, to pick up Lucy, fresh off the container. It was time to gear up and ride to Greece for the Hellas Rally Raid. Another thanks to Tim – this time, for lending me the roadbook navigation kit.
After spending almost three years in North and South America, Europe felt odd – riding across Germany, Switzerland, and Italy was a little like seeing your distant aunty Jill. You know she's got idyllic flower pots, freshly baked cookies, and an extravagant taste for interior design, but with it comes attitude. In the United States, Colombia, and Chile, riders would look at you with genuine curiosity and a "hey, come join us, and we'll figure stuff out together, yee-haw" sort of welcome. In Switzerland and Italy, riders expect you to prove yourself first, hug later. I felt a little lost on my beat up, tatty, soft-pannier-laden DR650 among a sea of brand-new Africa Twins and BMWs, making my way slowly across Western Europe, then through the Balkans and finally, Greece. At first, I'd grin from ear to ear and wave whenever I saw other riders, but they mostly just stared back at me as if I was some strange species. So I stopped smiling. When I finally hit Greece and two riders resting at the side of the road waved and yelled "hi" at me as I was passing by, I was so startled I produced an anxious hiccup and veered straight into a glorious pothole.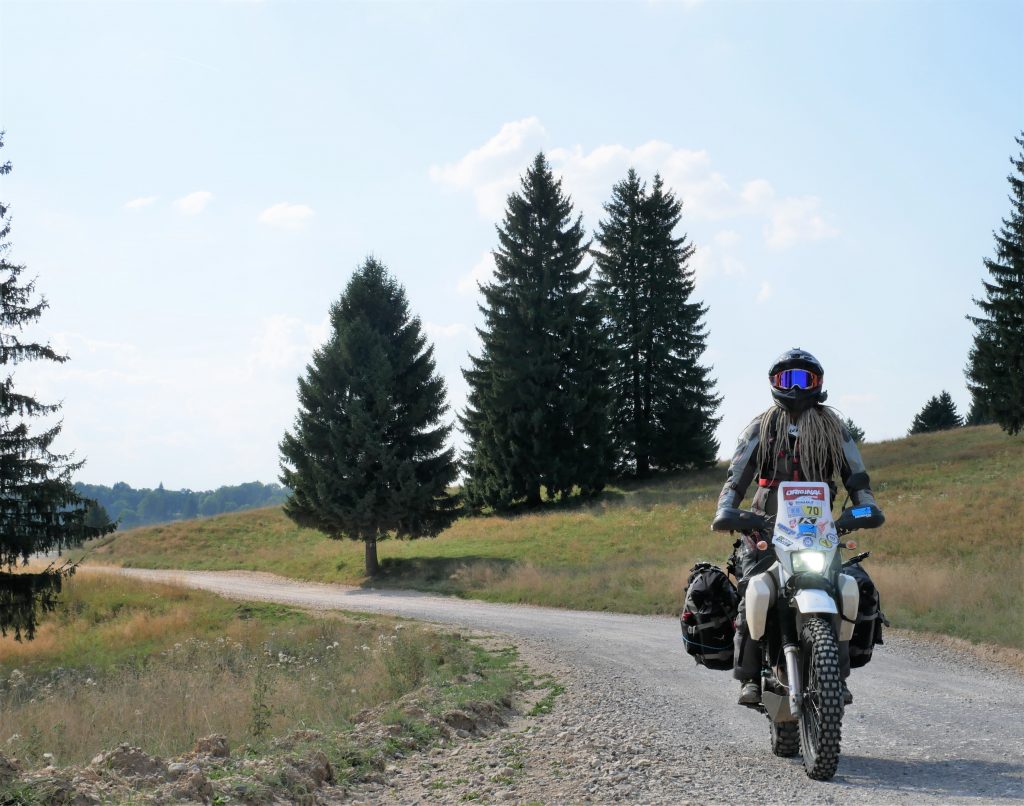 Rolling into the Hellas bivouac near Karpenissi, I felt even more out of place: neatly arranged paddocks with teams of mechanics working on shiny KTMs, riders walking about purposefully, cool and composed… and then there was Lucy and me, held together by this weird, feverish drive, cable ties, and blissful ignorance.
ADV Rider has my Hellas diary. I finished it, in the Hellas Lite category. I even got a medal to prove it, although I'm still not entirely sure whether I deserve it: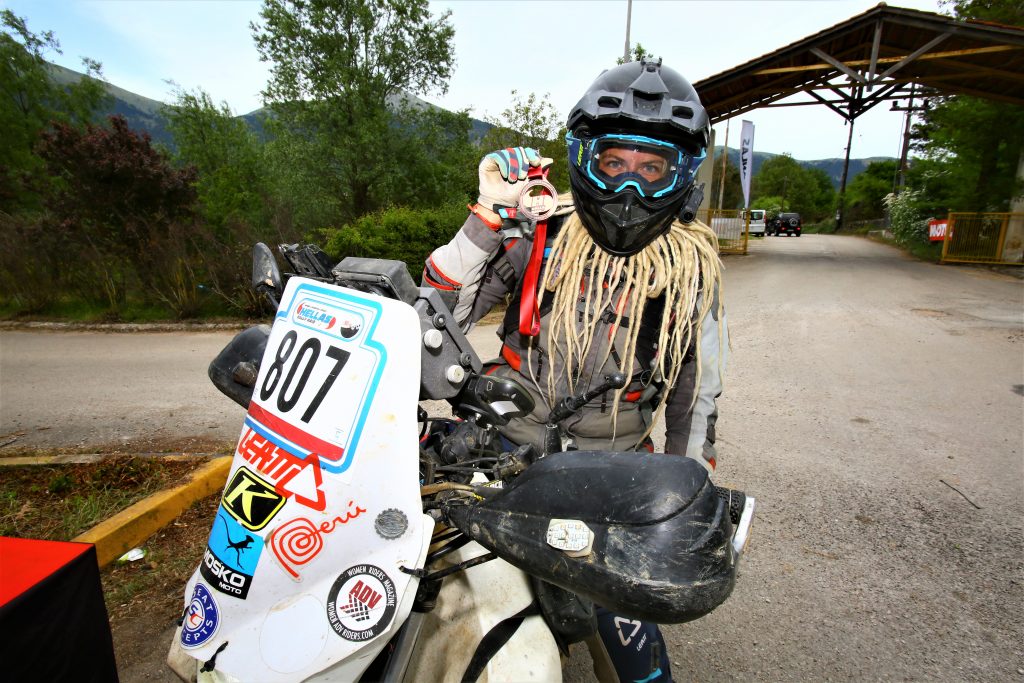 Several times, I didn't make my time limit. If it wasn't for Andrew and Katie Houlihan who offered help and kind words, as well as Hernan from Nomadas Adventure and Vasilis from Enduro Greece, Lucy likely wouldn't have made it in one piece. I remember babbling something about A Really High Mountain while begging the rally staff to let me finish a stage as, yet again, I was way over the time limit; Meletis asking me what the hell took me so long, me saying "much mountain" and "pretty please", and him finally saying, fine, fine, just go.
Crossing the finish line although nobody was there; getting a hug from the wife of a Spanish rider who promised she'd be there to greet me – and she was; pain in my right hand from a bad fall, Lucy's broken spokes; Jon and Stefan's help fixing my destroyed luggage rack, breakfast at Anna and Jon's motorhome, the owner of a small souvlaki place in Karpenissi who served ice cold beer and moonlighted as part of the rally staff; people I looked up to with awe – Stephanie Rowe and Achinoam Harel, Jon Florea and Andrew Houlihan; the wide-open spaces and the muddy ditches, snow in the mountains and the rocky creeks, the smell of gasoline, wet grass, and a metallic taste in my mouth; my own private little victories no one saw and my obvious fails no one cared about, but both added texture and color to what, in the end, became my Hellas Rally Raid. Lite.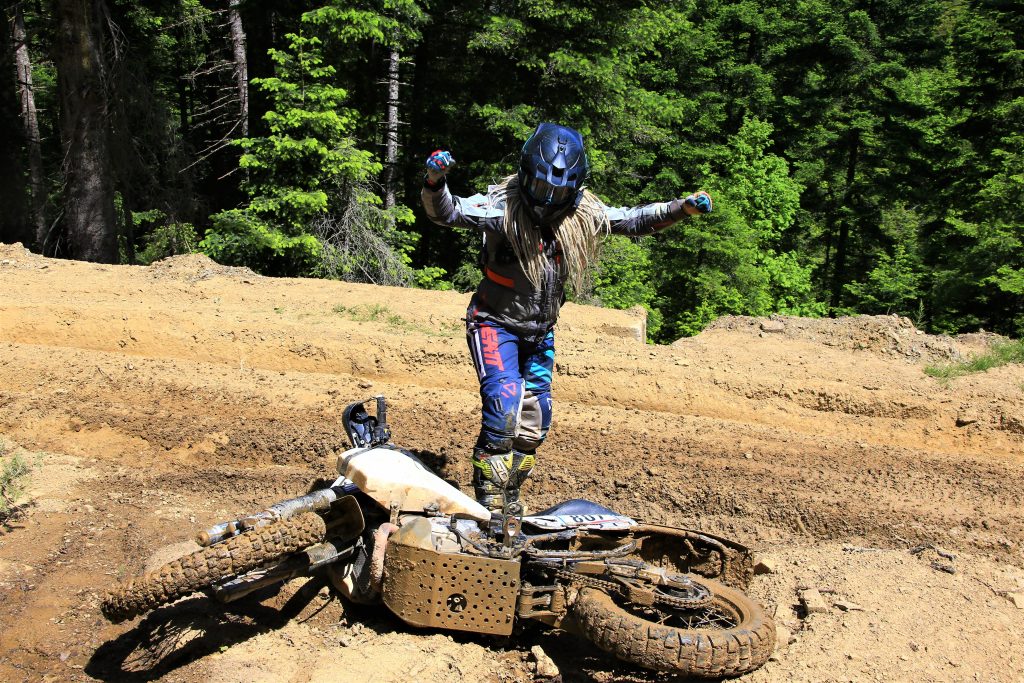 Well, so what of it?
I'm not entirely sure yet. But I think, most of all, it has to do with feeling alive – more alive than you've ever felt before. And that's something to be grateful for.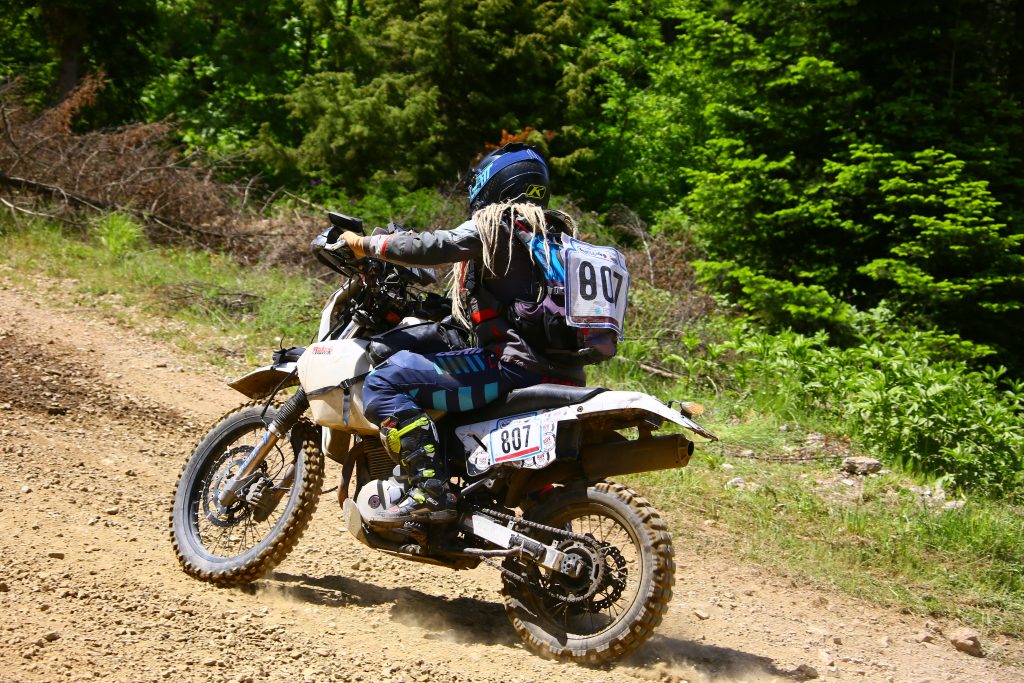 More:
ADV to Rally: the Why
ADV to Rally: The How, Part I
Resources:
Rallies I can't wait to race in Europe:
Hispania: https://hispaniarally.org/es/
Hellas: https://hellasrally.org/
Morocco: Panafrica Rally
Roadbook Navigation basics: https://advrider.com/how-to-use-a-mot…
Rally racing tips: Hellas Rally organizer Meletis Stamatis https://advrider.com/rally-season-in-…
Rider Tim Hewitt http://www.dirtbikejesus.net/hellas-r…
Rally vs rally training camp: https://advrider.com/roadbook-rally-c…