Wait, what? Buiding an overland vehicle? Aren't motorcycles the perfect means for overlanding?
They are – but we're on a mission to build an expedition truck nonetheless.
Okay, let's back up a little.
Lennart and I have spent a considerable amount of time wandering about on our motorcycles. I started my adventure traveling odyssey back in 2013 when I bought a small Chinese motorcycle in Peru and took off traveling across South America for two years. I never stopped riding – after a short stint back in Europe, I got a Suzuki DR650 back in 2016 and rode it across the US, Canada, Cuba, Colombia, Ecuador, Peru, and Chile. Then, I shipped the thing to Europe hoping to do some rally races and head to Africa.
Lennart started traveling on bikes back in 2012, first doing short trips within the Netherlands on a moped, then quickly graduating to a KLE500 and a KLR650 and riding all over Europe. Our paths crossed in Hungary back in 2020, and ever since, we've been traveling on our bikes all over the place – mainly Europe – hoping to ship to South Africa soon and carry on vagabonding on two wheels.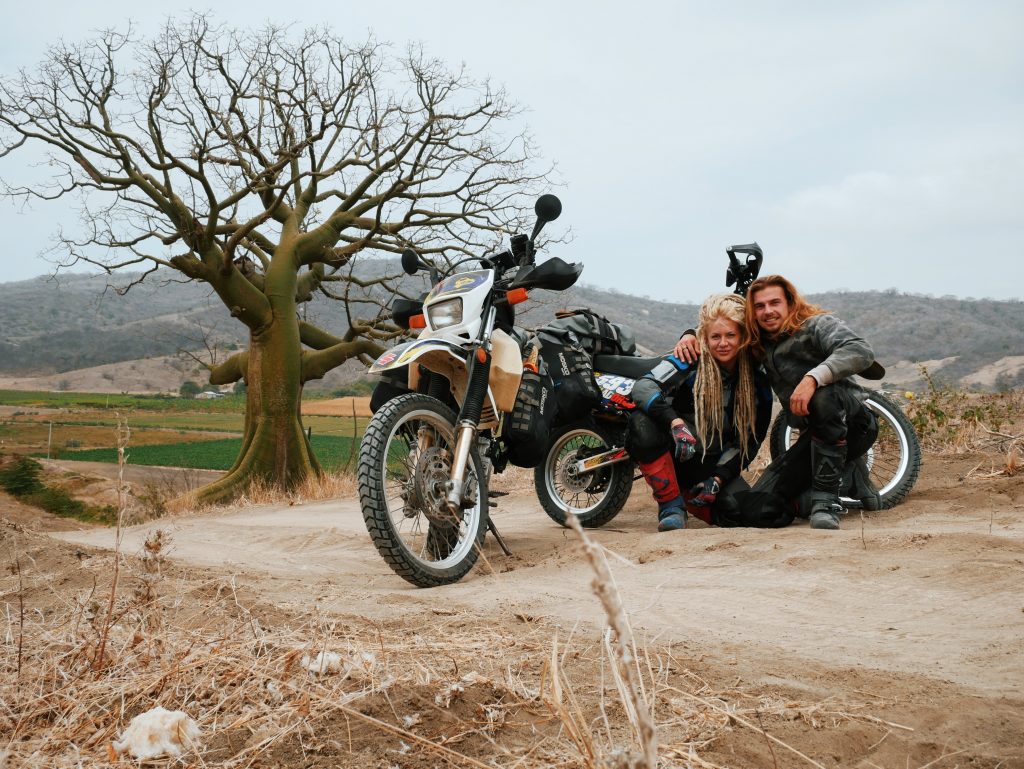 Then, Corona happened.
As we grappled with a new reality of closed borders and restricted travel, it dawned on us we were somewhat… directionless.
We could still move almost freely in Europe, do some rally races, and travel around.
But since the South Africa idea had flopped, we'd found ourselves wandering a little aimlessly, going from Sardinia to Spain to Portugal and back, staring melancholically across the sea hoping for Moroccan borders to open. We wanted to go everywhere, but we didn't aim for anywhere in particular.
And that was the issue.
Enter Overland Vehicles
At the same time, we'd realized we wanted to keep traveling – but we wanted to do it at our own pace and on our own terms. Traveling by motorcycle is an amazing way to be in the world. Still, when you've been at it for years, a few things start to get a little old. Like packing and unpacking, for example. Or constantly being a guest – paying or invited – no matter where you go. Not having your own space or much privacy for that matter.
We found ourselves moving from AirBnB to AirBnB and one wild camping spot to another, always on the go, always coming or leaving, never staying. And, sure, that was the idea – but we felt we were longing for a space to call our own.
Except, we aren't quite ready to lay down some roots.
So how do you have your own little home that's not tied to any particular geographical place?
By building an overland vehicle!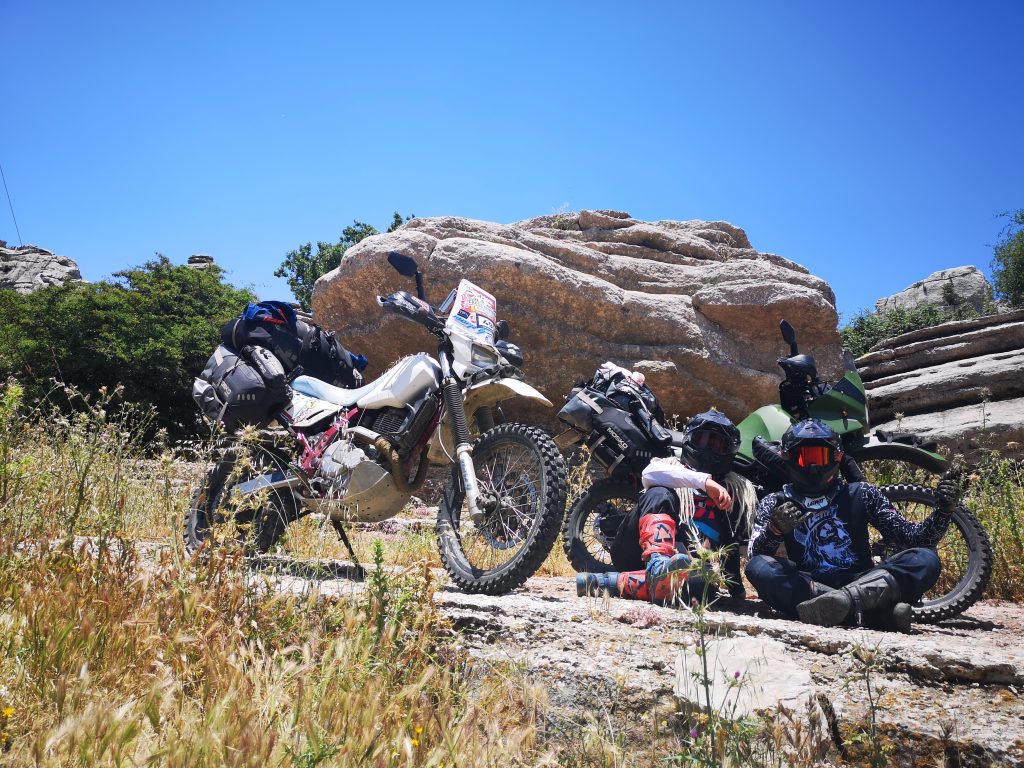 The more we thought about it, the more it made sense. An overland expedition vehicle could house us, our earthly belongings, and our bikes while still being on the move. We could keep traveling, but we would have our very own, private space to live. We could simply park the truck somewhere remote, close the doors, and unplug from the world. Or, we could hang out with other overlanders along the way, visit nomad communities, and be among people if we felt like it.
We could leave the truck for a while and go exploring on our bikes; if we hit bad weather, we'd just stay indoors, warm and toasty, making comfort food and reading books until the skies cleared.
We wouldn't have to stay in hotels and AirBnBs anymore, we could remain flexible, have a home, and stay on the road.
Bingo!
Buying an Overland Vehicle
The idea was born. Now, all we needed was to sort out the tedious little details of finding the truck we wanted, coming up with a budget, buying the thing, and building it into our four-wheel-drive home.
As luck would have it, we were riding in Sardinia, Italy, right after the SWANK Sardinia Rally we'd just barely survived. Somewhere on the Sardinian coast, we spotted a huge green monster truck parked on a sandy strip on the side of the road. It could have been a firetruck, a zombie outbreak response unit, or a camper. We weren't sure, so we went to investigate.
It turned out it was an overland vehicle. A German couple had completely refurbished an old Mercedes MB 911 firetruck and built a camper out of it, and we were instantly sold. This thing was massive, sturdy, built solid, and had a four-wheel drive. And, it had tons of space.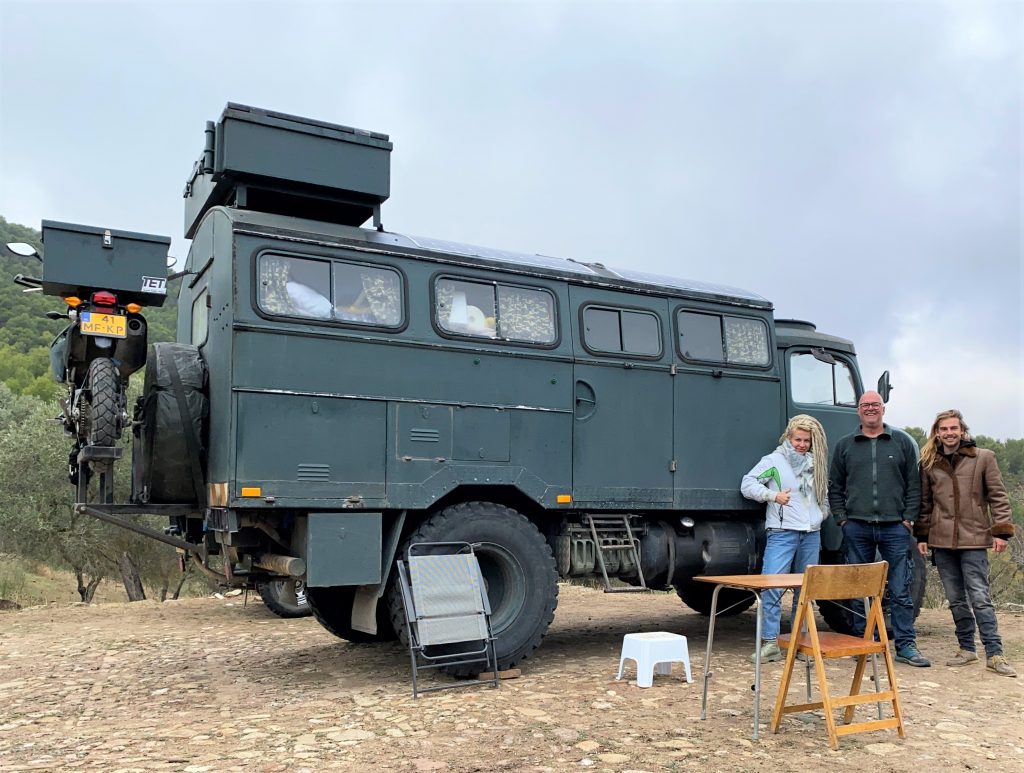 Incredibly, we saw another converted Mercedes truck just a few days later at the Sardinia – Barcelona ferry terminal. This one was much meaner, bigger, and built for a family of five plus two dogs traveling around the world together.
Can you blame us for seeing this as a wink from the universe?
From that point on, we started researching the miraculous old-timer Mercedes trucks. We found that these German mastodons were primarily built for military, border control, and firefighting purposes. They had solid engines, were well-looked after, ran forever, were indestructible, and plenty of travelers used them to build overland vehicles.
Drawing inspiration from overlanders like Akela and Snowmads, we decided our very own overland vehicle would be a Mercedes 1113.
Building an Overland Vehicle from Scratch
Our crazy luck continued: just a month after spotting these magnificent beasts in Sardinia, we saw a Mercedes 1113 truck for sale in Belgium. Lennart and a friend set out on a scouting expedition, and a few hours later, he called me saying he'd found the one.
And just like that, we now have 1971 Mercedes 1113 firetruck with 60,000 kilometers on the clock. It's got a 160 HP turbo diesel engine, a four-wheel drive, and a double cabin; it's a project, for sure, but it's there waiting to be picked up and built into an overland vehicle.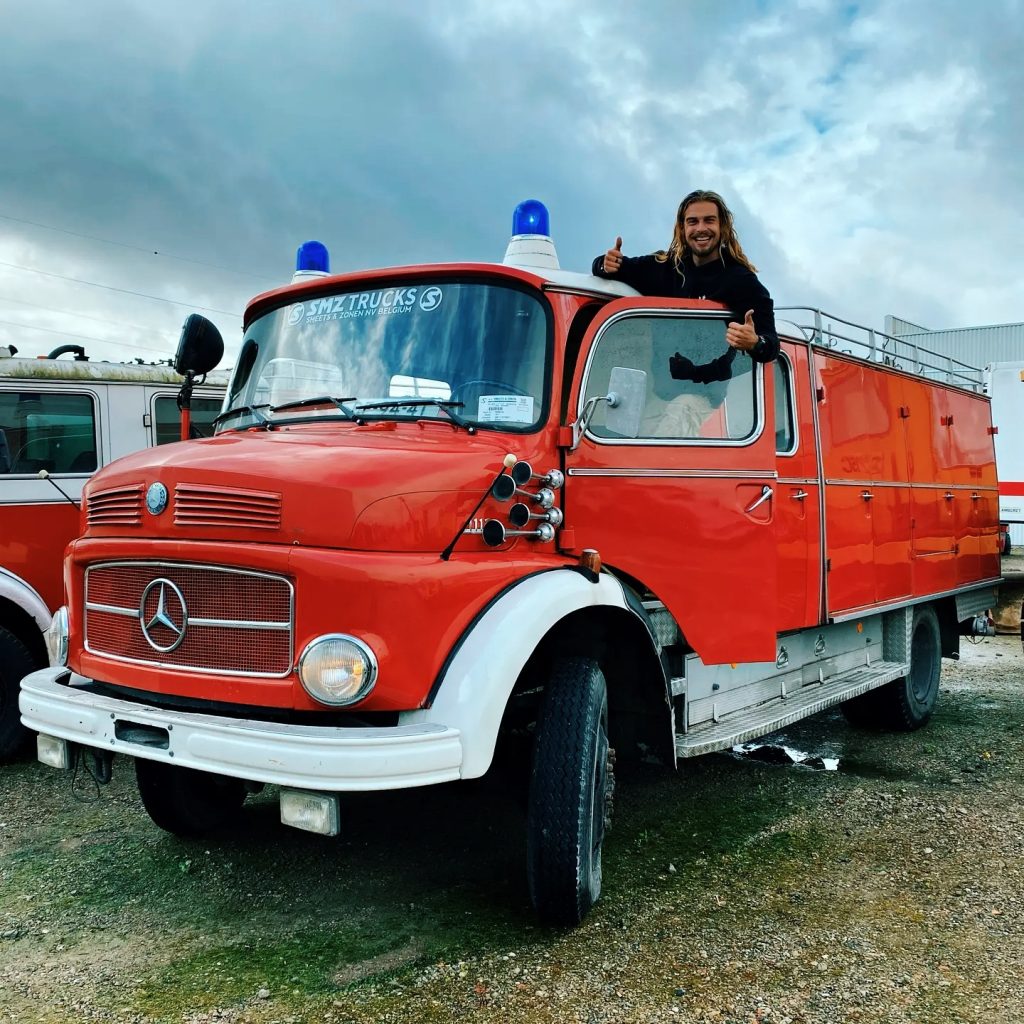 Planning the Build
We went from having a vague idea to buying the truck in just two months. Insanity? Maybe – but we're both so pumped up about building this thing into a livable, moving home – refuge – resistance cell – bar – garage that we're focusing on the end goal rather than all the obstacles that lie ahead.
Don't get me wrong, there are plenty. First and foremost, we'll have to get rid of all the firefighting equipment. Then, we'll need to reinforce the chassis and build a custom box to go on top. Once the skeleton is done, we will need to figure out things like bigger, badder wheels, the garage space and a way to lift the bikes up, the electrics, the heating, the water and solar systems, the interior, and a million other things.
And we've got to do it all ourselves, on a budget, and on a schedule.
Overland Vehicle Design
By now, you may think the entire project is pure madness, and we don't completely disagree. However, this isn't our first rodeo: in 2018, Lennart upped and built a tiny house in the Netherlands…from scratch. And if you're picturing some ramshackle hippie den, take a look see at this:
Now, Lennart didn't build the whole thing alone with his bare hands. He had help and support, but the bottom line is, he did construct an awesome tiny house that's been featured in several lifestyle magazines and still stands strong and proud in the Minitopia community in the Netherlands. In addition, Lennart has built and rebuilt several motorcycles from scratch, knows his way around tools and construction materials, and has a good head for design.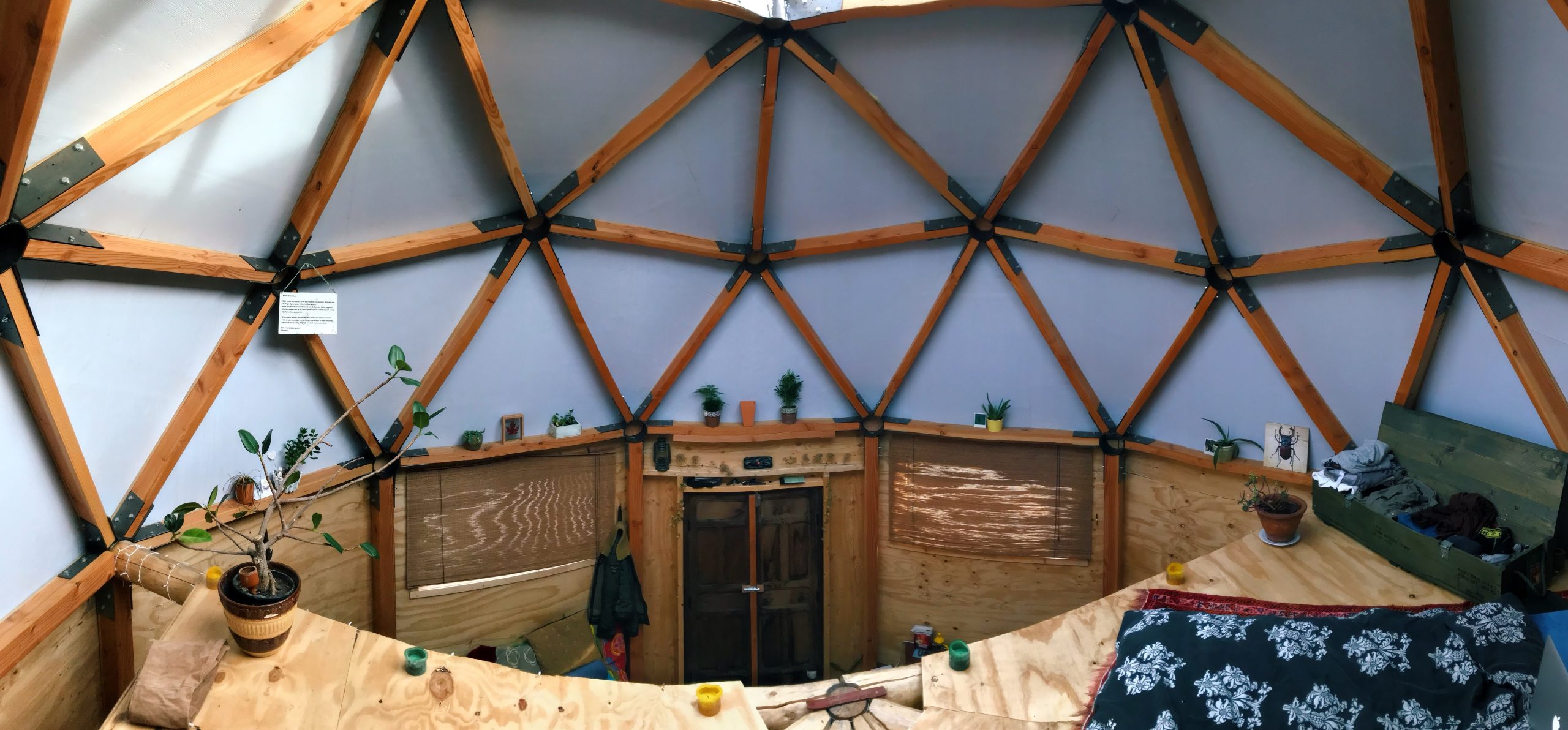 Me, I'm quite useless when it comes to hammering nails and measuring dimensions; but I'm not half bad at organizing support, coming up with budgets, and partnering up with kickass brands for sponsorships. Together, we make a pretty mean- if nutty- team, and we've already got our overland vehicle design done by a good friend and fellow #vanlife maniac Quint: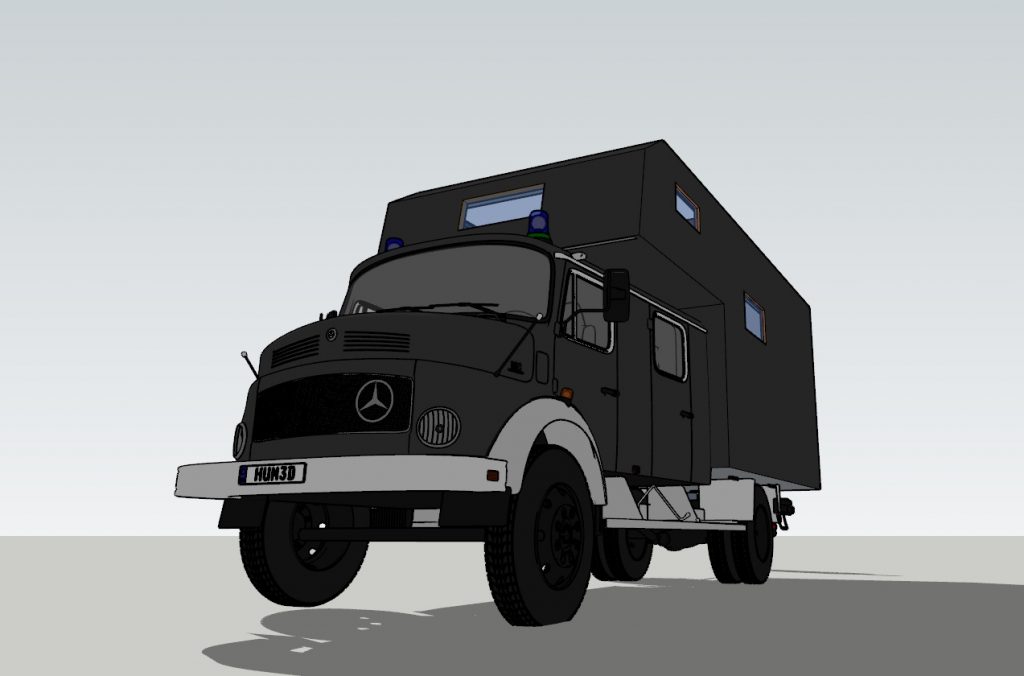 This is a rough sketch of what our overland vehicle build is going to look like, and we're both forever grateful to Quint for turning this around so quickly.
Now, we've got the truck, the design, and the plan.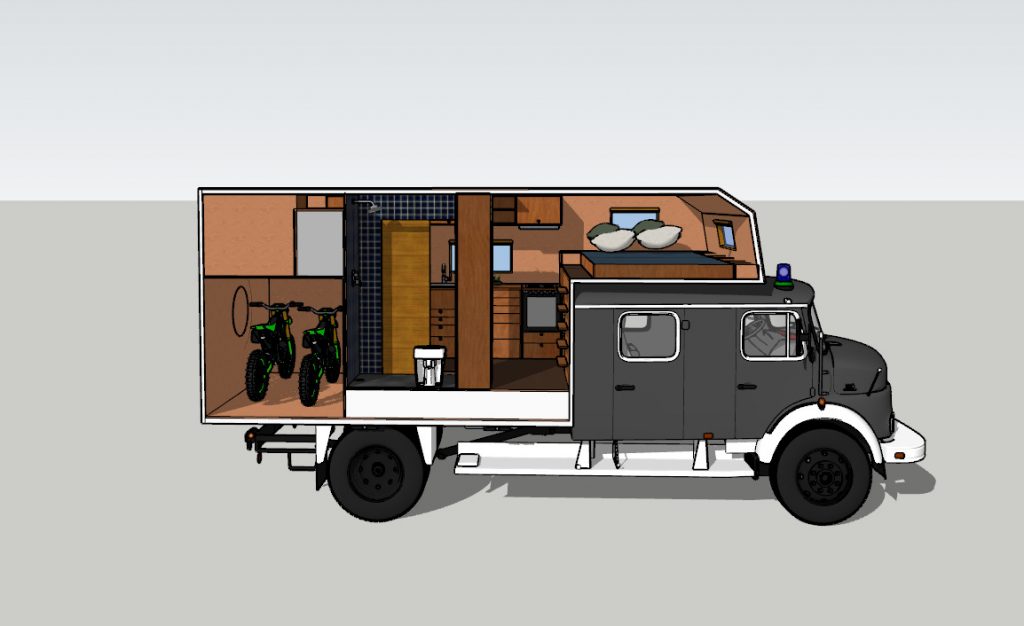 All that's left is the actual build and the ensuing mayhem that inevitably awaits us in the Netherlands.
 Creative Overland Solutions
We suspect that the fastest and easiest way of building an overland vehicle is buying the rig and handing it over to a pro who knows what they're doing. That sounds pretty neat, but the trade-off is budget. If you've got the money, you can save time. If you have the time, you can save money.
We're sort of in-between. We want to build our very own Monster Overland Vehicle, the Expedition Truck of All Expedition Trucks, the Adventure Rig of Awesome, ASAP. However, we're skating on thin ice in terms of cold hard cash, so it's going to be a balancing act between doing as much work as we can ourselves and outsourcing a lot of welding and construction stuff to others who are more knowledgeable than us. After all, our Mercedes 1113 has to be as solid as they come – once the truck is built, we're embarking on an expedition from Amsterdam to Alice Springs, and the rig has to hold come hell or high water.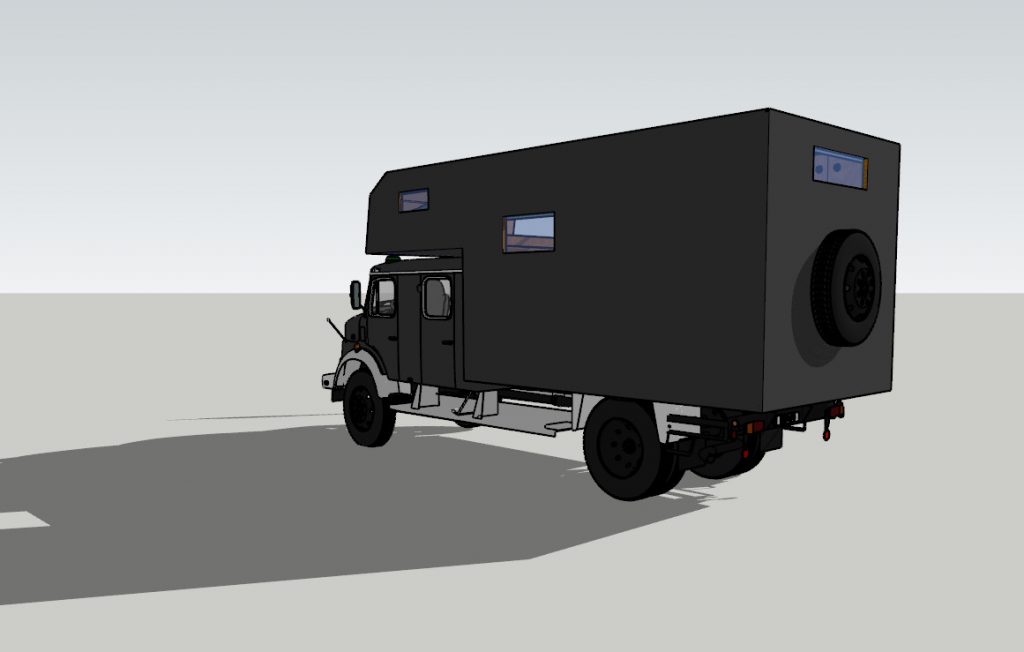 Follow in the Madness
Along the way, we'll be posting updates on the build and all the resulting chaos, and we hope to share all the ups and downs with you – at the very least, the entire process should be thoroughly entertaining.
If you've got any words of wisdom or advice to share, please leave a comment below or send us a message – we love hearing from other overland nutcases out there!
And in the meantime, here's to crazy ideas and new overland routes. Alice Springs, hold on to your socks – we're headed your way!